3 Cheap & Easy Egg Dinners
For the nights when you're tired, but just can't eat scrambled eggs on toast again.
First, here's a grocery list that gets you all the stuff you need to make these dinners:
Pantry (you will probably have a lot of these ingredients already)
Kosher salt
Black Pepper
Extra-virgin olive oil
½ pound dried orecchiette (or another small pasta)
1 small jar harissa or a small bottle of hot sauce*
1 small bottle red wine vinegar

1 small jar Dijon mustard
1 jar red pepper flakes
1 small bag potato chips, crushed
Protein
9 large eggs
3 slices smoked bacon (or pancetta)
Produce
1 cup fresh or frozen green peas
1 lemon
7 cups spinach
1 small bunch Italian flat-leaf parsley
2 garlic cloves
1 pound baby Yukon gold potatoes (about 9 potatoes)
Dairy
1 small container mascarpone or cream cheese*
1 small wedge Parmegiano-Reggiano cheese
3 tablespoons unsalted butter
Bakery
2 thick whole-grain bread slices
*If you're on a tight budget, opt for hot sauce and cream cheese.
Ok, here's the plan:
Once you have your groceries, cook the recipes in the order they are listed here, because they build on each other: RECIPE #1 (the pasta) makes the bacon fat used in RECIPE #2's salad dressing. And RECIPE #2 (egg in hole + salad) leaves out some bread for the breadcrumbs used in RECIPE #3.
Click each recipe to go to the full ingredients, instructions, and step-by-step photos.
Traditionally, pasta carbonara has a raw egg swirled in at the end for an extra silky finish. This untraditional take gets its creaminess from mascarpone cheese and is topped with chopped hard boiled eggs. Save the bacon fat for RECIPE #2's salad dressing.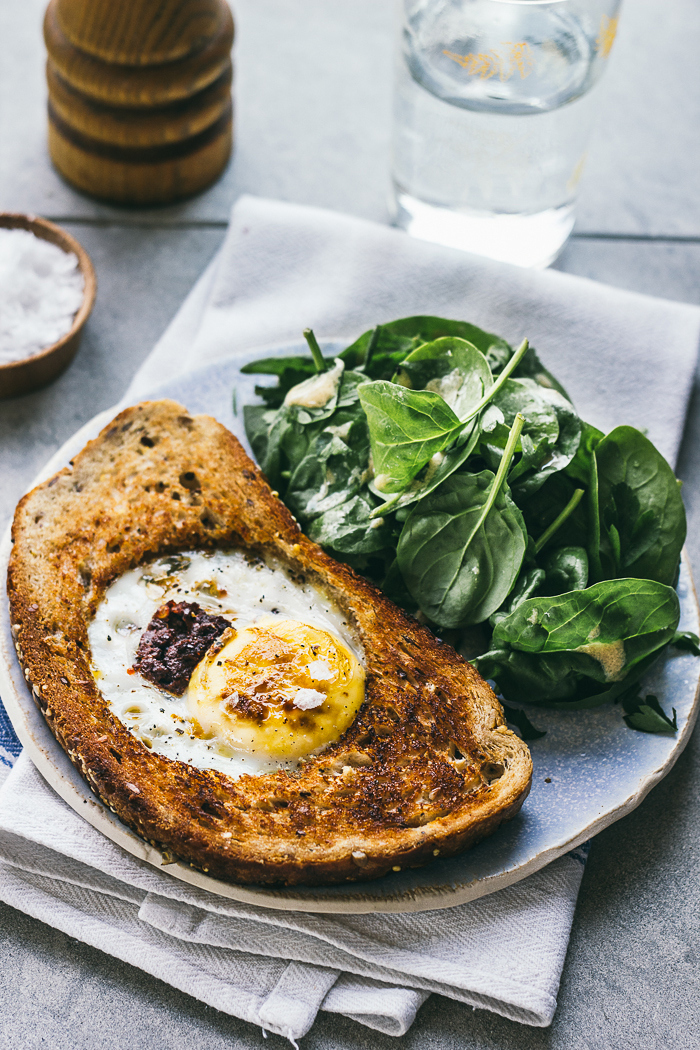 This is an easy dish — equally suited for breakfast, lunch or dinner. It's spiced up with the addition of harissa and served alongside a spinach salad tossed with warm, bacon-laced dressing. The recipe uses the leftover bacon drippings from Recipe 1. Be sure to save the cut out bread rounds for RECIPE #3's potato chip breadcrumbs.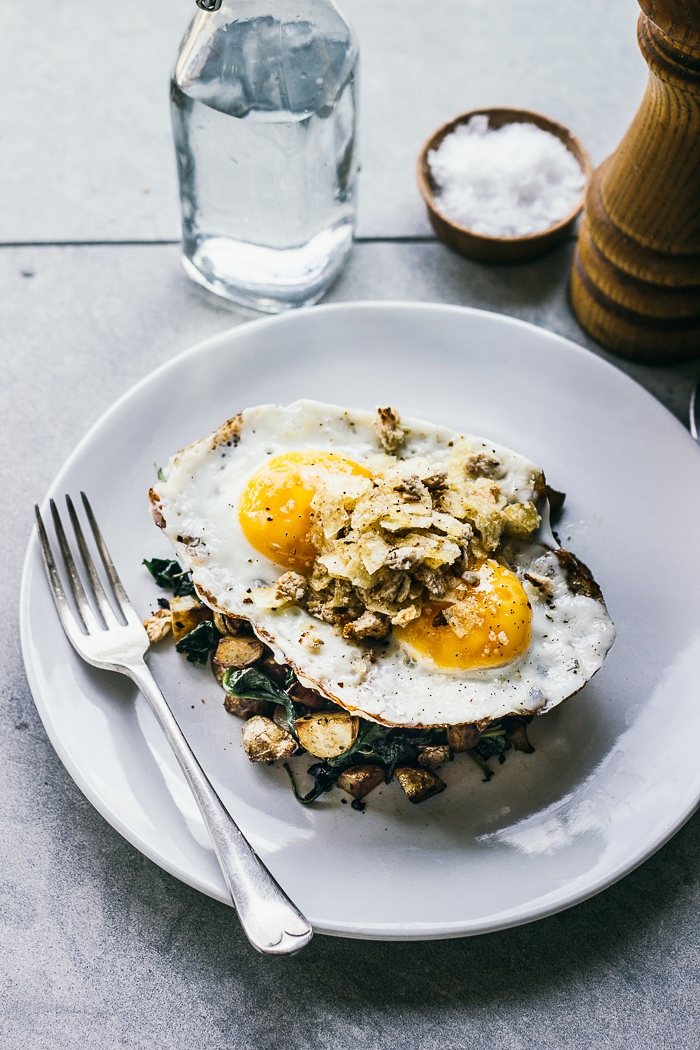 Crispy potato hash is tossed with greens before being topped with fried eggs. Use the leftover bread rounds from RECIPE #2 to make the potato chip breadcrumbs (the drier they are the easier they are to crumble so leave out at room temperature for a bit to stale before crumbling).