Thousands Of People Swear This Antiperspirant Is The Only Thing That Controls Their Sweat
This ZeroSweat roll-on will tell your armpits to ~chill~ faster than it takes to change your freaking shirt AGAIN.
We hope you love the products we recommend! Just so you know, BuzzFeed may collect a share of sales or other compensation from the links on this page. Oh, and FYI — prices are accurate and items in stock as of time of publication.
Sweat: it's something we all experience! But for some of us, it's MUCH more than everyone else. As in we never stop. Like, damp is best-case scenario.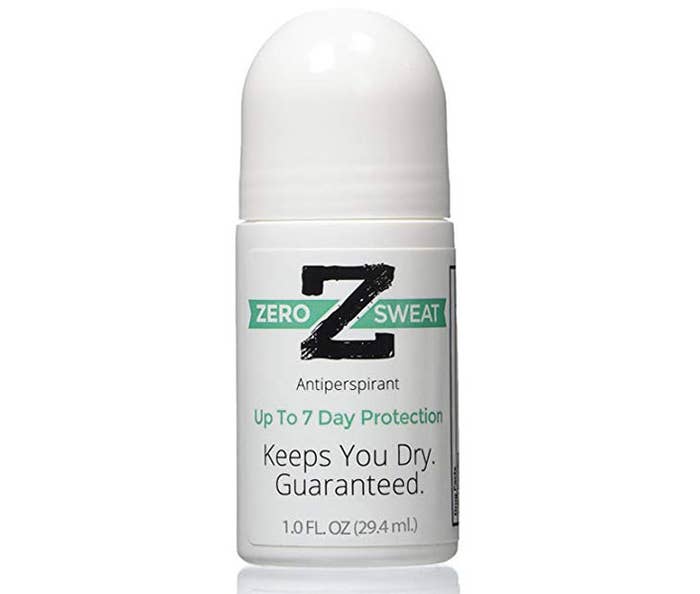 Its SUPER strong formula is designed to treat hyperhidrosis and excessive sweating so even the most determined of sweat glands are in for a real wake-up call.
Not only is this super effective, but also incredibly easy to use. You swipe, keep it on for two to three minutes, wipe it off, and sleep. It'll kick in overnight so you're more than ready for that damn sun come morning.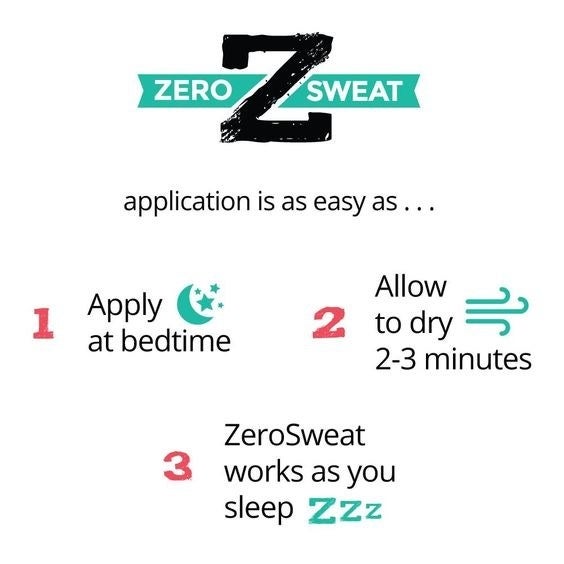 Just look at this person raising ~both~ of their arms without fear! AND in a light shirt, no less. We are truly blessed today.
Plus, it works for a whopping seven days (sometimes up to ten)! That's a heck of a lot time to not have to worry about where the next fan is.

It even keeps your armpits dry after working out, which (before today) I found just as likely as discovering I actually have a trust fund, after all.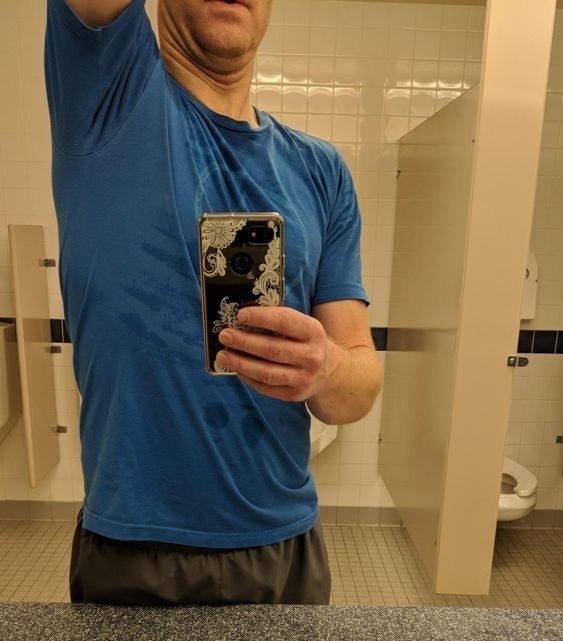 Check out all these other reviewers who now think any other antiperspirant is ~the pits~:
"This product saved my life! I was struggling with sweat and extreme odor for several months. I tried almost every antiperspirant and deodorant on the market and nothing worked. I could barely make it through half the day without having to freshen up and reapply deodorant. I was frustrated, embarrassed, and ready to give up. I'm glad that I took a chance on this product and will definitely purchase more when it's time to replenish my supply. It is very strong so a little goes a long way. When I first started using it, I experienced slight burning that subsided about an hour after application. One swipe works well when gently smoothed by the finger tips to evenly cover the underarm area. I apply at night every three to four days and use a deodorant during the day. Problem solved!" —Serenity
"I never review products, but I'm leaving one for this. I have had severe underarm hyperhidrosis since puberty and it has been a constant embarrassment and clothing ruiner. I used to sweat through a shirt, sweater, and a winter coat within minutes in freezing cold weather, leaving horrible pit stains and odor in new clothes, and I'd resigned myself to wearing nothing but loose tank tops and cheap black shirts. I had tried every recommended antiperspirant under the sun before I found this, and was about to seek medical help. I had low expectations after trying so many products, but this turned out to be a godsend! I've been using it for about two weeks and I've already noticed a huge difference. I'm much more confident wearing short sleeve and long sleeve shirts, as well as bright colors. Every now and then I get a little bit of dampness, but nothing like the soaked armpits I used to get and it's not enough to cause sweat circles under my arms. Definitely worth trying!" —Molly
"I pour sweat, regardless of temperature. It would be 13 degrees outside with snow falling everywhere, and I'll have to take my jacket off by the time I get to the subway because I'm sweating my bum off. Nothing worked. I tried everything I could. Even clinical-strength stuff didn't work. Enter THIS stuff. I gave it a shot, due to the reviews, and boy, am I glad I did. Never in my 30+ years of wearing shirts have I not had huge pit stains every single day until ZeroSweat. I did what it said, use it for the first few days each night and by the fourth day, the sweating subsided. By the fifth, it was gone. GONE. OH MY GOD, GONE. I couldn't believe it. And it only itches for a few minutes a little bit after application at night which I do every three or four days now, and even then, it might not even itch! Thank you, ZeroSweat. Seriously. Thank you. I used to hobble, now I STRIDE." —Kevin Skinner
Moral of my rant: if you're sick of sweating all the time and just want some dry armpits already you should try this!
Prepare to actually feel that wonderful breeze again, my friends:
Want more extremely cool (or should I say *cooling*) products? Look no further:
Shopping for something specific? Check out BuzzFeed Reviews to find the best things for every budget!