1.
A pair of lightweight legging-style joggers reviewers swear by for perfect Lululemon Align Jogger dupes.

Promising review: "These are literally the best leggings/joggers I have ever owned, and I plan to eventually buy every single color. I originally saw these on TikTok and heard they were like the Lululemon ones but cheaper. I've never owned Lululemon leggings, but if they feel anything like these, then I have clearly been missing out. These are soft and absolutely perfect. I love the pockets and jogger style and that they fit like leggings and can be worn to the gym or dressed up with a cute outfit. I need to buy every color of these before they're gone!" —Courtney 

Get it from Amazon for $28.99+ (available in women's sizes XS–XL and 17 colors). 
2.
A pair of wireless sleep headphones to play white noise or the music of your choice in a comfy headband so you can enjoy the calm of it all night long. Reviewers also swear by this for meditation and outdoor workouts in the cold!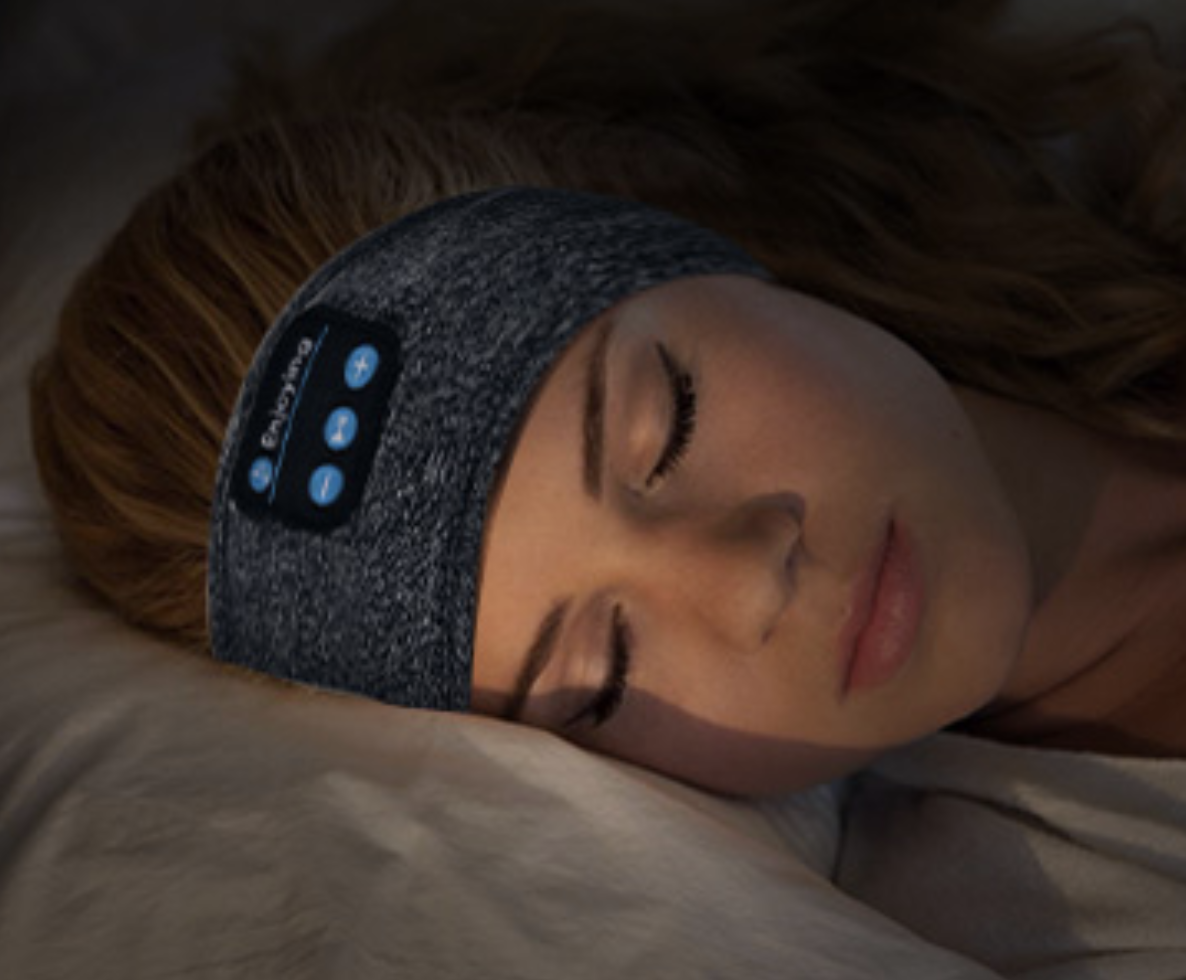 Promising review: "I saw these on TikTok and since I have so much trouble finding quality headphones I decided to try them. I'm very happy with the sound quality and comfort of these. I'm able to fall asleep to my music or podcast without having to limit myself to sleeping on my back or losing an ear bud in my bed in the middle of the night. It makes working out easier as well. The value is worth the quality. I would recommend." —Thunder Muffin
Get it from Amazon for $19.99 (available in 14 colors). 
3.
A rose gold rechargeable electric lighter you can use to replace all your old gas ones. This one is not only chic as heck, but completely flameless, and made with a long stem so you can use it to light gas burners and larger candles without dealing with an open flame.
This also comes in other pretty colors, but I am especially partial to this one because I bought it for my parents (their kitchen is entirely pink and one of my favorite places on Earth), and this was SO EASY to use — not to mention super safe! I'm a big weenie about fire (LOL, self-preservation) so I've always stuck to extended-arm gas lighters, but this is much better for the environment (plus cuter), so I feel a lot better about using it. You can read my full review of the Leejie electric lighter for more deets!
Promising review: "Works like a charm. I saw this on a TikTok. Knew immediately that I needed it. I love candles and this is so much better than a match or lighter. It's kept a charge for months. I use it several times a month." —dwhite3012
Get it from Amazon for $10.99+ (available in two colors).
4.
A teensy mini waffle maker that will churn out adorably sized, perfectly cooked-through waffles in mere minutes. Psst — if you're waffling on the waffles, you can also use it for hash browns, paninis, biscuits, and even (gasp) PIZZA. If you can dream it, you can mini waffle it.
Promising review: "Saw it on TikTok and had to get it! I love waffles but I don't always remember to buy them so I love being able to make them super easily with this mini waffle maker. It's so easy and convenient for me because I didn't want anything that would take up too much time and space. It's perfect. I also used the waffle recipe provided by Dash and its great!" —Ken

Get it from Amazon for $10+ (available in 23 colors).
5.
An oh-so-satisfying 1,000-piece Mystic Maze puzzle you may have already seen on TikTok, where lovers of puzzles and magic lore are singing its praises. This whimsically-illustrated, colorful puzzle isn't just a puzzle, but a journey — there are over 50 easter eggs in it, tons of miniature scenes full of optical illusions and surprises, *plus* a magical twist at the end. You'll have to solve the puzzle to find out!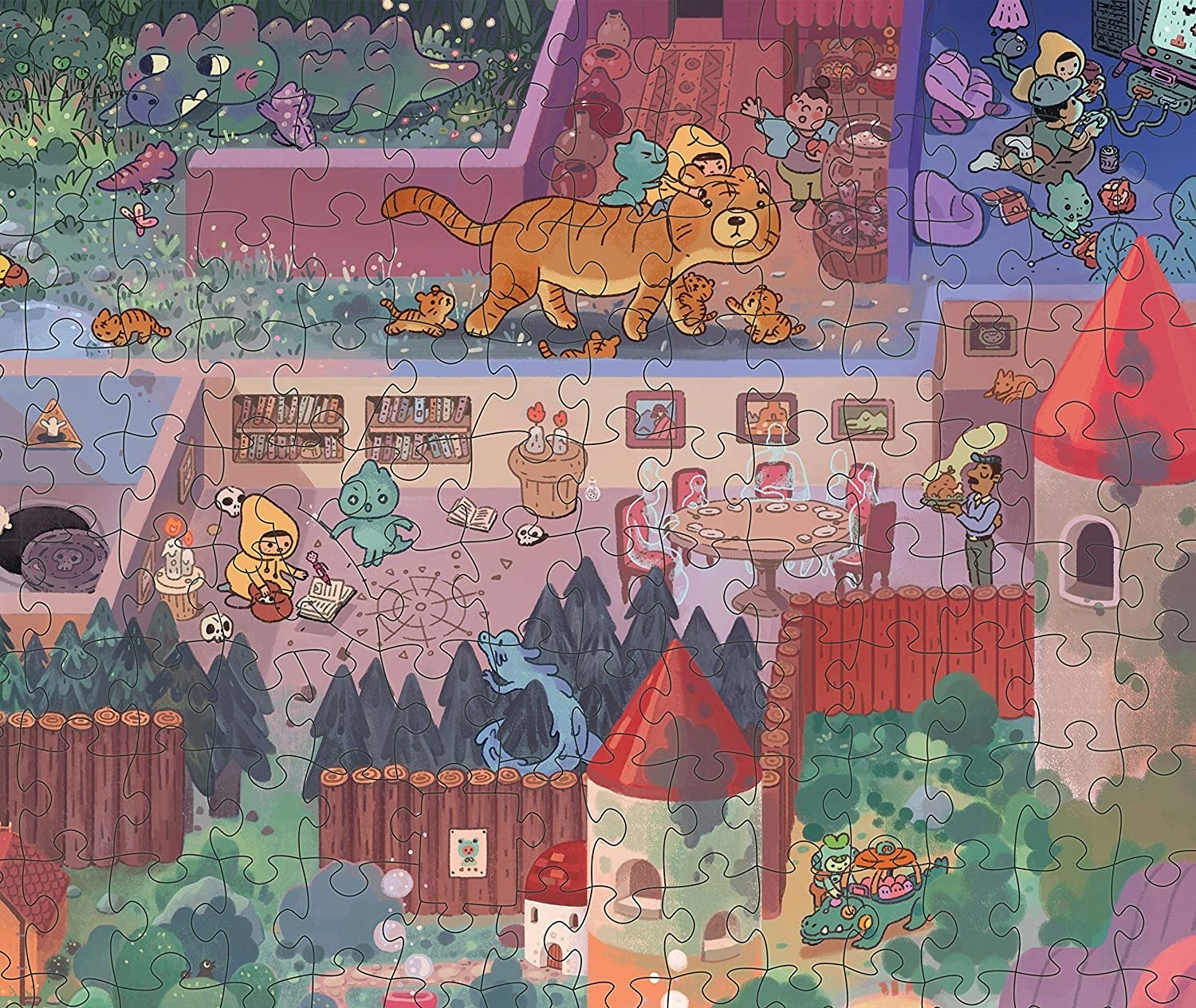 You can check out a TikTok of the Mystic Maze puzzle in action (but warning, it will spoil the surprise!). 
Promising review: "I bought this as a gift for my husband because he absolutely loves puzzles and magic, so it was a no-brainer! I was honestly way more excited to finish putting this puzzle together than a normal puzzle because I couldn't wait to see the end result. Blown away. I'm super impressed and will be purchasing a different version. Oh, and they weren't kidding about the no dust in the box...very pleased with this purchase!" —Nlbrimberry
Get it from Amazon for $19.99.

6.
A boba tea light complete with ITTY BITTY BOBA on the inside that actually roll around — perfect for anyone who has their local boba place's menu memorized to a tee.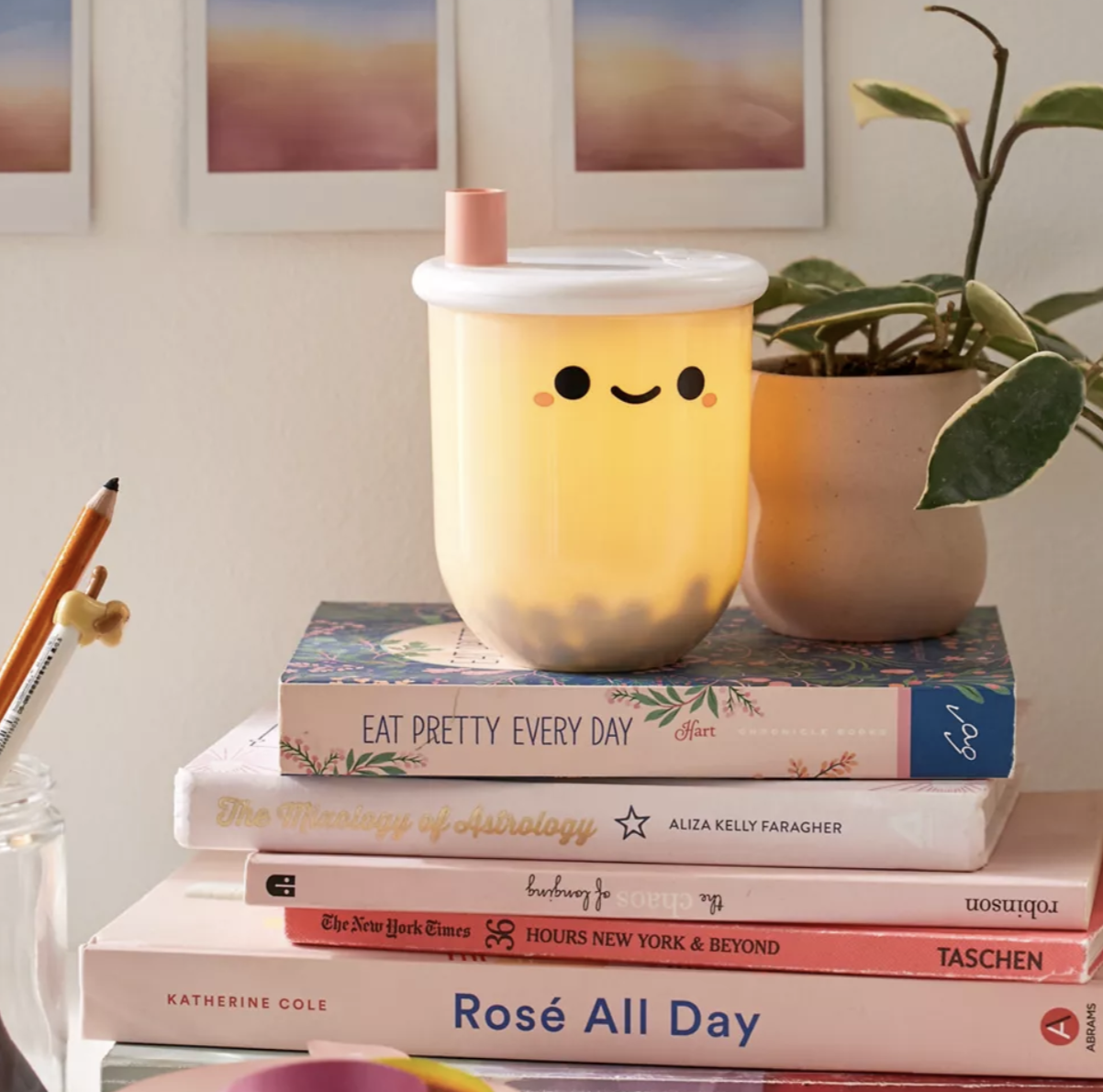 Check out a TikTok of the boba light in action. 
Promising review: "I received this as a holiday gift from a friend and it's so cute! Definitely recommend for any boba lovers. It fits in with all room decor as it's pretty minimalist and doesn't take up too much space." —phoebe0bumblebee
Get it from Urban Outfitters for $22 (available in three styles). 
7.
A satin pillowcase to invest in not only for its cooling effect, but the fact that it's soft on your skin and creates less friction for your hair so that it won't get as tangled while you sleep. Reviewers also swear by these for helping clear up their acne and love how easy these are to wash while still maintaining their quality.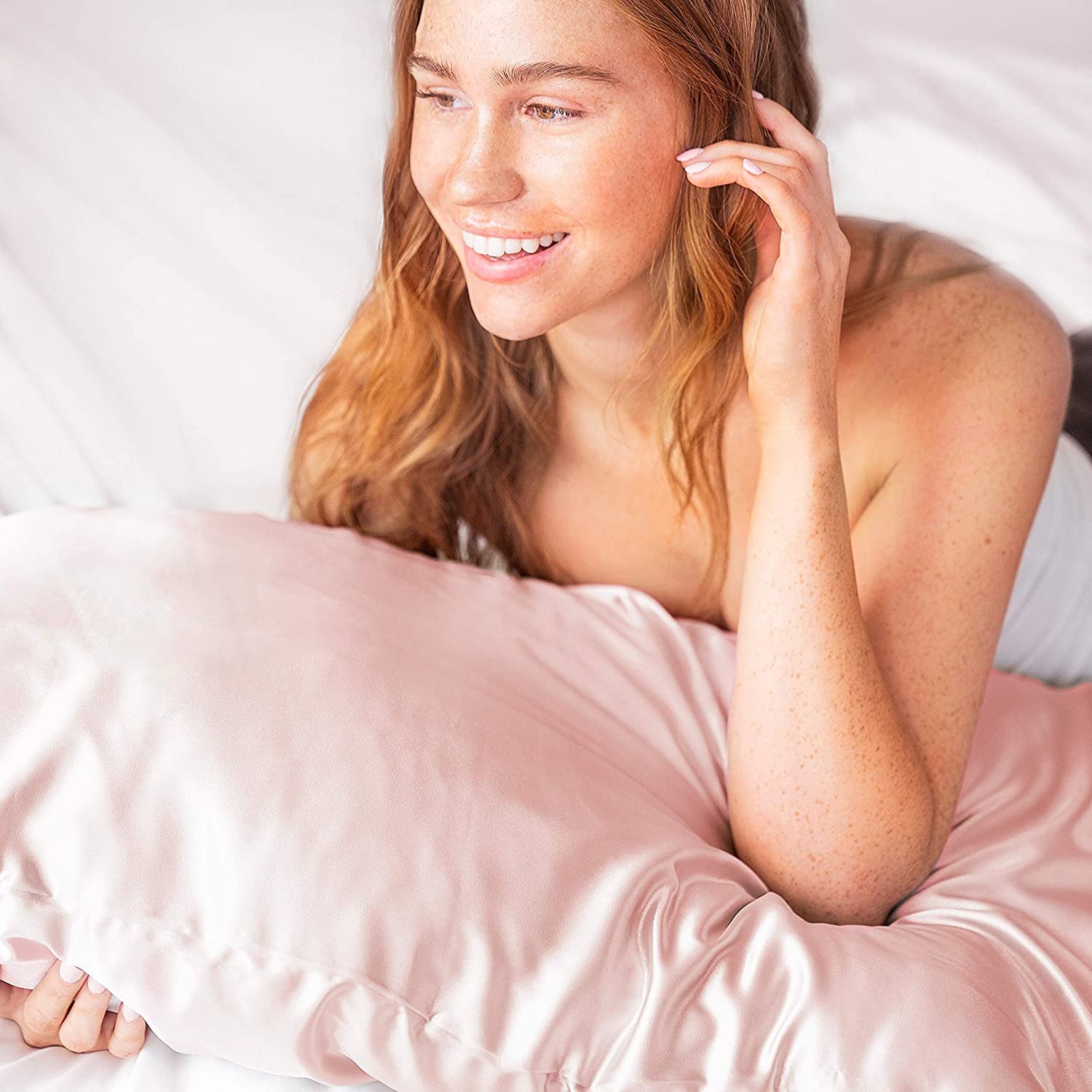 Kitsch is an LA-based, self-financed, woman-owned small business established in 2010 that specializes in hair accessories. 
Check out a TikTok of the Kitsch satin pillowcase in action. 
Promising review: "I'm really liking this pillow. I woke up today with nice wavy hair, not dry tangled hair. I've been trying to grow out the layer of hair on the top back of my head and it's been so stubborn! Keeps getting tangled and breaks here and there from bleaching and dye damage, but with this new pillow I notice it doesn't tangle, which means it can grow right without rubbing and tangling/pulling! So I'm excited to see what happens by the end of summer! Also the pillow is soft and is so much more prettier in person! 😍😍😍💖💖💖" —Amazon Customer 🌷

Get it from Amazon for $18.51+ (available in three sizes and in 11 styles). 

8.
A cult-favorite Carhartt beanie, because if you know, you KNOW — when it comes to coziness, warmth, and aesthetic, this beanie has no competition. TBH, you can't blame reviewers for buying one and immediately coming back for it in multiple colors. 

Promising review: "Saw this hat on TikTok and decided to place my order!  It can get very cold where I live, especially during morning time when I'm walking my dog. I need to keep my ears warm! The material is so soft, and there are many color options." —MHF

Get it from Amazon for $19.99 (available in 33 colors). 
9.
A plug-in color-shifting mushroom light for anyone whose little cottagecore heart could use an extra dose of cozy to calm them down. 
Check out a TikTok of the mushroom nightlight in action. 
Promising review: "I LOVE this night-light. It's in my bathroom and is a lovely addition. It turns off the second the lights go on, which is nice because I don't have to worry about accidentally leaving it on. Super cute and the little itty-bitty lighting element does a good job lighting, just enough so I don't have to turn the main lights on in the middle of the night." —1Thand

Get it from Amazon for $6.48. 
10.
A forever classic Hanes sweatshirt TikTokers especially love for unexpected style combos (and recommend getting oversized to pair with leggings for *maximum* coziness). 

Promising review: "I, a 16-year-old girl, got a medium to have an oversized fit. For the people who came here from TikTok: IT'S AWESOME. The material is so soft, and it's a great price to put together that mini pleated skirt and collar outfit. I ordered the navy blue to see how it would fit first, and I'll 100% be ordering other colors." —abby
Get it from Amazon for $7.99+ (available in sizes S–5XL and 17 colors). 

11.
Dr Teal's Sleep Spray with melatonin to help wind you down for the night when your unsuspecting circadian rhythms are disrupted by life, by the seasons changing, or any other miscellaneous sleep chaos. All you have to do is spray this on your pillow before bed for a relaxing sleep vibe. 

Check out a TikTok of the melatonin spray in action. 
Promising review: "A coworker suggested this product because I have a tough time falling asleep and do not want to take sleep meds. This smells incredible and, for me, has really worked. It's a little shocking actually as I didn't have big expectations for it. I'm on my second bottle however and both my boyfriend and I really enjoy it." —Amazon Customer 

Get a pack of three from Amazon for $17.61. 
12.
A plush blanket reviewers swear by as the ultimate Barefoot Dreams dupe, matching the quality, ridiculous softness, and durability without the big ole yikes of a price tag. 

Promising review: "I saw this blanket on TikTok and I have to say I absolutely love it. I washed it several times now and it's maintained its elasticity and softness after each wash. It's warm enough but not too hot for a throw. Absolutely recommend this blanket!" —Amy

Get it from Amazon for $28.99+ (available in 12 styles and two sizes). 
13.
Or a soft muslin throw blanket for lightweight, cozy warmth for all those winter weekend naps you'll need to take after long hikes and treks out for peppermint mochas. 

Check out a TikTok of the muslin blanket in action. 
Promising review: "This blanket is the most amazing thing ever! It is incredibly soft and lightweight. It is warm but not overwhelming. It looks great as a throw for decoration but so comfortable you have to use." —Fairykisses

Get it from Amazon for $34.89+ (available in 10 colors and six styles).
14.
A tiny milk frother that makes rich, creamy froths in seconds, because why stop at regular tea and coffee when you can have velvety-soft milk tea and lattes?
Promising review: "So I'll admit I got this on a whim after a TikTok video, however I'm in love with this thing! It's so much fun to use and you make your at home drinks feel so much more special. It's easy to use and froths pretty quickly if you're on the fence I'd say what are you waiting for buy it already!" —Denise
Get it from Amazon for $19.99 (available in 44 styles).