1.
A Yonanas fruit soft-serve maker that magics any frozen fruit into an ice cream or sorbet texture so you can have a yummy frozen treat made to your *precise* favorite fruit combos. A lot of folks with dietary restrictions swear by this to get their ice cream kicks! 
Promising review: "I saw one of these in action at a friend's house like five years ago and thought it was just a made up memory, because making ice cream out of solely frozen fruit seems wild. But when I saw a TikTok about it I immediately went to Amazon and bought it. Literally this was the BEST decision of my life. I cannot believe still how amazing this thing is! It makes the creamiest, best tasting fruit ice cream ever. It's easy to take apart and clean, and super easy to use." —DMCKAY
Get it from Amazon for $39.98. 
2.
BYO Blush Oil, which is the ultimate in easy-to-use makeup because it practically does all the work *for* you — its color is designed to react to the pH of your skin, giving you a wholly personalized look without any extra work. TBH, it's no wonder this is one of their bestselling prods.
Youthforia is an Asian woman-owned small business established in 2020 that specializes in environmentally friendly, cruelty-free makeup made with at least 90% renewable ingredients.

Fun fact: All of Youthforia's makeup is designed with ingredients that make it A-OK for your skin to sleep with it on! 

Check out a TikTok of the BYO Blush in action. 
I tried this out myself and I have to say, it is WILD watching it adjust to your skin's pH in real time. It was a very bright pink at first but super easy to spread — a bit like Glossier's Cloud Paint, except personalized. It's very long lasting, too — I applied in the morning and could still see a rosy glow by the end of the day. 
Promising review: "Dewy and glowy. I tried it over makeup and it appeared as a strong pink shade but settled to a flushed, glowy color. I had my little sister try it too because I wanted to see the color change again and it lasted a really long time on her. The texture was smooth and it was easy to rub in and blend out." —Summer
3.
A "holy grail" Coop Home Goods pillow designed for side, back, *and* stomach sleepers to get the best shut-eye of their lives. This medium-firm pillow has an entirely adjustable memory foam fill so you can mold it to the exact firmness, size, and shape you need. In other words: this is the One Pillow that will serve you well for a long, long time. 

Promising review: "I hardly ever write reviews but I have to for this. I saw this pillow on TikTok and it got me curious so I immediately came to Amazon. OMG, it's such a game changer. I'm a side sleeper and this pillow is heaven. It's some of the most comfortable sleep I have had in ages. I love it so much I bought a second one and have my eye on the body pillow. Obsessed! You need this in your bedroom." —MT
Get it from Amazon for $72+ (available in two sizes and three shapes). 
4.
A Stealth core trainer that turns exercising into a *game* so you can trick your body into working out by occupying your brain with the business of "stealth speed gliding" and "galaxy adventure," which are just two of the catchy games in this system that help work your core. 
Stealth Fitness is a small business that specializes in unique at-home fitness equipment. 
Here's what BuzzFeeder Mallory Mower says about this gizmo: "Getting a Stealth board was the very best thing that has happened to me during quarantine. Mixing the fun of games on your phone with the natural endorphins you get from exercising is, to put it lightly, genius. I have two in my home, and my husband and I compete daily to see who can last the longest. My favorite game is the paragliding challenge; he's into the planet-blasting space adventure. Nerd."
Promising review: "Fantastic purchase to solve the boring plank exercises after a year of doing them. This has a quick, easy, simple hit-it-and-forget-it daily with a game, three minute max, and great results. Much improved core strength, reduce lower back pain, and a high five from my doctor. Highly recommend this for those in need of core build up and help managing the time to fit this into a daily schedule." —James Corey
Get it from Amazon for $149.

5.
A Bissell multipurpose carpet and upholstery cleaner with a *MAJOR* fan following of parents and pet owners — this compact, super portable powerhouse uses warm water and a special formula to make stains from grass, mud, pet accidents, food, and all your other home-related shenanigans look like they never even happened. 

Each cleaner comes with a trial size of Bissell's Spot & Stain Formula, which is also available on Amazon for $16.99! 
Promising review: "I wish I had taken photos since I was amazed at the results, honestly. I bought my car about a year ago and it had stains all over the seats — I didn't want to pay $300+ for them to be cleaned since I'm a college student so I just waited. My sister saw a TikTok video or something about this machine and while I was doubtful that it would work since some of these stains have been there for who knows how long I finally bought it cause I spilt a blue slushee over my car seats. Lo and behold I now have a car with no stains whatsoever! I wish I had gotten it sooner!! I wish I would've taken before and after pics but I'll try and upload some of how it looks now at some point! But 15/10 recommend!!" —jovana montoya
Get it from Amazon for $109.59.  
6.
A pressure relief seat cushion that is basically a longterm investment in your entire human body, particularly if you're someone who gets uncomfy sitting for long hours at a desk or behind the wheel. The extra dense foam is designed specifically to ease hip, tailbone, coccyx, and sciatica pain. 

Promising review: "Changed my life. I work from home and sit at my desk nine hours during the week and four on Saturdays. I had so much pain in my tail bone sometimes I could hardly stand after sitting all day. Since receiving cushion (which arrived on time and is as described), I have had about 90% pain relief. I was hesitant to order because of the price, but it is worth every penny. I take it on flights and road trips and am considering buying another one to leave in my vehicle." —Poboie

Get it from Amazon for $72.99. 
7.
A ridiculously soft, pretty pastel Essential Hoodie from Pond LA, which is basically what happens when a cozy sweater and and a sleeping mask join forces to create the ultimate lightweight piece you can use for everything from light naps to full-on workouts. Not to mention...it's got a secret kangaroo pocket 🦘.
Pond LA is a California-based woman-owned, Asian-owned independent product design studio that produces in small, handmade batches from fabrics sourced in Los Angeles.
Promising review: "I fly a lot and am constantly trying to find a hoodie with a big hood to cover my eyes so I can catch up on some beauty sleep on flight. I saw this product on Instagram and knew it would be a game changer. I was able to use it recently for the first time on an early morning flight and let me tell you, it is EVERYTHING I was looking for and more. It's comfy, cozy, oversized and the eye covers make you feel like you're in a whole other world and not packed like a sardine on a plane. My over ear headphone fit perfectly under it and I got the best sleep I've had on a plane — EVER! Like other reviews have said it is big so size down if you want something a little more snug. I have been wearing it everyday at home and can't wait to get the black and blush one!" —Heather G.
Get it from Pond LA for $102.40 (originally $128; available in women's sizes XS–L and three colors).
8.
A Waterpik water flosser basically tailor made for anyone with sensitive teeth or gums — this deep cleans super effectively and gently, and is actually *more* effective than ordinary floss at improving gum health. People with braces and permanent retainers also swear by this to get to hard-to-reach spots.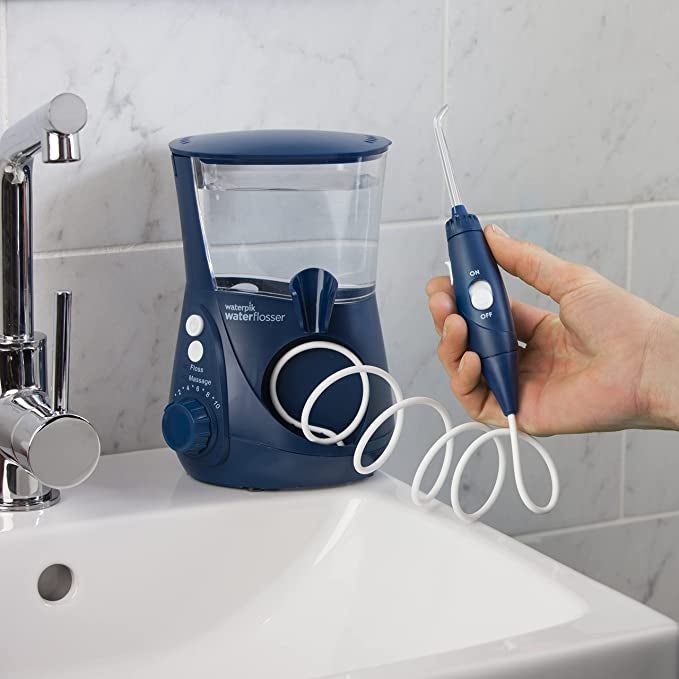 Promising review: "Extremely quiet and well worth the money. I've been having problems with my gums bleeding and my teeth are too crowded and tight to comfortably floss, so I decided to go with a water jet plaque cleaning system. I decided on this one because it looks sleek (I got it in black), had good reviews and had all the accessories... so I took a shot. I use warm water and mouth wash in the hopper and after only a few days my gums are not bleeding anymore. My mouth feels similar to how it does after I leave the dental hygienist after every use ... love it. If you get this one I recommend using the toothbrush attachment because it massages the gums as it passes and controls the water splatter so is therefore less messy." —CAM

Get it from Amazon for $71.99+ (available in five colors).
9.
A towel warmer the entire family will welcome into your home like it's the newest (and new favorite) member — there's nothing quite like coming in from the cold and stepping into a warm robe, toasty PJs, or a cozy warm blanket, and with this machine you can experience it *all*.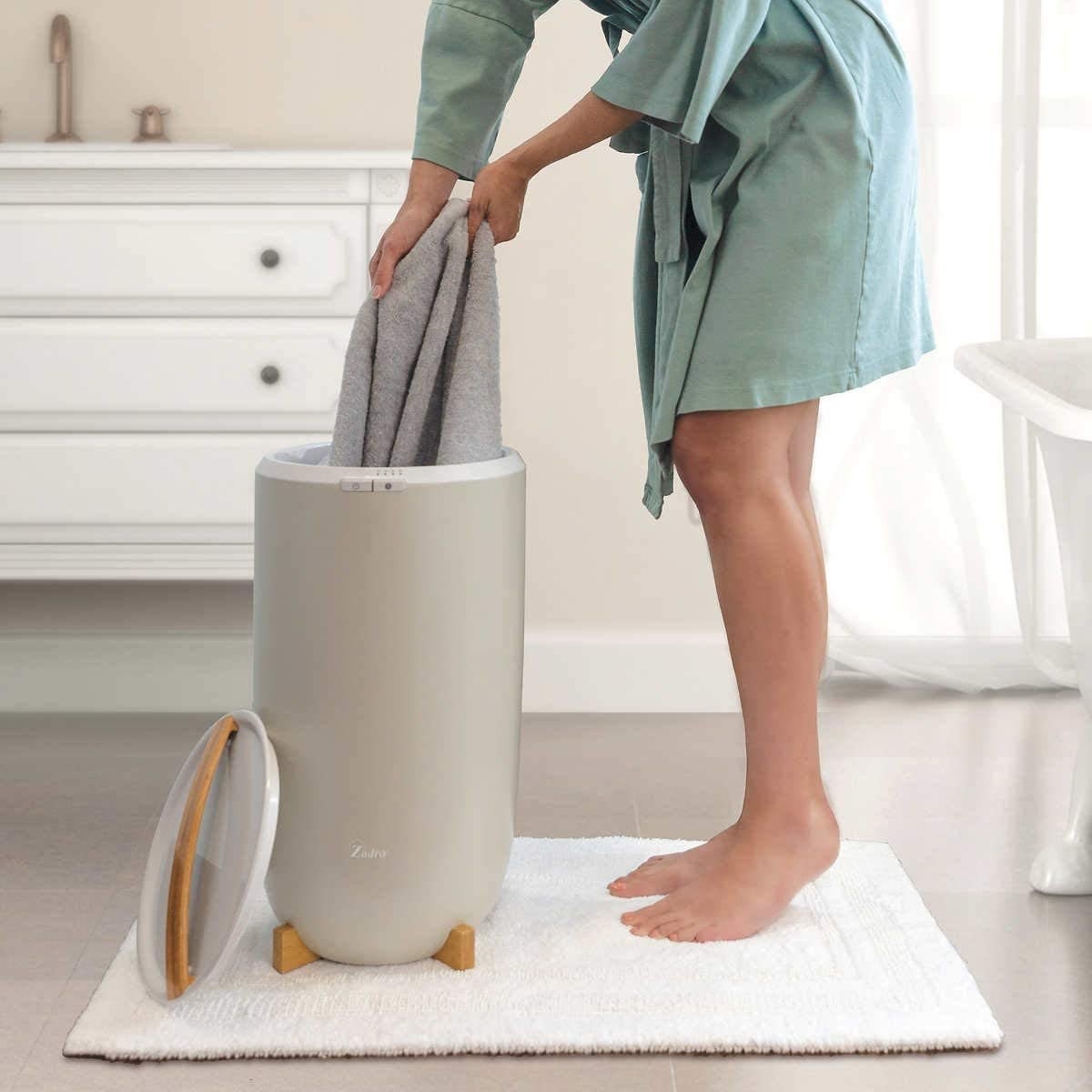 Promising review: "This does an awesome job of keeping up to two bath sheet sized towels warm. Several time settings. This is awesome to get out of the shower and have. I won't go back to not having heated towels — it's amazing!" —Anne Bowman

Get it from Amazon for $148+ (available in four colors).
10.
A durable, Shark Tank–featured Rumpl outdoor blanket made to withstand the chill — it's light enough for easy transport, but puffy and insulated in case you want to convert it into a snuggling blanket. Bonus: The outside is made with a ripstop polyester fabric to keep it weatherproof, and it's fully machine-washable and dryer-friendly!
Rumpl is an Oregon-based small business specializing in outdoor blankets that donates a portion of its revenue to environmental nonprofits.
Promising review: "I've used it in Wisconsin to continue having outdoor hangouts with my friends during Coronatime. It's that extra cozy layer for patio dining and porch sitting. Packs down tight to keep in the car for impromptu outdoor happy hour!" —Julie K.
Check out our Rumpl puffer blanket review for more details!
Get it from on Amazon for $125+ (available in 12 colors) or from Rumpl for $125 (available in 30+ colors).
11.
Ilia Super Serum Skin Tint SPF 40 Foundation for light, easy coverage that's working overtime not just as makeup, but for skin health, too — on top of the protective SPF, it's formulated with squalane to help skin's hydration and elasticity and hyaluronic acid to improve moisture levels. Basically it's light foundation, but give it superpowers. 
Promising review: "TikTok made me buy it. I've never been a foundation person, a little bit of a light concealer under the eyes is usually as far as I'll go. Recently I've noticed more redness and wanted a product that added a light veil for a more cohesive base. This is perfect! So natural looking and it feels good. It's also nice that there are skincare ingredients including sunscreen so I feel like I'm doing something good for my skin while making it look better. I don't think I'll need to replace it anytime soon since you only need a small amount, but when I do I will definitely be repurchasing!!" —hal3ymac4
Get it from Sephora for $48. 

12.
A portable mini projector to turn any flat wall into your personal movie theater in the blink of an eye — simply hook it up to a device like your phone or computer and you're golden. Parents especially love having this in their back pockets for traveling! 
Promising review: "This projector can't be beat, especially for the price. The setup was really easy. I have been using it with my Roku and purchased an HDMI/USB adapter so I can use it with my phone. The picture quality is fantastic. I originally planned to use external speakers but there is no need — the sound is great. We have had a lot of fun projecting movies onto the ceiling and outside against our garage. I am really impressed with this product and after seeing it, several of my family members plan to buy it too. It's a great gift — I actually bought it for a gift exchange and ended up choosing it for myself!" —Joanna
Get it from Amazon for $69.99.

13.
A retro-style pixel art game Bluetooth speaker so beloved by reviewers that a ton of them are gifting it to loved ones. It serves not just a speaker, but as a tiny canvas to make your own pixel art, a retro game console, an alarm clock, and even a white noise machine. Oh — and any designs you make on the pixel art screen can dance along to the music you play! 

Check out a TikTok of the retro Bluetooth speaker in action. 

Promising review: "Sound quality and durability is very good! I like the ability to change the artwork on the cover, the ability to change the brightness of the image, the ability to change the volume of the startup/connect/disconnect, the auto-shutoff and auto-sleep mode toggles, and the ability to set multiple alarms (available on the app only, sadly, not out of the box). There's surprisingly a lot you can do with such a seemingly simple device, and it's made more than a great replacement alarm clock for me, which is initially what I bought it for. Highly recommend if you've got the extra coin to spend on something cute, fun, and practical!" —Soul Breaker
Get it from Amazon for $84.92 (get this price by clipping the 15% off coupon on the product page; available in six colors).