1.
A nontoxic, family-friendly outdoor/indoor bug zapper so you can camp or chill out on the patio all summer long without waking up the next morning with bites all over your body realizing you weren't just eating dinner outside, you *were* something's dinner outside. This works on mosquitoes, flies, stinkbugs, moths, *and* gnats by attracting them and zapping them both inside and out of the home. 

Promising review: "Within 10 minutes of plugging this baby in (during the day I might add!), we heard our first BUZZZZZ! Within an hour and many more buzzes, things got quiet! And our house was finally free of flies! They have been out of control INSIDE OUR HOUSE this year. We live in Florida, so we are used to mosquitoes and flies, but it's been so bad! We've tried numerous things outside, but somehow they still come in! We don't leave food out EVER, so it's not like counters etc. aren't clean. They are! But the flies have been driving us nuts! After four days, I now just turn it on in the evening for a couple of hours, and I hear several buzzes, then the house is clear. The flies love the light! They come from far and near to investigate it! The machine is quiet until it zaps! But it truly works! There are no chemicals or smells. It's safe to have around — much safer than having flies buzzing around! I hope it lasts a long time! But for now, it's at the top of the list for 'best purchases of the year'!" —BarbR

Get it from Amazon for $35.87. 
2.
A painless, mint-flavored teeth-whitening pen that gets results from the very first use, lightening up years' worth of stains from coffee, tea, wine, or just...you know. Existing as a human with teeth.
Promising review: "I bought this on a whim when I saw someone review it on TikTok. After using it several times over the course of a week, I immediately noticed the difference in the color of my teeth. I'm a smoker and a heavy coffee drinker. I'm finding that this product will be a lifesaver in terms of what my smile looks like. I would definitely recommend!!" —Mully
Get a two-pack from Amazon for $15.99 (clip the $4 off coupon on the product page for this price).
3.
A set of affordable, highly popular wireless Bluetooth earbuds that make *excellent* AirPod dupes, except arguably better — these are completely waterproof (like, you can fully take them in the shower) and come with several silicone earbuds to get the best fit possible.
These come with a wireless charging case that provides up to 14 hours of charge (with the earbuds able to play for four-plus hours with each full charge). 
Promising review: "Best decision! These are the greatest headphones ever! I saw them on TikTok months ago and added them to my wishlist. I got a new phone that doesn't have the headphone port so I decided it was time to finally buy them. They are amazing and I probably won't ever take them out of my ears! 😂" —Katlyn D Arnold
Get it from Amazon $21.99+ (get this price by clipping the 15% off coupon on the product page; available in five colors).
4.
A vacuum-free space-saving compression bag so easy to use that all you have to do is stick your clothes inside, zip up the bag, roll the bag, and watch all the excess air get squished out of them until your clothes magically shrink. Yes, maybe it's only a weekend trip, but some of us need OPTIONS!! 
Promising review: "These were the things I never knew I needed for traveling. They work just as advertised and are really useful when going on a trip. I always hate at the end of a trip having to mix dirty and clean clothes — a 'laundry bag' or plastic shopping bag never really felt like a good enough separation. These bags seal up and conceal the most stinky, wet clothes from your clean unused clothes. They are going to be one of my new necessities for my big family when traveling." —Sarbello
Get a set of eight from Amazon for $15.57. 
5.
A Bissell multipurpose carpet and upholstery cleaner that has a *MAJOR* fan following of parents and pet owners — this compact, super portable powerhouse uses warm water and a special formula to make stains from grass, mud, pet accidents, food, and all your other home-related shenanigans look like they never even happened. 

Each cleaner comes with a trial size of Bissell's Spot & Stain Formula, which is also available on Amazon for $12.99! 
Promising review: "Yep! TikTok made me buy it and I loved it. Looked for it online, and on Walmart they were about $150 for some reason?? Got it here, and I am LOVING IT. Things definitely look cleaner. Spots on my carpet are gone, and my car seats look brand new for the first time since I bought it! Directions are easy. Just a heads up, MAKE SURE TO USE WARM WATER. if you leave water in it and it gets cold, it's not as effective, so just follow instructions and it should be wonderful!" —Carlos 
Get it from Amazon for $123.59.  
6.
A delightful little tool called the Bug Bite Thing that suctions on all kinds of bug bites to reduce swelling, itchiness, and redness.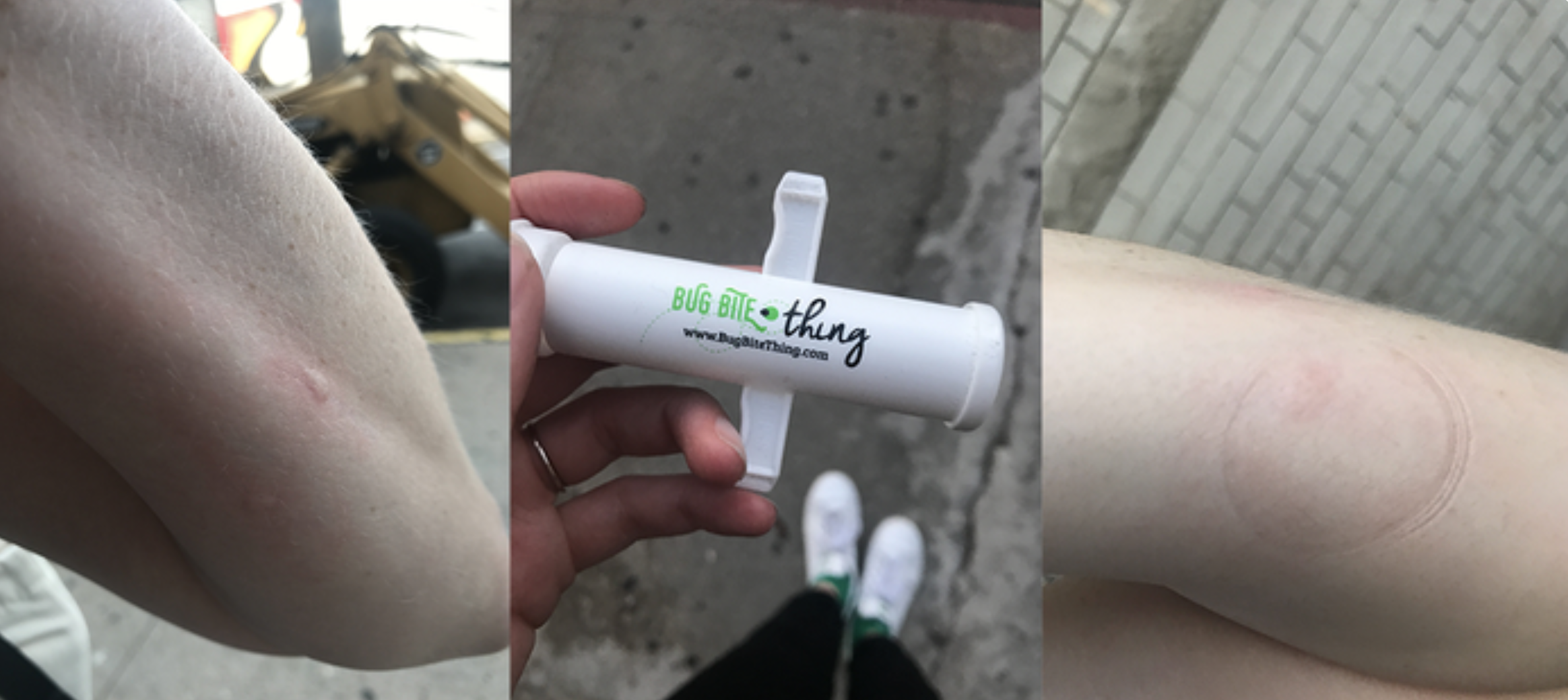 Rebecca O'Connell / BuzzFeed
This works on mosquitoes, bees, wasps, biting flies, sea lice, and more (although TBH, if this list of bugs gets any longer I may just stay indoors forever!!).
Promising review: "I bought this because I saw it on TikTok, and have been having issues with mosquito bites. Used it a few time to relieve itchiness and I am convinced it works! Have been recommending it to my family and friends.  Read the directions and follow them carefully. Don't use this on your face or neck, or other sensitive areas. Don't do a lot of suction, just a little bit. And do it a few times if needed. Great invention!" —Joe
Get it from Amazon for $9.99 (available in three colors). 
7.
An enzyme-based laundry stain remover that is basically the ultimate in "I'm too busy for this nonsense" hacks — all you have to do is spray it on a stain, throw it in the hamper, and wait for it to come out whenever you get to wash day. 
Puracy is a Texas-based, family-owned small business specializing in plant-based, chemical-free, hypoallergenic home products, with a donation made to local families in need with a portion of every purchase. 
Psst — this spray also does a number on all those other miscellaneous stains in your life, like wine, coffee, soy sauce, makeup, and period blood! I recently bought this to test it for myself, and can attest to how well it works to get period blood out even after you've tried something else. I stained a pair of beloved bright-blue bike shorts in my sleep and tried to get it out with soap and water, but the stain was still there when it came out of the wash. I treated it with this, stuck it back in the wash, and BOOM, it's like it never happened (I panicked before I could get a before and after, please forgive me, laundry gods).
Promising review: "Mom of four here, one of whom is just a month old. I found this product after searching for 'breast milk stain remover.' Nursing my prior kids taught me the woes of stains like this — never have I thrown out more clothes than when I was breastfeeding. In the last month this stuff has proved to be a miracle worker with all sorts of stains. We've used it on breast milk, baby poop, spit up, big kid poop, mud, grass, ketchup, balsamic vinegar, Sriracha, chicken dung and mustard. No stain has survived. I follow the instructions and spray the stain, then I load up my washer and set it on a delayed start. Sometimes I'll spray and leave overnight. I haven't had any issues with damage to clothes like other reviewers. With four kids and a need to keep their clothes nice to pass along, this stuff is a lifesaver. I'll be stocking up!" —Kathleen
Get it from Amazon for $9.99.
8.
A lawn dog spot repair treatment so your grass can look as spiffy and green as it did before Fido decided to mark their territory by peeing in the same spots over ... and over ........ and over again. Reviewers notice results within *days*! 

Promising review: "We purchased this to fill some patches in our backyard that were damaged by our puppy. This seed works like a charm. The one caveat is that you really do have to water it a bit every day. Once it takes off though, it grows pretty quickly! Within one week of planting this, we had one-inch long grass blades. One month later, all the patches are gone. Highly recommended!" —Jessica N. 
Get it from Amazon for $16.97+ (available in multiple sizes). 

9.
A no-scrub weekly shower cleaner you can quite literally "set and forget" to maintain its cleanliness over time — once you apply it after a shower, you just have to wait 8 to 12 hours and it'll quietly tackle the soap scum, grime, oils, mold, and mildew stains without any elbow grease from you.
Promising review: "I have well water. Something in my well water reacts with copper plumbing and turns my shower tiles blue. Since my bathroom color scheme isn't on the blue spectrum, this is problematic. The well water also causes the shower glass to film up quickly. I've tried dozens and dozens of cleaners and scrubbed till my arms ached trying to get ahead of the blue and scumminess. My ambition in life is NOT to be a full time bathroom scrubber! I saw this stuff on a professional house cleaner's TikTok (sorry, don't remember which one) and thought 'what the heck, might as well give it a try.' Oh my goodness, the first day after my shower I sprayed this stuff all over and walked away. The next morning there was a NOTICEABLE reduction in the blue and the glass looked clearer too. Day two, sprayed again and walked away. The next morning the blue was gone except for a few spots on the floor tile and the glass looked amazing. Day three I sprayed the remaining spots and the next morning the shower practically looked new. NO SCRUBBING AT ALL!!!! This is my new favorite shower cleaner. The ONLY con I have is that it makes me sneeze while I'm spraying from inside the shower, but I can live with that." —L. J. Petillo
Get it from Amazon for $17.97. 

10.
A bottle of Elizavecca Hair Treatment, an Olaplex "dupe" repairing mask infused with collagen ingredients and protein extracts that will help restore hair health and reduce shedding. All you gotta do is apply it on wet hair after a shampoo, wait five minutes, and rinse it out.
This is designed to work on all hair types, with reviewers with 2b to 4c curls mentioning it worked for them! 
Promising review: "I saw this on TikTok, and in between other compares products that were four times the price, I decided to bite the bullet and buy this — let me tell you, best decision ever! I shampooed my hair, then heavily massaged this in, from ends to scalp. The carton says 5–20 minutes... But I ended up leaving it in for two days! And after I washed it out, my hair was so shiny, bouncy and CURLY! My curl recovery journey has been long, but this has helped restore so much vibrance and shape to my hair. My mom has been stealing it from my bathroom every couple of days, after having similar results on her hair. Going to need to buy a few more to ward her off." —curlyhead3
Check out BuzzFeed's full review of the Elizavecca hair treatment for more deets!
Get a bottle from Amazon for $7.90.
11.
A set of reusable silicone Nippies, a cult-fave nipple cover that reviewers love for its seamless fit and the way it stays put even on the sweatiest of human days without budging. Fun tops and dresses with funky straps have officially entered the group chat!! 

Promising review: "I LOVE these! Total game changer. Very smooth taper, seamless transition for layering under the most challenging tops like silk and super soft lightweight T-shirts. I've owned this pair for a year, they still stick well and are just starting to lose adhesion around the edges. I even wear them while exercising, no issues! I actually bought another pair to replace them months ago and still haven't needed to open them :) I wear these a couple of times a week and am very happy with the product, highly recommend! It blends nicely with my skin color, it does not show even under white tops." —Lets Go Shopping
Get it from Amazon for $25+ (available in two sizes and three shades). 

12.
"The Clean Ball," which is a nifty little gizmo you can stick in your purse or bag to pick up all the crumbs and debris that settle down there — now it'll be clean as a whistle whenever you go rooting through it, and you won't have to get all the "ick!!" on your belongings.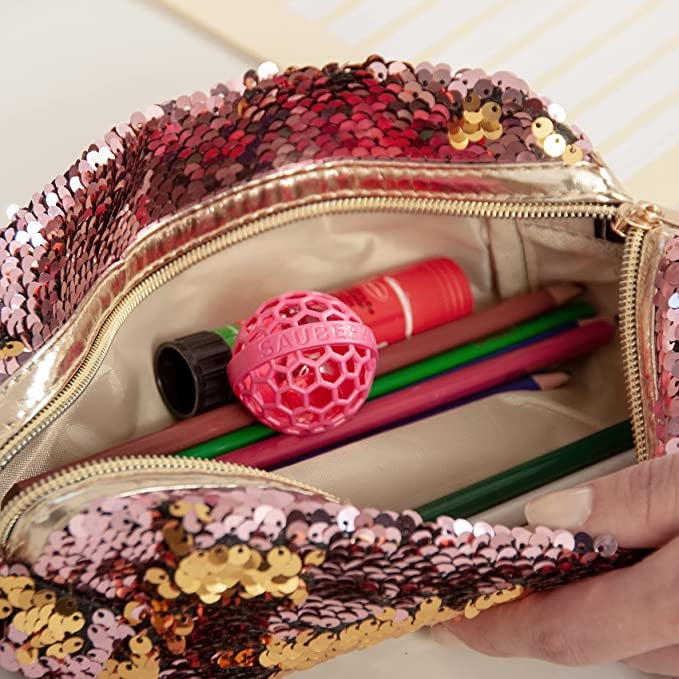 Promising review: "This little ball is genius!! Rolls around in my purse, which I live out of. It picks up a lot lint, debris or even crumbs. Easy to find with the bright pink. Just remove and wash and it's ready to go again. The price was great and something I can use for years. If you live out of your purse this a must have!!" —dj3biggs
Get it from Amazon for $12.99 (available in two colors). 
13.
A foaming garbage disposal cleaner you can plop into your sink, run a little water on, and let its blue magic fizz its way up to the top while clearing out all the gunk from your culinary adventures in one go.
Promising review: "These are amazing! I was skeptical at first but I followed the directions (which are super easy) and was grossed out and satisfied at the same time to see the gunk that was removed. You put the entire packet down your disposal (I read that twice too) and magic happens in under two minutes! That is what I call powerful and successful cleaning! The scent is super clean and light with a hint of lemon. These will definitely be a cleaning staple for me." —KPITT
Get a four-pack from Amazon for $3.98.
14.
A spray bottle of SoCozy Curl Spray Leave-In Conditioner, which is beloved by kids and parents alike — this lightweight formula is designed to spray in your hair before bedtime to prevent bedhead frizziness and tangles by restoring and detangling curls. No muss, no fuss, and *significantly* less crying over hairbrush routines in the morning! 
This is designed to work on all hair types, with reviewers with 2a–4c curls swearing by it! 
Promising review: "Amazing!! I had NO idea that my frizzy-haired little girl had beautiful curls. I went down an Instagram rabbit hole and saw a similar girl show how her frizz was curls. I ordered this!! My mind has been blown!! This has changed our lives. It smells so good! It is easy to use and air dry. Before my daughter woke up with terrible bed head that looked like this! Now it is gorgeous soft curls. We will definitely buy again and tell everyone about this product!!" —Amazon Customer
Get it from Amazon for $8.69.
15.
A fast-acting ChomChom pet hair remover roller that is deeply beloved by pet owners — it's like a sticky lint roller, but specifically designed to pick up pet hair and not only lock it in, but stash it inside the roller itself, so you don't end up making matters worse by just shoving the hair around instead of getting rid of it properly. 

Promising review: "I have a golden retriever and the shedding is out of control. My fabric sofa is constantly covered in hair and I finally decided to try this after reading an article about popular TikTok products. The reviews do not lie, this thing works magic!! I wish I had taken a before and after picture because the difference is noticeable. I watched the video tutorial before I tried it to ensure I was using it properly and everything he says is true, you do really have to put your arm to work with vigorous back and forth movement! However, I find it's a great arm workout and it works wonders." —Joanne Ertel
Get it from Amazon for $25.95.