1.
A sleek time-marked water bottle that says "hydration, but make it chic." Reviewers love this bottle not just for the chic frosted, minimalist look, but because it's super lightweight, leakproof, and motivational re: keeping yourself fully watered. 

Promising review: "Saw it on TikTok and thought it would be a great bottle for work. It is very sleek and lightweight enough to carry when you have other items in your hand. I love the modern look and cleans very easily! The time increments really do motivate, definitely ordering again for myself and gifts. Fast delivery and very nice packaging." —Rosa

Get it from Amazon for $15.99+ (available in three colors and two sizes). 

2.
A set of affordable, pretty pastel wireless Bluetooth earbuds reviewers compare to AirPods, except arguably better — these are completely waterproof (like, you can fully take them in the shower) and come with several silicone earbuds to get the best fit possible.
These come with a wireless charging case that provides up to 14 hours of charge (with the earbuds able to play for four-plus hours with each full charge). 
Promising review: "Best decision! These are the greatest headphones ever! I saw them on TikTok months ago and added them to my wishlist. I got a new phone that doesn't have the headphone port so I decided it was time to finally buy them. They are amazing and I probably won't ever take them out of my ears! 😂" —Katlyn D Arnold
Get it from Amazon $18.99+ (clip the "$5 off coupon" for this price; available in five colors).

3.
A stackable oval gem ring so gorgeous and well-made that reviewers use it as a temporary wedding ring when they're traveling. Psst — people love stacking it with other high quality Pavoi rings! 

Promising review: "I order all the jewelry from Pavoi and this was another ring to add to the collection! I've been wearing it every day. The quality is great and you can't beat the price!" —Angela Israel

Get it from Amazon for $14.45 (available in four plates and sizes 5–10). 
4.
A cloud-shaped utility knife you *need* in your life if you're a person who gets a lot of packages — this will save you a whole lot of time and effort (and DESPAIR over your ruined nails) with quick, easy cuts. 

Check out a TikTok of the cloud knife in action. 

Promising review: "I love these — sturdy, sharp with retractable blade. I keep them in different rooms for opening packages or breaking down boxes to recycle. Would recommend and buy again." —Amy Yasneski
Get a set of six from Amazon for $9.   
5.
A set of sophisticated cylindrical wineglasses that will elevate your Friday wine-cheese-and-Netflix nights so instantaneously you'll feel like an extra in one of those Shows About Rich Families Who Fight All The Time. 
Joy Jolt is a small business that specializes in modern and pop culture-themed drinkware and kitchen accessories. 
Promising review: "I saw these wineglasses on TikTok and had to order them. They are perfect! Will be purchasing again as gifts for my friends!" —diana

Get a set of two from Amazon for $16.10+ (available in three styles). 
6.
A book-shaped flower vase with some real "Belle from Beauty & the Beast" energy (like TELL ME this vase wouldn't absolutely come to life and start strutting its stuff all over the library). 

Check out a TikTok of the book vase in action. 

Promising review: "The vase was so pretty I bought a second! They're durable and very appealing to the eye. I will be purchasing more." —kayla
Get it from Amazon for $15.99+ (available in four colors). 
7.
A plug-in color-shifting mushroom light for anyone whose little hobbit heart could use an extra dose of cozy in their room. Reviewers swear by this lil bub for navigating their rooms at night!

Promising review: "I LOVE this night-light. It's in my bathroom and is a lovely addition. It turns off the second the lights go on which is nice that I don't have to worry about accidentally leaving it on. Super cute and the little itty-bitty lighting element does a good job lighting, just enough so I don't have to turn the main lights on in the middle of the night." —1Thand

Get it from Amazon for $5.97. 
8.
A plush velvet vintage-inspired ottoman that'll serve not just as a sweet accent to any room, but also give you some ~sneaky storage~ to help declutter and calm your space. 
Another bonus? If you flip the lid over, it has a wooden base, so you can *also* use this as a teensy snack table. I recently got one of these for my new apartment to stash my candles and ~candle accessories~ in and it's pretty much become my favorite piece of furniture?? I use it to prop up my feet during work hours and sometimes if I want to eat on my couch I'll use it as a tray. It's also sturdy enough to sit on, if I ever wanted to have guests over and needed an extra chair. It was RIDICULOUSLY easy to set up — I had it done in less than 10 minutes, and probably didn't even need the directions. It also just looks so darn cute (and comes in so many colors that I'm tempted to buy another!).
Get it from Amazon for $39.98 (available in six colors).

9.
A ridiculously plush blanket reviewers swear compares to the $$$$ Barefoot Dreams version, matching the quality, ridiculous softness, and durability without the big ole yikes of a price tag. 

Promising review: "I saw this blanket on TikTok and I have to say I absolutely love it. I washed it several times now and it's maintained its elasticity and softness after each wash. It's warm enough but not too hot for a throw. Absolutely recommend this blanket!" —Amy

Get it from Amazon for $24.64+ (clip the 10% off coupon on the product page for this price; available in 15 styles and two sizes). 
10.
A seamless Skims-esque bodysuit that is (gasp!!) comfortable for long day wear, and way more affordable to boot. This makes for an excellent staple piece to dress up, down, and arouuuunnddd towwnnn, especially when you have no idea where the night will take you. ✨

11.
A set of vintage-inspired glass mugs reviewers love to use for everything from coffee to yogurt parfaits to oatmeal to add a subtle little Great Gatsby-esque touch to their morning routines. 

Promising review: "Came straight to Amazon when I saw these beautiful mugs on TikTok. I just had to have them! I'm very picky with mugs, these are perfect for me. Stunning to look at and a pleasure to drink out of. Highly recommend!" —Margarita Harutoonian
Get a set of two from Amazon for $15.99 (get this price by clipping the 20% off coupon on the product page; available in six styles). 
12.
A retro-style smoothie maker that honestly has a lot of audacity being that cute AND that functional?? It blends in either a LITERAL MASON JAR or a plastic portable sports bottle you can pop right off and drink from. But don't you dare underestimate this cute little bean — it can crush ice and blend frozen fruit like nobody's business. 

Promising review: "Wow. I have been through many high end blenders that have broken or just didn't cut it. Well, I am so amazed at this blender. Perfect size for my smoothies and so easy to use. I love how you simply twist on the lid and turn it on. It blends so nicely and doesn't leave my protein powder on the sides like my old blenders do. It crushed ice and blends up to a perfect consistency. I've never written a review on here before but I am amazed at this!! Not to mention it's so cute on the counter!" –Casey

Get it from Amazon for $34.98 (available in two colors).
13.
A 12-piece Goodful cookware set so beautiful that when guests walk in they'll be like, "Um, did we all die and go to Instagram aesthetic heaven?" Beauty aside, these are made with a titanium-reinforced, ceramic non-stick surface to ensure all your food cooks evenly and comes off the cooking surface like a *dream*. Bonus: the pots and pans are dishwasher-safe!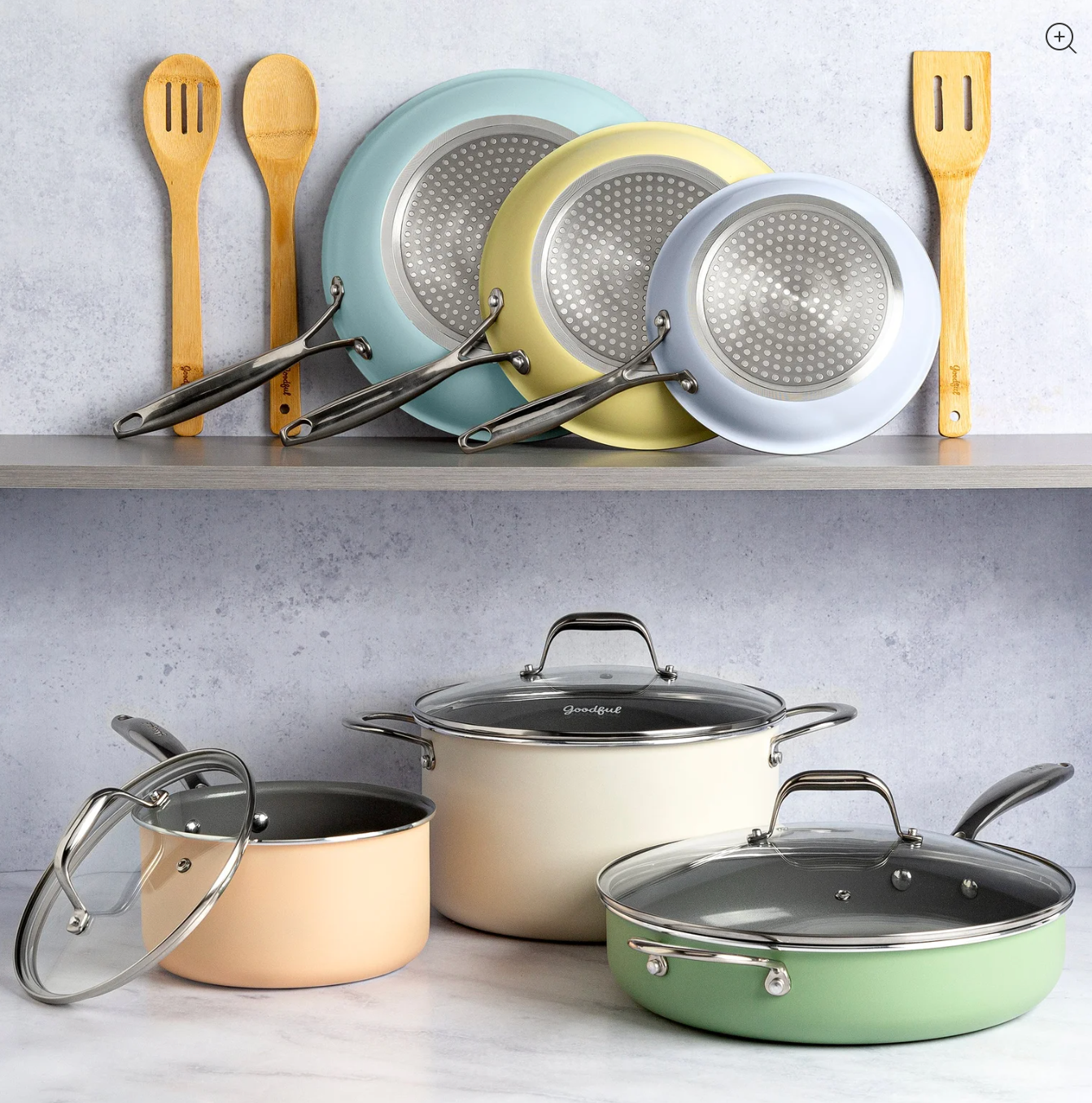 Each set includes an 8-Inch, 9.5-Inch, and 11-Inch frying pan, a 2.5-Quart saucepan with a lid, a 6-Quart stockpot with a lid, a 4-Quart deep cooker saute pan with a lid, and a 3-piece bamboo kitchen utensil set. 

Get it from our Goodful shop for $129.99.