I Asked Three Different Stylists To Dress Me Outside My Comfort Zone
How to dress adventurously while still feeling comfortable in your own skin.
Hi, I'm Emma. Like most humans who are exposed to pictures of beautiful people on a daily basis, I'm riddled with insecurities about how I look.
There are lots of things I'm insecure about, but my biggest bugbear is my height (5' 2"), followed closely by my paleness. There's also something about showing my upper arms that makes me want to die a little inside, I can't tell you why, it just does.
Because of these various insecurities, I dress a certain way to feel comfortable.
There's a constant drip feed of style "rules" women are told they should follow to hide various flaws, and over time you subconsciously start to stick to them without even thinking about it. Which is why I largely wear jeans, dark T-shirts, and high-heeled boots. High heels to boost my height, T-shirts to hide my upper arms, and dark colours because I think they complement my skin tone. Also, I spill a lot of stuff on myself.
Sure, there's something to be said for knowing what you like to wear. But being too scared to wear anything more exciting than jeans and T-shirts? Fuck that. I don't want to be a scared girl. I want to be a summer girl with hair and colourful clothes and summery friends who know how to be outside. My upper arms yearn for the sunlight. It's time they saw it.
I didn't want to start breaking my self-imposed style rules willy-nilly, because stepping outside your comfort zone is one thing but looking like a total twat while doing it is another. So I asked three stylists to help me out.
The rules were simple.
I gave each stylist a "style rule" to break. We then went shopping for an outfit that broke that rule, but that I hopefully still felt comfortable in. Each outfit had to cost no more than £50. I gave some indication of what I did and didn't feel comfortable in, but largely tried to keep quiet and let them do their thing.
Melissa is a fashion stylist, fashion and lifestyle blogger, and interior decorator. She's been blogging for five years, has been featured in Metro, Vogue Italia, and Asos magazine, and has worked with brands like Asos, Farfetch, and Refinery29. She describes her personal style as "quite edgy and sleek. I like to mix low-end high-street clothing with designer accessories."
Style Rule: "No 3/4-length skirts"
I like how 3/4-length skirts look, mainly because they fulfil all my inner Disney princess fantasies, but I worry they make me look like someone's put their thumb on my head and pressed down.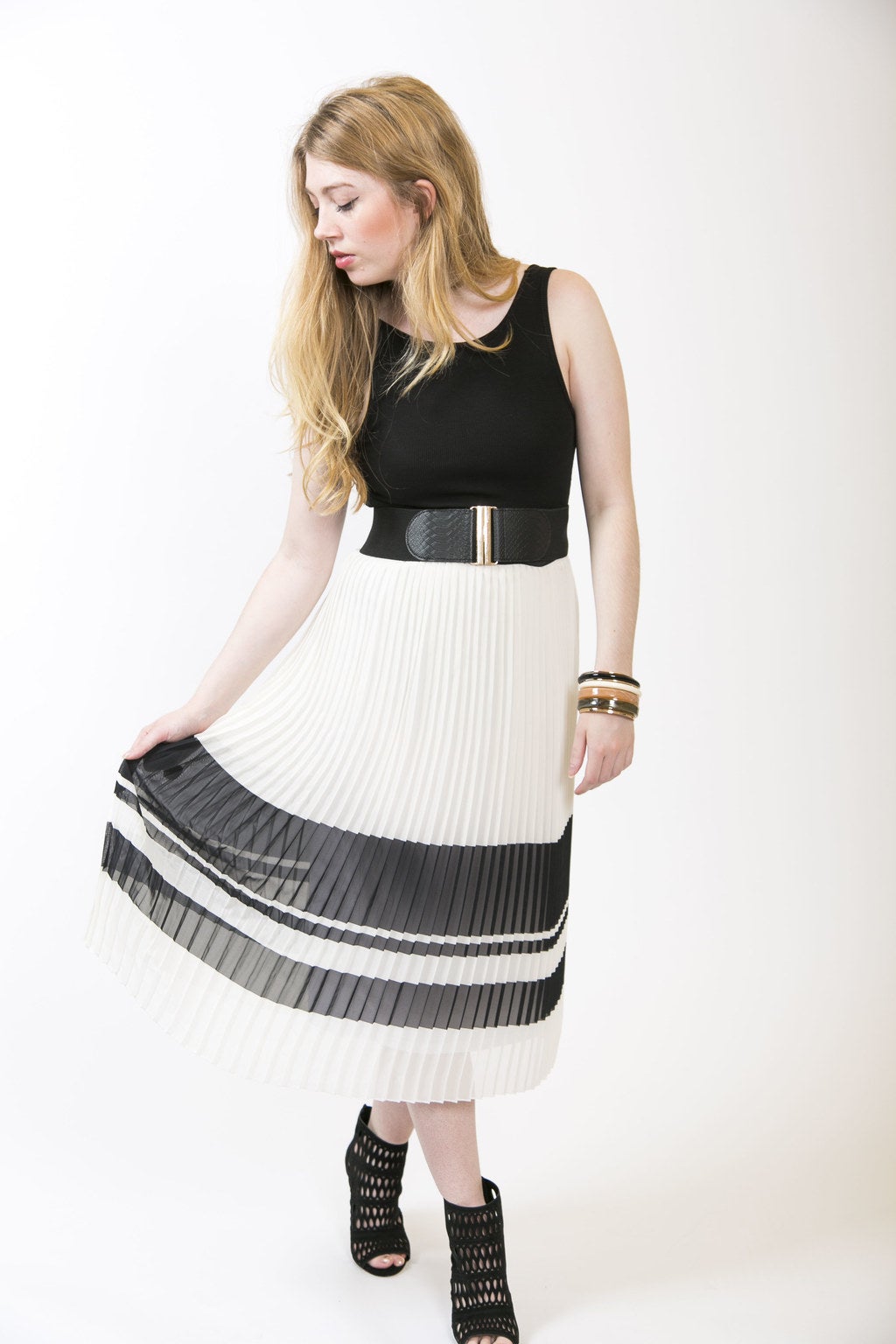 Melissa says:
"I chose this 3/4-length skirt with pleats as pleats create movement, which gives character to any outfit. You have to be careful that the shoes that you pair with such a skirt don't completely cut off the leg, as it can sometimes make you look shorter. I chose these graphic-cut ankle booties as the skin is still exposed, which still completes the task of leg lengthening in a stylish way.
"We've accessorised with accent jewellery and a waist belt to give some personal style touches to this casual/smart outfit."
Emma says:
OK, I didn't feel 100% great in this. Yes, I recognise that this is a stylish outfit, but I felt weird with nothing to hide my upper arms, and a bit like I was playing dress-up in another, more elegant lady's clothes. I do love the skirt and the shoes, so will probably wear these but with a T-shirt. Looking at these pictures I do think that so much is down to the person wearing the outfit. Melissa is model-tall, looks like a poster girl for Sheryl Sandberg's Lean In, and has very toned upper arms (yes, that is envy you hear in my voice). I think if she was wearing this outfit, it would look a lot better than it does on me
Score: 6/10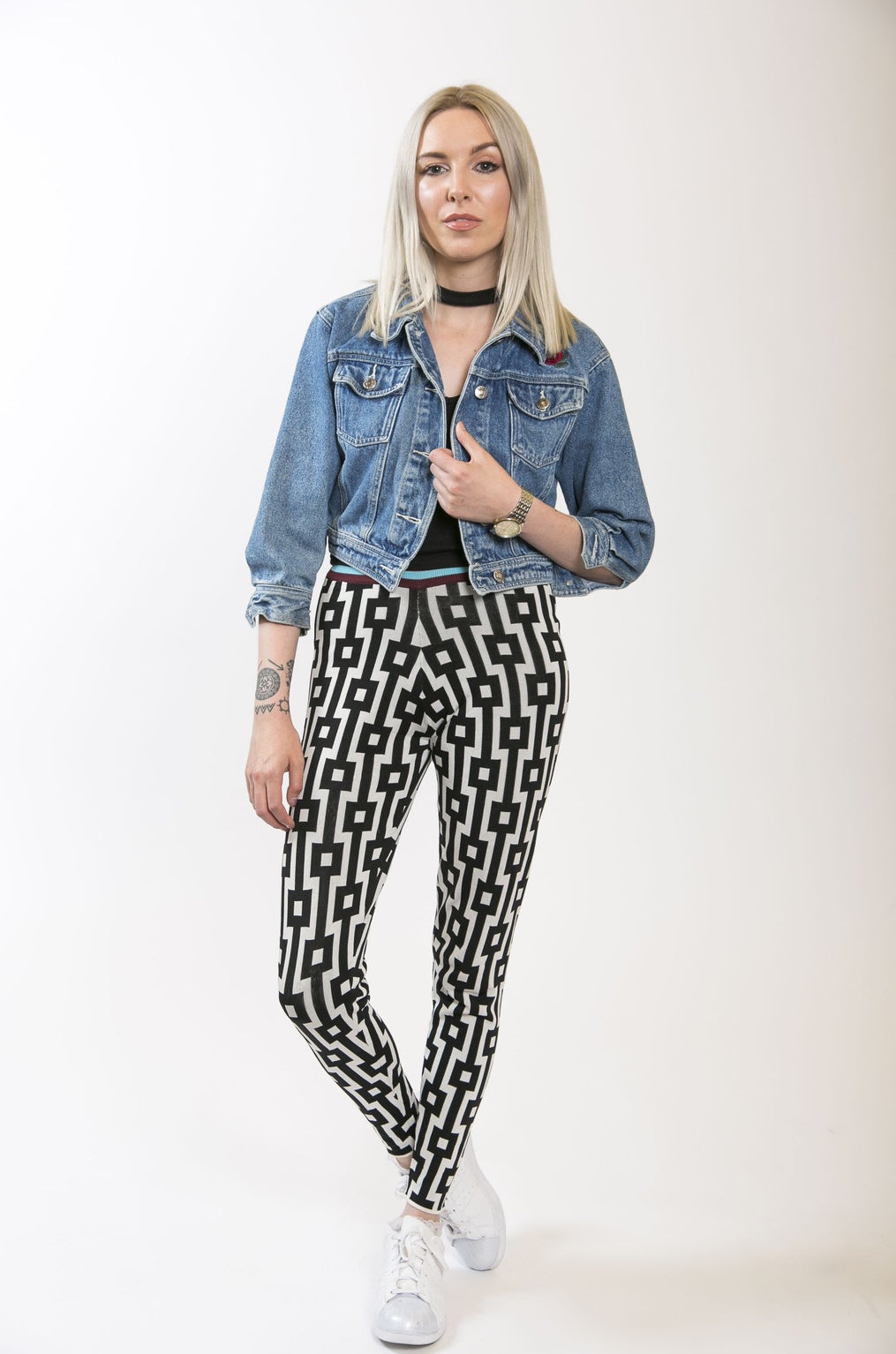 Kitty's been a stylist for three and a half years and is also a fashion and lifestyle blogger. She describes her personal style as "smart meets casual – tomboy meets Barbie. Total contradictions that balance each other out." Kitty owns over 200 pairs of trainers, which is a commitment to trainers I am thoroughly impressed by.
Style Rule: "Don't wear flat shoes"
I love shoes so much, and I own a scary number of pairs. But all my flats just gather dust because I buy them then don't really know how to wear them. So I brought in a pair of Vans that have sat unloved in my wardrobe for a long time and asked Kitty to style an outfit around them.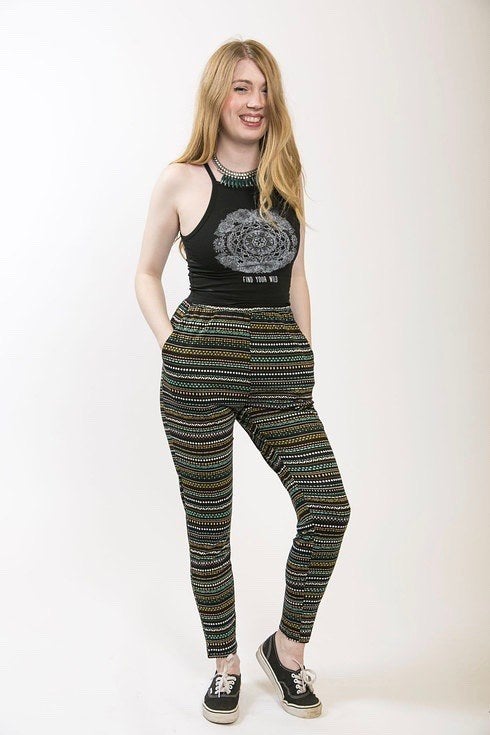 Kitty says:
"I chose high-waisted trousers for this look to lengthen Emma's torso and a cropped vest to further highlight and elongate her body. The patterned trousers make her legs a feature and the plain bomber jacket keeps the look cool without making it too fussy. The text and print on the crop top adds a grungy/on-trend aspect keeping the look fun and young.
"Adding a feature necklace with green stones pulls out the colour of the trousers into the top half of the look, keeping the look slightly smart and adding a girlier touch! Simple monochrome Vans trainers finalise the look. I think this look is perfect for drinks, a gig, or even a cool/casual day at the office."
Emma says:
This is much more my usual style. I felt really comfortable in this. The trousers fit great and are like a more stylish upgrade of my usual jeans. The crop top was fun, and again, the sort of thing I'd usually wear – this may be total placebo effect but I think the way it's cut makes my arms look much nicer and more ~toned~. And I had a bomber jacket to cover up if I wanted. Shopping with Kitty was like hanging out with a very trendy older sister – she had the most similar style to my own, and is just a very reassuring person.
Also, I really like how the colours match, where the necklace is the same colour as the trousers and the crop top matches the shoes. I'm a forest-green and monochrome candy cane and I love it.
Score: 8/10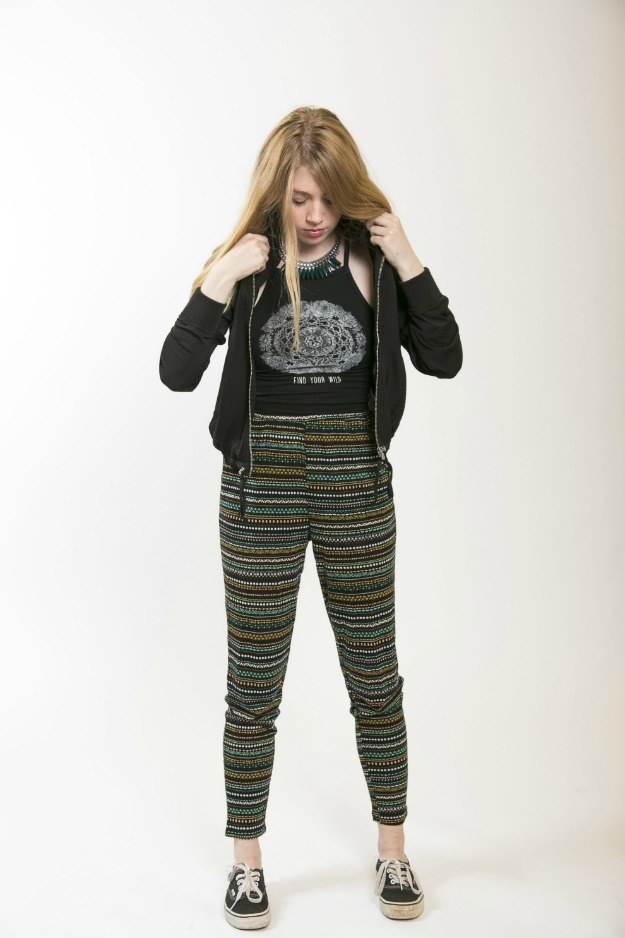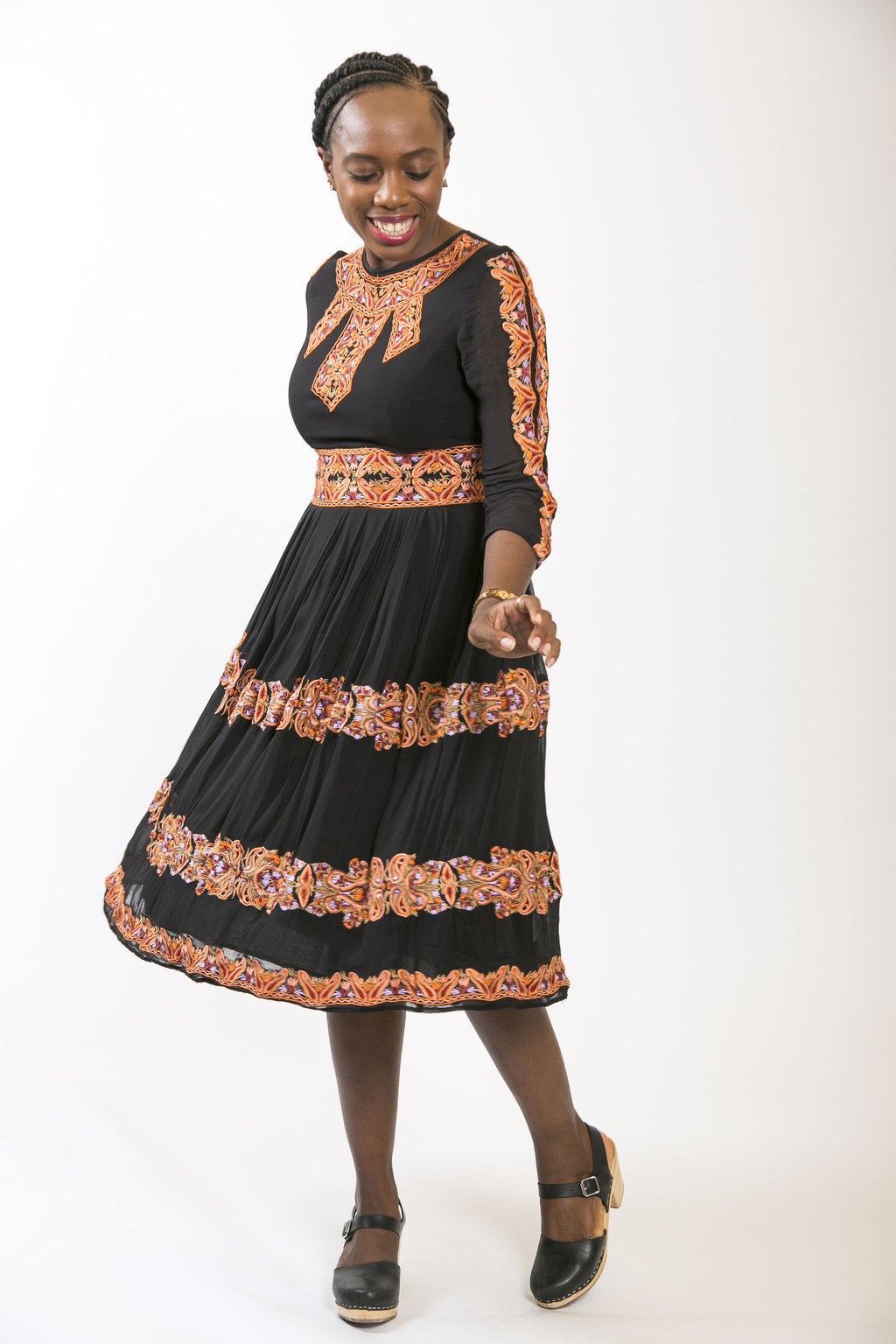 Kristabel has been blogging for almost eight years. She's been featured in Stylist, The Independent, Time Out and the Evening Standard. She describes her style as "very eclectic. One day I may fancy minimal culottes with some frayed denim, and the next something pretty and embroidered. Anything goes!"
Style Rule: "Play it safe"
In general, I avoid colours, patterns, and anything I deem too "out there". When I follow trends, it's only ones that stay within the parameters of what I'm comfortable in, and even then I don't go wild.
I asked Kristabel to style me in an outfit that incorporated some of the more adventurous fashion trends currently out there. I then brought a pair of '90s platform shoes I already own as a starting point.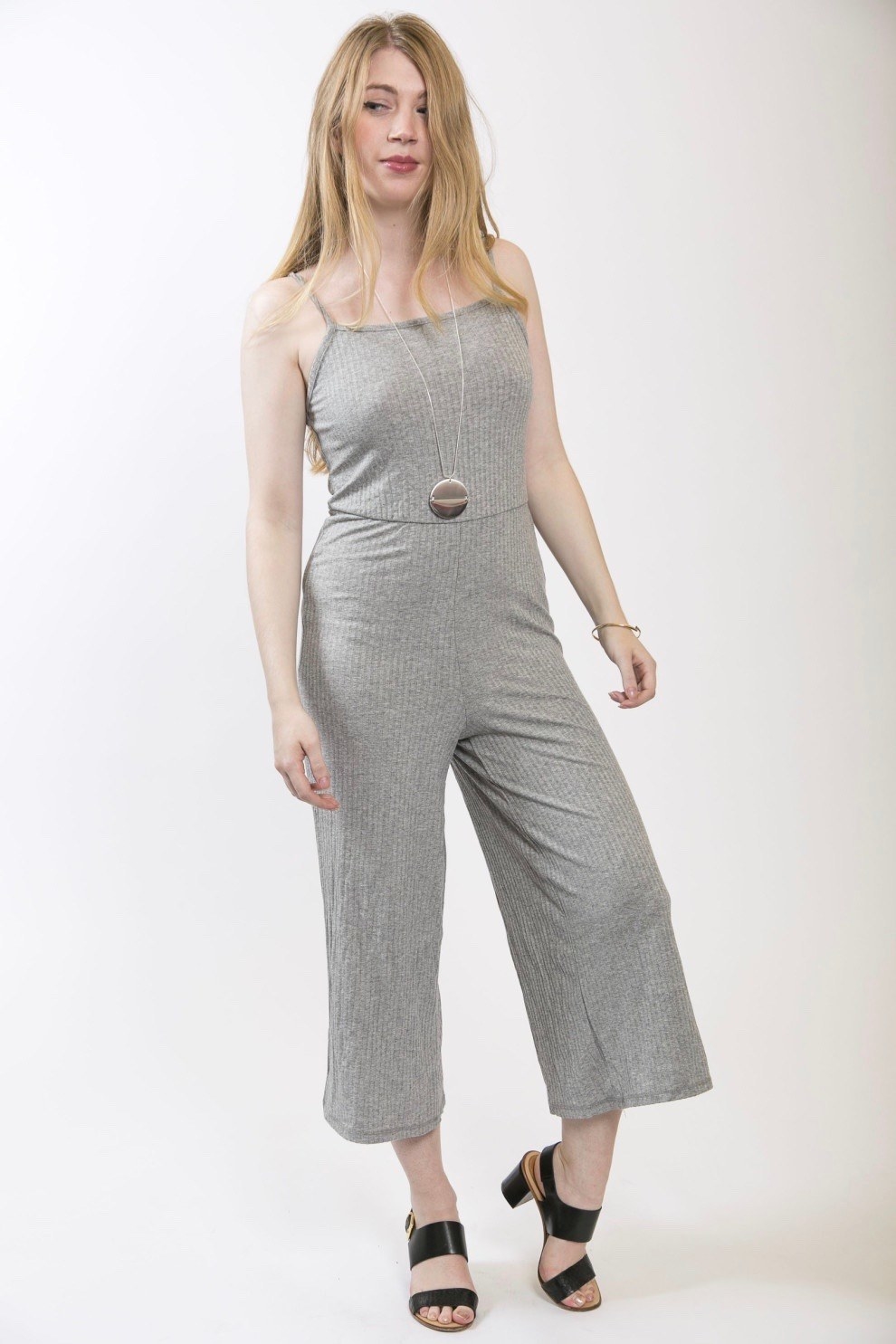 Kristabel says:
"A printed bomber jacket is a great way to get out of your comfort zone this season. There's so many different styles around, they suit every kind of figure, and the slouchy shape makes them handy for dressing down a smarter silhouette. Usually Emma sticks to a muted colour palette, so although this floral Bershka style is a bit of a departure, the dark green in the background tones down some of the brights. It's a bold statement piece to have and really completes an outfit.
"I paired it with a grey culotte jumpsuit, which sounds scary in principle but the proportions actually work well for a petite frame. The fluid jersey fabric helps in making it versatile, you could wear it for a smarter occasion with some strappy heels or keep everything casual with some trainers. I finished off the look with a long H&M necklace – it's my favourite way of adding a bit of visual interest to something plain and complements the jumpsuit nicely."
Emma says:
I LOVED THIS SO MUCH. Which was SO unexpected. A jumpsuit? A jumpsuit with culottes? A jumpsuit with culottes worn with a printed bomber jacket? All of these are words that make me feel a little bit ill inside. Yet in this outfit I did not feel uncomfortable at all. I felt like I'd unlocked a more grownup version of my own style that was both casual yet lady boss–esque. I felt like I was wearing colours that were both bright AND muted and that anything was now possible. I felt like a fashion blogger with 10,000 Instagram followers and a penchant for large hats.
Please be aware that, high on that feeling, I then tried to pose like a blogger in the below photos and IT DID NOT GO WELL FOR ME. Don't mock me too much. Like my skin type, I am dry and sensitive and cannot handle anything too abrasive.
Score: 10/10. Kristabel, you're a genius – please style my life.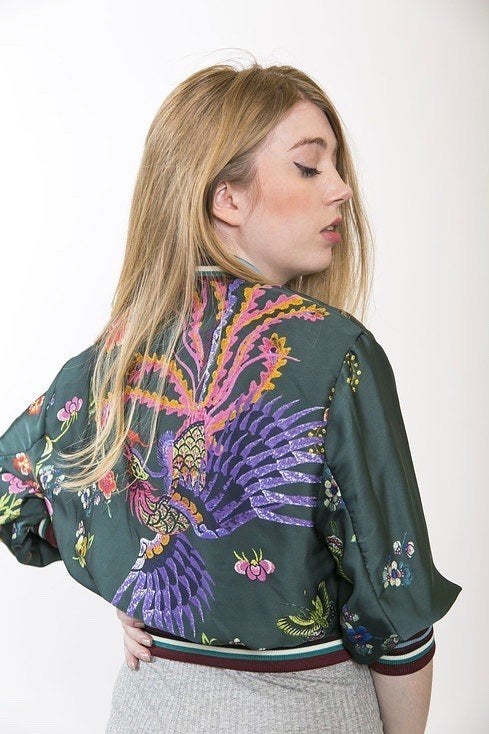 I went into this more than a little apprehensive. I like having control, and other people choosing outfits for me is something in itself that makes me uncomfortable. Realistically, I assumed the best results I could hope for would be one outfit I felt OK in. But instead I've come away with two outfits I really like, and an outfit that I know I can tweak to make myself more comfortable in.
Basically, it's been eye-opening to see how untrue a lot of the style rules I follow are – if I want to wear culottes I can wear culottes and the rest of the world be dammed. Maybe I won't be this adventurous right away (I think it was good to have people coaching me to go a bit bolder), but I'll definitely be taking on some of these stylists' suggestions.
But hey, even if not, that's fine too. The best thing I got from this was seeing how the stylists immediately went for things that I'd normally rule out for myself – because it turns out everyone has a different idea of what's "right" and what's "wrong" for your body. And seeing as how it's so subjective, you may as well just wear what makes you happy and forget about the rules.