By now I'm sure you know that Spider-Man: No Way Home — the latest, record-breaking installment in Marvel's popular film series — featured a brilliant, albeit not entirely unexpected, onscreen reunion spanning multiple generations of the franchise.
Naturally, the trio's group appearance in No Way Home gave rise to a ton of discussion online. Amid fans' excitement over Andrew and Tobey's respective cameos were some astute observations about one particular Easter egg moment, which referenced an iconic meme born out of the 1960s Spider-Man animated show.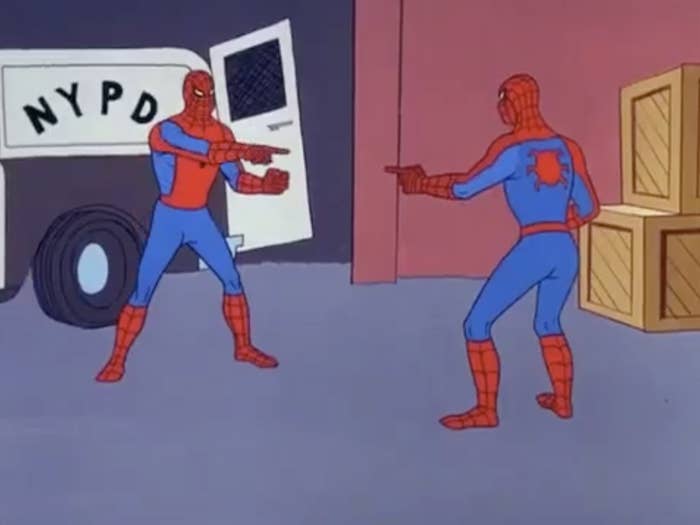 Different versions of the meme show either two or three cartoon Spider-Mans pointing at each other. There's a scene in No Way Home where Tom, Andrew, and Tobey recreate the gesture, and, as Andrew shared during an appearance on the Happy Sad Confused podcast, it was intentional.
Anyway, to promote No Way Home's upcoming digital and Blu-ray releases in March and April, the three actors recreated the meme again. This time, they did it more formally.
"Of course, we got THE meme," the official Spider-Man: No Way Home Twitter account wrote in a tweet this morning. It included a photo of Tom, Andrew, Tobey in full Spider-Man costume, standing in a semi-circle and pointing.
"Your new lock screen just dropped," a second tweet read. And, yeah, I think it just did.