Poached Eggs In Tomato Sauce (Shakshouka)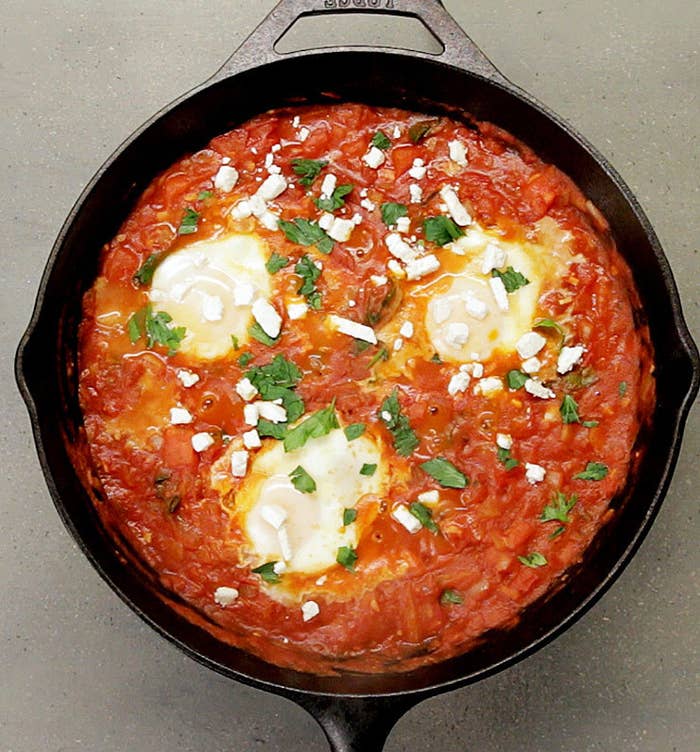 RECIPE:
Serves: One egg per person
Ingredients:
- One and a half Tbsp. oil
- Three minced garlic cloves
- One chopped small onion
- Two cups crushed tomato
- One Tbsp. Worcestershire sauce
- 1/2 tsp cayenne pepper
- 1/2 tsp cumin
- 1/2 tsp paprika
- One tomato diced
- 1/4 cup of parsley
- Three room temperature eggs
- Chopped parsley
- Feta cheese
Here's how to make it:
Heat oil over medium heat, add garlic and onions and cook until onions have softened and garlic is fragrant. Add the crushed tomatoes, Worcestershire sauce, cayenne pepper, cumin and paprika. Stir to incorporate. Add dice tomato and cook until sauce has thickened. Using a spoon, create wells for the eggs, crack an egg into each well. Cover and cook for another five to eight minutes, until the egg whites are cooked but the yolk is still a bit runny. Garnish with parsley and feta cheese. Enjoy!