Devil's Curry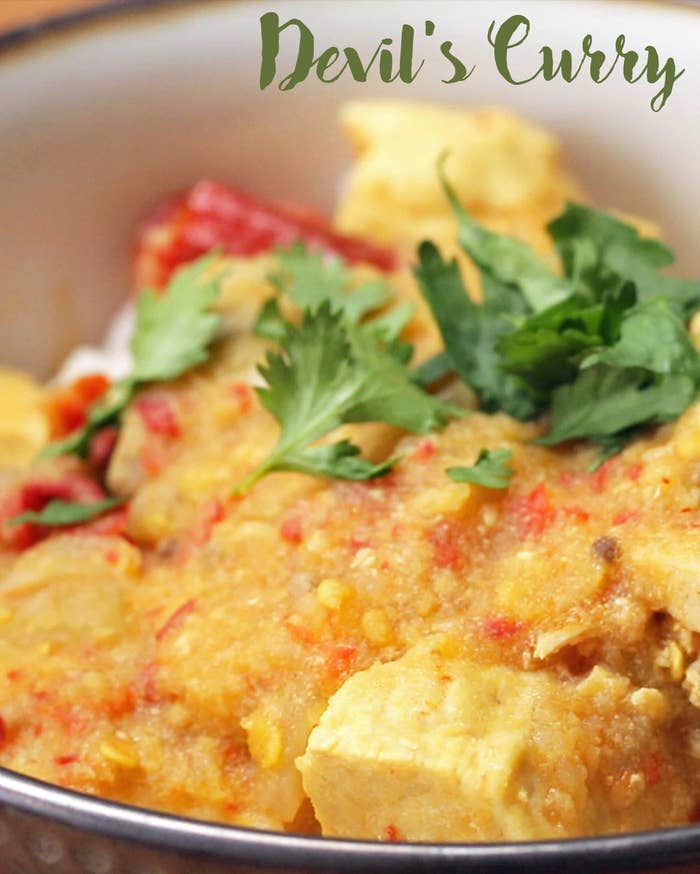 INGREDIENTS
Spice Paste:
8 shallots, chopped
5 garlic cloves
3" knob of ginger
3 stems of lemongrass, white part only, thinly sliced
30 dried red chilies
1/4 cup of oil
2 Tbsp. of water
1/2 tsp of ground turmeric
Other ingredients:
2 Tbsp. of cooking oil
1 Tbsp. of mustard seeds
3 lb of chicken, boneless, skinless, cut into bite-sized pieces
3 large potatoes, peeled and cut into pieces
2 cups of chicken stock
Salt to taste
2 Tbsp. of white vinegar
PREPARATION
In a food processor, blend the spice paste ingredients until thick and smooth. Set aside.
In a heavy pot, heat two Tbsp. of oil. Add the mustard seeds and fry until fragrant. Add all of the spice paste and fry until aromatic, about 10 minutes. Add the chicken and stir to make sure the chicken is coated in the spice paste. Add the potatoes. Stir to combine.
Pour in the chicken stock. Bring to boil, lower to a simmer and cover and cook for 20-25 minutes or until the potatoes are soft.
Salt to taste. Stir in the white vinegar. Serve with rice. Garnish with cilantro or parsley (optional). Enjoy!
Want BuzzFeed Tasty right in your inbox? Sign up for our newsletter!