Chinese Green Beans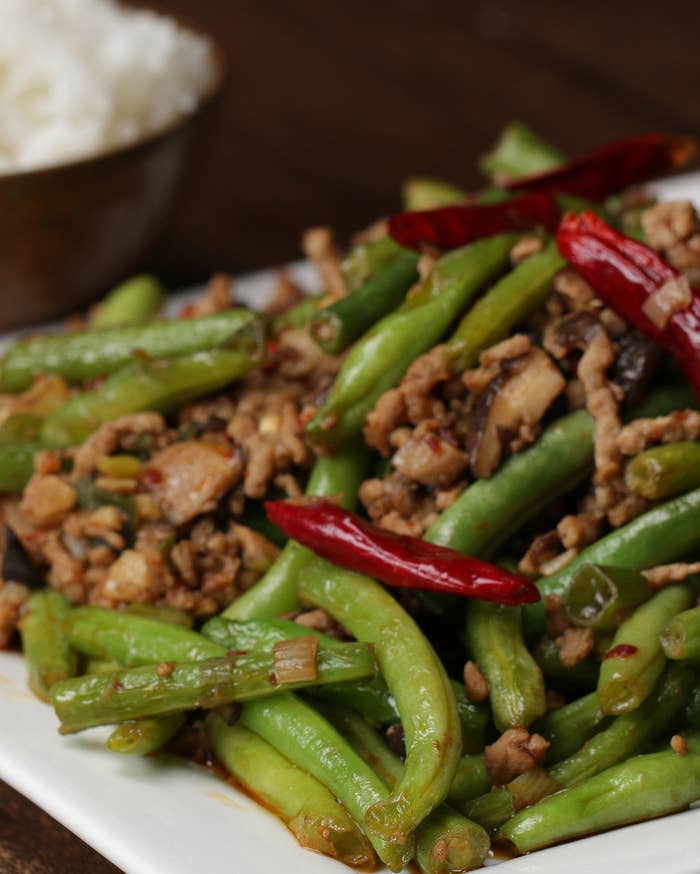 Here's what you will need:
* 1/4 cup of vegetable oil
* 1 lb of string beans
* 1 Tbsp. of garlic
* 1 tsp of ginger
* 3 chopped scallions
* 4 oz of shiitake mushrooms
* 1/2 lb of ground pork
* 4 dried red chilies
* 1 Tbsp. of chili paste
* 2 Tbsp. of soy sauce
* 1 Tbsp. of rice wine
* Dash of white pepper
Directions:
In a large pan or wok, heat the oil over high. Fry the string beans until they start blistering. Remove the string beans.
In the same pan or wok, add the garlic, ginger, and scallions. Fry until fragrant. Add the mushrooms and ground pork. Fry until the pork is mostly done. Stir in the the dried red chilies and chili paste. Add the string beans back the pan/wok. Toss to combine everything. Add the soy sauce, rice wine, and a dash of white pepper. Enjoy!
Want BuzzFeed Tasty right in your inbox? Sign up for our newsletter!