In the days before Barbara Ampofo was due in court to be evicted from the flat she shares with her two young daughters, her 8-year-old, Catanya, came to her crying. "Mummy, are they going to kick us out?" she asked. Ampofo had no idea how to reply.
As a single mother working part-time in a shop, Ampofo's rent was supposed to be covered by her benefits, but repeated administrative errors by universal credit staff had put the family more than £3,000 into arrears.
After months of messages back and forth, the Department for Work and Pensions (DWP) finally wrote in January to confirm that her rent had been paid in full direct to the landlord. But the money never arrived, and four months later she was in court facing eviction.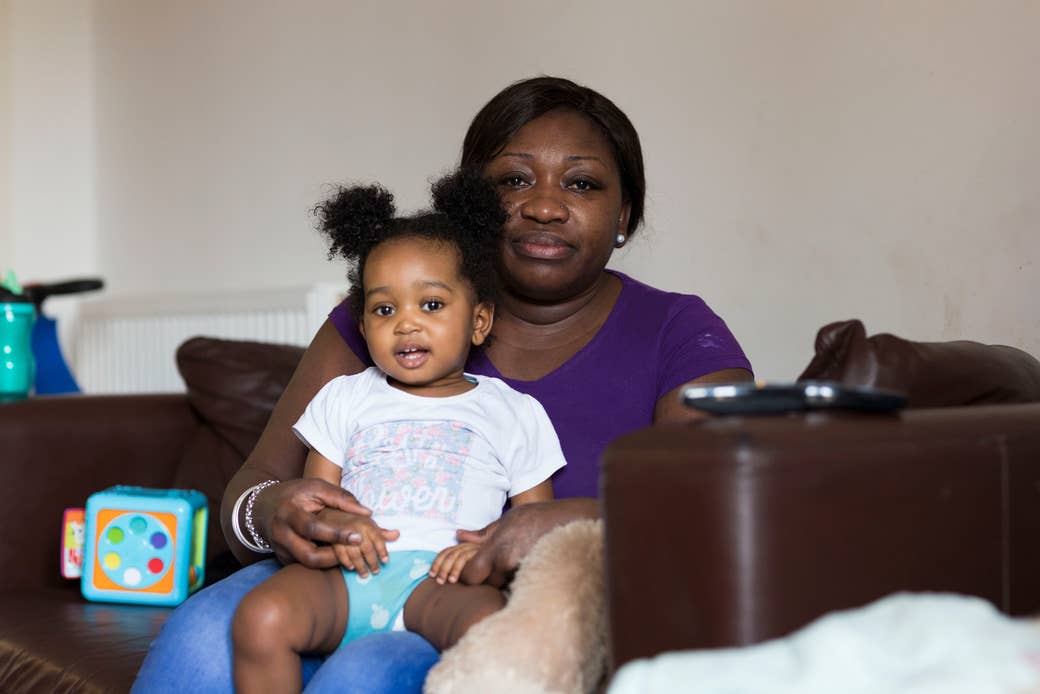 "It's not like the money has been paid to me and I've spent it," Ampofo told BuzzFeed News on the day of her hearing at Croydon county court last month. "I haven't done anything. I didn't deserve this."
Recalling the nights leading up to it, she said: "I couldn't sleep I was so stressed. I thought I was going to lose my house. Every night I'd be up at 3am."
For Susan Stallan, the consequences of similar universal credit mistakes were very nearly fatal. It was the start of this year and the 57-year-old was facing two court summonses – one for eviction and one for unpaid council tax. Both were thanks to debts created by DWP mistakes.
She turned her heating off – even as heavy snow fell outside – relied on food banks, and sold her late mother's rings to pay the bills. Not long afterwards, she told BuzzFeed News, she tried to kill herself.
The structure of universal credit has already been criticised for putting people at risk of homelessness because vulnerable claimants are often left to manage their rent payments.
Now BuzzFeed News can reveal how serious and repeated errors in implementing the Conservatives' flagship welfare policy are leaving people to fight eviction in court through no fault of their own. DWP's failure to pay the correct housing benefit owed to people on universal credit is causing those already living on the breadline to build up debt to social landlords who then take out eviction proceedings.
The problems are being compounded by the introduction of an online account system, called the journal, which claimants must use to ask for help and log job applications.
Analysis of several journal accounts by BuzzFeed News shows this system is failing the people it is supposed to help. Despite multiple attempts to flag arrears and get help ahead of eviction proceedings, rent remained unpaid by DWP.
Urgent messages are ignored for weeks at a time, often only getting a response after several follow-up calls. Other times claimants are given bizarre, irrelevant replies, even as they say they are going to court and are terrified of becoming homeless. It is typical for every response to be given by a different agent from a different call centre around the UK – even during a single conversation.
When people try to solve the issues they find that the landlord is unable to get hold of universal credit staff directly. Social landlords, who have an obligation to help solve people's benefit problems before trying to kick them out, are instead taking them straight to court to evict them.
Lawyers working with claimants have told BuzzFeed News that the DWP's handling of the cases and its failure to admit errors are similar to the Home Office's heavily criticised Windrush approach of focusing only on policy enforcement and ignoring the real hardships caused to the people affected.
"Getting DWP to admit to the errors is the hardest thing," said Julie Bishop, director of the Law Centres Network, which has solicitors in courts around the country representing people facing eviction. "It's like Windrush in that the onus of proof goes back to the victim when there's a wrong decision. You have to prove that they've made a mistake."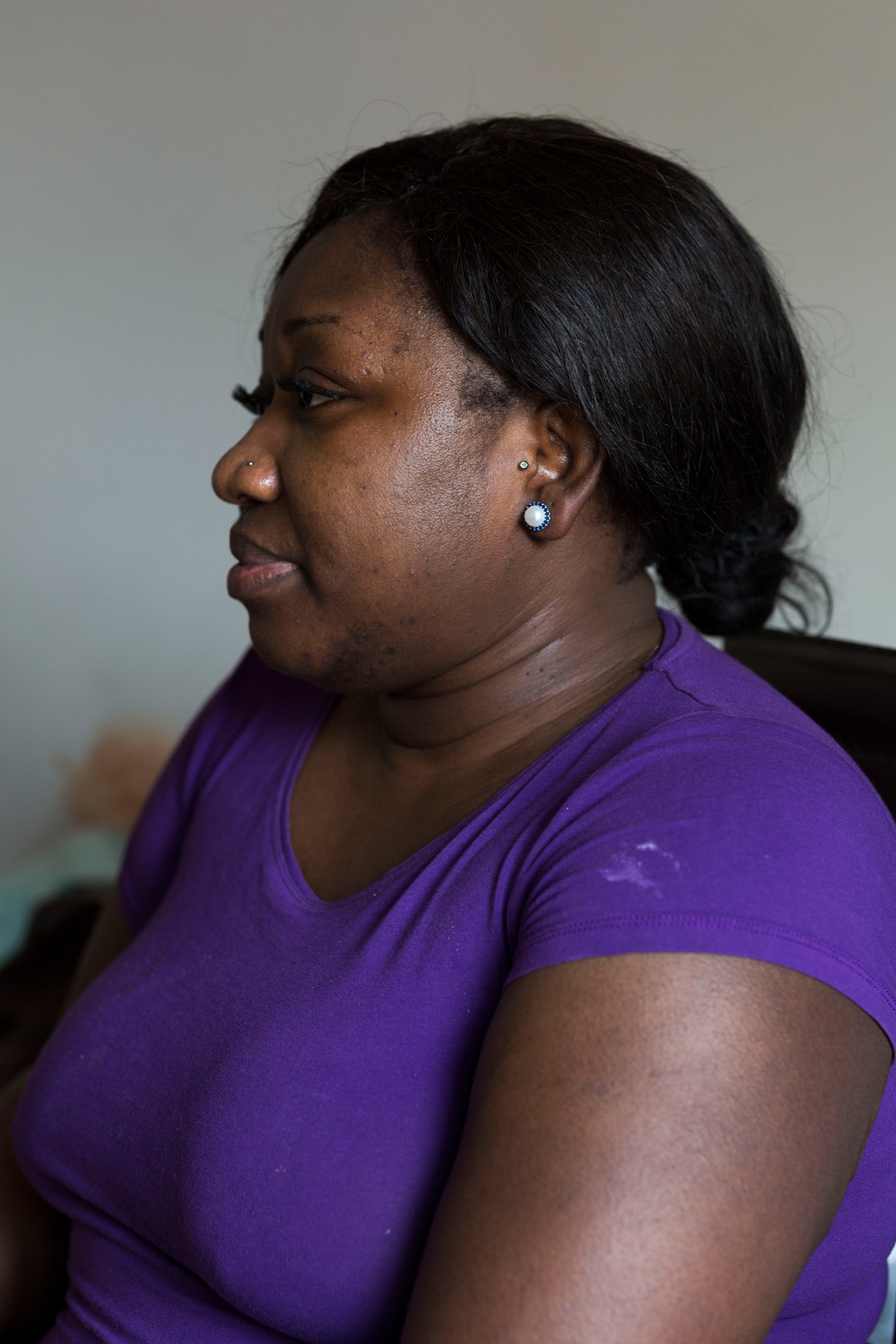 BuzzFeed News spent a day in Croydon county court and witnessed three cases where Clarion, the UK's largest housing association, was trying to evict people behind on rent. It failed to secure an eviction in all three.

The Law Centres Network says cases are now common in which eviction proceedings come to court after the DWP has failed to pay rent at all, even when it says on a claimant's journal account that a direct rent payment has been made to a landlord.
"Every day we see the impact of these wrong decisions played out across the areas where universal credit has been rolled out," said Bishop. "Food banks tell this story too. There are so many indicators just staring at us.
"People don't know where to get help. So what happens is they have these bad decisions made and they're literally destitute or they're being thrown out of their house. They don't know where to go for help and that's why we pick them up in the duty court scheme. But so much legal aid has been cut that the amount of capacity that we have as law centres to assist people have been dramatically cut. We have people every day ringing, ringing, ringing for help."
Margaret Greenwood MP, shadow work and pensions secretary, told BuzzFeed News: "Ministers must act immediately to ensure that all those affected receive the payments they are due in full and without further delay. No one should have to go through the unnecessary stress and hardship these families have suffered.
"The government's shambolic handling of universal credit is compounded by the lack of support available for tenants. Labour will restore legal aid in all housing cases to help people resolve housing issues like these."

Before Ampofo moved into a new flat in Croydon with her daughters last November, she noted her change of address and rent in her universal credit journal. She assumed her rent would be paid straight to the landlord as it always had been before.
When only two-thirds of the money needed for rent arrived – and later, when promised rent never appeared at all – she spent hours a day chasing the DWP to put things right, both on the journal and by calling the helpline. The timeline of conversations on her account reveals that promised solutions never materialised and her subsequent pleas for help were ignored.
Ampofo's journal of despair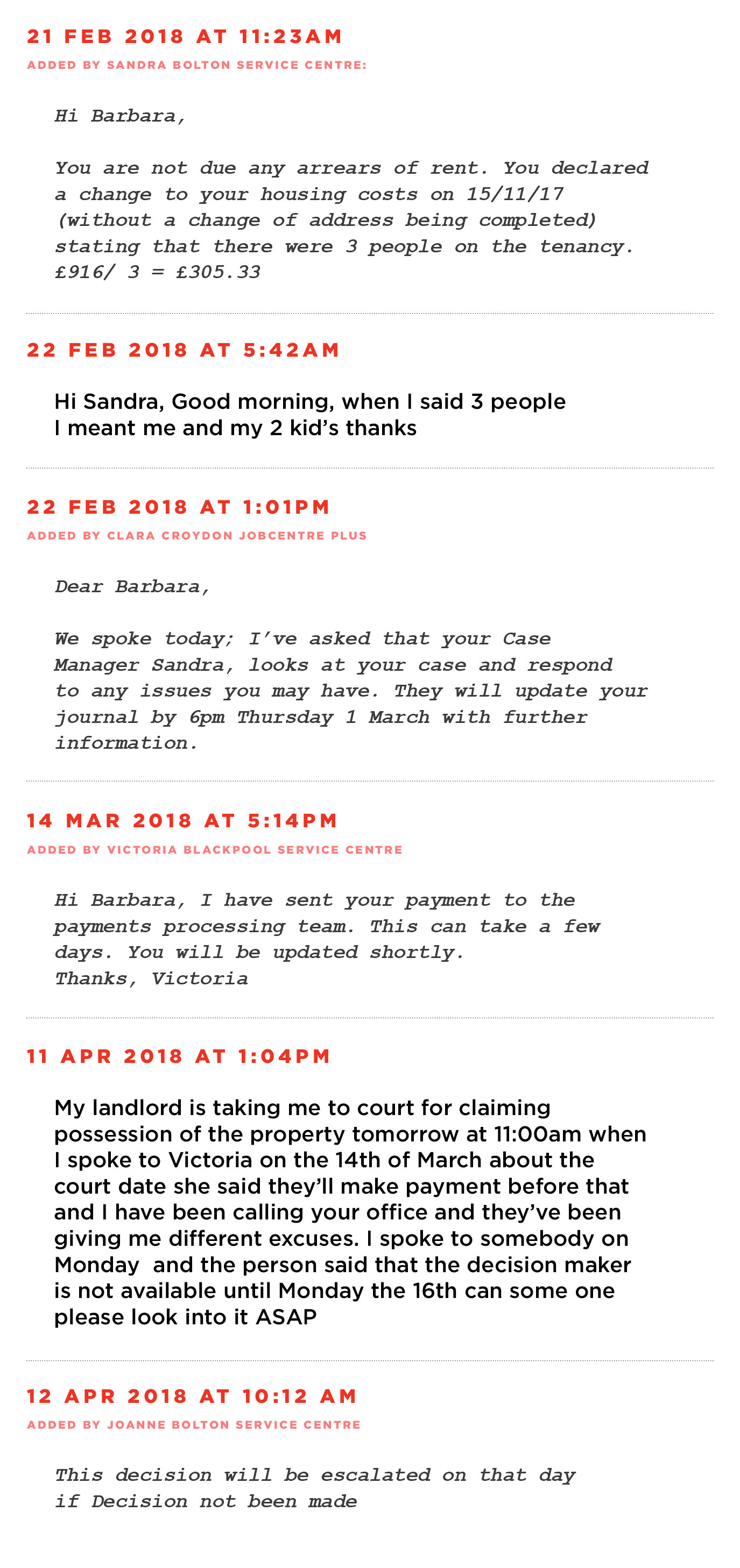 A month before the hearing, when she had already been given a court summons for eviction, she recalls being told on the phone not to worry. "It won't come to that. It won't come to court," she remembers them saying.
A message on her journal corroborates this account. Victoria at the Blackpool Service Centre writes: "I have sent your payment to the payments processing team. This can take a few days. You will be updated shortly."
But almost a month later, there was no sign of a payment – or any further message.
On 11 April, Ampofo wrote on her account: "My landlord is taking me to court for claiming possession of the property tomorrow at 11:00am when I spoke to Victoria on the 14th of March about the court date she said they'll make payment before that and I have been calling your office and they've been giving me different excuses. I spoke to somebody on Monday and the person said that the decision maker is not available until Monday the 16th can some one please look into it ASAP." No reply came that day.
The following day, 48 minutes before her court case, a nonsensical message arrived from Joanne in the Bolton Service Centre: "This decision will be escalated on that day if Decision not been made."
BuzzFeed News was in Croydon county court when the case was heard earlier this month. Ampofo was given advice by Leena Jangra, the solicitor on duty in Croydon from the local Law Centre, a service that could now be under threat thanks to changes in legal aid contracts. Commenting on the DWP's handling of Ampofo's case, Jangra said: "They know that she's entitled to it and should have made that payment. It makes no sense why they haven't."
The situation is not an unusual one, according to Jangra. "We've seen that a lot in court that the journal says it's being paid to the landlord and then the payment hasn't been paid. That's a common problem."
Ampofo's landlord is Clarion Housing, the country's largest social housing provider. Social housing providers have a responsibility to tenants built into the contract and are obliged to offer advice on benefits to anyone facing eviction.
But Ampofo said: "Nobody tried to help. Clarion were just rude; they said you need to make sure you pay the rent. But the money I was being paid [from UC] did not even cover the rent."
Clarion claims that Ampofo got support and that staff liaised directly with the DWP a number of the times on her behalf. But despite knowledge of her benefit difficulties, it did not stop court proceedings intended to evict her and her children.
In court, Jangra sought out the housing association representative who would be making the case for eviction to negotiate ahead of the proceedings. The woman, who works in accounts, said: "My instructions are to make an outright order for possession."
When trying to resolve a similar universal credit case earlier that day, Jangra had asked the same representative if her client could be referred to Clarion's benefits support team. The woman replied: "Do you want me to be honest with you? They've shut their books at the moment because they're so inundated. I can't be sure when she'd be picked up and it wouldn't be fair to her."
The court hearing, in the end, was brief. The judge adjourned it until May so Ampofo would have a chance to get the DWP to resolve the matter. She is still waiting for a resolution.
A DWP spokesperson said: "Due to incorrect information provided by Ms Ampofo when changing tenancy, she was not receiving the correct housing payment. We have updated her account and a payment for arrears will be issued within the next 7 days."
The DWP says the "incorrect information" was the fact that she was on a joint tenancy. But Ampofo says she simply said there were three people living in the flat – and she explained this in writing in her journal soon after moving in.
Polly Neate, chief executive of the charity Shelter, said: "Every day at Shelter, we hear from families drowning in debt or battling against eviction because of changes to welfare including universal credit. The housing payment is set so low that many can barely pay the rent, while errors have left others at risk of being kicked out.
"To stop the system wreaking havoc on even more people's lives, the government must urgently fix these issues and lift the freeze on housing benefit to ensure families can afford to pay their rent."

Susan Stallan always prided herself on being a hard worker. She says she was "never on the dole or anything like that", working as a childminder, then learning computer skills while her children were at school – and working for eight years as a receptionist at a leisure centre.
Stallan, who lives on her own after a divorce several years ago, moved to Purley, south London, to be nearer her daughter. When she relocated last June she found herself on benefits while she scoured the area for a new receptionist job.

Universal credit was already covering her rent in her previous home, so she notified administrators ahead of the move of the new address and the increase in rent at the one-bedroom flat. But despite her multiple attempts to update their system, they continued to underpay her until November, causing a build-up of more than £3,000 in rent arrears.
Then, once she had found a few low-paid shifts and was trying to claw her way back into the workplace, things got worse. After she secured four days' temp work on a reception desk in November, her universal credit payment for December was adjusted to just £23.17. It left her with nothing.
"I had £23 to live on for the month that Christmas. I think the worst thing was having to ask my daughter whether she can lend me some money so I can buy some food. I felt so ashamed and embarrassed."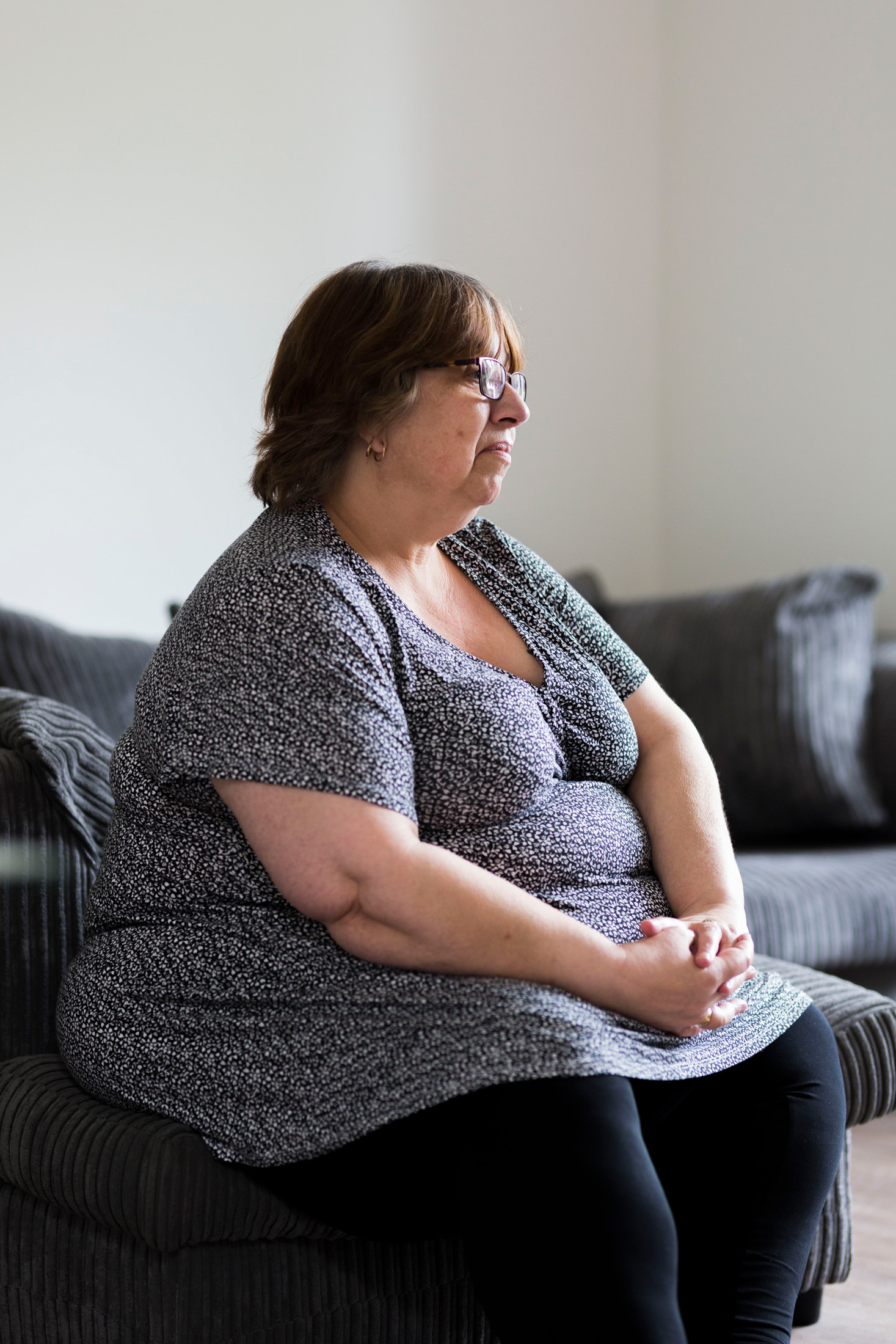 As Christmas comes closer, the messages on her journal, seen by BuzzFeed News, get more desperate. The day before Christmas Eve she writes: "you have take £365,00 from me I only took home £294,99 this month for work… I can't live on the £23,00 for a month can you please look into this for me many thanks"
Later that afternoon, she posts: "I'm [applying] for about 3/4 jobs a day with no luck I can get interviews but when they find out [how] old I am I will not get the job All I [want] to do is go out to work full time and pay my bill is that asking to much I have not had any help from Universal credit".
On the 27 December, she writes: "I just had a electric bill in for £178.00 I can't pay this as I only got £23.17 to live on this month."
No reply came to either message.
Stallan's journal of despair

At the same time, the council was told by the DWP that she could afford a higher rate of council tax and upped her monthly bill to £53. By January the council issued her with a court summons for her failure to pay £106 council tax, with legal fees on top.
In repeated messages on her journal, she tells them she is being taken to court and that they need to pay the rent arrears and put right their error, begging "can you please help as I don't want to be homeless" and telling them the impact on her health. In some cases her messages are never replied to; other times it is days before a reply comes – and it is often cold and irrelevant.
"I kept messaging them and asking them about the rent arrears but they said they couldn't do anything until the landlord wrote to them. I spoke to the landlord and told them, but it was like banging your head against a brick wall. I explained to them it wasn't me, it was universal credit." Her landlord, which is also Clarion Housing, insists that Stallan was provided support from its specialist welfare benefits team.
The stress seriously affected Stallan's health. "My skin started to split open and bleed, like boils. They didn't know what it was but they said it was stress." She also started to have suicidal thoughts.
From January she turned the heating off because she couldn't afford the bills. "I didn't have the money to pay it and I thought it's best not to use it." She would sit on her sofa, wrapped in a duvet, desperately applying for job after job on her computer and getting nowhere. Even when it snowed and the pipes froze she only turned on the hot water for an hour to warm the pipes and have a shower.
After the council tax summons came, she sold her late mother's wedding and engagement rings, as well as her own. She was trying to be practical but the emotional effect was devastating. "It was stuff I wanted to keep. You've got your memories of your parents, but that to me meant a lot because that's what she left me and I had to get rid of it. That's what hurt most. That's when I hit rock bottom."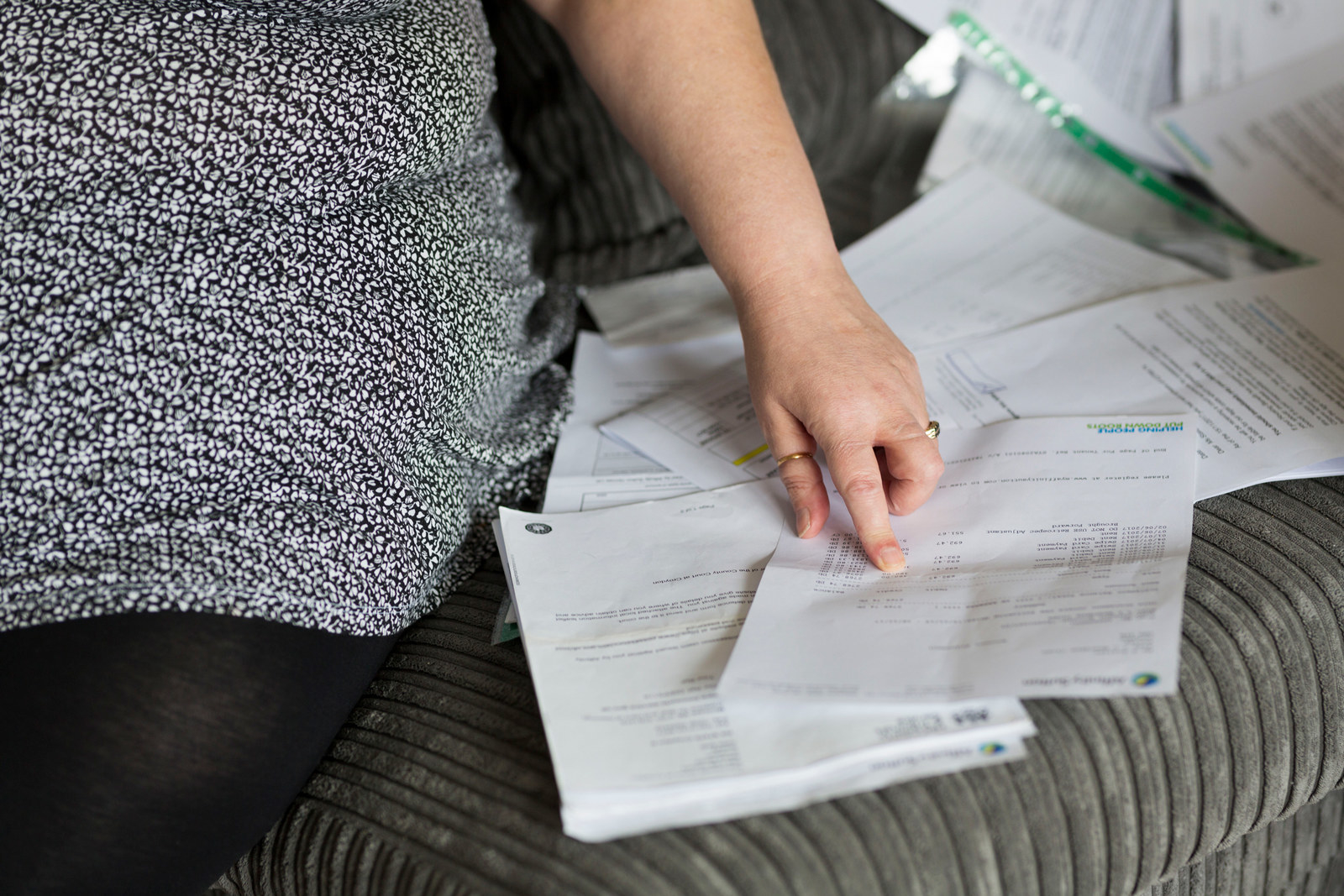 With no hope of ever being able to afford to buy the rings back, she didn't bother pawning them, but she also couldn't stomach taking them to the shop herself. In the end she sent her daughter to sell them for her.
It was at this time she tried to kill herself, she said. "I took lots of tablets. It didn't work. I woke up the next morning and thought, It's not fair. I don't want to be here."
After many more messages and conversations, universal credit staff finally sent her some money for the missed rent in March. In a message on her journal, an agent writes: "I am sorry that you have experienced such difficulty in resolving the rent issue and I apologise for our part in this. I have passed details of the events leading to this situation, to a Senior Manager to consider what went wrong."
But the £1,555.80 they sent was not enough to clear more than £3,000 rent arrears that had accrued while they underpaid, and the court date still loomed.
When the case finally arrived in court in April it was dismissed because her lawyer showed the judge it was a DWP error and the arrears would be cleared once the benefits were resolved.
In the end, after an intervention from her lawyer, Croydon council cleared the arrears with a discretionary payment. Despite the fact that the rent arrears has now been cleared, £63 is still being deducted from Stallan's universal credit, supposedly to clear the debt.
When BuzzFeed News visited her last week her fridge was still empty, save for some butter and some reused water bottles. Her freezer had a loaf of bread and a bit of old mince in it, and she had no money left to get food for the next six days.
A DWP spokesperson said: "We have apologised to Ms Stallan. We have paid the arrears due to her in full and are updating her payment statements to reflect this. We are now working with her council and landlord to ensure all other arrears are cleared."
Even without mistakes by the DWP, universal credit has been linked to a significant increase in arrears, which has been attributed to the fact that in most cases the money is now paid to the tenant to manage, rather than to the social landlord. The National Landlords Association has warned that it will make private landlords even less willing to accept tenants on benefits.
Many social landlords are similarly opposed to the structure of universal credit. In a statement about Stallan and Ampofo's experiences, a spokesperson for Clarion Housing Group said: "Both of these cases relate to a delay in receiving a backdated payment from the Department for Work and Pensions (DWP). While we recognise that the payment of housing costs directly to tenants supports the broad principles of financial inclusion and independence, we have previously raised our concerns about the potential risks associated with the universal credit policy with DWP."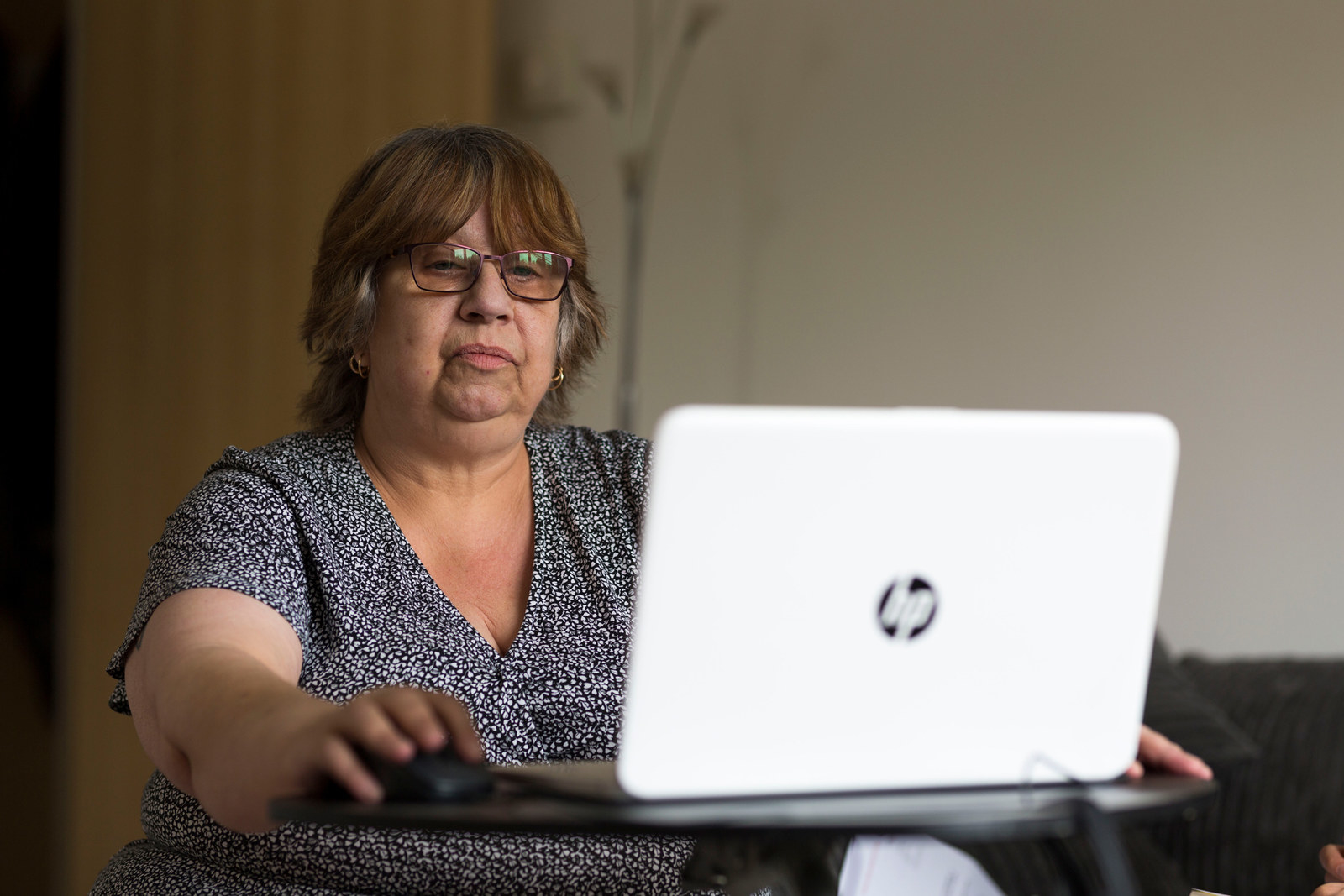 They added: "We have a range of dedicated support teams, including welfare benefits, financial inclusion, and employment and training, to help tenants to be able to pay their rent and maintain their tenancies."
A DWP spokesperson said: "The best way to help people pay their rent and to improve their lives is to support them into work and under universal credit, people are moving into work faster and staying in work longer than the old system.
"The vast majority of claimants tell us they are comfortable managing their money. For those needing extra help, 100% benefit advances, budgeting support, and direct rent payments to landlords can also be arranged where requested and appropriate."
One of the stated aims of universal credit was to make work pay. The idea was for a nimble single benefit that could be adjusted easily to make sure that people grafting to get what shift work they could were not left worse off than if they had stayed on unemployment benefits and not tried.
Stallan's story shows this could not be further from the reality. She chose to speak out in the hope that it will prevent others being subjected to the same treatment. "If someone has to go through what I went through, it's awful. You're trying your hardest to get a job and they're just mucking you about all the time."