This Woman Was Detained By Anti-Terror Police For Reading A Book About Syrian Art. She Wants To Know Why.
Exclusive: The Independent Police Complaints Commission won't investigate why Faizah Shaheen was detained under terror laws for reading a book about Syrian culture.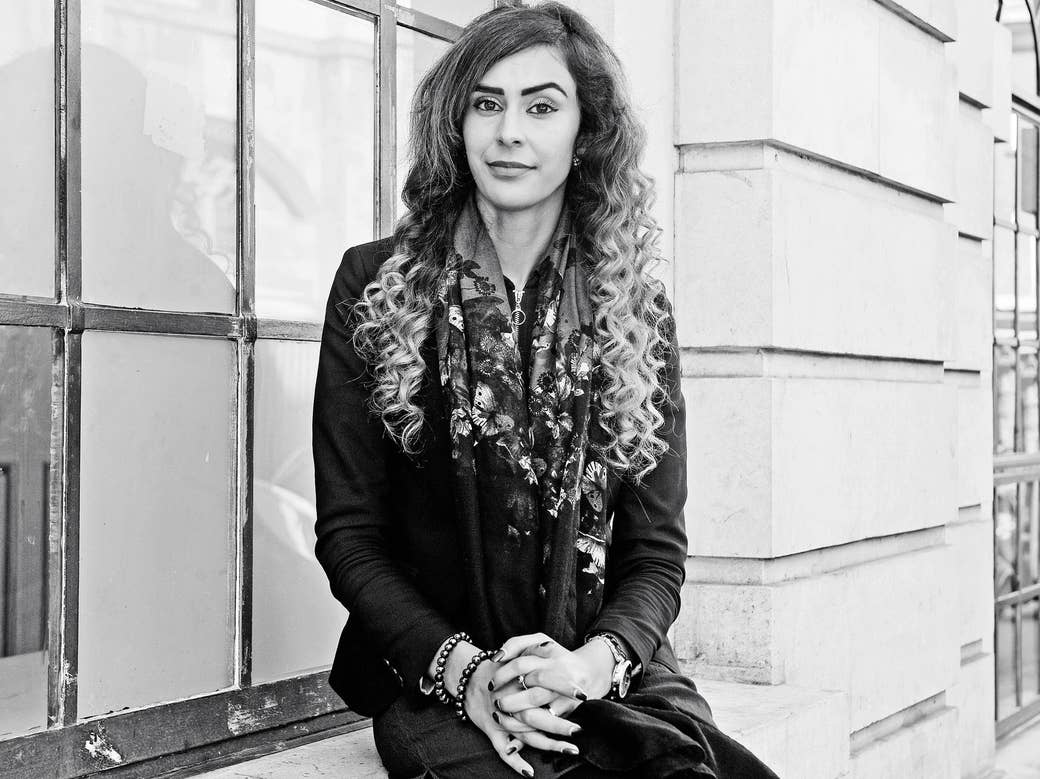 Faizah Shaheen was in the queue at Doncaster Airport's passport control last July when she got a feeling she was about to be stopped.
The NHS psychotherapist, who was on her way back from her honeymoon in Turkey, noticed two police officers staring at her as she stood in line. "I could just sense it," Shaheen told BuzzFeed News. "I said to my husband, 'I swear they're looking at me,' and he thought I was being paranoid."
But it wasn't paranoia.
When she stepped forward, the officers said they needed to take her for a "routine check". When Shaheen probed further, they said she was being questioned under anti-terror laws because of a book she had been seen reading by a Thomson Airways cabin crew member on her outbound flight.
The paperback in question – a collection of writing and art called Syria Speaks: Art and Culture From the Frontline – was mistaken for a "Syrian phrasebook", despite there being no such language.
"Initially I became very, very emotional because I couldn't actually process the fact that I'd been reported to counterterrorism for reading a book," Shaheen recalled. "I was upset that suddenly me reading a book about Syria, reading a book about art and culture, wasn't acceptable, and me combined with that wasn't acceptable because of the colour of my skin. I was very quickly aware it was a case of racial profiling."
She was taken to an interview room and grilled about her trip, what languages she spoke – and her reading material.

It didn't take long for her tears to turn to anger that, as a Muslim woman, she had been singled out. Soon she became determined to share her experience, and her story made headlines across the world last summer.
Now Shaheen wants to make sure anti-terror laws are not misused at the expense of others.
Schedule 7 of the Terrorism Act was used more than 18,000 times in the last year to justify interviewing, detaining, or searching people. Of these, only 1,530 were detained for more than an hour, suggesting that the vast majority were found to be innocent and let go.
Shaheen's case has been taken on by Liberty, the campaigning civil liberties organisation, and her battle is likely to be a long one.
The Independent Police Complaints Commission told BuzzFeed News this week that a formal complaint made to it about the conduct of South Yorkshire police will be dealt with by a local inquiry without an independent investigation.
The decision has infuriated Shaheen and Liberty, who feel that as a case of discrimination it demands a national, independent inquiry.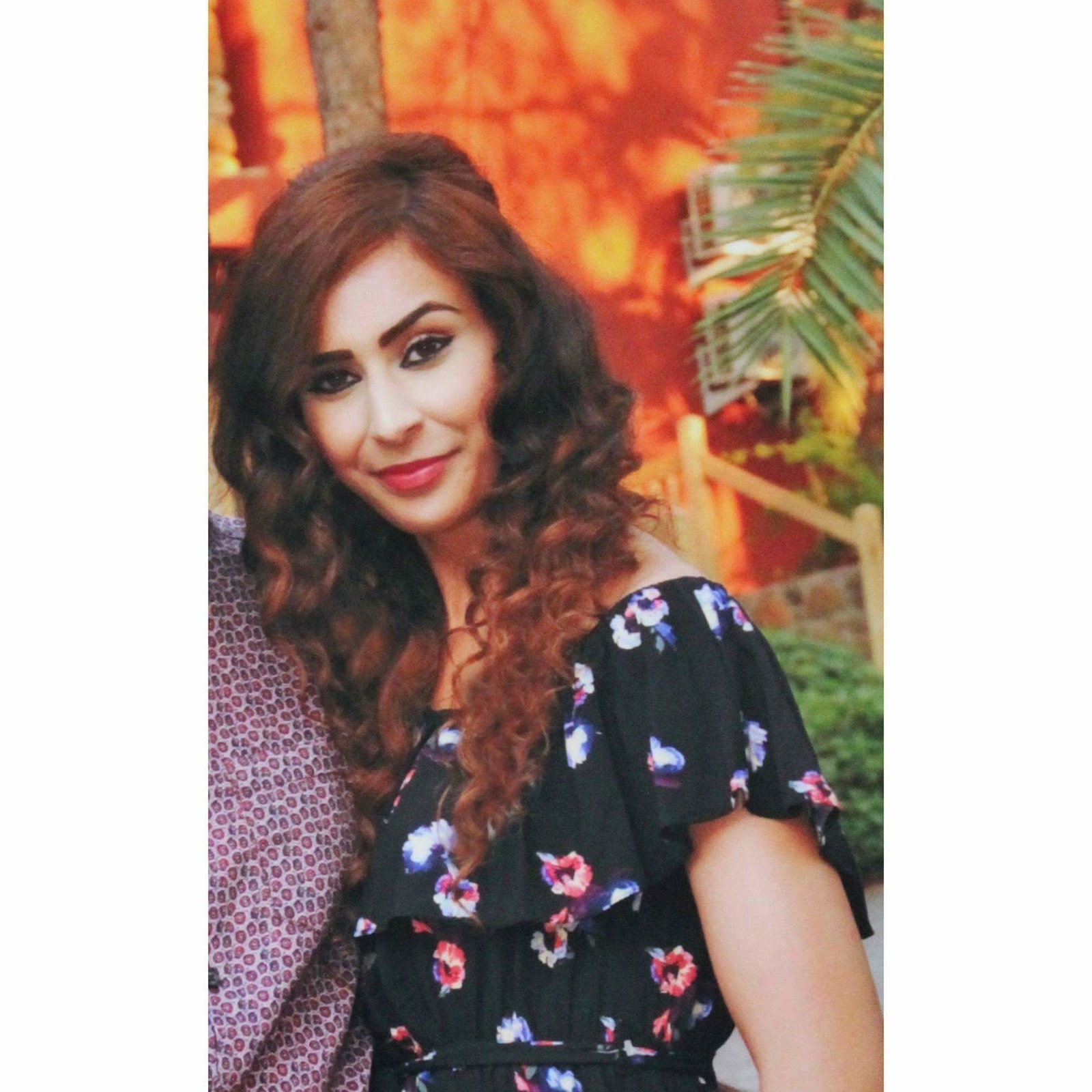 Shaheen said: "I want them to investigate and to understand that this is unacceptable. This is a case of racial profiling and it's something that keeps happening. People are being judged for the way they look, the colour of their skin or whether they look Muslim. And all these factors are then contributing to them being questioned and humiliated under this act. I want to ensure this doesn't happen again."
Lara ten Caten, Shaheen's lawyer at Liberty, said: "The IPCC should investigate complaints relating to discrimination. This was a clear case of racial prejudice and it is completely inappropriate for South Yorkshire Police to look into the matter itself.
"The IPCC must rethink this decision and at least supervise any local investigation. How else can Faizah and the many other people affected by the routine abuse of this chillingly broad power know there is any hope of justice?"
An IPCC spokesperson told BuzzFeed News: "The referral, from South Yorkshire Police, was thoroughly assessed – as are all referrals to the IPCC – and the decision taken that this matter should be investigated, and should be carried out locally by the force. If a person is unsatisfied with the outcome of the local investigation, they have the right to appeal to the IPCC."
Recent publicity around Shaheen's case has focused on her discrimination case against Thomson for reporting her in the first place – and the firm failing to apologise. But Shaheen is just as angry about the police's credulity in failing to see the "intelligence" for the absurdity it was.
"It infuriates me sometimes," she said, "when I watch the news and notice the Manchester incident, the London incident, where the individuals were alerted to the counterterrorism police several times because clearly they were a threat with their ideology that they were so open about – and that was missed. And then they're wasting resources when it comes to someone like me who's reading a book. It just makes no sense to me where they're going wrong. Where's the sense of proportion?"
"It's disheartening because it makes you feel like you are different. I'm born here, it doesn't matter how many generations live here, you're always reminded because of the colour of your skin."
A South Yorkshire police spokesperson said: "Any reports of concerns around airport and airline security and safety will always be taken seriously and the correct procedure followed." They confirmed that a woman was stopped and examined under Schedule 7 of Terrorism Act at Doncaster Airport on 25 July last year "after concerns were raised by the airline she was a passenger with". They added that she was not arrested and was "held for fifteen minutes and was subsequently released".

In response to the IPCC's decision not to investigate, they said: "A complaint in relation to this incident was received by the Force's Professional Standards Department and was mandatorily referred by the Force to the Independent Police Complaints Commission. The IPCC have assessed the complaint and directed it back to the Force for a local investigation to be conducted."
A spokesperson for Thomson said: "We're really sorry if Ms Shaheen remains unhappy with how she feels she was treated. We wrote to her to explain that our crew undergo general safety and security awareness training on a regular basis. As part of this they are encouraged to be vigilant and share any information or questions with the relevant authorities, who would then act as appropriate. We appreciate that in this instance Ms Shaheen may have felt that over caution had been exercised, however like all airlines, our crew are trained to report any concerns they may have as a precaution."
Growing up in Glasgow and moving to Leeds to work for the NHS as a psychotherapist, Shaheen, 28, never questioned her British identity. The police interview at Doncaster airport was brief – less than half an hour. But the impact of being singled out has had a profound effect.
"It made me very confused about my identity and I think ever since I don't really know how to define my identity any more," she said. "It's something that I carry so much pride in – my identity and who I am. I've always considered myself as a British woman and a Scottish woman and I've always been proud of who I am.
"But that experience singled me out and reminded me that I do not belong. And that lack of a sense of belonging can bring a lot of vulnerabilities. ... Every time I walk down the street and the police look at me I feel intimidated."
Shaheen was feeling relaxed when she and her husband settled into their seats across the aisle from each other on the Thomson flight to Turkey on 11 July last year.
It was the start of their long-awaited honeymoon, delayed from the previous October to coincide with the school holidays for her husband's teaching job. Shaheen's husband soon fell asleep and so she picked up a book she'd brought to finish on the flight.
The book, about Syrians' cultural response to the war, was heavy-going but fascinating. When not reading it, she left it out on her tray table, next to her phone and iPod, as cabin crew bustled around her.
"There was nothing on the flight that suggested they were suspicious of me," Shaheen recalled. But with hindsight, she realises the significance of what happened when they landed. "When I arrived to Turkey there was a member of the Turkish airport staff stood at the end of the aisle of the plane and he was looking at me. I thought, That's odd, why's he looking at me?
"They stopped me and asked me to show my passport and I'd literally just taken a step off the plane. At that point I noticed that I'm the only coloured person on this plane and I thought, Am I being singled out in some way? Straight away I started thinking this isn't a random check. ... I started getting really angered by the situation.
"I said, 'What's this?', and he just kept smiling and saying it's a random check. I said, 'Random check? I'm the only one.' ... It's not something I normally notice, but as soon as I was singled out I looked around to see nobody else."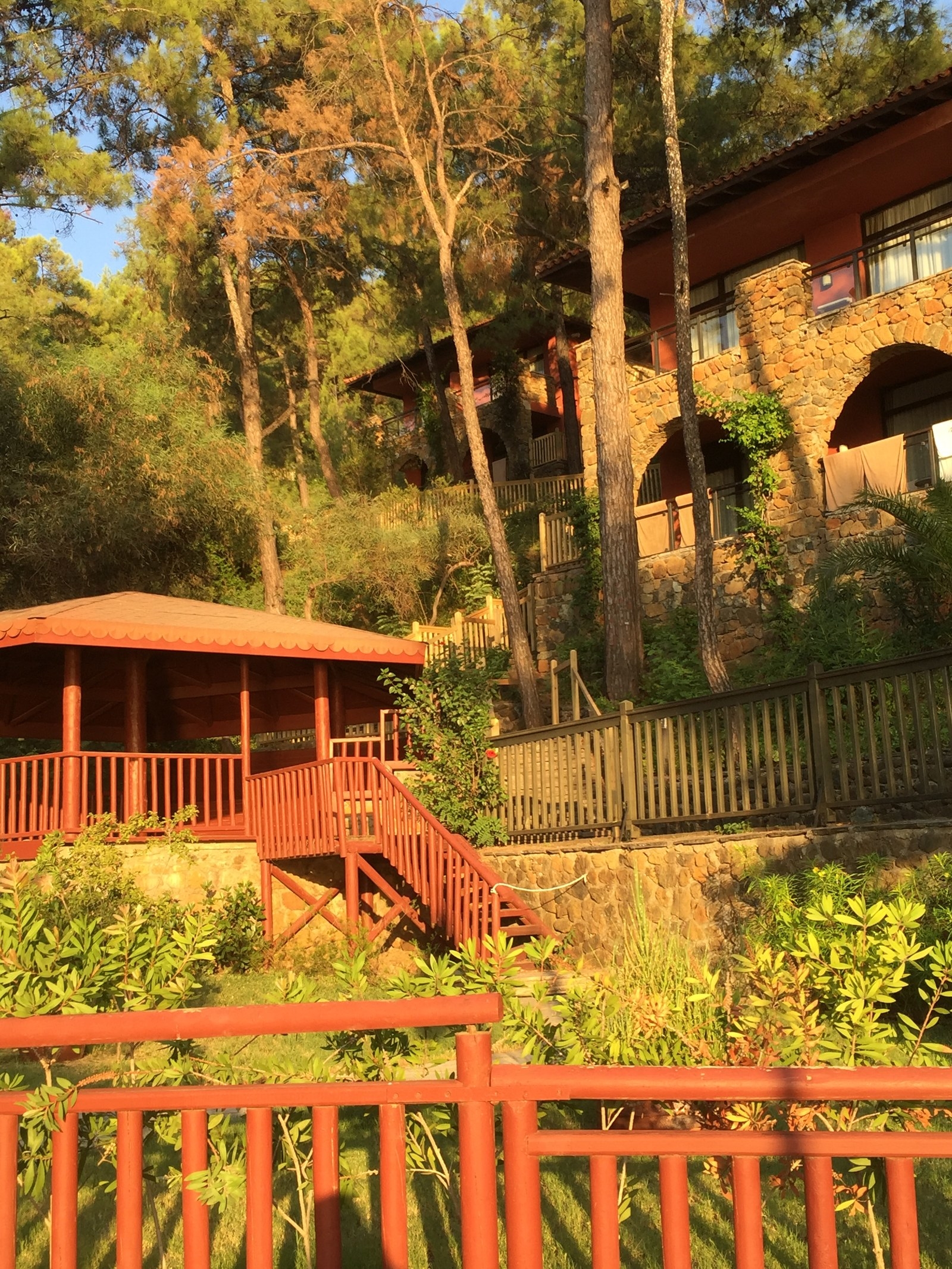 It wasn't the first time Shaheen had felt the pressure of flying while Muslim. On another package flight back from Egypt in April last year she recalled another passenger muttering "I thought this flight wasn't for foreign people" when she saw Shaheen and her sister.
"It's disheartening because it makes you feel like you are different," Shaheen said." I'm born here, it doesn't matter how many generations live here, you're always reminded because of the colour of your skin. For me, I never actually experienced racism growing up, but these kind of comments remind you that people see you differently because of the colour of your skin."
Shaheen was upset by the experience upon arrival in Turkey but as they made their way to Marmaris, they relaxed into the trip and started to have a good time.
A few days later Marmaris descended into chaos. The resort town was where Turkey's president Recep Tayyip Erdogan was staying while the country was gripped by a coup. As they sheltered in their hotel they heard shots fired as soldiers stormed the nearby hotel where the president was a guest.
"At that point I felt really nauseous. I thought, Is my job now at stake?"
For days they were barred from leaving the resort, and undoubtedly the military coup was a blight on their honeymoon – but Shaheen found it less upsetting than what happened at Doncaster Airport on their return.

"I've definitely not reminisced about my honeymoon," she said. "For ages when we returned I didn't even look at the pictures or anything, I just didn't think about the whole holiday. I was really impacted by the whole experience.
"The coup was stressful but I think I could've got past that. It was something that couldn't be helped. It wasn't personal or targeted towards me."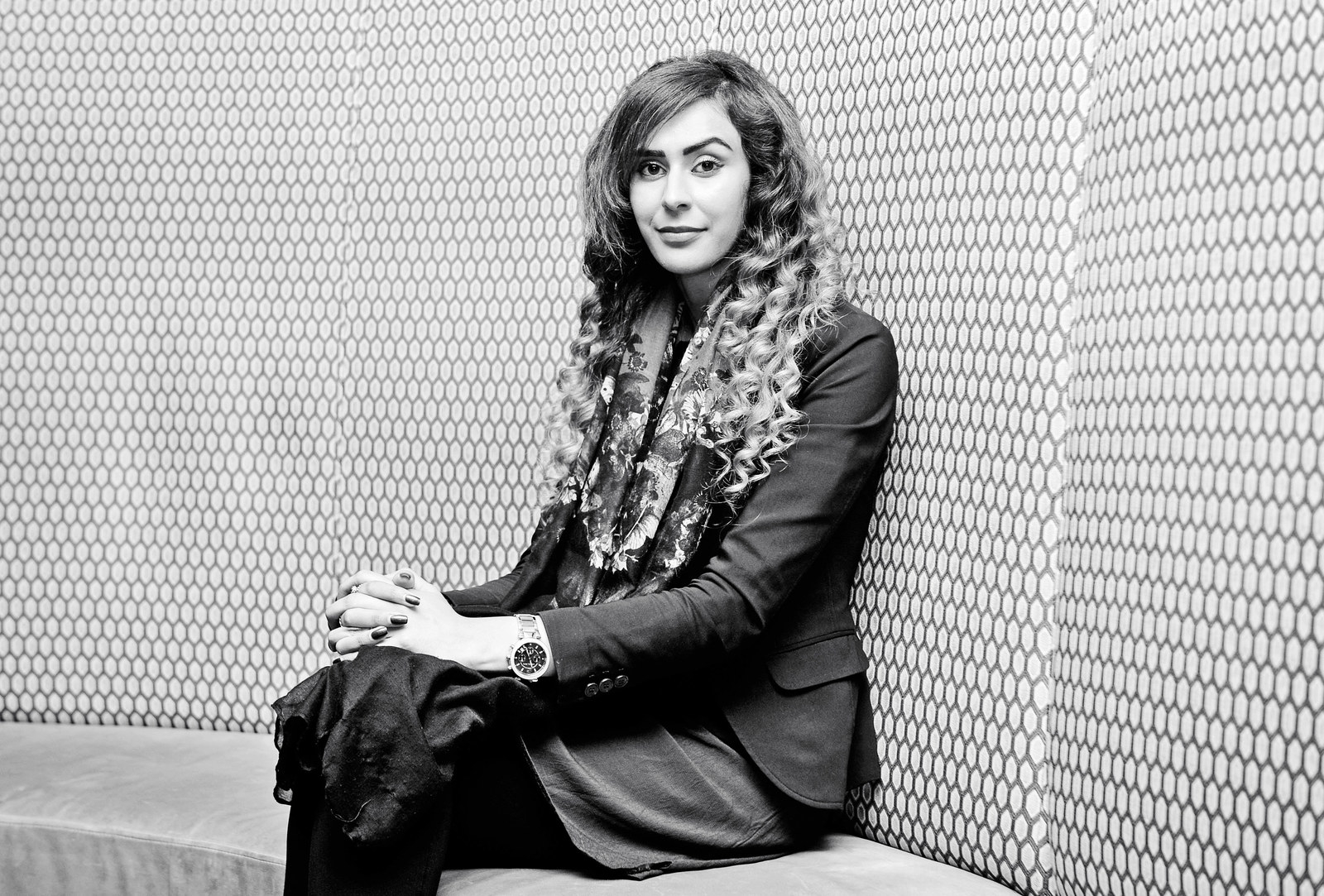 When Shaheen returned to work the day after her airport grilling, her colleagues were expecting her to be happy and relaxed after a fortnight's honeymoon. It soon became clear she was anything but.
"The first person who asked how my honeymoon was, I just burst into tears," she said. "And I'm not an emotional person. Usually I'm quite good at containing myself but it just showed how much it impacted me.
"I shared what had happened with people at work. The managers took me in and I explained everything and that I was struggling with the experience."
Around a week later, one of the managers Shaheen had told about the incident asked her to come for a chat. The manager had received a call from NHS England about Shaheen, saying someone claiming to be police had rung up to report that she had been stopped and questioned under terror laws.
Shaheen recalled: "At that point I felt really nauseous. I thought, Is my job now at stake? I wasn't arrested. That's breaching my confidentiality – I didn't do anything wrong."
Luckily her manager was already aware of the questioning, so the news didn't come as a shock. But Shaheen was determined to get to the bottom of the call.
"I contacted the police and spoke to a detective and he said that there was no record of them contacting, that they didn't do that. ... They just put it down to someone being malicious and that was left unanswered."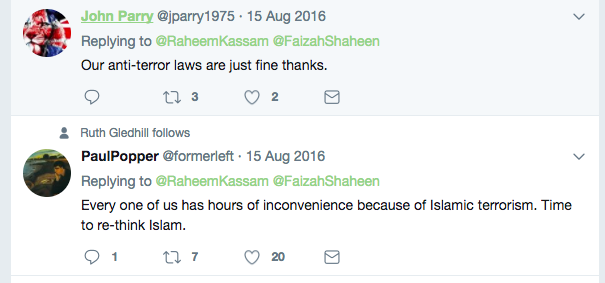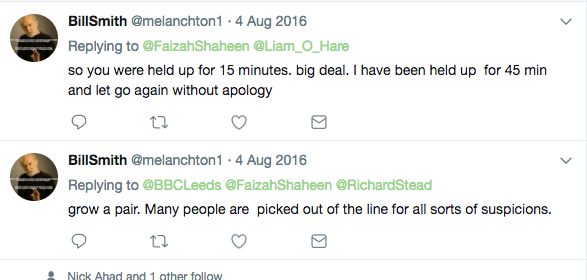 Liberty has since requested all police records relating to Shaheen, but no information has come back relating to an officer calling NHS England – or even about Shaheen's call to the detective to complain.
Liberty and Shaheen maintain that even if the call was not from a member of the police it should still be investigated, given that it is a criminal offence to impersonate a police officer.
At the time Shaheen was questioned, her job included mental health safeguarding work with teenagers at risk of radicalisation. The project was a joint partnership with South Yorkshire police and she met regularly with counterterrorism officers, an irony not lost on her.
Since being stopped herself Shaheen is more sceptical of counterterror efforts in the UK. "It makes me question the system. I feel like these acts are important – we understand that radicalisation is an issue, we understand that there's a lot going on out there and the rise of radicalisation is very concerning and needs to be challenged. I know that as an individual – but it's how these acts are being implemented.
"What I feel in this case was the act was misused – the sense of proportion is not kept in a lot of cases. This is not just myself that's experiencing something like this. There's several other cases where people have been taken off a plane for speaking Arabic or looking Muslim."
Her experience – and her mental health expertise – makes her concerned that the indiscriminate use of Schedule 7 could have the opposite effect to that intended.
"I'm a professional who has a complete understanding about radicalisation and I understand the vulnerabilities that come with that," she said. "Young people, if they're targeted, one of the problems that they experience is a lack of belonging and if they're being targeted for things like this how would they then feel a belonging, and how much would that then increase their vulnerabilities and make them prone to being exploited by these extremist groups? It's a vicious circle, and they're not thinking about it."
When she told her police colleagues of her experience, she was shocked to find that some did not see the problem. "I know a lot of people on the panel I was sat with were shocked by my experience, but also there were some people that agreed with what had happened to me. And I found it hard to sit with people who agreed and found it acceptable in terms of what happened to me. It didn't sit with me right."
She was relieved when she got the opportunity to start a postgraduate course in cognitive behaviour psychotherapy this year, which meant she would no longer be able to take part in the work.
It has not just been police officers who Shaheen has encountered being sympathetic to the idea that she was questioned. She has also received abuse online.
"The story went viral and I found myself feeling quite vulnerable because even though I got a lot of support from individuals, I got a lot of hate as well," she said. "I got a lot of backlash and trolls online and people messaging me saying 'we're at war against you Muslims'. Horrible comments about people harming me. It was horrific.
"They think that it's correct what happened. Amongst the people that were very negative to me were also Muslims. They assumed that I worked for Prevent when I said I'd done work around anti-radicalisation. And Prevent has a reputation, and they said that I was a sellout and don't belong to their community either. Even from that side I was surprised to learn that I'm not a part of that community either."
Shaheen is determined that her experience should be used to stop the police putting other innocent people through the same experience. "Overall it was a gross misjudgment. They could have dealt with this very differently; it was a complete waste of resources."
Her lawyer, ten Caten, said: "The problem with the legislation is that you don't need any reasonable grounds for suspicion. The Schedule 7 act is extremely broad and extremely intrusive. It can be used without any need for reasonable grounds for suspecting someone that a person has any involvement in terrorism or in fact any other criminal activity. It is ripe for abuse.
"The impact was incurable. In Shaheen's case she was coming back from honeymoon and that's something you're going to remember for the rest of your life. It was such an obvious case that she had been singled out due to her race, rather than genuine concern. If her husband, who is white, had been reading that book I do not think he would have been reported to the police. And had he been reported to the police I don't think they would have followed through.
"The initial [report by cabin crew] was ridiculous, but it needn't have gone any further. The police could have acted reasonably and said, 'This is ridiculous, we're not going to waste our time.'"