A mother and father have just left a family courtroom in England after a hearing about their children. Neither of them has a lawyer. The woman walks out first, speeding towards the waiting room and exit. The man hangs back out of sight. After a brief silence, his sobs begin to drift down the corridor. Eventually he blows his nose, mutters "come on, come on", and steels himself to walk past the waiting room and face the world again.
Outside the court next door, another set of parents are about to go in, awkward at the private moment of pain they've overheard. They too have no lawyers. Their case is about blocking the mother from coming to the family home because of allegations that she poses a threat to the children. Both are daunted by the prospect of attempting this fight with no legal help.
"If I was a millionaire I wouldn't be standing here," the father says, eyeing the door nervously. "I'd get the best lawyer and he'd just shut it down. I'd say a large percentage of people in these courts are on benefits."
He says the process is often baffling. "It's hard to understand what they're saying and the laws. You're in at the deep end. You don't know what's what."
The ordeal of family court without a lawyer is now being experienced by tens of thousands of people each year as a result of legal aid cuts in England and Wales, government figures show. And the situation is getting worse.
New research seen by BuzzFeed News from the family solicitors' association Resolution shows that the number of people family lawyers are having to turn away because they can't afford to pay and do not qualify for legal aid has increased fourfold since 2014. Then, lawyers reported turning away an average of 25–45 people each year, but by 2018 this had reached an average of 100–200 people they could not take on.
Since the introduction of the Legal Aid, Sentencing and Punishment of Offenders Act 2012 (LASPO) most private family law cases — including arrangements that can result in one parent not seeing their children at all — do not qualify for a publicly funded lawyer.
The majority of cases turned away — 82% — were for child arrangement orders, the survey of more than 240 family lawyers found. Since these orders can often define the relationship children have with their parents, legal experts are concerned about the lasting effect of not having a lawyer to present the best case.
The figures were submitted to the government, which has been gathering evidence for a review of LASPO that is supposed to report back later this year.
Private law cases where both sides have a lawyer are now the exception. The latest government figures analysed by BuzzFeed News show that while 46% of private family law cases had a lawyer on each side in April to June 2012, by the same period in 2018, just 19% did.
While parents on low incomes can get legal aid if there is an application for their child to be taken into state care, there is no access to a lawyer in fights over who the child lives with and whether they can see both parents. The situation means that a parent can be blocked from seeing a child entirely with no right to a lawyer to fight their corner.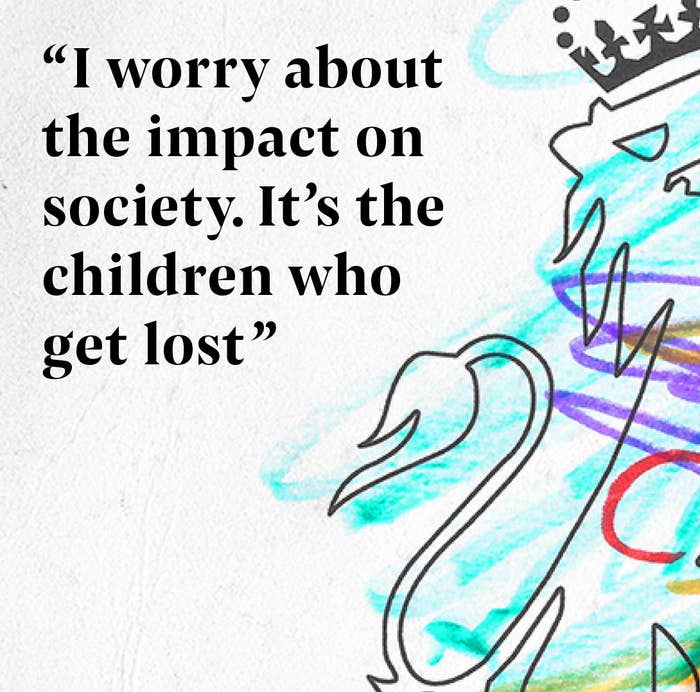 Family lawyer Zoë Fleetwood believes that cutting legal aid for something as fundamental as seeing your children is an affront to human rights. "It's Article 8 — the right to family life — and people should have access to justice for that. One parent can have their rights completely trampled over if they can't get representation."
Fleetwood added: "I worry about the impact on society. It's the children who get lost — children who don't see families. The wheels of justice are creaking anyway. We don't have enough judges or courtrooms… You wait months for a hearing. Those who are unrepresented or don't even get to court because they don't feel they can do it without a lawyer — there are so many children who are lost in that."
She says that even beginning the paperwork to get things started can be a challenge without a legal background. "If they don't have a lawyer, they've got to prepare their own position statements, somehow know what orders they need to prepare. They won't know all the different forms of contact. They won't know the rules. There's so many things that the layperson unrepresented wouldn't know about."
Last year BuzzFeed News revealed that a record number of people were seeking help in court because they had no lawyer, beginning a series on the impact of legal aid cuts on access to justice. The government hoped that by making parents ineligible for legal aid in most family cases it would encourage them to seek mediation and solve disputes outside court. Instead, without access to a lawyer who might refer them to mediators, the numbers solving problems through mediation fell off a cliff and the courts became flooded with people trying to navigate them with no lawyer at all. Parents are required to attend a brief meeting explaining mediation options, but without a lawyer recommending it as in their interests, most opted against it.
More than 68,000 private family law cases (cases involving parents disagreeing over contact with their children and where they live) came to court last year where at least one party had no lawyer. Of these, 30,000 had no lawyer on either side.
Shadow justice secretary Richard Burgon told BuzzFeed News: "Separation and decisions over child access are some of the most difficult moments people will ever go through. When people are priced out of getting legal help this can make it even harder for all involved, especially the children, and can escalate into divisive family court battles with long-term consequences.
"These cases underline the cruel and callous nature of the Conservatives' decision to axe most publicly funded legal help and why Labour is committed to reintroducing this for family law.
"The government should use its forthcoming legal aid review to restore early legal help funding across the board. Cuts to legal help have been a false economy with clear evidence that by intervening into problems early this not only prevents greater distress for the individuals involved but also saves the state money by preventing problems from escalating out of control."

With 81% of private family cases now having at least one party with no lawyer, BuzzFeed News spent a day in an English family court to watch a case unfold. We have not reported the court's location because the children's identities are protected by law.

The case being heard is an occupation order preventing the mother from going to the family home. The allegations are serious enough that the local authority has expressed concern that she poses a risk of emotional and physical harm to the kids. The father says she has threatened them and said she couldn't be around them. She has also breached an existing occupation order.
Previously the father was only allowed supervised contact with his children because of an allegation of abuse — a claim the mother later withdrew and said was untrue when her mental health meant she felt unable to look after the children. It was taken seriously initially because several years earlier there was a domestic violence incident the father had admitted to. The case is far from simple.
While the father has come with a handwritten witness statement and screengrabs of phone chats, the mother has nothing but her phone in her hand. This is now the third time this hearing has been attempted because one or both of them previously came with no statement, and the judge is forced to go ahead.
The father goes first, taking a conciliatory tone. "At the end of the day she's our children's mum and I want the best for her and them," he says. "The last thing I want is for the kids not to have a mum in their life."
After he has finished presenting his evidence it is the mother's turn to ask questions. This is where a lawyer would have the opportunity to cross-examine, but she is clearly out of her depth. The judge tells her she can ask any questions that are relevant.
She begins: "I had a mental breakdown," and starts to detail a series of personal catastrophes that unfolded. The judge gently interrupts to see again if she has questions, but she says no.
The judge presses on: "This is your opportunity to challenge his evidence, for example, if you disagree with what he's saying. If it's true then the court needs to know that. You're not challenging his evidence?"
"I don't get what you mean," the mother replies. The judge continues: "If anything he's said is untrue about your behaviour or the children, you need to challenge that now."
"My mental health is untrue. I'm more stable now, I'm willing to look after my children now."
"Do you have any questions for him about what he's said about your mental health?" the judge labours on, trying to remind the mother of the bits of evidence she could ask questions on, but the answer continues to be no.
"I want it to be how it was before," the mother says. "I won't be angry and aggressive; I'm here to be civil."
The judge gently interrupts again. "Sorry, it's difficult when you're representing yourself. You have to ask him questions."
The answer comes back again: "No, I haven't got any questions."
"He's made two witness statements and I copied them for you because you haven't brought any paperwork to court with you. If there's any part of those statements that's untrue you need to challenge it."
"It's true."
"All of it's true?"
"Mm-hmm."
"You mention that you made a handwritten statement, but he didn't get a copy and the court didn't get a copy. Is there anything from that you want to mention?"
"I can't remember off the top of my head. I don't know."
"I'm just going to ask you one more time if you have any questions, because that will be the end of his evidence and your chance to challenge it."
"No."
As the hearing continues it becomes clear that the mother is confused about what the case is about. She is here to challenge an occupation order on the house but concedes that the father should have it and that she does not intend to go there.
The judge asks why there shouldn't be an order and she replies, "I'm well enough to look after my children now. I know I can be a better mum."
The judge reminds her that the case is only about the occupation of the council house they once shared and that child arrangements will be dealt with separately, asking again what she wants to do about the home.
"Obviously it has to be him because he's got the children. I can't just chuck him out on the streets. I'm not horrible like that."
"That leaves me again with the question of why you're challenging."
"Because he's got care of the kids at the moment. Obviously I'd like to return back to the home and the children. That's what my dream is."
The father is similarly thrown by the proceedings. When he interjects to say something during the mother's evidence, the judge stops him and explains he has to wait until she has presented it. He has not brought a pen to write down questions, so the judge lends him one.
In the end, after several hours of tortured back and forth and a break to deliberate, the judge grants an occupation order barring the mother from the house. The case has taken most of the day.

One of the stated aims of cutting back on family legal aid was to encourage people to seek mediation instead of going to court. But the government acknowledged in a report picked up by BuzzFeed News that exactly the opposite happened. In the financial year to 2013, before the cuts came, 31,000 cases were assessed for mediation. By 2017 this had plummeted to just 13,000.

Family lawyers had warned this was likely to happen, since legal aid–funded lawyers frequently pointed divorcing couples towards mediation. Without the initial free legal advice to recommend a more amicable settlement, people are instead turning to court with no legal help at all.
A Ministry of Justice spokesperson said: "Our reforms to legal aid aimed to discourage unnecessary and adversarial disputes in courts over child arrangements and now anyone who wants a court to resolve these matters must generally first consider mediation. Legal aid remains available for mediation in family disputes about children and finances for those who are eligible and in some circumstances — for instance, where there is evidence of domestic or child abuse — where parties meet the means and merits tests.
"We have invested £6.5 million increasing the support and advice available to those who represent themselves in court and we are conducting a review of our reforms to legal aid to assess their impact."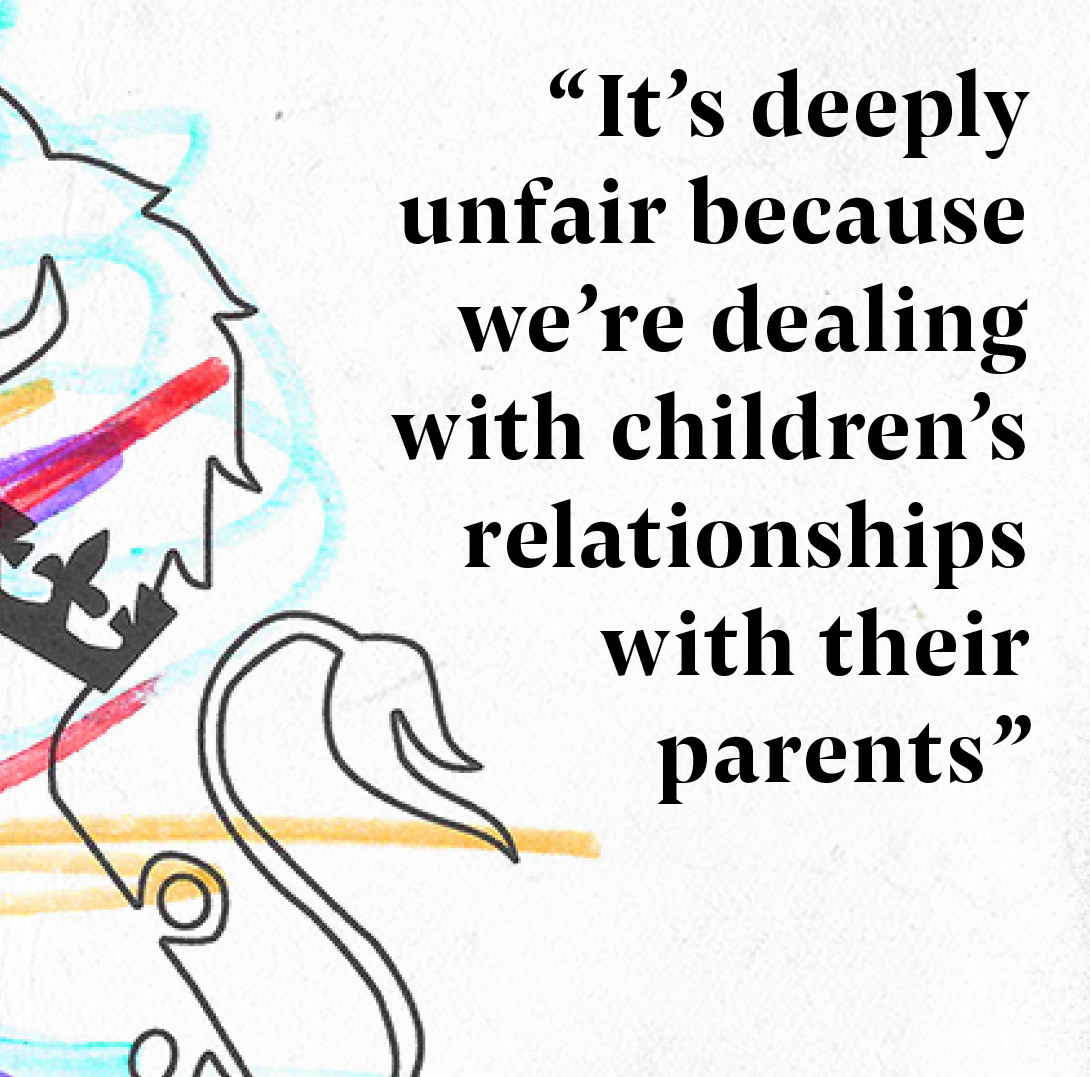 Lawyers say that people are ill-equipped to fight such emotional cases alone and that ultimately children suffer. They say it can take longer to get a hearing to solve child disputes without a lawyer because people don't understand how to navigate the paperwork and the courts.
Family lawyer Tony McGovern said that, while his firm does take on cases pro-bono or at reduced rates, it is still unable to help everyone unable to afford a lawyer.
"On a weekly basis I imagine we're turning away two or three people a week," he told BuzzFeed News. "Particularly just after Christmas time you get an influx of calls, and also around school holidays. It's always such an emotive time. Either the parents are separated and they're sharing time with the children and it's not working or they spent time over holidays and realise the relationship is not what it was."
He said that cases risked going through the courts more slowly without a lawyer, having a knock-on effect on the children waiting on the result. "At least with the benefit of a lawyer you can say these are the applications and go to the counter staff to get an urgent hearing listed. We can push things through for them, but as a litigant in person it's very hard for them."
McGovern believes that delays and a lack of proper representation have a lasting impact. "It's deeply unfair because we're dealing with children's relationships with their parents. Children have a right to spend time with each parent unless there's something to the contrary, and parents trying to navigate a quite difficult court system on their own is just unfair. Even if one is unrepresented and one has a lawyer."
He added: "If you're reestablishing a relationship there's a delay in that being reestablished. Children lose the chance to have a relationship with both parents. It affects them as they grow into adults themselves and their perceptions of relationships and society moving forward."
An indication of the lack of understanding by litigants in person (those who represent themselves) can be seen in applications for child arrangement orders for contact. While the number of applications rose by 15% from 2011 to 2017, when 44,263 applications were registered with courts, the number of children actually subject to contact orders decreased by 27% in the same time period.
McGovern said: "Applications have gone up hugely for child arrangement orders with litigants in person. They don't understand the process. Others are unable to advance cases without proper evidence. Sometimes they feel embarrassed to say to the judge or the other side, 'What does this mean?'"
CORRECTION
When there is an application for a child to be taken into state care, parents of any income are entitled to legal aid. An earlier version of this article suggested it was means-tested. Most family law cases do not qualify for legal aid, regardless of income.