The Ministry Of Justice Has Been Accused Of Sitting On Evidence That Undermines Its Drive To Close Courts
Exclusive: Survey data left out of a published MoJ report showed that users of the justice system had a significantly more positive appearance if they had physically been in court.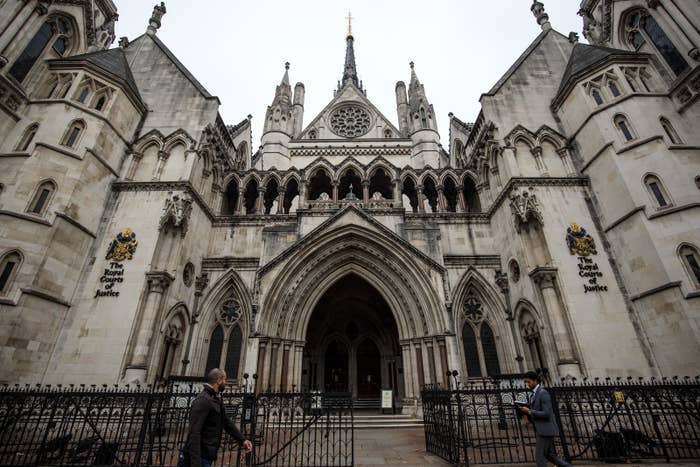 The Ministry of Justice left data out of a published report that showed people had a more positive experience of the justice system if they had physically been in court, a finding which senior lawyers and campaigners say undermines its push to take more cases online and out of courtrooms.
A survey of more than 1,000 people using the justice system was commissioned for a report published last year showing users' experiences. But a tranche of figures —which suggested that people had a far better experience if their case was dealt with in court rather than, for example, online or on the phone — was left out.
The government is undertaking a major programme of court reform, aiming to move more justice online and via video link. Critics say the reforms have been used to justify the closure of hundreds of courts and that concerns about the quality or experience of virtual justice have not been listened to.
The previously unpublished survey data shows that users of the justice system who had physically been in court were almost 50% more likely to strongly agree that they had been listened to; that the courts were open and accessible; and that they were able to participate and take part with confidence.
While 40% of court users strongly agreed they had been listened to, just 27% of those whose cases had been dealt with outside a physical courtroom felt that way. The gap was the same for how open and accessible they felt the process was, and how able they were to participate and take part with confidence.
There was also a contrast in what people felt they had achieved. While 39% of those whose cases were dealt with in court strongly agreed that they could do what they needed to do, for those not in court, the proportion was just 31%.
The full survey data was only released by the MoJ after a freedom of information request by the charity Transform Justice. The data was gathered by Kantar Public, who wrote the report "with the support of staff from HM Courts & Tribunals".
The figures included in the published report, called "HM Courts & Tribunals Service Citizen User Experience Research", were ones that made broader points, such as that court users like to feel listened to. Much of the raw survey data was broken down according to those who did and did not attend court, though this comparison did not feature in the report.
Penelope Gibbs, director of Transform Justice, told BuzzFeed News: "Proponents of the digital court reform programme claim that people prefer doing justice online or on the phone. But the evidence for this is thin. Research indicates that even young people who are proficient at using Instagram and Skype with friends, are nervous about doing justice online. We need to rethink closing courts in the light of this research."

While the proportion outright disagreeing with positive statements about the court experience for most categories were the same or similar, the chance of strongly agreeing with a positive statement was much less for those who had not attended court.
Gibbs said: "This research suggests that people have a better experience of the courts' service if they go to court in person. At court they are more likely to feel listened to and better able to participate and take part with confidence than if their only contact is online or on the phone. This makes sense. Going to court is a stressful and unfamiliar experience for anyone but particularly so for vulnerable people. No wonder they prefer face-to-face contact. It's not at clear how HMCTS will be able to square the circle of maintaining user satisfaction while putting more and more services online."
Richard Atkins, chair of the Bar Council, said: "The Bar Council has been at pains to point out that the various court reforms that have been promoted in recent years, including the closure of a number of courts, must not be blind to the basic principles of access to justice.
"Members of the public must not only be able to access justice but must also feel that they have had a proper hearing and have had justice done. This research reinforces that view. It is both surprising and concerning that this research appears to have been buried by the Ministry of Justice. We hope that this is not the case and that this research is being taken into consideration."

Christina Blacklaws, president of the Law Society of England and Wales, said: "We've been absolutely clear that modernising the court service, including the efficient use of technology, could benefit all users. But we can only judge that if accurate data is available. To that end HMCTS needs to adopt a more transparent approach with better communication. There have been improvements lately, but clearly these do not go far enough."
The government's court reform programme has come under fire for being a way to justify cuts. By 2023 real terms funding for the MoJ per person will have fallen by 51% since 2010/11, according to analysis by the New Economics Foundation (NEF) think tank.
Shadow justice minister Richard Burgon said: "Under the guise of so-called reforms our courts system is undergoing huge changes, with thousands of staff axed and hundreds of courts shut.
"Such important findings shouldn't be coming to light through FOIs. The government needs to be encouraging an open debate about the consequences of these changes and the very real concerns that this is undermining access to justice of witnesses and victims."
This is not the first time the MoJ has been accused of burying the substance of inconvenient research findings. Last year, BuzzFeed News revealed that the department had concealed the existence of a 36-page internal report that contained explosive testimony from judges and prosecutors about the impact on the justice system of the rising number of people defending criminal charges without a lawyer.

BuzzFeed News has previously revealed judges' concerns that video hearings could lead to witnesses being coached off camera and footage appearing on YouTube. Magistrates have also argued that plans to move more criminal justice cases online could lead to vulnerable innocent people pleading guilty.
HMCTS says that conclusions about the contrast in experience could not be drawn from the survey data because of its "limited" sample size. However, more than 1,000 people were surveyed for the report, a significantly larger sample than some of the research the MoJ has relied on to justify its reform programme.
This has included pointing journalists to a paper showing the "high level of satisfaction" among those involved in video hearings, despite the data showing only two interviews with people subject to a video hearing after it had taken place.

HMCTS also said it would be incorrect to say attending court results in a better experience, since some of those surveyed would have been involved in cases without a hearing, such as a divorce that settled.
However, the report itself suggests this group is made up of many people experiencing virtual justice. Describing the type of cases not heard in court for the survey, it says: "The case could have been dealt with on paper, conducted online, have been resolved before reaching a hearing, or it may not yet have reached a hearing."
A HM Courts and Tribunals spokesperson said: "This data was gathered from a limited number of court users, many of which were involved in cases that would never reach a court, for example divorce cases."

"It would therefore be incorrect to say that this data shows that attending court hearings results in a better experience for the individual.
"We're spending more than £1 billion to modernise the justice system, making it easier to use and providing better value for the taxpayer. The benefits of this are already being felt, with almost 90% of the 51,000 people using our online Civil Money Claims service saying they are satisfied or very satisfied."