Magistrates Say Children Suffer In Family Court Hearings When Their Parents Have No Lawyers
An exclusive survey by the Magistrates Association for BuzzFeed News found that in magistrates' most recent family court hearings, 68% of people represented themselves, up from 41% in 2014.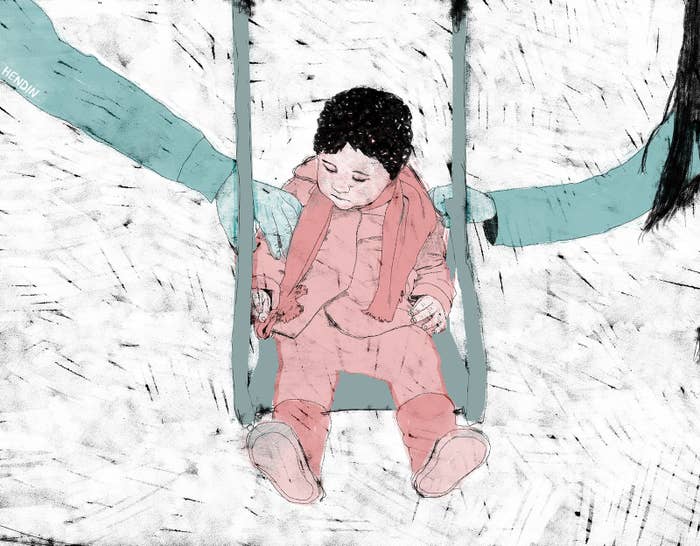 More than two-thirds of people in family court hearings in front of magistrates have no lawyer, according to a survey by the Magistrates Association for BuzzFeed News. The proportion marks a 65% increase since 2014, the year after drastic cuts to legal aid were introduced.
The situation is leading to injustices and long, confrontational court hearings where children ultimately are the victims, magistrates said in damning anonymous testimony.
The exclusive survey of 370 magistrates for BuzzFeed News found that in their most recent family court hearing, 68% of people represented themselves, up from 41% in 2014.
In candid anonymous testimony submitted to the survey, magistrates slammed the impact of legal aid cuts and the resulting rise in litigants in person (LiPs). One magistrate said the situation was "becoming a joke", while another said that the side with a lawyer "would always fare better".
Magistrates in the family court hear a range of cases, many of which impact seriously on children's lives. These include parental disputes over the contact and residence of their children, local authority interventions to protect children, financial support for children after a breakup, and protecting victims of domestic violence.
Ultimately, children are the ones suffering, many of the magistrates concluded. "Relationship with children should not be affected by ability to pay," one said.
Another said: "Litigants in person find it difficult and frightening and while we are very willing to help, it does slow the day's work considerably and ultimately in family court the children suffer again."
BuzzFeed News has been exposing the devastating impact that cuts to legal aid have made since they were passed into law by the coalition government in 2012 through the Legal Aid, Sentencing and Punishment of Offenders Act (LASPO).
The chair of the Magistrates Association, John Bache, told BuzzFeed News he was worried the increase in people representing themselves is resulting in unfair hearings: "The problem is that if one side is represented by a professional lawyer and the other isn't represented, that must be intrinsically unfair. In family the magistrates will do their best to ensure a fair hearing for both sides, but as in criminal hearings, you can't put questions in their mouth."
Bache said the imbalance of having one side represented ultimately ended up harming children. "The impact on children will stem from that because if there hasn't been proper representation, the children won't be achieving necessarily the best outcome in terms of relationship with their parents."
He added: "You're deciding about access and how it should be divided between two parents. To make the best possible decision you need as much information as possible."
Bache said court delays caused by explaining the law or waiting from documents from litigants in person could also end up harming children as they were left in limbo.
Several magistrates echoed this view in testimony to the survey for BuzzFeed News. One said: "I fail to see how removing legal aid from Private Law Family Proceedings is saving any money at all, given the number of extra hearings and additional time spent in court. The situation is becoming a joke."
Overall, 95% of magistrates said they thought that when people represented themselves in family court it had a negative impact on how the effectiveness of the court processes.
Many said the imbalance of having one side of a divorcing couple represented by a lawyer while the other fends for themselves was unfair and resulting in injustices.
One said: "Problems arise with inequality where one is represented and not the other in spite of all our efforts."
Another said: "Litigants in person are disadvantaged when both are unrepresented. This serious injustice is exacerbated significantly when one party has access to legal aid or can privately fund council and the other is forced through lack of finance, to be a litigant in person.
"A Chair can only intervene up to a point; to provide clarification but not advice. The Bench can see the disparity between those who benefit from being able to present a robust legal argument and those who do not. The child's Interests are not best served where either parent/carer is unable to fully represent and defend themselves."
Another added: "It is very difficult for non represented people to express their needs in many private law cases and the process is weighted against them. Family Law needs to be fairer for these people."
The shadow justice secretary, Richard Burgon, told BuzzFeed News: "We can not talk of delivering access to justice when so many people are now forced to represent themselves in courts. How is a person who has never been in court before supposed to take on a legal expert?
"It is increasingly clear that under the Conservatives we are moving towards a two-tier justice system, where outcomes are based on the depths of your pockets, not the merits of your case. Working-class and vulnerable people are deliberately being priced out of our justice system by the government's cruel decision to restrict access to legal aid. Just as the cuts to health and education budgets devastate lives, so too do the cuts to our justice system."
The government has announced a review of the impact of its cuts to legal aid which will report back next year. Burgon said: "Labour is committed to the return of state-funded early legal help for cases in the family courts. The government must use its legal aid review to do likewise and not just tinker around the edges in what will amount to no more than a PR stunt, which is what many already fear is underway."
One of the government's stated aims in no longer funding lawyers for low-income couples arguing over divorce or child arrangements was that it would encourage them to seek mediation instead. But, as the government has admitted, the opposite happened. With no lawyers referring clients on to mediation, the numbers seeking amicable agreements out of court fell off a cliff, and instead there has been a huge rise in people attempting to navigate the family courts with no lawyer.
Commenting on this trend, one magistrate said: "To refuse legal aid is shortsighted as it increases costs of the court in the long run and in private law cases it increases negativity. Where parties are represented (even just one of them) mediation is often possible which has to be in the best interest of the children involved.
"Litigants in person are at a disadvantage in a family court so denying legal aid is creating a considerable advantage to those who can pay for representation. This is not fair.
"It provides a one-sided unfair system when one party is represented by skilled advocates especially in contested cases."
Several magistrates said the removal of legal aid had resulted in much more adversarial hearings as people fought very personal battles without a lawyer as a buffer. One said that as well as leading to cases where the side without a lawyer is "out-gunned by a partner with greater access to representation", it has "led to more angry outbursts in court fuelled by frustration and stress".
One magistrate said that the "extended skill set" required for dealing with litigants in person meant "it would be useful if additional training were available for this".
Another elaborated: "Litigants in person are often unprepared for the court process and need considerable assistance from court clerks. Often, as today, the other person's legal representative has to advise and negotiate with the LiP, this is so wrong.
"LiPs are often at a huge disadvantage in the courtroom, this is not justice. LiPs often appear intimidated by the other person's legal representation, [and] some barristers particularly play on the inequality."
Jo Edwards, who leads on family law reform for Resolution and chaired the organisation when LASPO was implemented, said: "Sadly, the findings of this survey tally with the experience of our members across the country. The rise in litigants in person that has followed the cuts to legal aid has had a devastating impact on our family justice system, putting almost unmanageable pressures on our courts and, crucially, forcing countless vulnerable people to navigate an often intimidating process at one of the most emotionally traumatic periods of their lives.
"This is borne out from what magistrates are saying today, and one can only imagine what the long-term impact of this is on children of those navigating the system unaided."
Several magistrates also expressed concern that only allowing legal aid in private family cases to domestic violence victims risked incentivising false allegations and created an unfair imbalance.
One said: "This appears to be prompting some women to use the claim of 'domestic abuse' as a means of securing legal aid. This is not to in any way to suggest that there is not a very real problem with regards to domestic abuse which needs to be recognised and addressed."
Another said: "One wonders whether the granting of legal aid in cases involving domestic violence might encourage the making of spurious accusations of domestic abuse."
While another said: "It can be unfair that (mostly) women are able to obtain legal aid if a non-molestation order is in place but it is harder for (mostly) men to obtain legal aid to defend any allegations."
A Ministry of Justice spokesperson said: "We want disputes resolved away from court wherever possible, using approaches like mediation which can be less stressful, quicker, and cheaper.
"When disputes do have to come before the courts, it has long been the case that some people represent themselves. We want to further increase the support available, which is why we are working to provide more advice in person, as well as improved online information, court guides and videos on how to represent yourself in court.
"We've invested £5 million in bolstering this support since 2015."