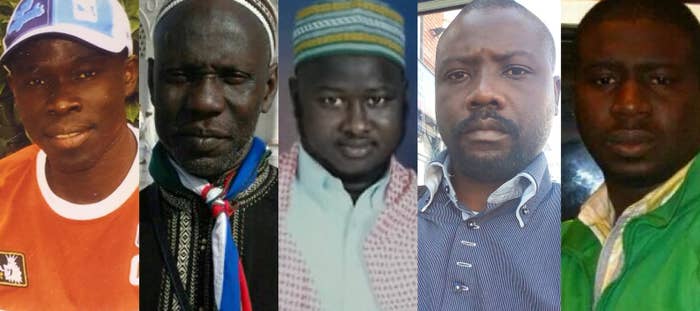 The families of five men killed by a wall collapsing at a recycling plant have been denied legal aid for the inquest.
The men were crushed to death at Hawkeswood Metal in Birmingham under a pile of concrete bricks and scrap metal on the morning of July 7, 2016. Only one managed to escape, breaking his leg in the process.
Their surviving families, who are from Gambia and Senegal, applied for public funding for a lawyer to represent them at the inquest. They were turned down for legal aid despite meeting the means test and not speaking English. Now they have resorted to crowdfunding their legal fees.
The men killed were Ousmane Kaba Diaby, 41, Saibo Sumbundu Sillah, 44, Bangally Tunkara Dukaray, 57, Almano Kinteh Jammeh, 47, and Mahamadou Jagana Jagana, 52. They were all agency staff who lived in Spain.
BuzzFeed News understands the families have yet to receive any compensation or compassionate pay from the plant, though Hawkeswood Metal has not responded to requests for comment.
Imran Khan, who is representing the families despite no guarantee of payment given the lack of legal aid, told BuzzFeed News: "It's a shocking case. Just purely from a humanitarian and compassionate point of view, these individuals have got to be represented. These individuals do not speak English and they would not be able to have any effective participation in the proceedings.
"Given that there's potential for a claim for compensation, they need to be at the heart of that process which may determine whether they get that compensation or not."
Khan said that since both the Health and Safety Executive and the recycling company will be represented by lawyers it would put the families at a significant disadvantage if they were left without one. "This is a classic David and Goliath battle taking place," he said.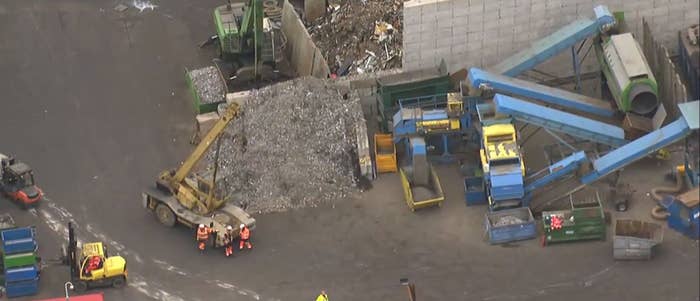 The government is currently reviewing legal aid for inquests, which is largely restricted to cases where the state has a responsibility or there is a wider public interest. Khan argues this case should qualify under the second point. He said: "The safety of people who go to work is critical and it affects everybody."
The inquest begins on Nov. 7 and is scheduled to run for nearly three weeks.
Hawa Kaba, whose husband Bangally Tunkara Dukuray was killed in the collapse, said in a statement to BuzzFeed News: "I will never forget Bangally or the moment I found out he died. I can only describe the effects as absolutely devastating and still cannot believe that he has passed away. I still find it hard to accept. Our son and I find every day a real struggle without my husband and his father and we miss him every day.
"We want the inquest to get to the bottom of why he died and how and to give us the full truth. We need expert legal advice and representation so that we can question the many, many witnesses, to understand and navigate the complicated legal process and to help us understand and analyse the huge numbers of documents we have received; we could not do this without our legal team, not least because I and the other families do not speak fluent English. We must be able to get justice and our legal team is integral to this."
Last year BuzzFeed News revealed that the families of those killed in the Birmingham bombings were also forced to crowdfund after they were denied legal aid to challenge the scope of an inquest.
Shadow justice minister Richard Burgon said: "It is a sad indictment of our justice system that people are having to crowdfund to be able to get proper legal representation — especially for cases as serious as inquests.
"Far too often we are seeing how the funding system for Inquests is not fit for purpose. Bereaved families, who have already suffered great personal loss, are being left to fend for themselves. The government's forthcoming review into legal aid must tackle this obvious failing if the government is serious about tackling the burning injustices in this country."
Richard Miller, head of legal aid at the Law Society, said: "There is a default assumption that families don't need to be represented at an inquest because the hearing is led by the coroner and it's not an adversarial process, despite the fact that all other parties are almost invariably represented by a senior lawyer."
He added: "When someone is bereaved I really struggle to see how they can really be expected to fully participate in proceedings on their own and with no assistance when it's going to be so emotional for them. Our experience is decision making on inquests is significantly harsher than it should be."
Decisions about legal aid are made by the Legal Aid Agency (LAA), a theoretically independent arm of the Ministry of Justice.
A Ministry of Justice spokesperson said: "We understand the inquest process can be extremely difficult and our thoughts are with those affected by the Birmingham wall collapse.
"While legal representation is not necessary for family members at the vast majority of inquests, when it is required they can apply for legal aid. Decisions on funding are made independently by the Legal Aid Agency and all civil applications must meet strict means and merits criteria.
"We have committed to reviewing the availability of legal aid for inquests more widely and intend to publish our findings later this year."