When Kevin Bigg appeared in Carlisle magistrates' court charged with begging last month he did not mince his words. According to a court report in Cumbrian local paper the News and Star, he told magistrates he was "now being punished for being homeless".
Bigg said he had not been offered any help by the authorities to find suitable accommodation, but instead police saw him appearing to beg in Carlisle on four separate occasions and took him to court. He told magistrates he was not begging and had not asked for any money, but that one child threw two £1 coins into his sleeping bag. The court also heard that a policeman showed Bigg a map of the city and said he could not beg anywhere within those boundaries.
Magistrates conditionally discharged Bigg for six months and ordered him to pay court costs of £85 and a victim surcharge of £20. Bigg said: "It's a bit of a joke. I haven't committed a crime – I'm just homeless."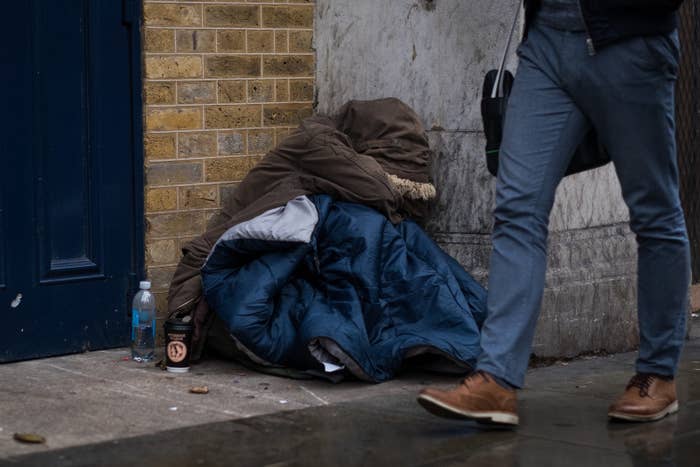 A Carlisle city council spokesperson told BuzzFeed News the council had offered "advice and assistance to Mr Bigg on a consistent basis from as early as July this year". They added that they were now providing him with "support and temporary accommodation, and assisting with securing permanent rehousing". When the case was in court last month, though, Bigg said he was homeless and living on the streets.
Cases like Bigg's are being heard every week in courts across England and Wales. A BuzzFeed News investigation has uncovered increasingly draconian policing and sentencing for begging as towns and cities use new civil measures – as well as Victorian vagrancy law – to target homeless people.
BuzzFeed News can reveal:
At least 54 towns and cities now have their own civil laws to ban begging or appearing to beg. Several of these also outlaw sleeping outside and loitering.

There is growing use of criminal behaviour orders to prosecute begging. In an analysis of 10 months of local news articles relating to begging, BuzzFeed News found 27 court cases where breaches of CBOs were used to prosecute people for begging. View the prosecutions data here.

At least six people have been sent to prison in the last 10 months only for breaching banning orders relating to begging.

Outdated Victorian laws are also still heavily relied upon, with 1,461 people prosecuted for begging last year using the 1824 Vagrancy Act.

Fines have also gone up for the crime. In 2006 the average fine was £47; last year it was £65.

Only one fine of more than £200 was issued in 2006 for begging. Last year the number was 21, including three that were between £300 and £500.

In many cases, the defendants are charged without appearing in court – or without a lawyer – and then ordered to pay fines and costs of several hundred pounds.
The scale of the use of public spaces protection orders (PSPOs) to criminalise begging in towns has been uncovered using exclusive data from the human rights group Liberty, which put in Freedom of Information requests to local authorities across England and Wales, as well as BuzzFeed News' own research. View the PSPO data here.

Corey Stoughton, advocacy director for Liberty, said: "The power to make these orders is unbelievably broad, making them ripe for abuse and misuse. They're also blunt instruments – they can't alleviate hardship or offer any form of support whatsoever. For councils to use them to sweep the most vulnerable in society off their streets – as we've seen all over the country in 2017 – is irresponsible and cruel.
"Homelessness is a desperate situation caused by complex social issues. In these freezing temperatures, councils should be helping people off the streets – not criminalising them and slapping them with fines they cannot hope to pay."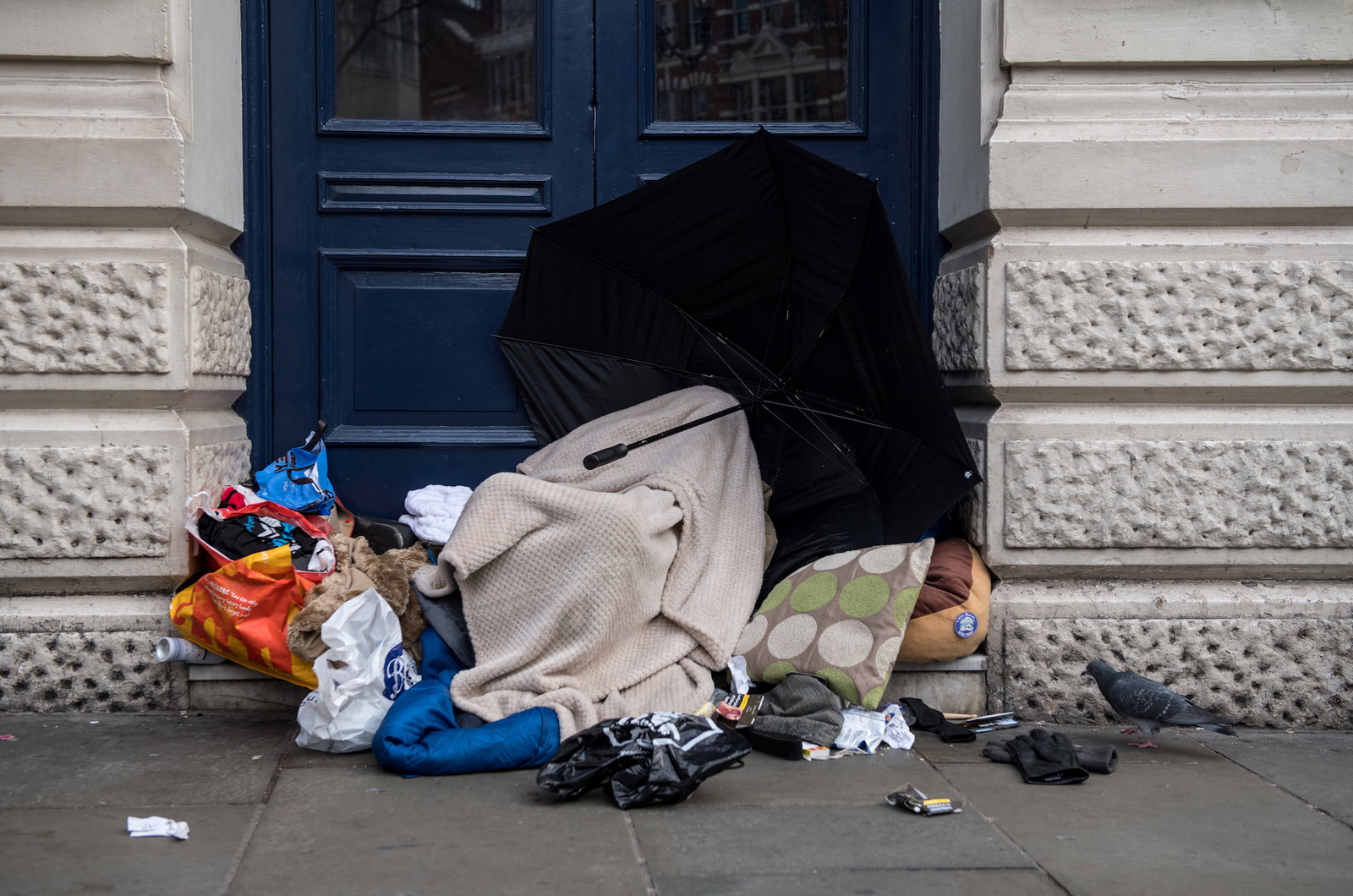 PSPOs and CBOs were both introduced in 2014 as part of the coalition government's antisocial behaviour legislation. While the Vagrancy Act does not typically result in a prison sentence, unless in rare prosecutions of unpaid fines, a breach of a CBO can result in a sentence of up to five years in prison.
Those imprisoned for begging this year include John Page, 35, who was sentenced to four weeks in March for sitting on the floor of a Coventry car park to beg, in breach of a court order. He also had to pay a £115 victim surcharge. Timothy Slater, 49, was sentenced to 18 weeks in prison last month after breaching a community order in relation to begging offences in Telford, Shropshire.
In Manchester, a 49-year-old man who has a CBO banning him from begging anywhere in the UK was jailed for four weeks after being caught begging in Piccadilly Gardens in April. And Wesley Gray, 34, was jailed for four months in July after breaking a CBO banning him from begging in Gloucester 14 times. The judge acknowledged it was a "difficult case" that meant he would "be sending a man to prison for asking for food when he was hungry".
Antisocial behaviour orders (ASBOs) were replaced in 2014 by civil injunctions and CBOs, both of which are now being used to tackle begging. CBOs are designed for the most "seriously antisocial" individuals, yet BuzzFeed News found many examples of them being used to target rough sleepers, who appear to have been doing little more than leaving a cup out for money.
The Ministry of Justice does not publish a breakdown of offences committed in breach of a CBO but the number of convictions for breaching these orders has risen rapidly since their introduction in 2014. Last year there were 2,772 convictions for breaches of CBOs, up from 1,966 in 2015. The number serving prison sentences for breaching CBOs has also risen from 675 in 2015 to 939 last year.
Because of cuts to legal aid, many of those facing prosecution for begging do not have lawyers. Earlier this year BuzzFeed News broke the story of a vulnerable woman who begged two strangers for 50p and was sentenced to six months in prison in a court hearing where she had no lawyer. Marie Baker was subject to a civil injunction to stop her from begging from anyone in the city of Worcester.
In some cases magistrates appear to have little sympathy for the situation of those before them. Nicola Jackson, 38, was ordered to pay fines of £180 in November after asking an off-duty police support officer for change in Worcester and was told by a magistrate to "learn the penny whistle", a suggestion she learn to perform rather than to beg.
Many of the rules set out in the PSPOs decided on by town and city councils are so draconian that they cover even implying you might want to be given money, such as by leaving out a hat or a cup – or even sitting in a public place. At least nine of the towns and cities with begging PSPOs consider "loitering" to be a possible breach of their begging rules.
While some councils specify that it is only "aggressive" or "persistent" begging that is banned, without a definition this can sometimes include simply sitting beneath a cash machine.
In Clacton, Essex, for example, sitting in a shop doorway is prohibited by a PSPO. Sunderland has even banned bin-raking using a PSPO, meaning anyone too poor to buy food could now be criminalised for eating people's rubbish.
Charities and civil liberties campaigners say it amounts to an attack on homeless people at a time when more people than ever are without a roof over their head.
Josie Appleton, director of the Manifesto Club, has been tracking the use of antisocial behaviour legislation and says it has escalated the seriousness of prosecutions of vulnerable people for begging or rough sleeping. She said: "A CBO ups the ante and then you get people imprisoned for sitting down somewhere."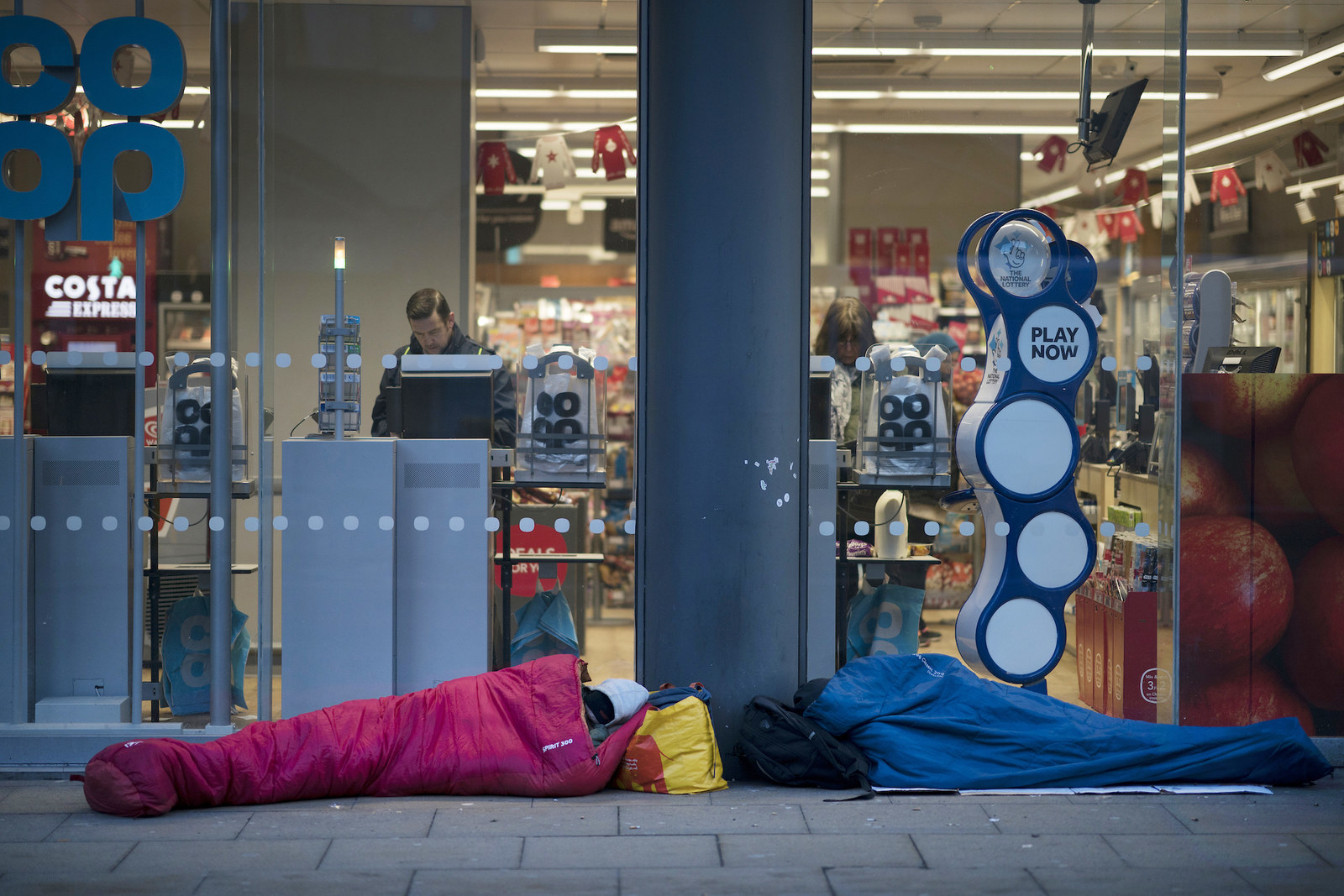 Appleton said it was "Victorian" that people were still imprisoned for begging. "People have lost track completely of what makes a crime a crime, which is that somebody is causing substantial harm to others."
She is concerned that the orders are being used not to tackle antisocial behaviour but as an "inhumane" means to sweep away unwanted people. "We're moving into the domain of criminalising people who we don't like because they look messy or are doing something we wouldn't do… Homeless people are being particularly targeted because they're seen as messy and undesirable in a public space."
Along with many other civil liberties campaigners, she believes the government needs to reverse the power given to local authorities and courts to weed people out of communities. "Ultimately I blame the government for creating these powers and they really need to rein them in to stop the abuses that are going on."
Some councils have taken a stand against such measures. In the Dorset towns of Bridport and Dorchester, for example, councillors unanimously rejected a move to introduce a PSPO that would ban begging in the area in September, saying it would "criminalise" people for being homeless.
Councillor Dave Rickard said during a meeting of West Dorset District Council: "We need to actually deal humanely with those in poverty and deal with the root causes. I think this is a sledgehammer to crack a nut and I would like to see this taken out of the PSPOs completely."
***
The Vagrancy Act 1824 was originally introduced to criminalise soldiers living on the street in the wake of the Napoleonic Wars. It was repealed by the Scottish government, but in England and Wales, section 3 of the act, which defines a beggar as "someone placing himself or herself in any public place, street, highway, court or passage, to beg or gather alms", is still relied on to prosecute unwanted begging in towns and cities. The legislation is so outdated that until three years ago it included the crime of "being an incorrigible rogue".
In the last decade convictions under the Vagrancy Act peaked in 2014 at 1,857 – after that year civil laws were changed, which made it easier for local authorities to pursue people for begging. However, the number of people charged using the act is still significant, with 1,461 people prosecuted under it for begging last year. A further 30 people were prosecuted for the crime of "sleeping out" last year, which uses the same legislation. This is up from 23 in 2014 and 2015.
There is significant local variation in how harshly begging is prosecuted and sentenced. Some places appear to be cracking down on begging without the use of a PSPO. Bath, for example, which does not have a specific PSPO against begging, is where more than 10% of the last 10 months of begging prosecutions analysed by BuzzFeed News took place.
These included the case of Jenny Dinmore, 41, who was jailed in February for the third time in a year after begging in Bath city centre in breach of a CBO. Dinmore gave her address in court as that of a local homeless charity.
Another woman appeared twice in court in Bath this year, both times getting three-figure fines, apparently because she had put away a musical instrument. Nicola Jeanette Boskovic, 46, was given fines and charges of £175 and £150 for two separate prosecutions relating to sitting outside a Bath Sainsbury's. The policeman giving evidence said it was because she had not taken out a penny whistle but left a book open for money, making her conduct begging not busking.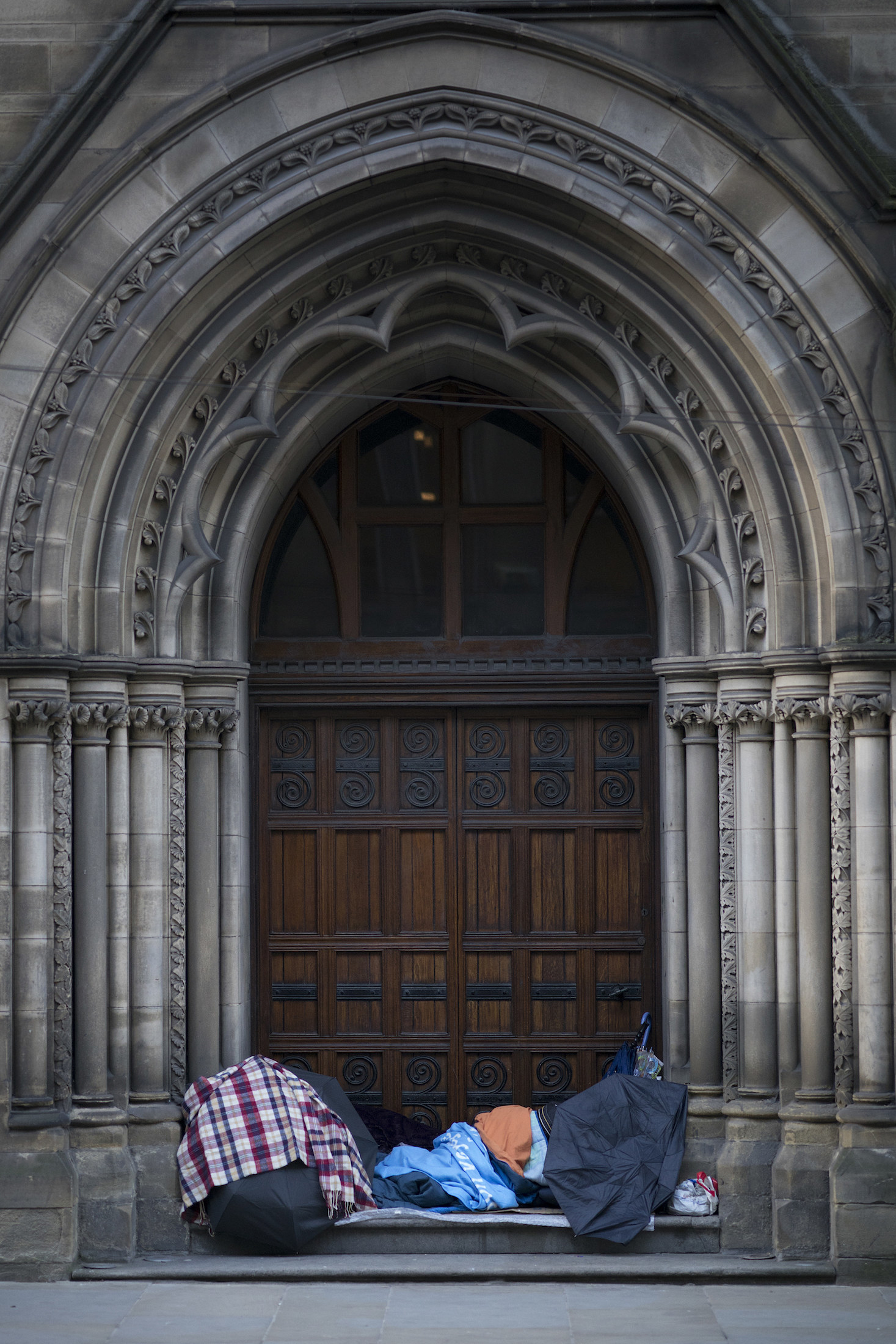 In another case, Christopher Brooks, 37 was found guilty of begging in Bath without ever coming to court, and given fines of £215. Brooks had been in court just a week earlier when he was fined for sitting near a cash machine he was banned from.
Cecil Weir, fundraising director at Bath homeless charity Julian House, said it was "perverse" that vulnerable people were being sent to prison for begging. "The law is there for good reason, but something is going wrong when vulnerable individuals are going to prison and coming out and then their benefits are reduced because the state is taking outstanding funds off their benefits."
Weir said harsh sentencing for begging did nothing to solve the underlying issues. "What really needs to be done is to address the reasons that put them in that position."
An Avon and Somerset police spokesperson said there was no particular drive to combat begging in the city. In a statement they said: "Officers in Bath recognise that people who beg are often vulnerable and need support. Police are part of a multi-agency response to the issue of begging and homelessness, which includes Julian House, mental health services, Bath and North East Somerset Council and other outreach services."
They added that the local beat manager also holds a drop-in surgery "for homeless people to encourage them to report incidents where they are victims of crime themselves".
In many local news reports of begging prosecutions it is clear that no aggression was shown and that the conviction relates only to the defendant's implicit desire for help. Wayne Michael Nix, 43, was given a 12-month conditional discharge and a £20 victim surcharge for begging in June after sitting in Accrington town centre in Lancashire without so much as a cup in front of him. His defence solicitor said: "He is not aggressive. He doesn't approach people. They sometimes decide to give him money but there is no action on his part."
The increase in using civil law has not coincided with more help for those without a home, and most people who face enforcement over their homelessness are not offered practical support to solve their situation. In research published earlier this year, the homelessness charity Crisis found that the vast majority of homeless people were given no support or advice when authorities enforced anti-begging or rough sleeping laws. In a survey of more than 450 rough sleepers, 81% said that in their most recent experience of enforcement no support or advice was administered.
Crisis's director of policy, Matthew Downie, said: "We understand that councils and the police have to strike a balance between the concerns of local residents and the needs of rough sleepers, and it's only right that they should intervene where there's genuine antisocial activity. Yet people shouldn't be targeted simply for sleeping on the street. Rough sleeping is not a behaviour, it's a devastating circumstance.
"Our own research found that eight out of ten rough sleepers said they received no support or advice during their last experience of enforcement, while more than half said the experience added to their feeling of shame at being homeless, and nearly a third said it made it harder to find settled accommodation."
Downie said that while enforcement as a last resort could play a role in helping people off the streets, it must be accompanied by "accessible, meaningful support and accommodation to help that person escape the streets and rebuild their life". Without that, he said, "they risk further marginalising rough sleepers and making it even harder for them to get help."
Councillor Martin Tett, the Local Government Association's housing spokesman, said: "Councils know that every individual instance of homelessness is a tragedy, and are determined to do all they can to prevent it from occurring in the first place.
"Homelessness is a complex issue which can be linked to a range of vulnerabilities. Councils do all they can to ensure people that find themselves on the streets gain the advice and support they need. In some cases councils may seek to regulate some public spaces to balance community interests and help steer people in need of support towards help."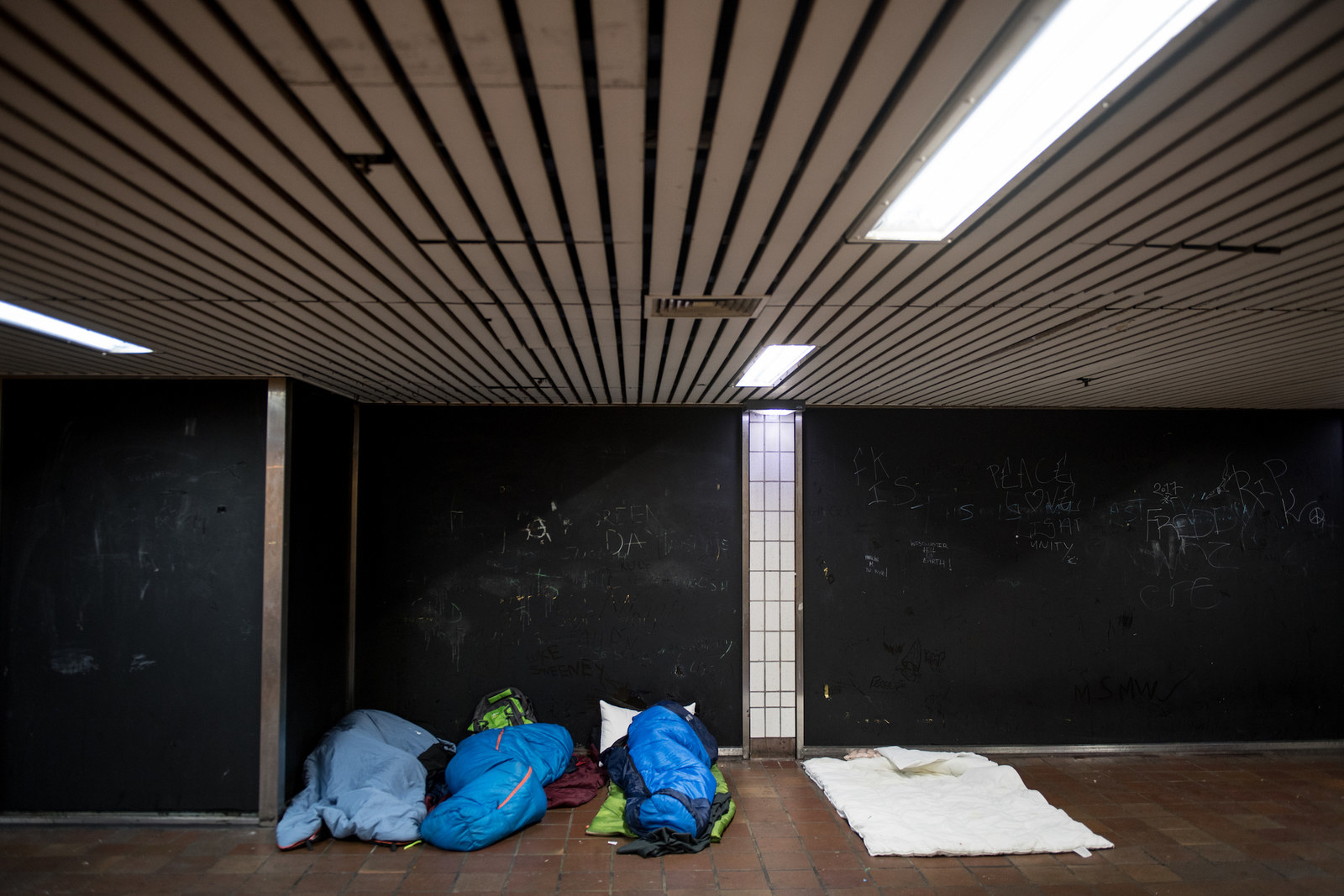 Tett said that antisocial behaviour powers such as CBOs or PSPOs were a method that councils could use to tackle problems raised by local residents and businesses. But he pointed out that consultations with community representatives were statutory when introducing PSPOs and that they were also "subject to scrutiny by democratically elected councillors" and could be amended if needed.
Tett added: "Homelessness is rising and council funding is falling. Councils are housing an extra secondary school's worth of homeless children every month on average over the last three years. We need to address the root cause of homelessness, which is why we have asked government to work with councils to adapt welfare reforms and free us to borrow to build the affordable homes our communities need."
A Home Office spokesperson said: "We are clear public spaces protection orders should be used proportionately to tackle antisocial behaviour, and not to target specific groups or the most vulnerable in our communities.
"It is for local agencies to determine whether their use of the powers is appropriate, and that they are meeting the legal tests set out in the legislation. We are currently reviewing statutory guidance on this and expect to publish refreshed guidance to frontline professionals in due course.
"The government is committed to tackling and reducing homelessness and to offer support to the most vulnerable in our society."