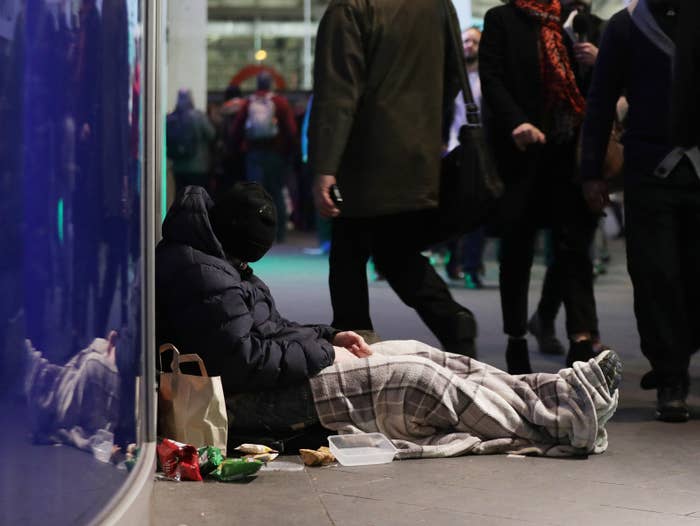 A vulnerable woman who begged two strangers for 50p has been sentenced to six months in prison in a court hearing where she had no lawyer.
She could barely read or write but had to represent herself after she was unable to find public funds or a solicitor.
The case has sparked outrage from legal experts who called it a "damning indictment of our criminal justice system".
The woman, named in court documents as Marie Baker, was subject to a civil injunction to stop her from begging from anyone in the City of Worcester. But after she asked two people for 50p, she breached the injunction, which meant the case came to Worcester county court.
Handing down a six-month sentence, District Judge Mackenzie said he was "disturbed and concerned" that she had no public funding or solicitor. He acknowledged that her appearance without a lawyer "came close" to breaching her human rights.
He added: "I am particularly concerned about that because on any view, Ms Baker is a fragile individual; has difficulty reading and writing; difficulty in understanding, though I have no evidence or indication to indicate to me that she lacks capacity to deal with matters. She is, however, a fragile and vulnerable individual and that makes it all the more regrettable that she has not got legal assistance."
Judge Mackenzie recognised that the begging was not aggressive but still insisted on a six-month sentence because Baker had repeatedly breached the civil injunction.
He said: "I am conscious that on both these two occasions, Ms Baker has simply asked for 50p. It has not been in an aggressive way. She has been told 'no' and she has not persisted. There is no aggravating feature in the way she has done this."
He detailed how Baker's main defence was that she had an alibi and that CCTV would corroborate her accounts – but said she struggled to provide this evidence. She also claimed mistaken identity and that a police officer had it in for her.
Commenting on her defence, the judge said: "All those matters, potentially give rise to a line of defence which would better be explored by a solicitor assisting her. Knowing that, it is with great reservation that I have allowed the case to proceed today on the basis that it would be impossible to keep adjourning this case."
Andrew Neilson, director of campaigns at the Howard League for Penal Reform, said: "This is an utterly depressing case which highlights how all too often our courts are dealing with failings in social welfare and punishing poverty and vulnerability.
"It is quite simply a damning indictment of our criminal justice system that a woman recognised by the courts as being 'fragile and vulnerable', with no legal representation, can be imprisoned for 26 weeks for begging for 50p."
Judge Mackenzie said in his judgment that Baker's inability to get legal representation was typical in civil cases since cuts to legal aid came in.
In the judgment, published online today, after a hearing in February, Mackenzie said: "The President of the Family Division made it clear that legal aid in these sort of cases, though it is for a civil contempt, is criminal legal aid. That has caused some difficulty, because of the way legal aid works with solicitors getting fragmented franchises for dealing with specific types of work.
"This court has experienced, on more than one occasion, great difficulties in getting a solicitor who is prepared to deal with criminal legal aid for a committal in breach of Housing Act injunctions. It has proved somewhat difficult."
Commenting on the judgment, Penelope Gibbs, director of Transform Justice, told BuzzFeed News: "No one should be imprisoned if they are entitled to legal advice but cannot get it. When antisocial behaviour cases were transferred from the criminal to the civil courts in 2015 it was bound to leave vulnerable people unrepresented. This is the result."
Baker was originally given a civil injunction because she was begging from vulnerable and older people. But the injunction banned her from all begging.
Explaining the prison sentence, Judge Mackenzie said: "The breaches themselves, if not trivial, are at a very low end of the scale and something which the court would be very loathed to send Ms Baker to prison for, if anything else could possibly work but this court cannot simply give repeat injunctions and allow people to go continuing begging, continuing to persist in a nuisance to the population, without some real teeth being given to the injunction."
He added: "I am afraid whilst I am very reluctant to send Ms Baker to prison for a lengthy period of time, I have got to mark the blatant repeat breaches of this injunction with something meaningful."