A man who first claimed asylum in Britain when he was 12 years old is the only member of his family not to be granted refugee status, in a decision that appears to contravene the Home Office's own policy.
Amin Khoshkhoo from Wolverhampton is now 20 and has just two weeks left to take up a place to study medical sciences and pharmacology at Coventry University.
He came to Britain from Iran in 2010 with his family when they sought political asylum. Their first case was turned down after a series of appeals, but with a new lawyer, the family entered a fresh claim for asylum last year.
The claim listed Khoshkhoo, his two younger brothers, and his father as dependants on his mother, but while his parents and brothers were all granted asylum in March this year, Khoshkhoo received no news.
After seeking legal advice he learnt from the Home Office that he had been excluded because he was over 18 and had to start all over again with an entirely separate asylum application.
This appears to contradict the Home Office's own policy which states: "Any dependant in the original asylum or human rights claim, who reaches 18 before the further submissions are decided, should normally continue to be treated as a dependant." Given that Khoshkhoo was just 12 when the family's first asylum claim was made, he expected to be included.
But the Home Office argues it did not break the rules as it considers his "original" asylum claim to be the second one, made when he was over 18.
His youngest brother was born in Britain after the family arrived, but his middle brother travelled with him from Iran in 2010. Khoshkhoo told BuzzFeed News: "They accepted my dad and my brothers but not me. I feel this just lacks common sense. I'm going to be punished for being older. What's the difference between me and my brother except age? We both came here at the same time, he was a child, I was a child."

"I've grown up here, my family is here and I have nowhere to go in Iran," he added. "Wolverhampton is my home. I know everyone and all the places."
Since finishing college in 2016, he has watched as friends go off to university while he is left in limbo waiting for a decision. He hoped that the family's successful asylum claim would mean he could finally start his life and follow his dream of going to university.
Instead, his uncertain immigration status has blocked him from doing anything. "It's just home prison. That's what it is. You're told you can't work, you can't study, you can't get a car. You can't do anything without a National Insurance number."
He chose the course at Coventry because he wants to go into pharmaceutical production and said he would "like to invent new medicine". He meets the university's requirements, but has been told they cannot enrol him on the course until they know if he is a home student. He understands that if he is able to get his documents in the next fortnight there is a chance he can start the course later this month.
But Khoshkhoo is worried that time is running out, and a petition on Change.org asking the home secretary to solve his case has more than 150,000 signatures.
Khoshkhoo, who is a keen footballer and supports Chelsea and Wolves, says he feels little connection to Iran now, having spent all his secondary school years in Britain. "I can't say I'm British because I'm not, but my girlfriend is British, my friends are British," he said.
In a letter to the Home Office about his case, the Refugee and Migrant Centre referred the department to its policy, adding, "There is no reason why Amin should not have been treated as a dependant on this application. He should therefore have been granted the same status as his mother and the rest of the family. Failure to comply with accepted policy in this respect is clearly not in accordance with the law."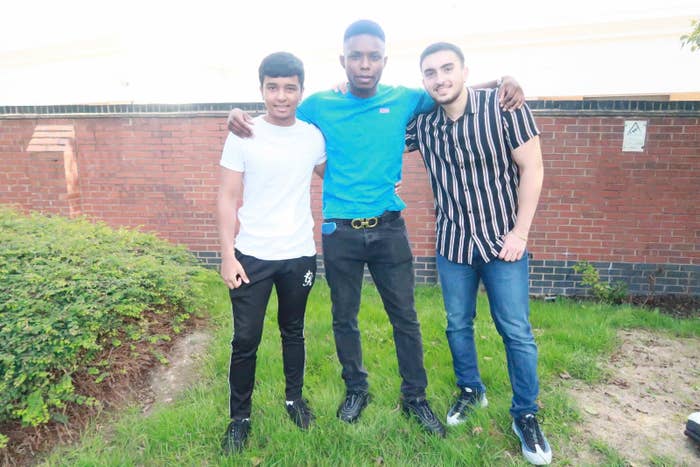 His MP, Labour's Emma Reynolds, has been pursuing the case. She said: "I fully support Amin's petition. It is totally unacceptable that the Home Office has refused to grant him refugee status when the rest of his family have had their claims approved. This decision appears to fly in the face of the Home Office's own guidance issued in 2014. It is denying Amin the chance to go to university and means that he is at risk of being separated from his family.
"I have raised this matter with the Home Office to demand answers and I will seek to speak directly with the Immigration Minister about Amin's case as a matter of urgency. The Home Office should do the right thing and approve his asylum claim."
Khoshkhoo started his own asylum claim in June but has not yet even had his substantive interview. Given that cases typically take months — or even years — to solve, he is worried that even if his asylum claim is successful it will come too late for his university place.
Until sixth form, Khoshkhoo went to Highfields School in Wolverhampton in the same year as Brian White, a Zimbabwean student who was almost unable to take up his place at Oxford after the poor handling of his immigration case. White's case was solved after a Change.org petition and a series of news articles went viral, and it was one of several identified by BuzzFeed News as illustrating a new media strategy introduced by the Home Office.

Colin Yeo, an immigration barrister at Garden Court Chambers, says the Home Office routinely misapplies its own policies and rules because they have become so complicated. "There are just so many rules that it's very hard to be familiar with all the relevant ones. They've also got huge staff turnover and the training isn't extensive. If you look at the immigration rules themselves there's over a thousand pages of rules and there's thousands and thousands of pages of policy as well."
A Home Office spokesperson said: "All asylum claims are carefully considered, in accordance with the UK's obligations under the Refugee Convention and the European Convention on Human Rights. Anyone who requires our protection will be granted it.
"Where an individual making an asylum claim is aged 18 or over they are dealt with separately from their family."