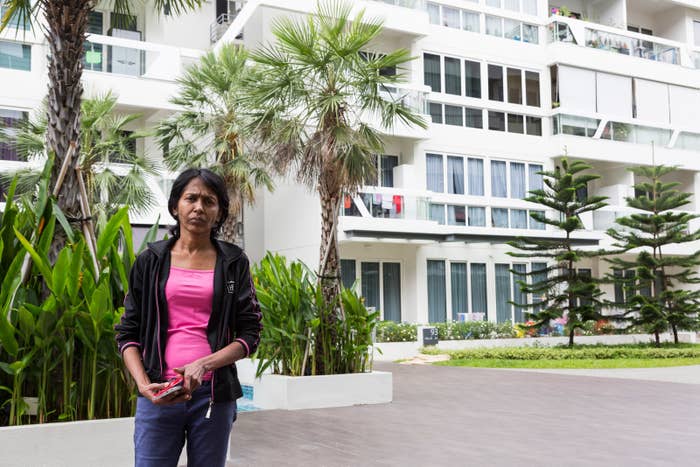 A grandmother who was deported to Singapore despite being married to a British man for more than 27 years will be coming home.
Irene Clennell, 53, the main carer for her sick husband John, was put on a plane with £12 in her pocket and no time to gather her things or say a proper goodbye to her family.
The Home Office has now given her a second chance for a life in Britain and issued her with a fresh spousal visa.

Clennell told BuzzFeed News: "I'm so happy. I just want to get back now and be in my home with John and my dogs."

The decision comes six months after her case made headlines around the world after BuzzFeed News told the story of her detention and subsequent deportation.

Her case sparked international outrage and a crowdfunding campaign that raised more than £50,000 for her legal costs.
Clennell said: "If that article hadn't gone up on BuzzFeed I don't think I would be coming home now.
"With the GoFundMe, people can't imagine how they've helped. If it's not for them there's no way I could've come this far. I've been using that money to pay for legal fees and just living here too."
The revelation comes less than 48 hours after BuzzFeed News reported Clennell's frustration at being left in limbo waiting for a decision.
Clennell received an email out of the blue on Thursday telling her to come to collect her passport on Friday from a visa application centre in Singapore. It gave no indication what the outcome was.
That night she couldn't sleep for worrying that it was being returned with a rejection.
"I had to fill out a form to say it was me collecting it and a man handed it to me and said 'will you open it before you leave?' So I went and sat down and was thinking that I'm going to hear something saying your application is rejected or you've got the right to appeal. I was imagining all the worst things.
"And then when I saw the visa I was just looking at it thinking 'is this for real?' It just hit me I got a visa. I was so excited. I sent a message to John and Angela [her sister-in-law]. When I said 'yeah, I got it' John wanted to know straight away, 'when are you coming back?'"
Since she has been away, Clennell's husband John has become more unwell. His mother, who is in her 70s, has been forced to take on her caring responsibilities.
His sister, Angela Clennell, who is one of Irene's closest friends, said: "I'm over the moon. I think the Home Office has done the right thing. They've known that they were in the wrong and they've done the right thing. I'd like to thank everyone for their support. Without it I don't think Irene would be coming home."
Irene's family is now researching flights and hope that she will be reunited with her family in County Durham in the coming days.
Angela has shared the good news on the family's GoFundMe page. "I would like to thank every single one of you for the support we have received which has paid off," she wrote. "I can now tell you all ... that Irene is coming home."
Nazek Ramadan, director of Migrant Voice, said: "This is fantastic news. It's a victory for compassion and common sense in our migration system, and means a woman who has built a life here can come home to her husband, family and friends.
"The outpouring of support from the British public over this inhumane decision – almost two thirds according to one poll – was heartwarming and put crucial pressure on the Home Office. And it shows that pointless and arbitrary caps on migrant numbers, which lead to policies that break up thousands of families like Irene's every year, can be challenged and overturned."
Ramadan added: "We'll continue to watch Irene's situation for as long as her immigration status remains uncertain, and to campaign for the Government and Home Office to respect people's rights to family life."
Clennell, from Ouston, County Durham, lost her indefinite leave to remain because she spent several long stretches of time in Singapore over those three decades, caring for her dying parents and sorting out a rental property.
A Home Office spokesperson said: "Mrs Clennell has been granted a visa as a spouse as her latest application meets the immigration rules to enter the UK.
"This does not negate the previous decision which was the result of Mrs Clennell having entered the UK as a visitor, overstaying her leave to remain and making several applications while in the UK which did not meet the immigration rules.
"During that time, it was open to her to leave the UK voluntarily at any time in order to reapply under the correct route as she has now done."
Ordinarily when people are forcibly removed from the UK, they are barred from coming back for 10 years and it marks the end of their chance to get legal status in the country.

This is a developing story. Check back for updates and follow BuzzFeed News on Twitter.‏