A Conservative cabinet minister has branded Labour's London mayoral candidate Sadiq Khan "quite dangerous", and insisted the claim was legitimate given the current "threat of extremism".
Amid growing criticism of the tone of Tory attacks on Khan, culture secretary John Whittingdale issued the stark warning as he answered questions from the Cambridge University Conservative Association on Friday, BuzzFeed News can reveal.
It is the most explicit attack yet on Khan from a Tory minister, and follows warnings from Conservative mayoral candidate Zac Goldsmith and prime minister David Cameron over Khan's alleged links to extremists.
Kenza Bryan, a reporter with Cambridge student newspaper Varsity, asked Whittingdale whether he believed Goldsmith's campaign could have a "negative impact on the perception the rest of the world has of Britain as multicultural country".

Whittingdale replied: "Sadiq Khan is quite dangerous and Zac is right to draw attention to the fact that he has had some extremely worrying associations in the past.
"He has shared platforms with people who are extremist. I think that is a legitimate thing to point out, particularly at a time when obviously the threat of extremism is one of the biggest that we face.
"I don't see that it should do anything to damage the diversity of London and the fact that it is made up of many, many cultures. But, you know, London elections are quite tough and in my view it's a legitimate issue to raise, and the prime minister raised it in the House of Commons."
Khan told BuzzFeed News on Tuesday: "It epitomises how negative and divisive their campaign's been and how desperate they are."
Listen to the audio of Whittingdale's comments here:
Loading audio, please wait [#aq1]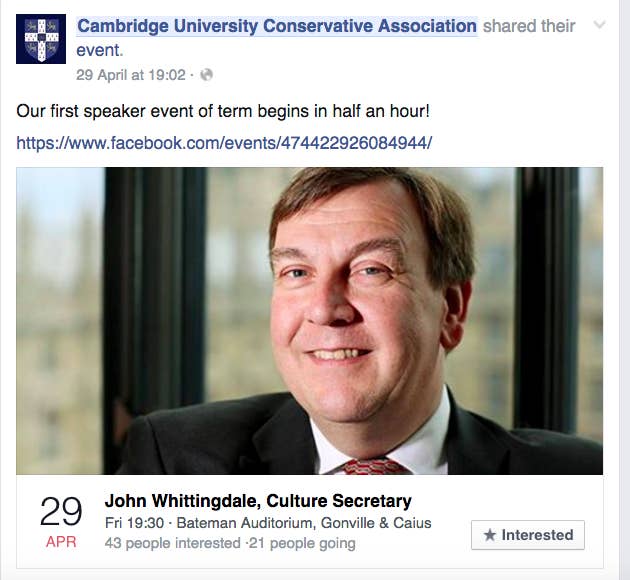 Labour MPs shouted "racist" at Cameron last month when he used Prime Minister's Questions to claim that Khan had links to imam Suliman Gani, whom the PM said supported "Islamic State".

Some Tory members are becoming increasingly uncomfortable with the tactics used against Khan in Goldsmith's campaign.
On Sunday, Baroness Sayeeda Warsi tweeted her disappointment with an anti-Khan article penned by Goldsmith for the Mail on Sunday.
The opinion piece – headlined with the claim that Labour "thinks terrorists are its friends" – was illustrated with a photo of the bus destroyed in the July 7 2005 London bombings.
Khan, MP for Tooting, said on Twitter that the article proved Goldsmith's campaign was "desperate and divisive". He urged voters to "reject his division and fear".
But Goldsmith defended his campaign, saying it was right to raise "legitimate" concerns. He told BBC One's Sunday Politics: "There are many, many examples of Sadiq Khan having shared platforms with, having given oxygen to, having made apologies for, people who have extreme views."
At the Cambridge University event on Friday, Whittingdale also branded Ken Livingstone "dangerously mad" following the former London mayor's suspension by Labour over comments about Hitler in the wake of an anti-Semitism row.
Whittingdale said: "Obviously in the last week we have had this flare-up, firstly as a result of the retweeting by [Bradford West MP] Naz Shah which led to her being suspended, and then the most extraordinary outburst from Ken Livingstone, which proved if there were any ever doubt that he is dangerously mad.
"But it is putting, you know, these issues both of Islamic extremism and anti-Semitism into the political spotlight in a way which hasn't been the case for a long time. Anti-Semitism is something which is causing quite strong feelings in universities at the moment. It is still there."
BuzzFeed News asked Whittingdale for comment, but had not received a response by the time of publication.