This Is What Russian LGBT Activists And Human Rights Campaigners Told Boris Johnson
BuzzFeed News joined the foreign secretary in Moscow as he met campaigners fighting for basic freedoms. "This is the worst human rights crisis we have seen in Russia's contemporary history," one said.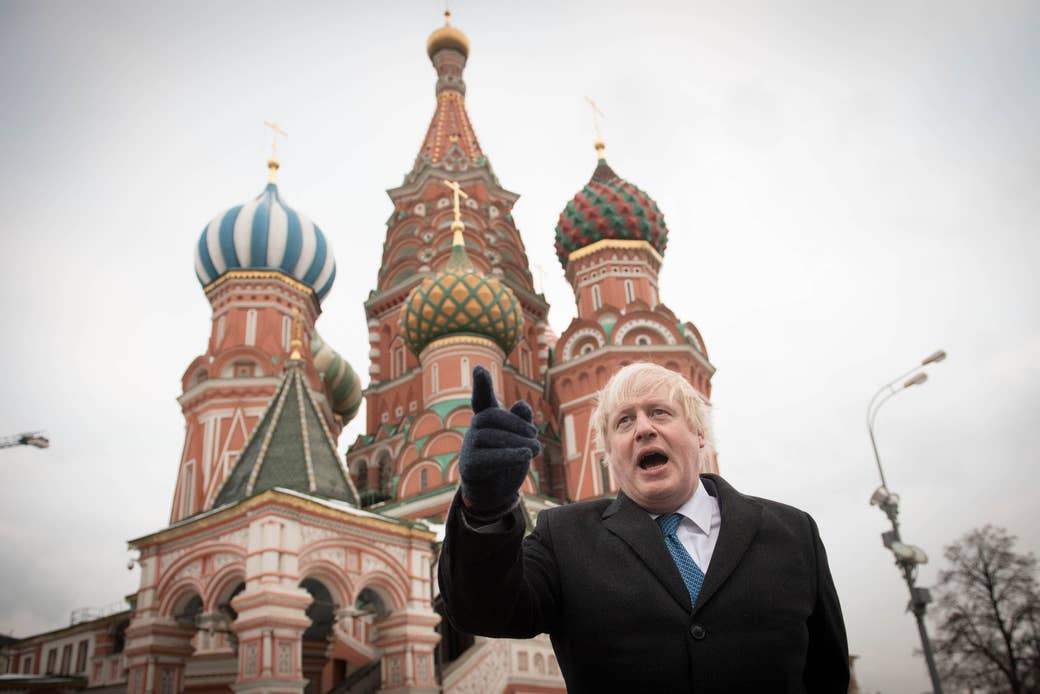 Gathered in the sumptuous, wood-panelled sitting room of the UK ambassador's mansion in Moscow, overlooking the turrets of the Kremlin across the river, a group of human rights activists discussed their meeting with Boris Johnson.

The foreign secretary had invited them over to hear their stories of horrific abuses in Russia, promising to use his status to raise awareness and to do what he can to heap pressure on the Russian government.
The meeting on Friday, held behind closed doors, came toward the end of a whirlwind visit to Moscow – the first by a British foreign secretary in over five years – at a time when relations between the UK and Russia are at their worst since the Cold War.
"Mr Johnson was asking what could be done by him, by the UK side, to support Russian society," Galena Arapova, director of the Mass Media Defence Centre, told BuzzFeed News.
"It's always a good question because when the relationship isn't as friendly as it could be, and international partners have an active position and raise an issue, would that help or not? It might make the situation worse. Honestly, we don't have an answer to this."
But the activists at least appeared to be glad he was trying to help. Johnson did not shy away from some hard truths on his whirlwind 24-hour visit, which was aimed at boosting cooperation between the UK and Russia on critical global issues such as North Korea's nuclear threats and the Syrian civil war.
Whether his Russian counterpart Sergey Lavrov was in listening mode, however, is highly questionable. Lavrov is infamously obstinate and no-nonsense (he was once caught muttering "fucking morons" during a meeting with Saudi Arabian officials), and likes to be in control at all times, particularly on his own turf.
He did not appreciate Johnson correcting him at a joint press conference over suspected Russian interference in western elections – which led to an extraordinary public exchange – but privately, UK officials were thrilled that Johnson showed he would not be bullied and gave as good as he got.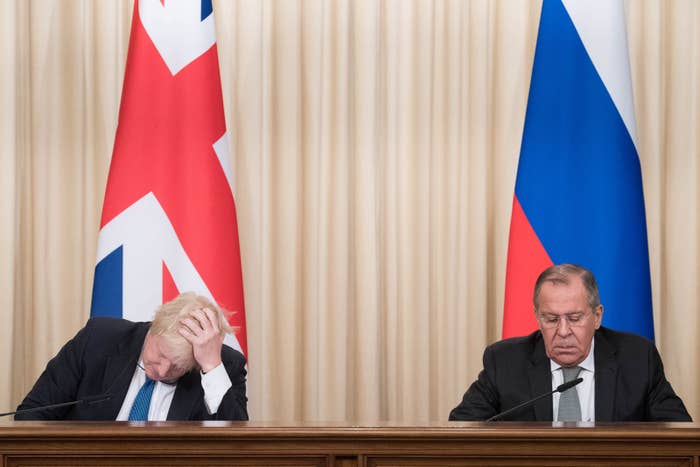 It was Johnson who insisted on making human rights a key part of the Moscow trip, asking his aides to schedule time with activists and a speech to university students outlining the economic benefits of freedom of expression.

"This is the worst human rights crisis we have seen in Russia's contemporary history," Tania Lokshina from Human Rights Watch told us after the meeting.
Basic freedoms in Russia are being eroded: Gay men are being rounded up, tortured, and abducted in the southern Russian republic of Chechnya; journalists are being killed for writing about the abuses of the government; and Jehovah's Witnesses have been labelled an "extremist" organisation.
A spokesperson for the Russian LGBT Network, who declined to give their name, said 110 people had been evacuated from Chechnya as of Friday. "Violence towards LGBT people is still going on," they said.
"According to our evidence, the authorities that were involved in the LGBT purge are now threatening the families of the victims. I think the chance to speak about this with the foreign secretary is amazing; the more we raise this issue, the more we keep it in the spotlight, the more we pressure the Russian authorities to initiate an investigation."
Meanwhile, the Russian government has refused to acknowledge a ruling from the European Court of Human Rights in June that the Kremlin is encouraging anti-gay prejudice by adopting a law that bans gay "propaganda".
The law bans giving children any information about homosexuality, ramping up prejudice against LGBT people in Russia that is already deep-rooted and widespread. Lavrov has dismissed criticism over Russia's treatment of gay people, however, saying in June: "On LGBT, we do not prosecute for this or that orientation."
Johnson did raise the issue of LGBT rights with Lavrov in their talks on Friday, but as expected, the Russian minister batted it away. Aides said Johnson was determined to raise awareness in other ways.
In his speech to Plekhanov University, in a hall packed full of Russian students, he spoke about the "freedom to live your life as you choose".
"We [in Britain] have just about the most diverse, open, welcoming culture that you will find anywhere in the planet," Johnson said. "We celebrate people's choices about how to live their lives, including who to love and whomsoever they please to marry, a law that now permits same-sex marriage."
And he pressed the importance of a free media: "If you have a society where journalists are shot because they investigate the business dealings of the rich and powerful, then you will find countries that are less economically successful, less equal, and less attractive as places to invest."
He didn't mention Russia by name, but then he didn't have to. Some 357 journalists have been killed in Russia in the last 20 years, according to Mass Media Defence Centre director Arapova. And from one newspaper, Novaya Gazette, six have been killed in the last decade. Yet very few perpetrators are brought to justice.
"This creates a climate of impunity and a lot more problems than justice for one particular person," Arapova said. "It creates an atmosphere where others who don't like criticism think OK, this is an easy, cheap, and quiet method to silence someone, because it won't be investigated."
Earlier in the day, Johnson laid a bunch of red roses on Bolshoy Moskvoretsky Bridge, where opposition leader Boris Nemtsov was assassinated in 2015 with four gunshots in the back. As deputy prime minister of Russia under Boris Yeltsin, Nemtsov was a key figure in pushing the country toward democracy and free markets, and a vehement critic of president Vladimir Putin.
His lawyer Vadim Prokhorov told Johnson that the real perpetrators had still not been brought to justice, and urged him to pile pressure on Putin to launch a proper investigation.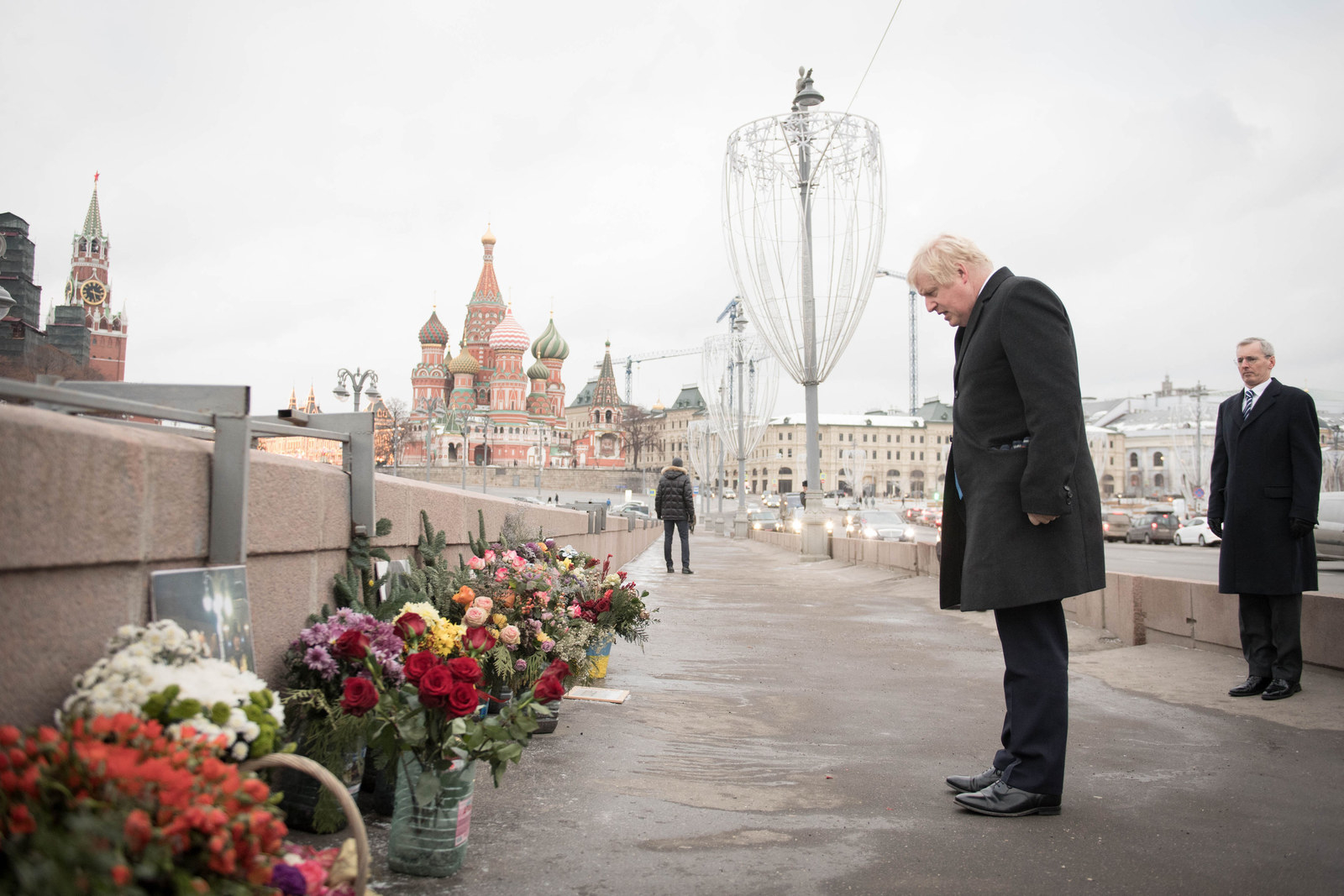 It remains to be seen whether Johnson can actually effect change, but allies say he hopes his involvement will shine a far bigger spotlight on the abuses taking place on Europe's doorstep.

"It's really difficult to influence the Russian authorities," Arapova said. "These scandals concern all of us, but the population of Russia has two realities.
"One reality is seen by the people who are watching TV, who live in rural areas where there's no position, and they see that everything is good, they see the federal propaganda state TV and they are quite happy with what's going on in Russia because 'we are winning'.
"And the other group of people are getting information from the internet – and have a totally different understanding of what is going on in the country. They hear stories of human rights violations, they see it differently. Those realities don't cross, it's like we live in different countries.
"The tension in society is growing – but it's not necessarily growing into something that will change the situation."