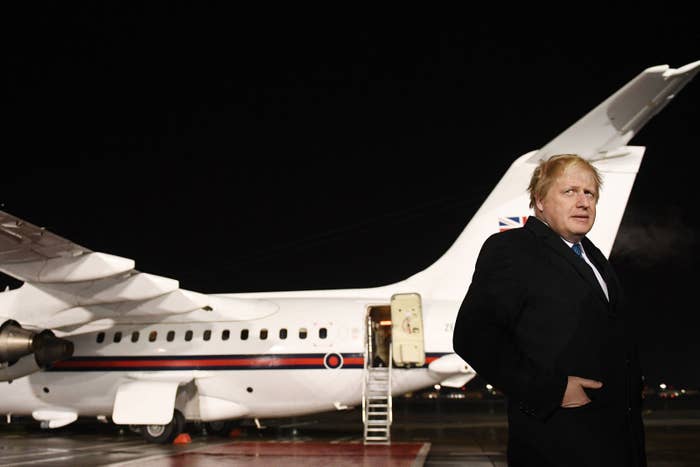 The UK is ready to hit back at Russia over its "activities in cyberspace", including attempts to meddle in Western elections, Boris Johnson has said.
The foreign secretary said that while Britain did not conduct "malign or disruptive cyberactivity", it was exploring the "logic of deterrence".
Johnson was speaking to journalists, including BuzzFeed News, on a plane to Moscow where he will make the first visit by a UK foreign secretary to Russia for over five years.
His statement came as an official report from parliament's intelligence and security committee disclosed that GCHQ now has serious cyber offensive capabilities and is able to attack communications and weapons systems in other countries.
Johnson said relations between the UK and Russia were the worst they had been since the Cold War, and vowed to be "very clear" with his Russian counterpart Sergei Lavrov that Britain found many of the Kremlin's activities "extremely difficult to accept".
As well as the occupation of sovereign European territory in Crimea, Johnson pointed to attempts by Russia to interfere in Western elections, adding: "The UK is certainly prepared and able to respond should we so desire."
He added: "I can assure you that the UK is a world leader in this field. We do not conduct malign or disruptive cyberactivity but … the logic of deterrence is clearly something we now appreciate in the cyber field and that is something we have acquired and are acquiring."
Johnson said he would not shy away from a frank conversation with Lavrov, saying: "These are obstructions in our relationship that cannot be ignored.
"I have met Sergei Lavrov many times and actually as a rule we have very civilised conversations but sometimes with very vehement disagreements and we'll see where we get to."
But he said it was vital for Britain and Russia to have a working relationship because they were both permanent members of the UN Security Council. He vowed to push for cooperation on critical international challenges such as the threat posed by North Korea and preserving the Iran nuclear deal.
In a separate statement ahead of the visit, Johnson said: "Our relations with Russia cannot be 'business as usual' whilst Russia continues to destabilise European states, including Ukraine."