There Are Four Police Forces In England And Wales With "No Black Officers"
"This is simply not good enough," said home secretary Theresa May.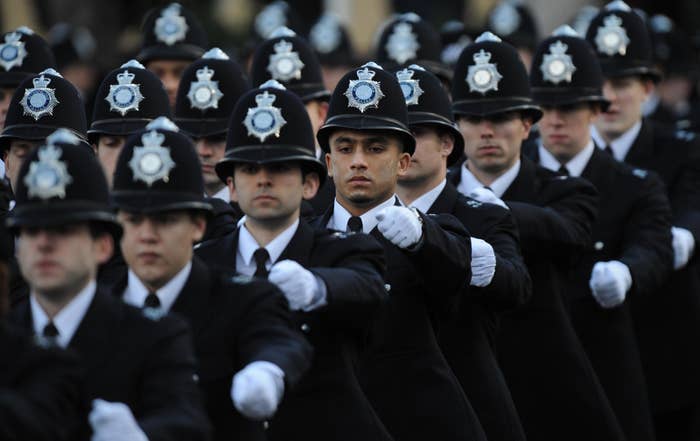 Four police forces in England and Wales do not have a single black officer, according to official statistics.
Cheshire, Durham, Dyfed Powys, and North Yorkshire were named and shamed by home secretary Theresa May as she called on police to urgently boost ethnic diversity.
But both Durham Constabulary and Dyfed Powys Police have contested her claims, telling BuzzFeed News they do have at least one black officer.
According to the latest data, none of the 43 forces in England and Wales have a black and minority ethnic (BME) representation in line with the local population.
There are no BME chief constables – and eleven forces have no BME officer at chief inspector rank or above. Meanwhile, women make up just 28.2% of all police officers, despite being 51% of the total population.

In a speech to the National Black Police Association conference in Birmingham, May said: ""Increasing diversity in our police forces is not an optional extra. We must ensure that the public have trust and confidence in the police, and that the police reflect the communities they serve.
"Incredibly, four forces do not employ any black or black British police officers at all, and female officers make up 28% of all police officers but 51% of the total population."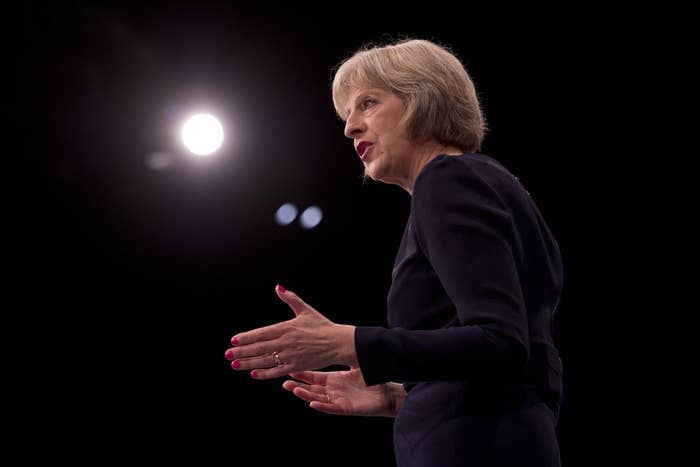 She added: "This comes on top of existing statistics showing that there are only two BME chief officers in England and Wales, and eleven forces have no BME officers above chief inspector rank. This is simply not good enough."
May said the figures – which were published online on Thursday – would allow chief constables to "identify areas for improvement" and the public to hold their local police force to account.
The ethnicity data is correct as of 31 March this year, according to the Home Office.

It shows that among the Metropolitan police, who serve Greater London, 88.2% of officers are white. But only 59.8% of the local population are white.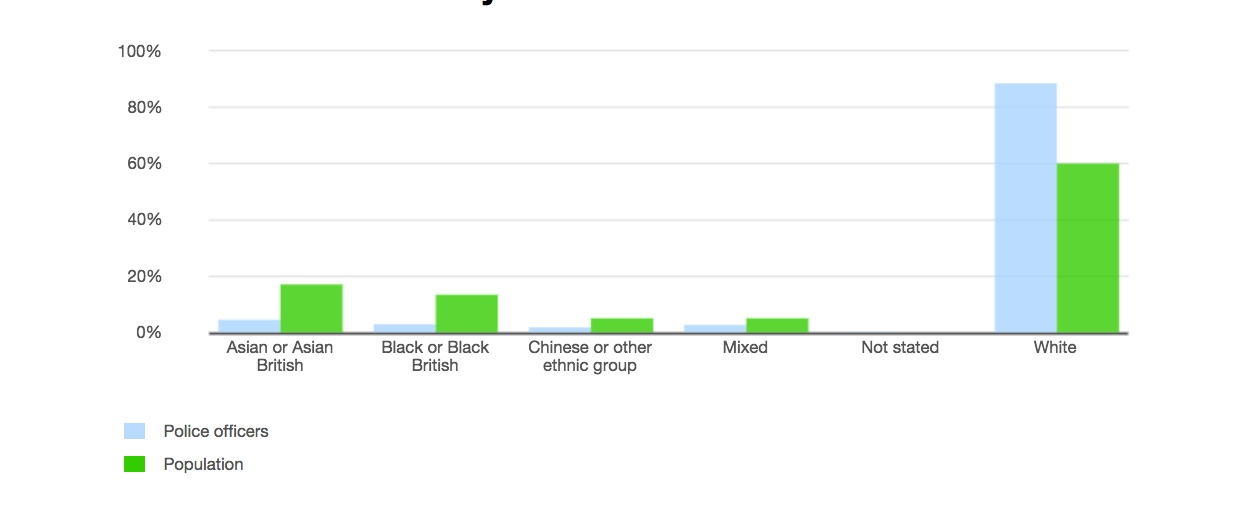 Just 2.8% of Met police officers are black, compared to 13.3% of the communities they serve. And just 4.5% are Asian, compared to 17% of the local population.
Robin Wilkinson, director of people and change at the Met, said: "The Metropolitan Police Service (MPS) has done more than any force to improve representation from BME communities. Through bold measures adopted by the commissioner, nearly 30% of new recruits this year will be from BME backgrounds. That's nearly double what has been achieved in the past."
Some 90% of police officers in the West Midlands are white, compared to 70.1% of the local population.
Just 1.5% of West Midlands officers are black, compared to 6% of the population they serve. Some 5.2% are Asian, far less than the 18% figure for the local population.
In North Yorkshire, 98.9% of police officers are white. But so is 96.6% of the local population.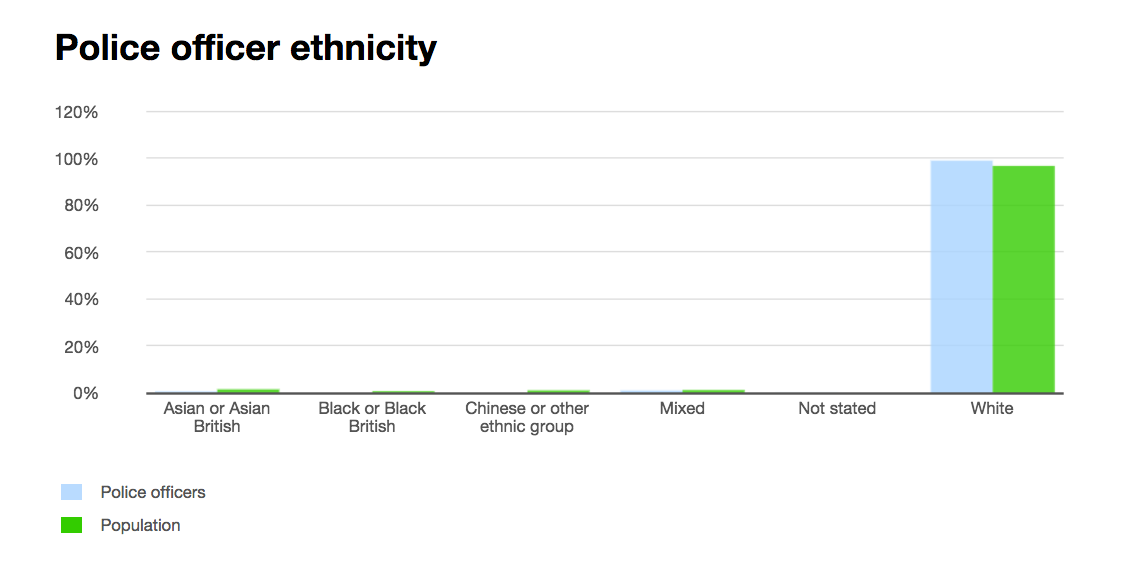 There are no black officers in North Yorkshire, despite there being 3,618 black people in the local community. And there are just five Asian officers compared to 9,914 Asian people.
Tim Madgwick, deputy chief constable at North Yorkshire police, said: "Recruitment in North Yorkshire has several challenges including its small black population, the geographical size of the county, meaning people from out of the area have to travel far to get to work, and the cost of housing stock. This has not been helped by the reduction in starting salary for new police officers."
A spokesperson for Dyfed Powys police insisted there was more than one black police officer on the force – but they had failed to tick the relevant box. "Officers identifying their specific ethnicity is currently a voluntary process, and work is ongoing to look at ways of improving the accuracy of the figures, and for them to be a truer reflection," they said. "Of our population of 506,300, 856 people, or 0.19% identified themselves as Black or Black British at the last census."
Rob Beckley from the College of Policing told the BBC it was trying to boost diversity in the police. But, he added: "There are no quick fixes and while attracting more BME candidates to the police service is vital, development of existing officers and staff is also key."

You can find out how diverse your local police force is by searching for your postcode here.