World leaders are failing in their promise to get all Syrian refugee children into school by the end of the 2016–17 academic year, a report has warned.
Just six months ago, then UK prime minister David Cameron hosted a global fundraising summit in London that included a pledge to ensure "all refugee children and vulnerable children in host communities will be in quality education" by next summer.
Countries agreed that they needed to commit at least $1.4 billion a year – equivalent to just over £1 billion – to make this happen.
But a report published by children's charity Theirworld on Wednesday found that countries were failing to stump up the cash – and warned that hundreds of thousands of vulnerable children would be denied vital schooling.
The education pledge, which took place at the Supporting Syria & the Region conference in February, followed a heartfelt appeal from teenage Nobel Prize winner Malala Yousafzai.
Six years into the Syria crisis, almost 1 million refugee children in neighbouring countries are out of school and at risk of falling into child labour, early marriage, and recruitment by extremists.
The report, written by Kevin Watkins from think tank the Overseas Development Institute, found that the London conference was "in danger of following a lengthy list of summits that have promised much but delivered little".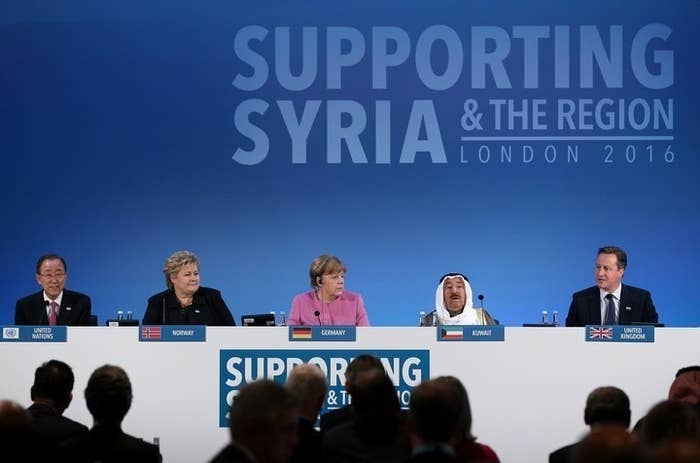 It is impossible to track just how much money has been delivered on education so far – thanks to "insufficiently transparent" donor reporting systems, the report said.
But it warned: "We have been unable to find evidence of increased disbursement. In fact, even the modest UN humanitarian response appeal of $662m was just 39% funded by the end of May 2016."
There are not enough teachers, schools, or classrooms in Lebanon and Turkey to cope with the demand from refugees – and the buildings that do exist are deteriorating fast, according to the report.
Watkins said: "With 60 days until the new school year this report raises the alarm that there is insufficient funding to get all Syrian children in school. These children have lost their homes, their friends, their schools, their relatives.

"It is frankly indefensible to convene a summit that promises some of the world's most vulnerable children an education – and then break the promise."

Sarah Brown, president of Theirworld and wife of former PM Gordon Brown, warned that a lack of education in neighbouring countries meant more refugees would risk making dangerous journeys to Europe.
"A whole generation of children are being robbed of their only chance to escape poverty and build a more resilient livelihood," she said. "It is crucial that pledges now turn into real delivery that sees children walking through the school gates this school year."

A spokesperson for the Department for International Development told BuzzFeed News the UK stood by the commitment and was pushing other countries to pay their fair share.
"The UK has led the way in responding to the Syria crisis since day one, and we have been absolutely clear on the importance of education throughout," they said.
"UK support has already provided hundreds of thousands of children caught up in the crisis with the chance to learn. And the new international development secretary made Jordan and Lebanon her first overseas visit, underlining this commitment.
"We will provide more than £500 million this financial year, which includes significant funding for education. We are delivering on our promises and will make sure that other donors do the same."