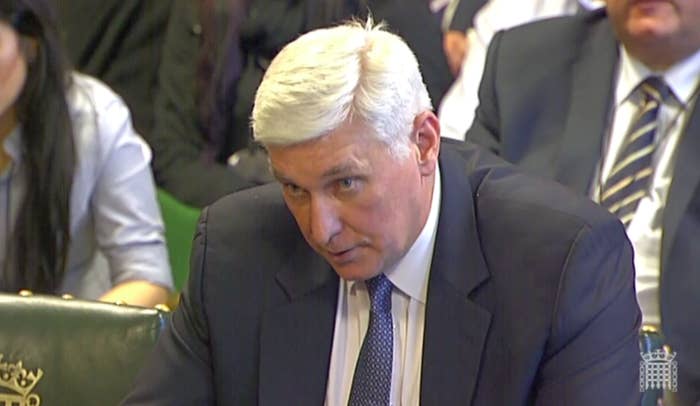 The head of the body charged with battling corruption in tennis has admitted to MPs that the problem of match fixing has exploded over the past four years.

Nigel Willerton, head of the Tennis Integrity Unit, told a special hearing of the Commons Culture, Media and Sport Committee that around 246 matches were flagged in 2015 - double the amount of the previous year and a 17-fold increase on 2012.
The tennis authorities have previously tried to dismiss the evidence of widespread match-fixing as "historical".

The hearing was called in the wake of the #TennisRacket investigation by BuzzFeed News and the BBC which revealed that the authorities have ignored repeated warnings about a core group of 16 players who have ranked in the top 50.
Willerton acknowledged that there were "far too many" matches being tainted by suspicious betting — but admitted that he was not aware of the names of the 16 players who have been repeatedly flagged and had not read the files from a landmark 2008 fixing investigation which led to the formation of the integrity unit.
Committee chairman Jesse Norman, a Tory MP, said it was "astonishing" that Willerton did not go back and check whether any of the potential suspects would be worth monitoring. "They were at the centre of a potential ring of gambling and fraud and you haven't even satisfied yourself with who they are even," he said. "That's extraordinary. I would have wanted posters up in the office."
Chris Kermode, the president of the Association of Tennis Professionals, was also called to give evidence and admitted that integrity spending accounted for just 0.4% of the organisation's budget.
Responding to claims that the tennis authorities had willfully ignored evidence of widespread corruption to protect the commercial image of the sport, Kermode insisted that nothing had been suppressed. But he admitted that the TIU was "never going to be 100% independent" because the ATP was part-funding it.

Kermode insisted that he wanted the TIU to be "as tough as possible" and that any time Willerton had asked for money, it had never been denied. The TIU is funded by the ATP, the International Tennis Federation, the Women's Tennis Association and the Grand Slam Committee.

Tory MP Damian Collins, a committee member, said the TIU was simply "fig leaf" given the scale of the match-fixing problem faced by the sport. He said it did not have enough resources to do its job properly.
"Tennis integrity is kind of like a fig leaf for tennis, for an enormous problem which a very small amount of money is invested in," he said. "And I think the problems in tennis which no-one seems surprised by, no-one seems shocked and surprised by the BuzzFeed investigation, confirms that… the opportunity for gambling and match-fixing in tennis is huge and the problem is rife."
Last week, it emerged that tennis accounted for almost 75% of the suspicious sports matches flagged by the European sports betting watchdog, ESSA, in 2015. The MPs asked the tennis bosses to explain why tennis was an "outlier" compared to other sports.
Willerton insisted that betting alerts were not necessarily evidence of a fixed match. He said it was simply "one single thread of information."
Mark Young, vice chairman and chief legal officer of the ATP, agreed, saying the changes in betting could be down to "player fatigue or injury". He said: "A reason for a suspicious betting pattern to occur for example is because a player has an injury that is not well known.
"Somehow it gets out to some punters and they have more information than other people but it's not because the player has done anything wrong."
Young said the sport was doing "everything we can" to stamp out corruption.
Another committee member, the SNP's John Nicolson, raised concerns over how the tennis authorities could protect young players in countries such as Russia who could be forced into throwing matches. He said some might be threatened with having their "legs broken" if they refuse.
Young said that in such a case, the ATP would get in touch with the "local law enforcement". Nicholson replied: "Local law enforcement in Russia? You're joking?"
He added: "This is cloud cuckoo land here isn't it. Your best hope long-term, it seems to me, is to try and eradicate corruption in the advanced economies where we hear about corruption, where there's a free press and a free government.
"But really you're saying goodbye, effectively aren't you, to any hope to cleaning up sport in countries like Russia which we know are marinated in corruption and where politics and sport are closely intertwined."

Young replied: "We've never had a situation where a player has suffered physical harm as a result of corruption."
Willerton strongly denied that he was covering up problems with tennis. Norman told him: "In sports there's very often a tacit interest to protect the sport by pretending everything's OK or ignoring embarrassing facts."
Willerton replied: "I spent 32 years as a police officer… looking for evidence against people who are committing offences. There's no change in the tennis integrity unit."