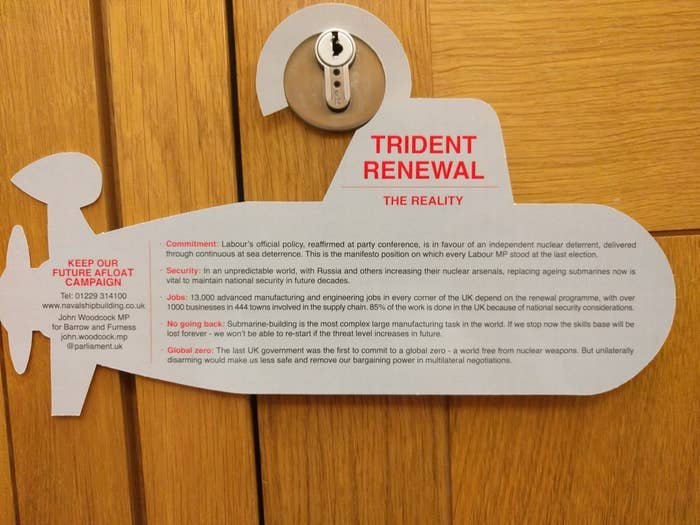 A Labour MP who supports the renewal of Trident has hung submarine-shaped leaflets on colleagues' doors ahead of a House of Commons vote.
John Woodcock, MP for Barrow-in-Furness, where the Trident submarines are built, is expected to vote against the SNP motion on Tuesday afternoon.
The SNP's opposition day motion states that Trident – Britain's nuclear deterrent – "should not be renewed". The vote isn't binding but could further expose rifts within the Labour party on the issue.
Labour leader Jeremy Corbyn – who has long campaigned against Trident renewal – has urged his MPs to abstain in the vote. But Woodcock told BuzzFeed News he wanted to underline the benefits of replacing the nuclear weapons system.
He said: "Today is an appropriate day to remind all Labour MPs of the gap between the SNP rhetoric on Trident and the reality. A submarine-shaped door hanger seemed like a good way to get this message across."
The leaflet reminds MPs that Labour party policy is officially in favour of the nuclear deterrent, which is "the manifesto position on which every Labour MP stood at the last election". It says that replacing the ageing submarines is "vital to maintain security in future decades" and that 13,000 UK jobs are at stake.
David Cameron revealed on Monday that the estimated cost of building four new nuclear submarines has soared by £6 billion. The bill for renewing Trident is now £31 billion – up from £25 billion in 2011.
MPs are likely to get a vote on the final renewal decision – known as the "main gate" – in the Commons next year.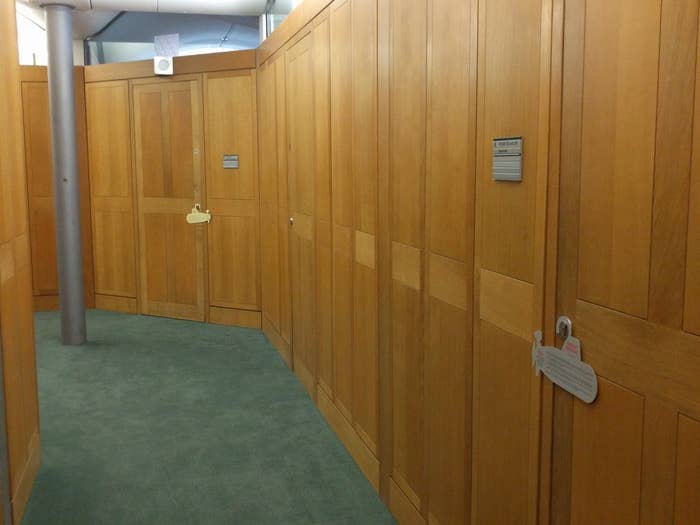 One SNP MP told BuzzFeed News he didn't have a clue which way Labour would vote, saying: "These days, who knows?"
After a meeting of Labour MPs in parliament on Monday, shadow chancellor John McDonnell said the SNP debate was just a "stunt".
One Labour MP said they didn't mind abstaining. "It's not the main gate vote and the SNP are just messing around," the MPs said. "The PLP [parliamentary Labour party] mood is mixed I'd say, we won't know the full extent of views until after every vote."
Cameron said on Monday that Trident was Britain's "ultimate insurance policy" and vowed to replace the four ballistic missile submarines. The government's defence review states that the system is vital to "deter the most extreme threats to our national security and way of life".
The Vanguard class of nuclear submarines will begin to leave service by the early 2030s and need to be replaced. The new submarines will last for 20 years after that, according to the MoD.
While Corbyn opposes Trident's renewal, shadow defence secretary Maria Eagle backs it. In September Corbyn said he would never use the nuclear deterrent if he was prime minister, even if it remained in place.
SNP MP Pete Wishart said he had also received a leaflet on his door – and promptly drew his own submarine for Woodcock.
Titled "Trident renewal with the Blairites", Wishart's leaflet warns that "£167 billion" is being spent on a "weapon of mass destruction". It says the project is an "immoral and obscene waste of money".