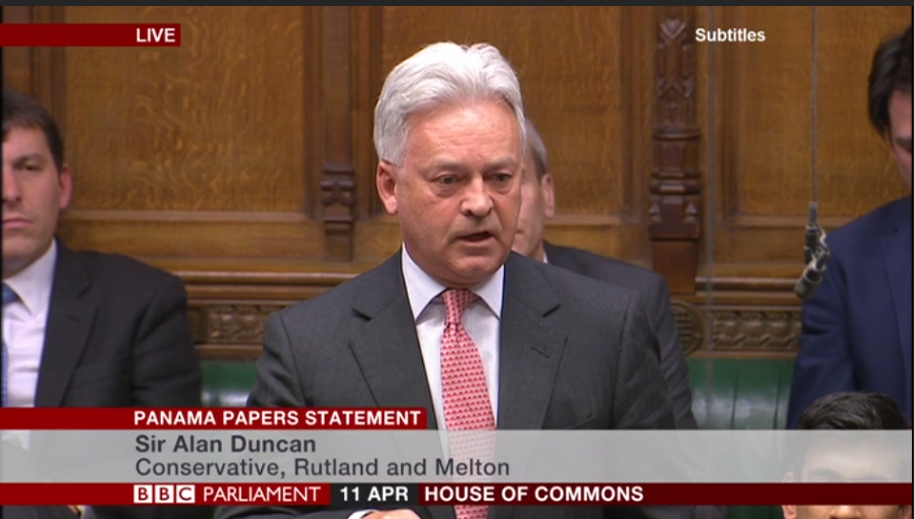 A Conservative MP has been criticised by Labour for apparently suggesting that non-wealthy people are "low achievers".
Sir Alan Duncan, a former minister, said the House of Commons risked being "stuffed full of low achievers" if MPs were forced to publish their tax returns.
His comment during a debate on the Panama Papers on Monday prompted gasps from the Labour benches opposite and a series of angry tweets from backbenchers.
Duncan, MP for Rutland and Melton, said: "Shouldn't the prime minister's critics really just snap out of the synthetic indignation and admit that their real point is that they hate anyone who has got a hint of wealth in them?
"May I support the prime minister in fending off those who are attacking him, particularly in thinking of this place, because if he doesn't, we risk seeing a House of Commons which is stuffed full of low achievers who hate enterprise, hate people who look after their own family and know absolutely nothing about the outside world."
Duncan was defending Cameron after more than a week of damaging headlines over his family's tax affairs. The PM believes "potential prime ministers" should publish their tax returns, but not all MPs.
Cameron told Duncan he was "grateful for his support", adding: "I don't want us to discourage people who have had a successful career in business or anything else in coming into this house and making a contribution."
Labour MP Caroline Flint told Cameron: "It saddens me that the MP for Rutland and Melton seems to suggest that if you weren't a millionaire you were a low achiever."
After starting her question with the phrase "speaking as a low achiever", Cameron said he had always thought of her "as a high achiever".
Duncan later attempted to clarify his comments as the backlash grew, insisting that he did not mean to equate achievement with wealth.