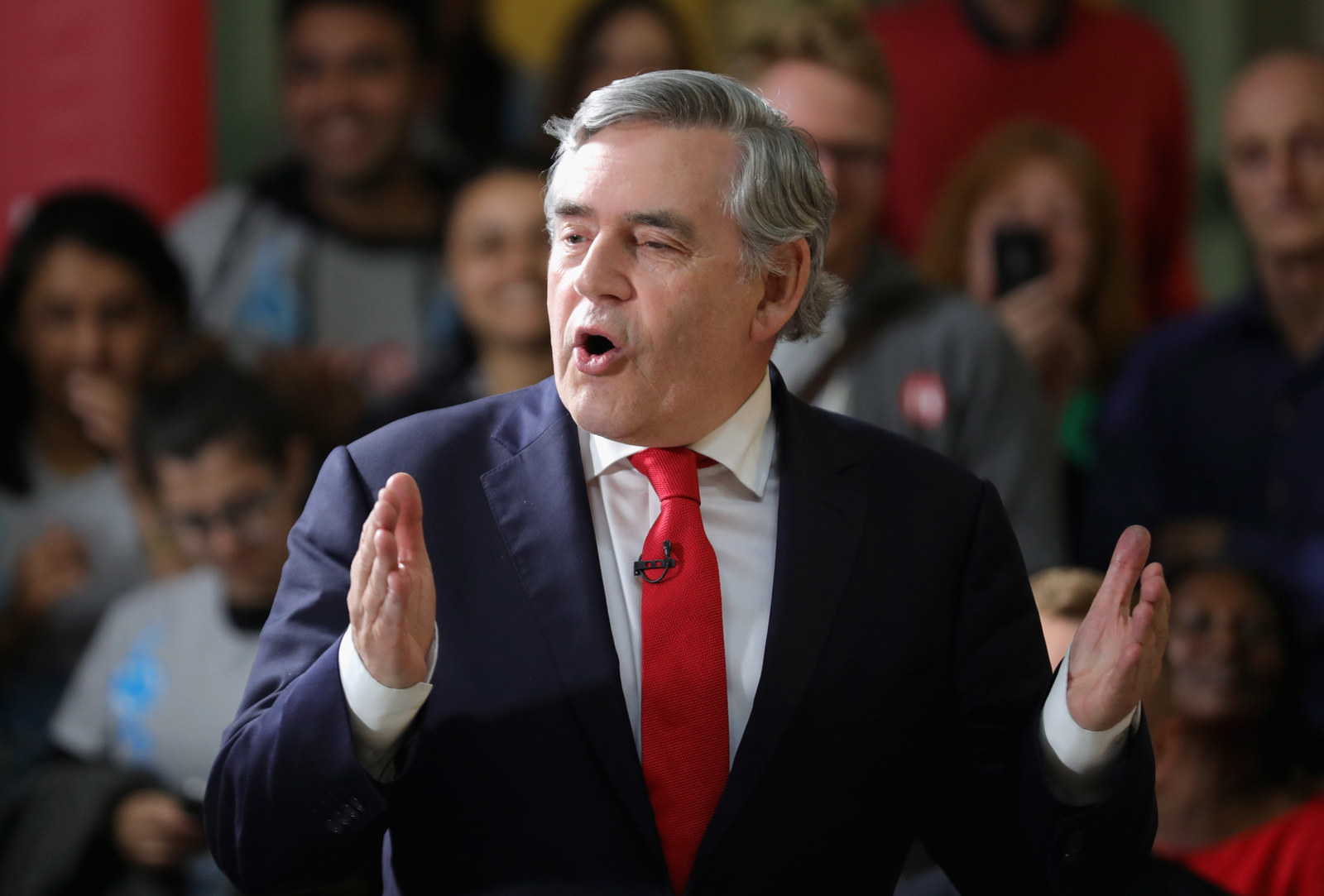 Labour will take over the campaign for Britain to stay in the European Union this week as fears mount in the party that its core voters are leaning towards Brexit.
Former prime minister Gordon Brown led the charge on Monday with a speech in Leicester aimed at winning over wavering Labour supporters, ahead of a speech from leader Jeremy Corbyn on Tuesday.
Meanwhile Conservative PM David Cameron will take a back seat amid concerns in the Remain camp that both he – and the Tory rows that have dominated the campaign – are turning off many Labour voters who hold the key to victory in the 23 June referendum.
The Remain camp hope Brown's intervention will change many voters' minds, with just 10 days to go before the referendum. His passionate speech in favour of Scotland staying in the UK just before the 2014 vote was viewed by some commentators as a pivotal moment in that campaign.

Speaking at De Montfort University, Brown compared the Leave campaign to the movement behind US presidential hopeful Donald Trump.
Globalisation had led to demands from some to "bring control back home", he said. "It is not just here in Britain, it is in Trump in America, other movements in America, other movements in Europe – Greece, Spain, Germany, Austria.
"Globalisation creates this sense there's a runaway train out of control. What we need to do is to show we can manage globalisation and global change in the public interest but at the same time we have got to respect people's love of national identity.
"We've got to show that we can balance the autonomy that people want with the co-operation we need. That is what the European Union is about."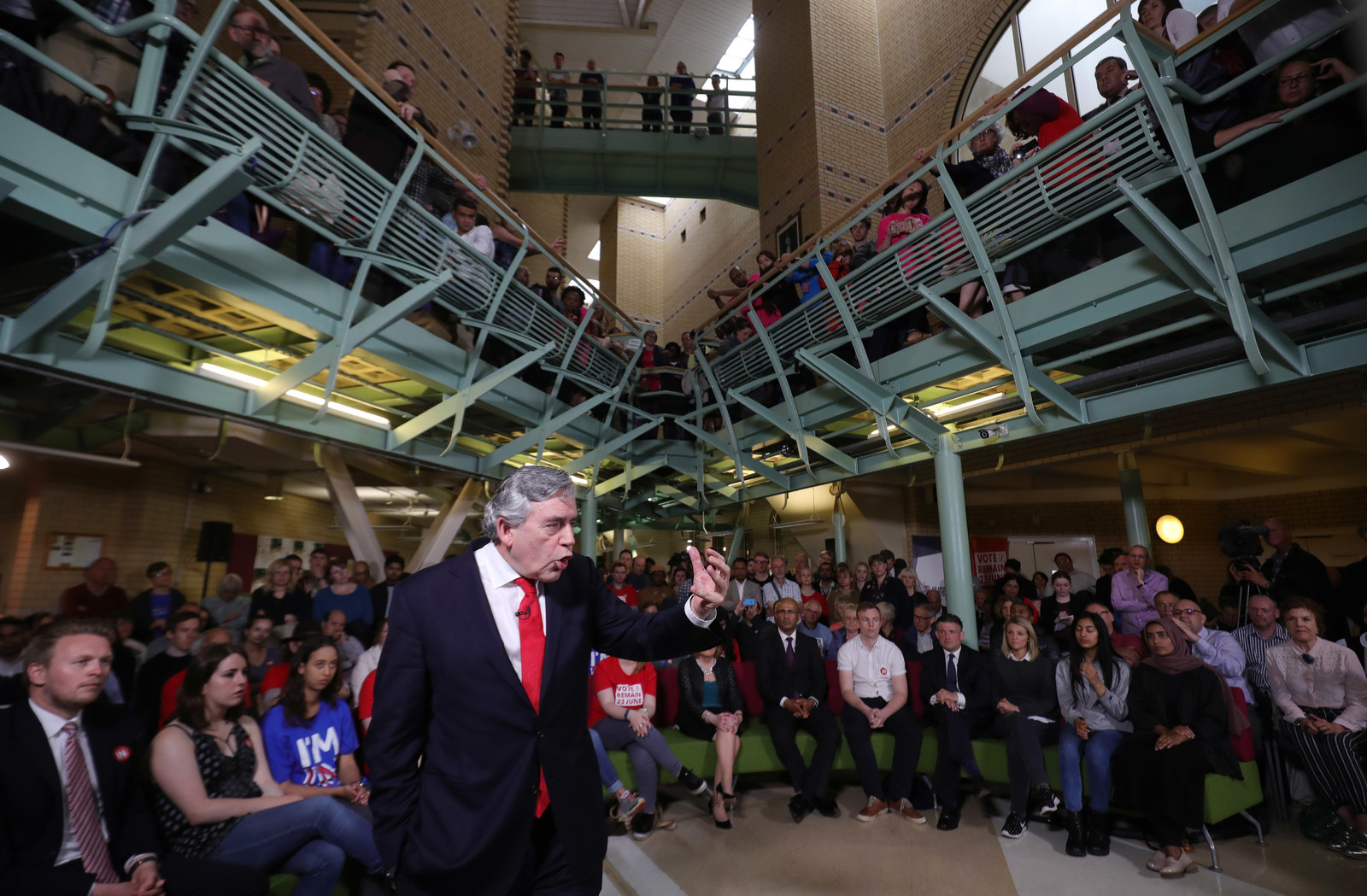 Earlier Brown told BBC Radio 4's Today programme that Labour voters had the "most to gain from remaining in the EU". And he insisted the party was united on the issue, despite claims that Corbyn's heart isn't in it.

But Vote Leave chair Gisela Stuart, an anti-EU Labour MP, dismissed the late push by the Remain camp as a "hastily cobbled-together relaunch", adding: "Labour voters have seen through the spin of the government which is why they are rejecting the In campaign."

Brown faced questions on immigration after his speech, having claimed on Today that Britain had "managed migration" not "uncontrolled immigration". He was asked by a reporter fromThe Sun whether he was dismissing the concerns of Labour's core voters.
But he replied that The Sun had an "agenda" because it had long opposed immigration – and added that it was important to help communities affected by it.
Meanwhile shadow foreign secretary Hilary Benn made a passionate defence of immigration into Britain. In a separate speech on Monday, Benn said immigration would "continue whether we stay or go" – just as it had done for centuries past.
"The truth is we are a nation of migrants," Benn said. "From the Romans to the Anglo-Saxons and the Normans.
"From the Jews fleeing persecution to the Irish fleeing famine. From the Windrush generation and those who came from India, Pakistan, and Bangladesh to work in the mills and in manufacturing to their present-day equivalents from Poland, Lithuania, and Romania.
"And even some Americans, I would add, being the proud son of an immigrant from Ohio.
"And one of the greatest things about our country is the way in which over the generations these successive waves of migrants have mixed and melded and married until it is almost impossible to untangle the threads of the journeys that brought them here."
A pro-EU video entitled "Lead not Leave" – which features Brown walking through the ruins of a bombed cathedral – has been viewed more than 2 million times on the People's In Facebook page.
Looks like there are no comments yet.
Be the first to comment!