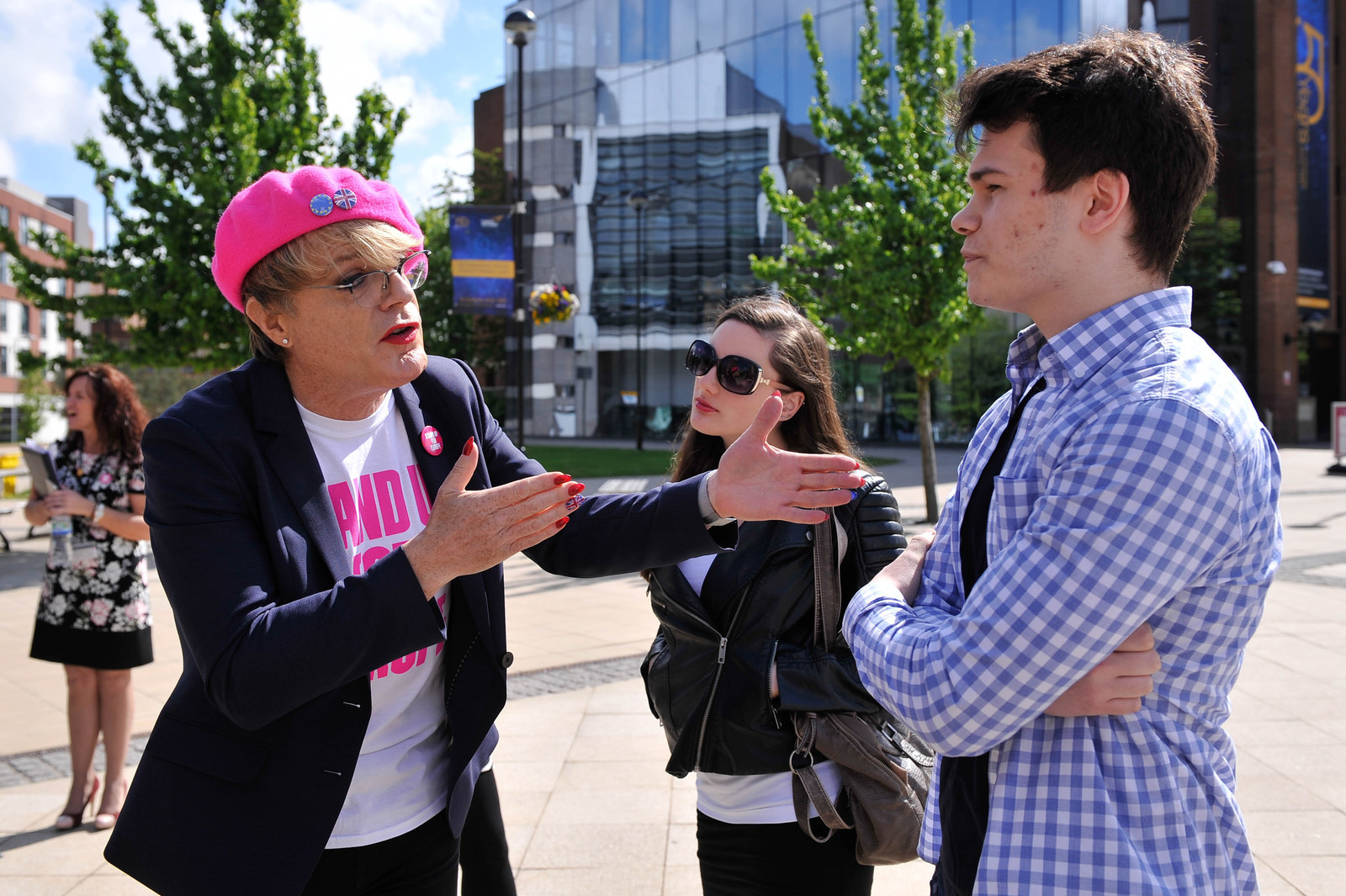 "If you care about humanity" is Eddie Izzard's catchphrase of the day. The comedian is stopping bemused students as they stroll through Birmingham's Aston University and checking whether they've registered to vote in next month's EU referendum.

Most say they have, but many are still unsure whether to back Britain remaining a member of the EU. One student says he's not really swayed by claims that Europe will break into war again if the UK leaves. Izzard replies: "If you care about humanity, that's all we're trying to do!"
Later the fiercely pro-EU comedian tells a confused student who hasn't registered yet: "If you care about humanity, working together, then I think [staying in the EU is] a positive move!" And he brandishes the buzzwords yet again with three male students who have just left a maths exam. "If you care about humanity..." he starts.
But one man in a baseball cap interrupts him, saying, "If we leave the EU, we won't have to pay Brussels all that money though, will we?"
BuzzFeed News has been tagging along with Izzard on Monday as he kicks off his Stand Up for Europe tour, which sees him visit 31 cities in 31 days, right up to the 23 June referendum.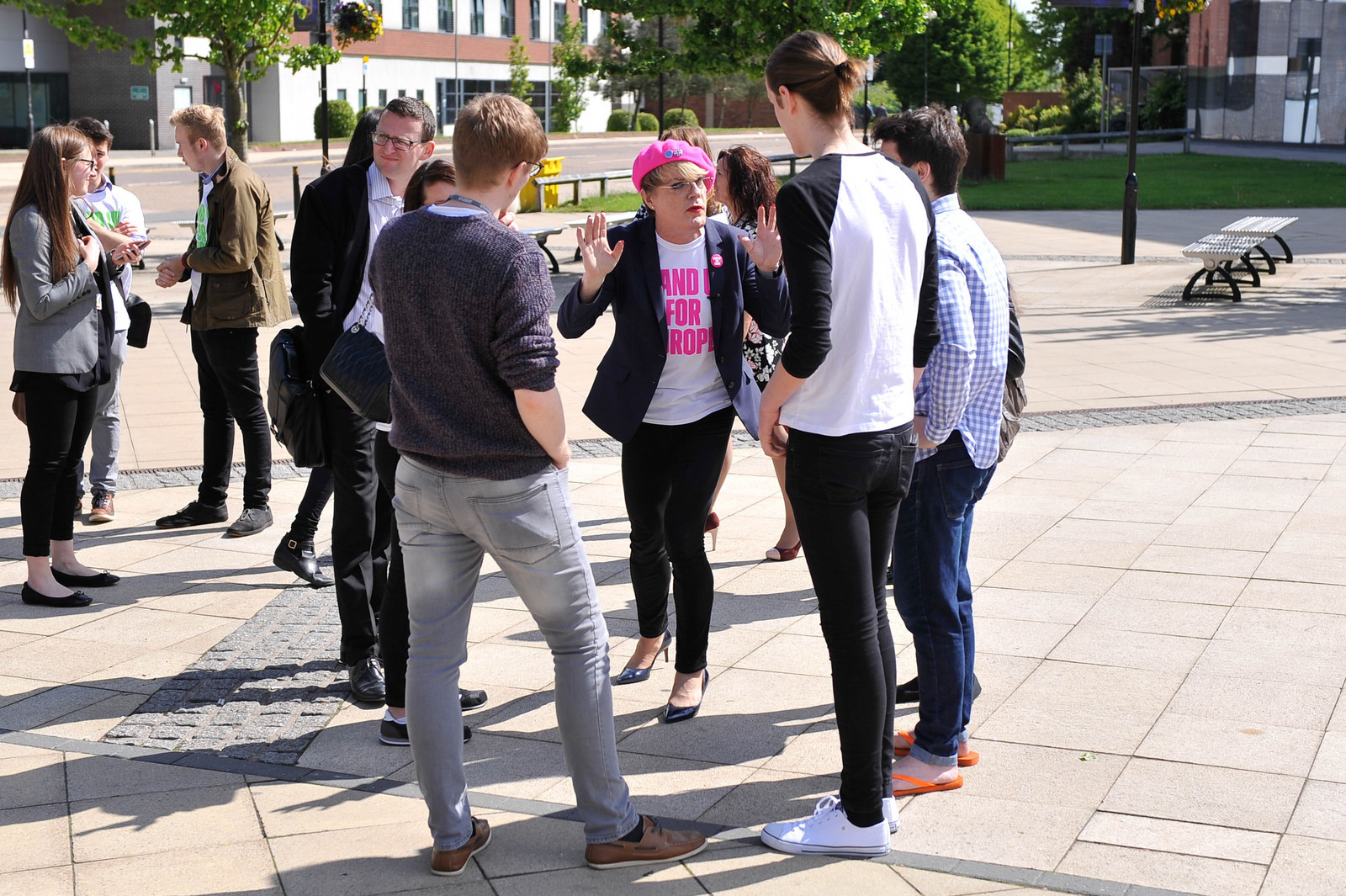 For Izzard, the question of whether Britain stays in the EU is a hugely emotional one, played out to a backdrop of devastating world wars, intense friendships forged on foreign holidays, and an underlying message of hope rather than despair.

Meanwhile the newspapers and rolling news channels focus on a new Treasury analysis warning that Brexit would plunge Britain into a year-long recession, sparking yet more arguments over economic predictions, standard deviations, and financial modelling.
"I talk to young people – I've been an activist since 2008 – and I notice that they switch off if they just hear lines from the campaign," Izzard, 54, tells BuzzFeed News.
"So I want to talk to people from the heart. I went to holiday in my twenties, I didn't need a visa to go on holiday, it was a Greek island and I went on a boat and everyone jumped off and there's French and German and Spanish and Italian people all splashing around.
"And I thought, Wow, this is young Europeans right here, swimming around, and I thought, Back in the '30s we were about to go to war and now we're not. This is worth fighting for."
But he admits the issues are complex and can put young people off voting. He's just shown a female student how to register to vote on her iPhone but she told him she didn't trust either side and needed to do more research.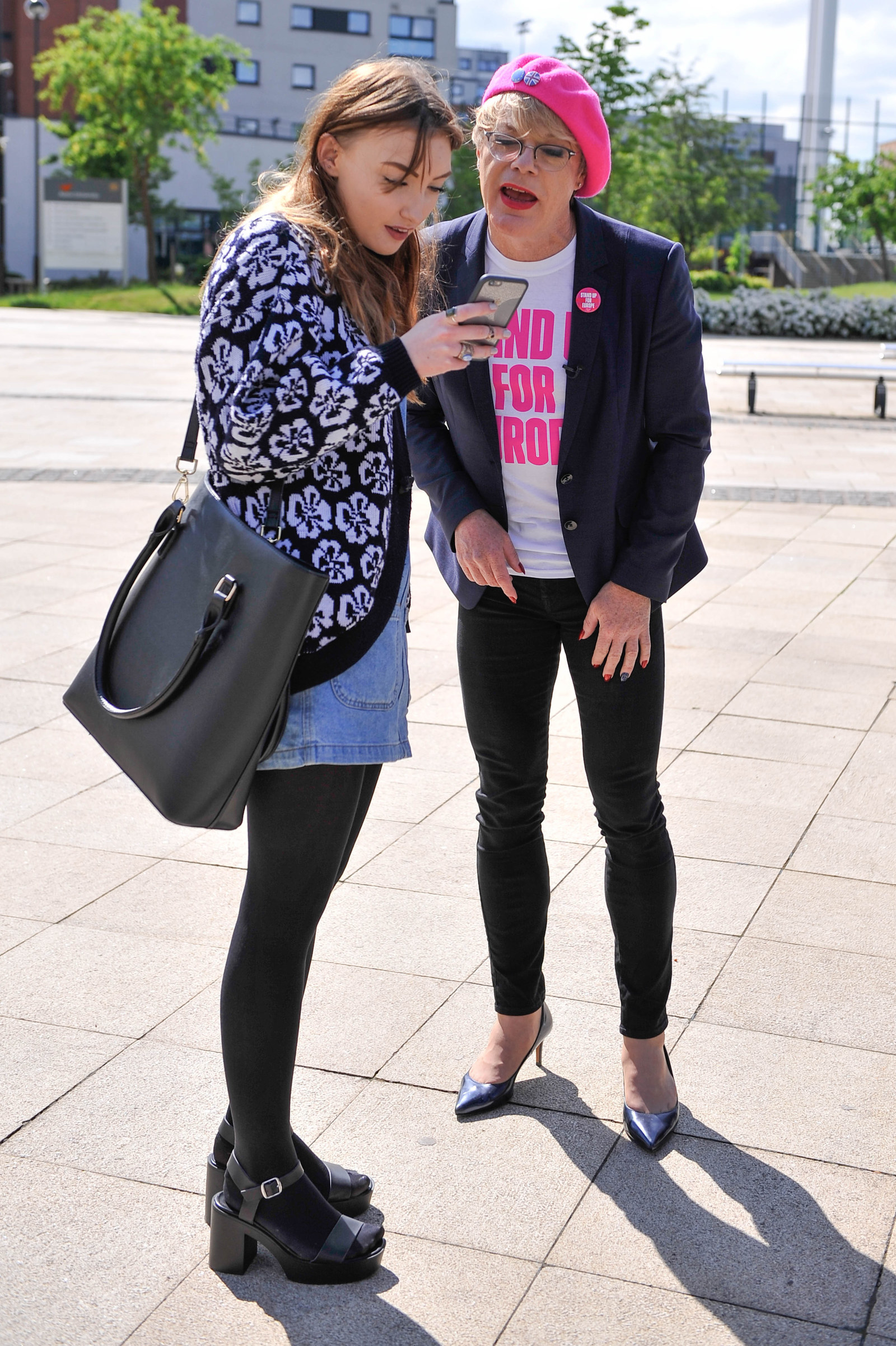 "Intelligent people on both sides will put forward their best arguments," he tells BuzzFeed News. "I'm saying despair is the fuel of terrorism, hope is the fuel of civilisation – surely that is the way. And if we're trying to move towards a world where we take despair out and we put hope in, we've got to start with each continent.

"And we're the first continent to do this, so we have to make it work for the future of the world. Surely that's what we're working for. Complicated, bureaucratic? Yes. Do we need to change it? Yes. But we've got to be inside it to change it. Running away is not the British way – we stand and fight."

Izzard, who has performed shows in French, Spanish, and German, says there's an "emotional side" to the EU debate that "you don't really hear". His comment comes after Labour's Alan Johnson, chair of the In campaign, told BuzzFeed that the pro-EU campaign needed to inject some passion to compete with the Leave camp.
But it's not all about emotions. Izzard also tells students all about how the EU helps them travel to stag and hen nights without a visa, keeps roaming charges low, and allows them to carry a European Health Insurance Card.

Students seem excited by his presence on campus, with some women peering at him from a window and blowing kisses as he speaks to people outside. With his hot pink beret, high heels, and red nails (although his ring fingers are painted with a union flag and an EU flag, naturally), not to mention cameras following his every move, he's quite a magnet. There are lots of selfies.
Laura, 22, a final-year student at Aston, says she's interested in his opinions. "If someone walks up to you in a suit, you think, 'Oh, there's a politician,'" she says. "But if someone walks up to you like that, and it's not his job, you want to listen to what he has to say."
Another female student tells Izzard she and her brother are big fans and grew up watching him on TV. "Well, if you think what I do is good, then..." he jokes.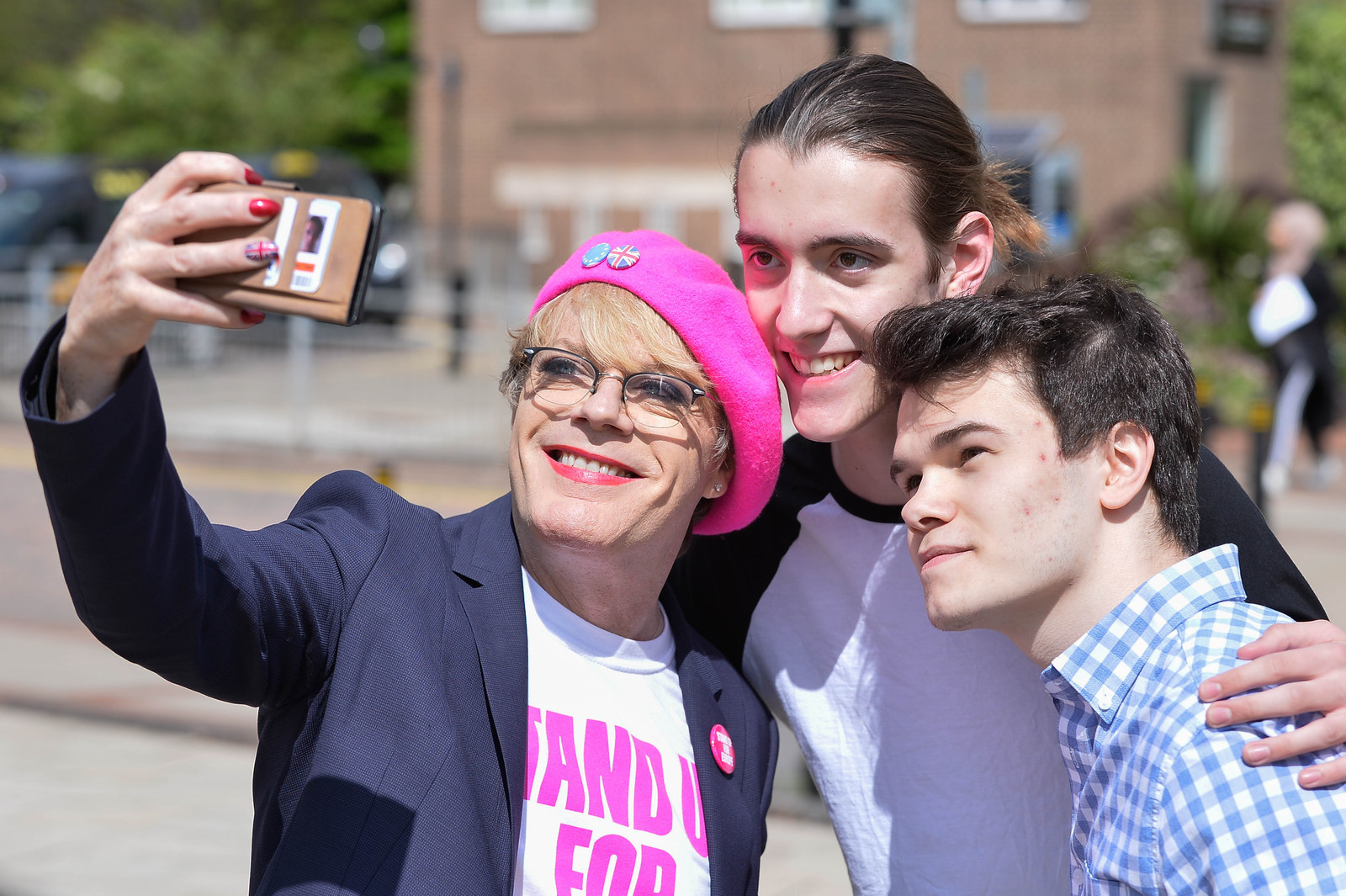 Later Izzard speaks to a room of 200 students in his usual fast-paced, rambling style. "I'm trying not to do a smooth speech and come up with some lines," he says.
"I do as positive campaigning as I bloody well can. I'm a transgender guy who walked out the door 31 years ago, I try and stand and live for positive things. If you care about humanity then there's a great reason for us to try and make this work."

I ask him how important it is to bring a bit of celebrity stardust to what has been a fairly dry campaign. "I'm not sure how much that matters but I've been an activist since 2008 so I'm slightly different to maybe the average person," Izzard says.

"People will put cameras in my face, people like yourself will ask me more and more difficult questions, and I've run a few marathons, I'm touring in French, German and Spanish – surely that's a more positive thing than the Brexit exit people who hate immigration, which is the only argument Brexit are putting out there."
He adds, defensively: "I'm self-propelling, I'm not being wheeled out – this is my campaign, Stand Up for Europe."
But he's not keen on questions about wider political matters. He confirms his intentions to run as a Labour MP in 2020 but doesn't want to chat about the party's prospects. "We've got to fight like crazy for it, I just want our team to win," he says. "But this is about the EU referendum – this is bigger than politics."