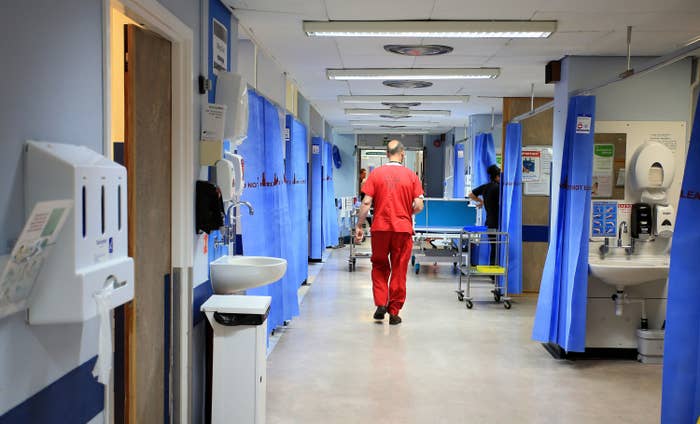 Doctors and nurses have warned that Boris Johnson's plans to end free movement for European Union citizens on day one of Brexit could devastate a health system that is already facing chronic staffing shortages.
The Royal College of Nursing (RCN) called for "urgent clarity" from the government on its immigration policy to ensure more nurses do not leave the UK due to growing uncertainty over their future.
The British Medical Association, which represents doctors and medical students, said the policy could cause "untold disruption" to both patients and the NHS workforce.
And union Unison — which represents hundreds of thousands of NHS workers including nurses, midwives, health visitors, paramedics, cleaners, and porters — warned of "an acceleration in the numbers of health staff departing our shores".
The government said this week that freedom of movement rules — which allow EU citizens to live and work freely in Britain — will end immediately if there is a no-deal Brexit on Oct. 31. Plans to slowly phase out the rules, put in place by the last prime minister, Theresa May, have been dropped.
Around 65,000 NHS staff in England are EU nationals, according to the House of Commons library. EU nationals make up 9.5% of doctors, 6.4% of all nurses, and 5.7% of scientific, therapeutic, and technical staff.
EU nationals currently living in the UK will have until December 2020 to apply for the right to remain under a "settled status" scheme. So far more than 1 million have been granted permission to stay.

But at least 2.6 million EU citizens living in Britain have not yet applied, and it is unclear how they will prove they are in the UK legally after Brexit, critics have warned.
The scheme is also not underpinned by primary government legislation, meaning it can effectively be changed at the whim of a minister — heaping yet more uncertainty on EU nationals.
The RCN said that since 2016-17, over 10,000 established EU nurses and midwives had left the UK register – compared to just over 4,800 who left in the three years before this. The total number of new nurses from the UK and abroad fell by more than 10% in 2017-18.

An RCN spokesperson told BuzzFeed News: "Since the Brexit vote, far fewer EU nurses and midwives are joining the Nursing and Midwifery Council register with less than a thousand joining last year — a 90% fall in numbers since 2016.

"With the health and care system facing a chronic shortage of nurses, we simply cannot afford to lose any more due to uncertainty.
"There needs to be urgent clarity and assurances from the government that there will be no sharp cut off to freedom of movement and that their systems are up to the job of enabling these applications or we risk losing even more nurses at a time when we can ill afford to."
Dr Helena McKeown, chief officer of the BMA, warned of a "workforce crisis" in hospitals. She told us: "The government's plan to immediately end freedom of movement following a no deal could cause untold disruption to both patients and the NHS workforce.
"With hospitals and GP surgeries across the country already struggling to recruit enough doctors, closing the gate on thousands of experienced medics and support staff from the EU has the potential to plunge the NHS deeper into the workforce crisis.
"Additionally, the end of free movement will place huge administrative burdens on employers, including already under pressure hospitals and GP practices, who will have to check who can and cannot work for them."
She called on ministers to urgently "remove unnecessary bureaucratic barriers to recruitment, so that those who want to come and work in the NHS, and are appropriately qualified, can do so".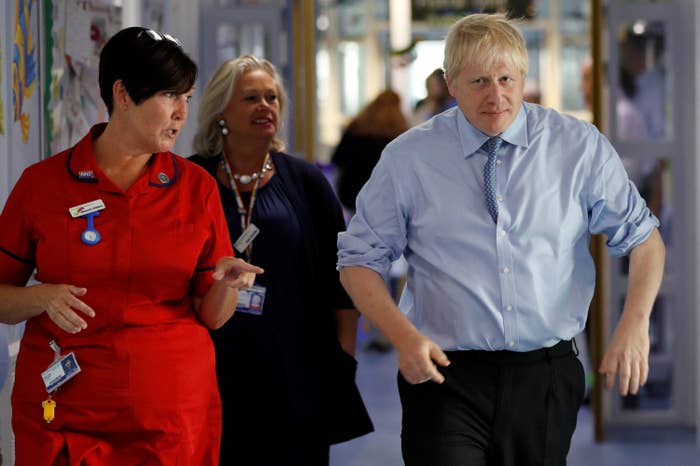 The 3Million campaign group, which represents EU nationals in Britain, said Johnson's announcement was "reckless politics [that] will impact every citizen in the UK".
"The NHS heavily relies on EU staff," a spokesperson said. "The incredible uncertainty caused by this policy, created on the hoof, will be detrimental to staff retention and recruitment in a sector already chronically understaffed."
Unison general secretary Dave Prentis called on ministers to "drop the tough rhetoric" and reassure EU workers their jobs were safe.
"This latest betrayal of EU employees will see an acceleration in the numbers of health staff departing our shores," he told us. "The NHS already has a huge staffing problem and the increasingly hostile messages from Westminster will worsen a dire situation.
"Hospitals and clinics are struggling to attract and hold on to staff in the face of growing demand. They're also increasingly worried about how the NHS will cope if the UK leaves without a deal."
Conservative MP Alberto Costa, who has long been campaigning on behalf of EU nationals, said the government's plan was "nonsense on stilts" and warned that the NHS, as well as other sectors, could see more workers decide to leave the UK.
"If there is a lack of detail that undoubtedly creates greater anxiety — and greater anxiety leads people to make decisions that may not be in their interest or the interests of our country," he told BuzzFeed News.

"Britain has been very reliant in a range of industries on migration flows from the EU. The government has yet to propose to those industries what will happen if we end abruptly the free movement of people.
"How will we ensure that these industries are able to recruit human resources in order to further their commercial interest, how will the public sector including healthcare recruit individuals to assist in everyday needs? These are questions that remain unanswered."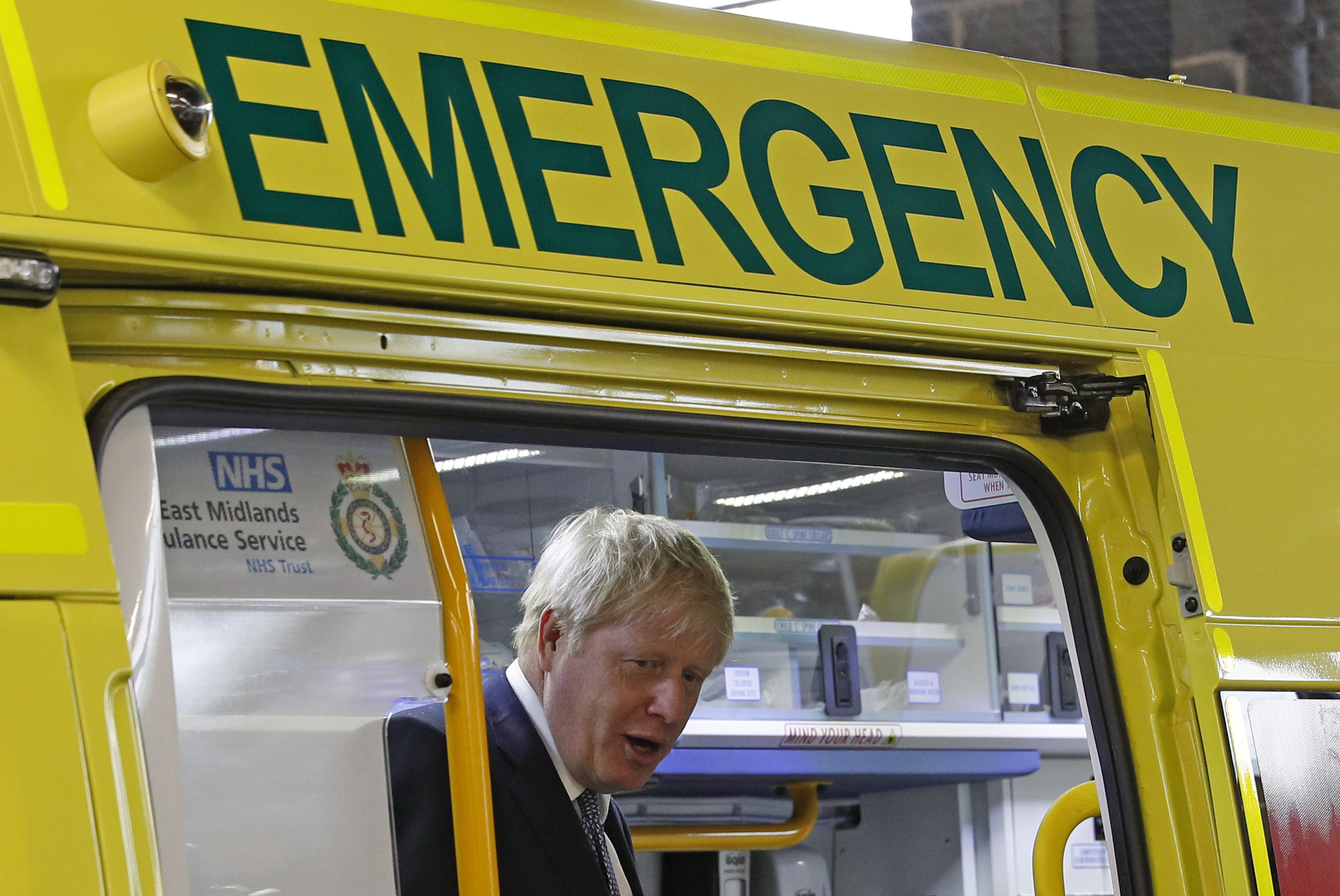 Costa accused Johnson and home secretary Priti Patel of making "glib political statements" that are "wholly unworkable" — and warned the government it also faced an "enormous amount of litigation" by both EU citizens living in Britain and British citizens living in the EU.
"My concern ultimately is the there's going to be a Windrush on steroids, a Windrush writ large if we don't get this right," he said.
Costa said he had been invited to meet Johnson to discuss the issue and they would speak when Parliament returns in September.
A Home Office spokesperson said: "EU citizens and their families still have until at least December 2020 to apply to the EU settlement scheme and one million people have already been granted status.
"Freedom of movement as it currently stands will end on 31 October when the UK leaves the EU, and after Brexit the government will introduce a new, fairer immigration system that prioritises skills and what people can contribute to the UK, rather than where they come from."
Sources at the Department of Health and Social Care said they were keen to ensure the 65,000 EU staff working in the NHS and 104,000 EU staff working in social care were "not only able to stay, but feel welcomed and encouraged to stay".