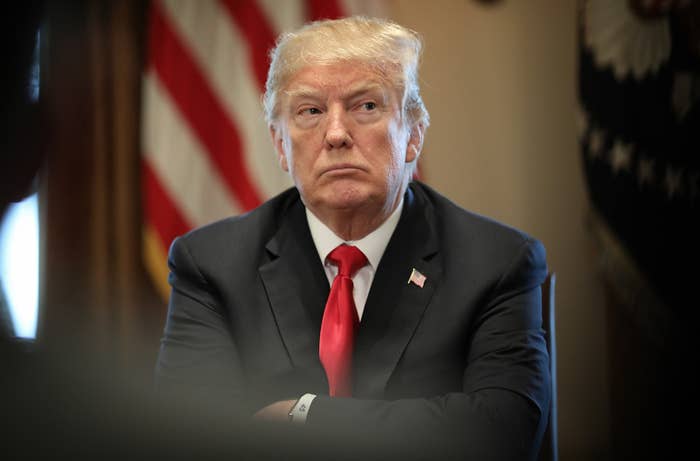 Theresa May is confident of securing a good trade deal with the US after Britain leaves the EU – despite Donald Trump's plans to impose new tariffs on steel and aluminium imports.
The US president is also planning to offer post-Brexit Britain a worse "Open Skies" deal, which allows airlines to operate in each other's countries, than it had as an EU member, according to the Financial Times.
On Sunday, May told Trump in a telephone call of her "deep concern" over his plans to introduce a 25% tariff on steel imports and 10% tariff on aluminium imports.
Such a move would be a major blow to Britain, whose steel industry exports £360 million worth of products into the US every year, particularly when it is more reliant on trade deals with non-EU countries after Brexit.
But Trump appeared not to be in listening mode, tweeting after the phone call that countries had "taken advantage of the US for many years".
On Monday, the PM's spokesperson played down the row, saying: "Both the PM and President Trump agree on the importance of reaching a swift post-Brexit bilateral trade deal."
Asked whether May was confident of securing a good deal regardless of what Trump had said, he replied: "Yes."
He was speaking after the PM made a statement on her Brexit strategy to the House of Commons. Labour leader Jeremy Corbyn asked: "Does the prime minister still think a good trade deal can easily be reached with the Trump presidency after their unilateral imposition of tariffs on steel and aluminium imports, which follows their disgraceful attack on Bombardier?"
May replied: "I spoke to President Trump about this yesterday. Can I just say to the right honourable gentleman that we're much more likely to get a positive response by engaging with the United States of America – rather than by standing on the sidelines sniping and shouting at them, as he always does."
Meanwhile it emerged that talks between British and American negotiators about a post-Brexit deal on access to airspace had been cut short, after the US offered the UK a worse deal than it has with the EU.
Labour MP Chris Bryant, a spokesperson for the Open Britain campaign, said the move "should ring out like a mayday to anyone who still thinks a trade deal with the US is an answer to the trade we stand to lose if we leave the EU".
He said: "Donald Trump is not and never will be any friend to British business or British consumers. He sees British economic success as nothing more than a threat and is out to do us down. It would be foolish to base our economic policy on his whims, yet that seems to be what so many Brextremists want us to do."