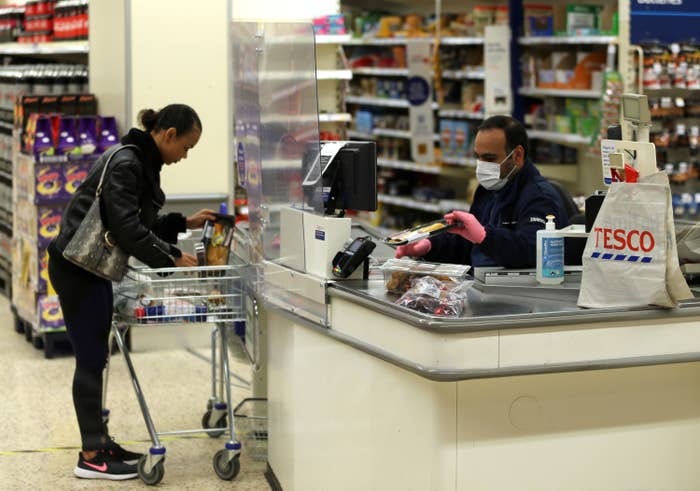 BuzzFeed News has reporters across five continents bringing you trustworthy stories about the impact of the coronavirus. To help keep this news free, become a member and sign up for our newsletter, Outbreak Today.

Teachers are still battling with an online system to secure free school meals for their poorest pupils for the lockdown, some seven weeks after schools were closed due to the coronavirus pandemic.

The government's scheme to give the poorest families in England supermarket vouchers worth £15 a week has been branded overly complex and bureaucratic by headteachers, some of whom are now being forced to resort to food banks to make sure children are being fed.
Many teachers and school business managers have told how they were logging onto the system, run by private company Edenred, in the early hours because the queues were too long in the middle of the day.
They said parents then faced their own long waits to receive a code via email and download a voucher. Yet even then, some parents have been turned away at the supermarket till because the voucher has not been recognised.
Edenred insisted it had made major changes to the website in recent days to ensure it could handle the sheer numbers of teachers and parents logging on. Some 1.3 million pupils in England are entitled to free school meals.
Raphael Moss, headteacher of Elsley Primary School in Wembley, London, has 75 children on free school meals. He has been on the website at 1am several times to make sure he can secure vouchers for parents, while his assistant headteacher has often logged on at 5am, although he said he had been able to access the site during daytime hours this week.

"The main stumbling block is that the website can't cope with demand," Moss told BuzzFeed News. "So there's a queue to get on the website in the first place.

"And then if and when you get onto the site then actually it either runs slow, or it throws up error codes, so it's just not running smoothly. If and when it is running OK and you request the vouchers, then there's been quite a long delay in the voucher code coming through."
Moss said he has paid for vouchers on his own credit card and his school has now set up a food bank, paid for through staff contributions and a crowdfunding site, to deliver parcels to the most vulnerable families.
"It's very irritating to hear people say schools should be judged on the quality of their home learning, how much learning they're doing online — first of all, we have to concentrate on making sure the children are being fed," he said.
"And lots of families can't access online learning anyway because they haven't got the laptops and internet. I can't even get to all of those problems when I'm worried about the children eating."
Steve Mills, headteacher of Whitehill Junior School in Hitchin, Hertfordshire, has 20 families on free school meals. He told how one parent had to wait on the website for four hours to download her voucher, early in lockdown. Edenred said these long waits were no longer happening.

But Mills said the system was still far too slow and bureaucratic. "We're living in extraordinary times at the moment, so why couldn't the system have generated a bit of paper with a barcode or reference number that could be universally used in any supermarket," he said.
"The government should say, 'You know what? We've got this wrong.' I wouldn't want to be doing the government's job at the moment, but this system they've pushed out clearly wasn't fit for purpose. It would be lovely if it was a simpler system. There must be a way of making that secure."
He said he had also stayed up late at night to make sure he could order vouchers. "I owe it to my most vulnerable families to look after them, because it could be the difference between their child being fed and not being fed," he said.
Under the scheme, school staff have to first log on and input details for eligible families plus their unique school code. Then a code is emailed to parents so they can redeem this on the website and buy an e-voucher for a supermarket of their choice. Teachers say there have been delays at every stage of this process — with some families initially waiting around 10 days to receive their code.
"We've heard that some of the codes have been refused by supermarkets because they didn't work or you've got people at the tills saying 'I've never seen one of these', Mills said. "Well you've already got families who are vulnerable, now you're putting them in embarrassing positions — they have shopping at the till and told they can't buy it."
Many supermarkets have signed up to the scheme — Aldi, Sainsbury's, Tesco, Asda, Morrisons, Waitrose, McColls, and Marks & Spencer — but campaigners have called for Iceland to also be included. Rabina Khan, a Liberal Democrat councillor in Shadwell, east London, said adding Iceland would make a huge difference to the poor families in her area.

"Many local families who rely on free school meals are regular customers of this particular Iceland branch, but because Iceland is not yet a member of the scheme, these families have been forced to shop at alternative supermarkets, which are often significantly more expensive," she said in a letter to education secretary Gavin Williamson.
The government said it was working to include more supermarkets but needed to ensure they had the technology on their tills to deal with the vouchers.
Meanwhile, some schools have decided to bypass the Edenred scheme altogether, paying for vouchers out of their school funds and hoping that they will be reimbursed by the government later.
Moss said it was not clear whether schools would be able to get all their money back if they choose to do this, and urged the government to clarify their guidance in order to relieve the pressure on the Edenred system.
"You've got the choice of using a government scheme and being paid directly or you take a risk that you might get this money back, but that's tens of thousands of pounds for the children that we won't then be able to spend," he said.
Rosamund McNeil, assistant general secretary at the National Education Union, told BuzzFeed News: "The online system for vouchers still isn't working anywhere near fast enough and the patience of headteachers is running out.

"It is causing stress for schools and parents alike. Many schools, where possible, are creating their own food distribution systems. The government doesn't actually recognise just how much work schools are doing to support families."
A Department for Education spokesperson said: "We continue to encourage schools to work with their suppliers to arrange food parcels or collections for families eligible for free school meals. There are some outstanding examples of where schools across the country are using their own offers to support the children who need it most.
"Where that is not possible, the national voucher scheme was launched for schools to provide supermarket vouchers, which is delivering for thousands of schools.
"Improvements have been made to Edenred's technology system this weekend and we expect the company to continually improve to meet this unprecedented situation."
A government source said schools can be refunded for "additional costs incurred before the national voucher system was introduced, or where the national voucher scheme is inappropriate".
A spokesperson for Edenred said: "The free school meal voucher scheme is helping hundreds of thousands of families every week and has put £58 million in eGift cards into the hands of people who need them."
"Individual reports of difficulties with the scheme don't accurately reflect the scheme which, today, is working successfully for the majority of parents and schools and has now delivered 3.87 million weekly free school meal allowances since launch.
"Following the improvements we have made to the scheme which have almost entirely eliminated waiting times on the ordering system, we are getting daily feedback from schools that our system is quicker and faster than at any time since launch."