Boris Johnson Is Considering Giving Nazanin Zaghari-Ratcliffe Diplomatic Protection
The move would elevate the case to a full-blown dispute between the UK and Iran, which her husband hopes will speed up her release.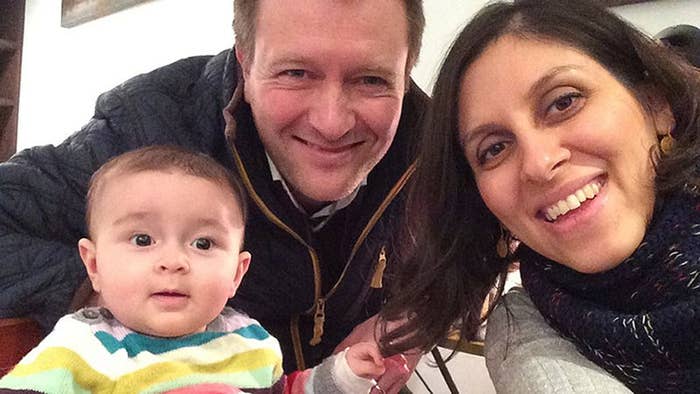 Boris Johnson is considering giving British-Iranian mother Nazanin Zaghari-Ratcliffe diplomatic protection to elevate her support from the UK government while she's jailed in Iran.
At the moment Zaghari-Ratcliffe is entitled to consular support, which usually provides help to Britons abroad who lose their passports or get injured. But her husband has been fighting for this to be elevated to diplomatic protection.
This effectively means it becomes a state-to-state dispute between Britain and Iran, which the UK can resolve through various means, ranging from formal complaint to full-blown litigation.
Downing Street confirmed on Monday that that the foreign secretary was weighing up the move after her husband, Richard Ratcliffe, urged him to do so.
Johnson later told the House of Commons that he would meet with Ratcliffe to discuss the case on Wednesday. And he apologised for any distress he had caused by mistakenly telling a parliamentary committee last week that Zaghari-Ratcliffe was training journalists at the time of her arrest.
"I do apologise, I do apologise and of course I retract any suggestion that she was there in a professional capacity," Johnson said, after he faced repeated demands from MPs for a proper apology. It follows his half-apology last week.
Zaghari-Ratcliffe was arrested during a visit to Iran in April 2016, accused of trying to topple the Iranian regime. Since then she has been locked up in the notorious Evin prison, separated from her husband and young daughter Gabriella.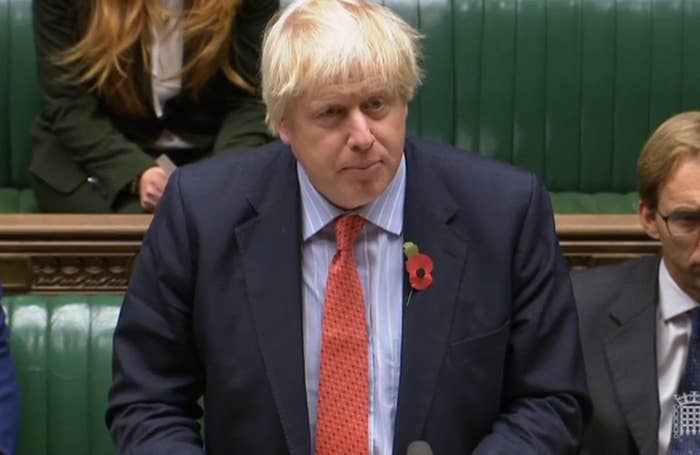 Carla Ferstman, director of human rights group Redress, which has been working with Zaghari-Ratcliffe's family to secure her release, explained the meaning of diplomatic protection.

She told BuzzFeed News: "It stops being simply about giving humanitarian support to a national who finds themselves in a difficult situation abroad – and it becomes an issue between the two countries.
"And the country, in this case the UK, has the ability to seek a remedy against Iran for the breach of its obligations. It's quite a major step-up."
In the case of dual nationals, it is British government policy not to act unless the other government consents. But senior lawyers have said it is clear Zaghari-Ratcliffe's predominant nationality is British and therefore the government can act without the consent of Iran.
"The fact that the foreign secretary has basically agreed to take up her case is a sign that the government is moving away from a consular approach to a formal state-to-state approach," Ferstman said.
Johnson was summoned to the Commons to answer an urgent question on the case from his Labour counterpart Emily Thornberry. He also faced questions over why his cabinet colleague Michael Gove said on Sunday that he didn't know why Zaghari-Ratcliffe was in Iran.
Johnson leapt to Gove's defence, saying: "He actually made it very clear that he believed she was there on holiday. He did say that, I watched the clip."
Richard Ratcliffe has declined to join calls for Johnson to be sacked over the mistake. He told BBC Radio 4's Today programme: "I don't think it's helpful for Nazanin at this point. I don't think it's helpful also in terms of how that looks in Iran for me to be looking like I'm playing politics.
"It's very important that the Iranians can see that this is just a family who are battling to bring Nazanin home, and not get the sort of sense that we are some sort of great Machiavellian power. We are not."
Ratcliffe said he was hoping to join Johnson on his visit to Iran later this year.
He added: "It feels now we do have the foreign secretary's personal engagement. He did promise to consider whether she would be eligible for diplomatic protection – which again gives a different aspect and a different push to what they will do for her."
The prime minister's spokesman said diplomatic protection was "one of the options" being considered.