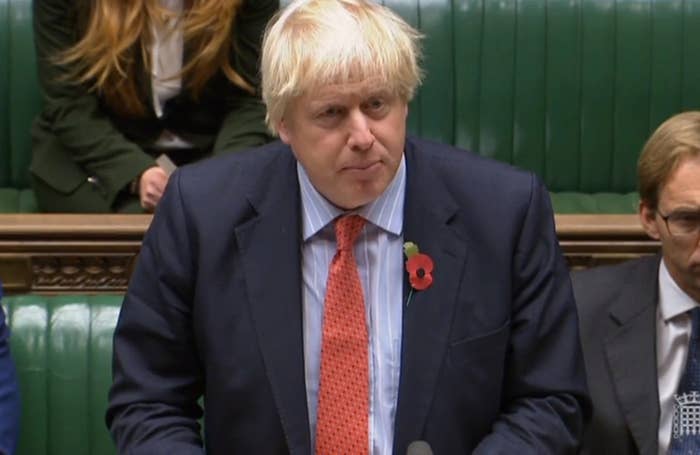 Boris Johnson has apologised to the family of a British-Iranian mother detained in Iran for "any anxiety" he may have caused with "out of context" remarks he made to a parliamentary committee.
Fears are growing that Nazanin Zaghari-Ratcliffe, arrested last year over alleged involvement in a coup, may have her five-year jail term extended as a result of the foreign secretary's blunder last week.
Johnson told the foreign affairs committee that she had been training journalists in Iran, when in fact she was on holiday. Three days after he made the comments, she was taken unexpectedly before a court and accused of "spreading propaganda against the regime".
Speaking in the House of Commons on Tuesday, he admitted he "could have been clearer" but dismissed repeated calls from Labour MPs for his resignation – accusing them of deflecting blame from the Iranian regime.
He dodged many questions calling for an apology to Zaghari-Ratcliffe. But he eventually told Lib Dem MP Layla Moran: "I'm sorry if any words of mine have been so taken out of context or so misconstrued as to cause any kind of anxiety to the family of Nazanin Zaghari-Ratcliffe, of course I am.
"But the most important thing is that I don't believe – and I have this from the Iranians themselves – that those words had any impact on the judicial process and we are going to work flat out to secure the release of Nazanin Zaghari-Ratcliffe."
His half-baked apology didn't go down too well with some backbenchers. Tory MP Anna Soubry tweeted:
Shadow foreign secretary Emily Thornberry called for Johnson to "show a bit of a personal responsibility" and admit that the role of foreign secretary, where words matter hugely, "is simply not the job for him".

But Johnson turned the tables on his Labour counterpart, accusing her of "seeking to score political points" and "deflecting blame, accountability and responsibility" from the Iranian regime.
Along with Thornberry, senior Labour MP Yvette Cooper – chair of the home affairs committee – called for Johnson's resignation, saying he "cannot be trusted to do his job".
And Liberal Democrat deputy leader Jo Swinson said his "carelessness was unforgivable" and he should stand down, adding: "This is not a game."
Johnson also came under fire from his own side, as Tory MP Anna Soubry urged him to "make sure his own ambitions are put secondary to the wellbeing" of the people he serves.
Zaghari-Ratcliffe is serving a five-year sentence for alleged involvement in a coup, and her husband, Richard Ratcliffe, said this sentence could be doubled if she is tried again on the new charge.
Johnson told the Commons: "The UK government has no doubt that she was on holiday in Iran when she was arrested last year."
He intends to visit Iran before the end of the year to press the case for her release.
A Foreign Office spokesman had earlier said that Johnson had telephoned his Iranian counterpart to reiterate "his anxiety about the continued suffering of Zaghari-Ratcliffe and her family and hoped a solution would be reached soon".
Johnson was defended by his cabinet colleague Liam Fox, the international trade secretary, who dismissed his comments as a "slip of the tongue".
Fox told Sky News: "I don't believe that it is a serious gaffe. I think people in the Iranian regime, which is a very brutal regime, are using this as an excuse to hold a UK citizen in the most tenuous of circumstances."
The prime minister's spokesman also said: "The foreign secretary is doing a good job and working hard to represent Britain's interests abroad."