Boris Johnson has been appointed foreign secretary by Theresa May, just hours after she became Britain's second female prime minister.
The high-profile appointment – Johnson's first cabinet job – was unexpected and is a triumph for Johnson, coming less than a fortnight after it appeared his political career could be over.
The former London mayor, who led the Leave campaign during the EU referendum, had long harboured his own prime ministerial ambitions but was forced to abandon a leadership bid at the last minute after being betrayed by Michael Gove.
Earlier in the day the new prime minister stood outside 10 Downing Street and pledged to make "Britain a country that works not for a privileged few, but for every one of us". As part of this she has decided to construct a new cabinet, bringing in new ministers rather than reshuffling David Cameron's old team.
As a result, George Osborne has left the cabinet after six years as chancellor amid reports he was sacked by May.
He has been replaced by Philip Hammond, who was previously foreign secretary. Hammond, a long-time ally of the new prime minister, most recently served as foreign secretary but was also shadow chief secretary to the Treasury between 2007 and 2010.
May also appointed Amber Rudd as home secretary, the role May herself occupied for six years. It is a huge promotion for Rudd, who was only elected to parliament in 2010 and previously served as energy secretary.

Meanwhile, Michael Fallon will stay on as defence secretary.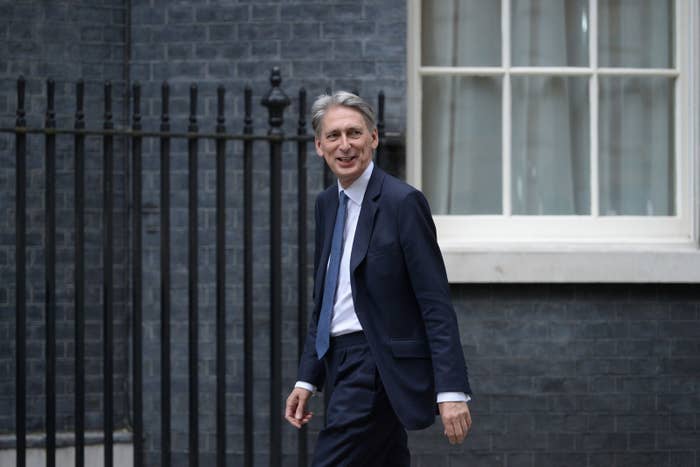 Despite having campaigned for Remain, May has made it clear she is committed to respecting the result of the EU referendum and has pledged to lead the UK out of the EU.
She has given the crucial job of overseeing Brexit to David Davis, who becomes secretary of state for exiting the EU – a new role the prime minister created to allay the fears of Leave supporters that she would backtrack on the referendum result.

Liam Fox, another leading Brexiteer, who ran for the leadership himself, will head a new international trade department. The appointment marks his return to the cabinet for the first time since being forced to resign as defence secretary in 2011 amid claims he broke the ministerial code over his working relationship with an adviser.

The appointments were welcomed by UKIP leader Nigel Farage.
A statement from Number 10 said George Osborne had "resigned from government", although it was not clear whether he had been forced out. Just a year ago he was being tipped as David Cameron's most likely successor.

Although May had promised to promote women, the only woman with a top job so far is Amber Rudd. Further cabinet appointments are expected to take place throughout Thursday.