This is British astronaut Tim Peake. On Tuesday night, almost 2,000 people – including a lot of excited children – packed out the Barbican Centre in London to hear about his space adventure.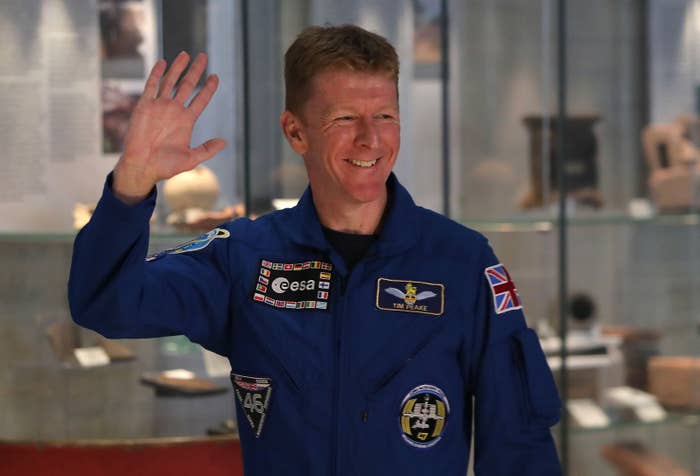 Peake spent six months on the International Space Station earlier this year, the first British astronaut in space since Helen Sharman in 1991.
During the historic trip, he made the first spacewalk by a UK astronaut, ran the London Marathon, and remotely steered a robot back on Earth.
Peake told TV presenter Dallas Campbell all about it on stage – as he launched his new book, Ask an Astronaut – before the audience were asked if they had any questions.
He was asked why he became an astronaut, what games he played in space, and whether Britain should be doing more to produce more astronauts.
But it was one question from a 9-year-old boy called Isaac that blew everyone away. He said he had been told by his teacher that becoming an astronaut wasn't "realistic".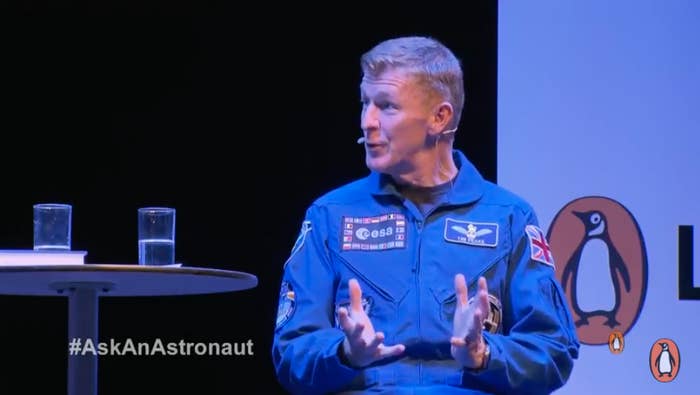 Here is his question in full:
Hello, my name is Isaac and I am 9 years old. My teacher asked my class to think of a challenge and how to overcome it. I put down that my challenge was to become an astronaut and I would overcome this by working really hard and being accepted into a NASA space programme. My teacher wasn't happy with this. She said we were supposed to pick something realistic. But you were once a 9-year-old boy. My question is – when the people around you were telling you it was impossible and during the time it felt like they were right – how did you stay motivated and never give up on your dream to become an astronaut? You're my hero, Tim Peake.
Here is Peake's response:
Isaac, somehow I think already you're the kind of person who knows not to listen when people tell you that you can't do something. No one has the right to tell anybody that they can't do something. You've got to focus on your dreams, and you've got to stay positive, and you've got to stay motivated. Your dreams might want to change along the route – for me, I wanted to be a pilot and in those early days of being a pilot, I never thought I would make it all the way to being an astronaut in my thirties – but I did. And that's from somebody who left school – I didn't go to university. I did three A-levels and joined the army. I think the key is to just have self-confidence in your own abilities, and in what you can do. And it sounds like you've got that in spades, so well done, Isaac.
Good luck, Isaac. We can't wait to wave you off on your own space adventure one day...