Yesterday, Lorde celebrated her 20th birthday.
And being the ultimate best friend, Taylor Swift decided to make the day one that Lorde would never forget.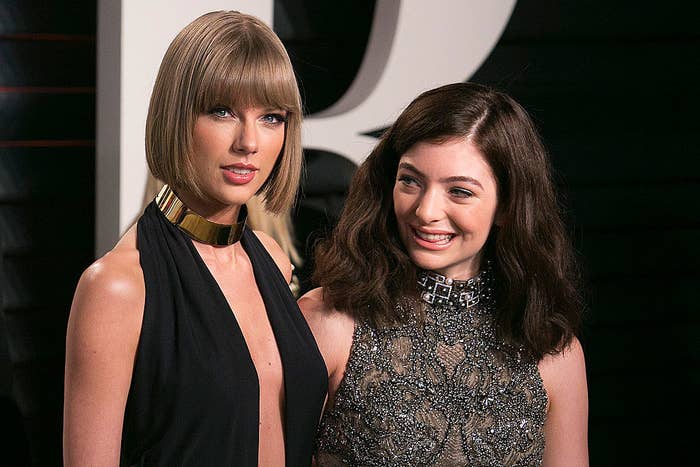 Taylor kicked off the birthday celebrations by hand-making Lorde (who she calls by her real name, Ella,) a card.
She shared a photo of the card on Instagram, alongside the cutest caption.
Taylor wrote:
Thank you for the music you make, the advice you give, the thoughts you provoke, and the way you've made my life more beautiful since the first day we met up in New York and ate burgers on a park bench and got attacked by squirrels. I. Love. You. So. Much. Ella. @lordemusic
But Taylor didn't stop there with her birthday plans. She also arranged a birthday party for Lorde.
She got her giant balloons spelling out: "UR 20."
Which Lorde was pretty damn thrilled with, judging by this caption.

She also invited all of Lorde's showbiz pals.
Including Aziz Ansari.
And at one point, Lorde found herself in a Kaylor sandwich.
There was an amazing looking chocolate cake.
And a few more birthday kisses for good measure.
And at the end of the night, Lorde re-posted this picture of her with Taylor and Karlie, thanking Taylor for acting like "a mom without kids" and planning her such an amazing party.
And concluded that Taylor "loves her so hard she could burst." 😭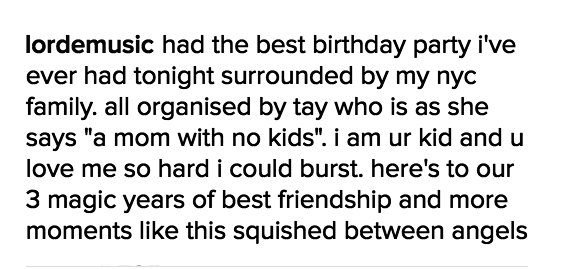 YOU GUYS. 💗