Yesterday marked one year since Taylor Swift and Calvin Harris got together. ❤️
And despite the fact that they've been decidedly private about their relationship since day one, the pair did let us in on their celebrations.
Calvin shared this video on Snapchat, showing a cute cake covered in hearts, and Taylor looking ridiculously happy.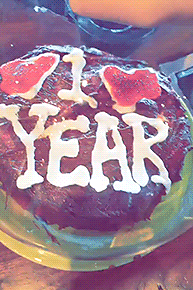 Oh, and he also posted the video with the caption: "1 year...that was easy." 😍
And it seems that Calvin also treated Taylor to a piece of jewellery, too. She shared this photo of a gold locket with the date of their anniversary engraved on it.
You guys are just the cutest. ❤️