Well, Katy has now addressed the criticism during an interview with civil rights activist DeRay McKesson. The conversation appeared on her 72-hour livestream, and on the latest episode of DeRay's podcast.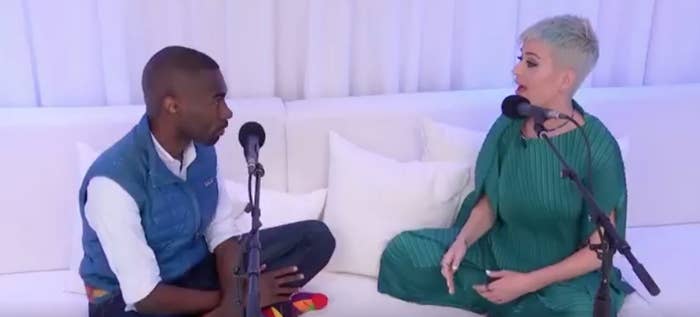 Katy began by addressing her hair in the "This Is How We Do" video. She said she hadn't realised the significance of cornrows until discussing with her sylist the "history" of black hair.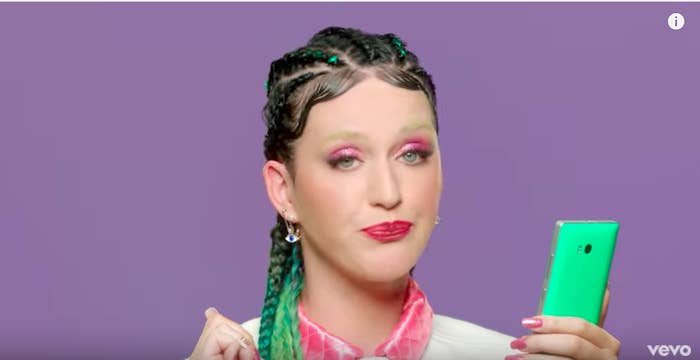 She said:
I've made several mistakes. Even in the "This Is How We Do" video, with how I wore my hair – having a hard conversation with one of my empowered angels, Cleo [Wade, her stylist], about why I can't wear my hair that way, or what is the history behind wearing the hair that way. And she told me about the power in black women's hair and how beautiful it is, and the struggle. And I listened, and I heard and I didn't know.
Katy said her performance was intended as a celebration of Japanese culture.
She explained:
Even in my intention to appreciate Japanese culture, I did wrong with a performance. And I didn't know that I did it wrong until I heard people saying I did it wrong.
Katy added that while she may "never understand" the struggles of other cultures, she'll continue to educate herself.
She said:
I will never understand some of those things because of who I am. But I can educate myself, and that's what I'm trying to do along the way.
She also said she'd rather hear "compassionate" criticism and not clapbacks.
Katy explained:
Sometimes it takes someone to say, out of compassion, out of love: "Hey, this is where the origin is." And not just a clapback. Because it's hard to hear those clapbacks sometimes. Your ego just wants to turn from them.
But when the interviewer asked whether she could understand people's negative reactions, Katy responded: "Yes. I have lots of white privilege."
She explained that she'd made the comment after feeling "self-conscious" about her new hair.
Katy said:
In my attempt to make a joke I made a mistake, and I had said it wrong. Something really triggered me. Someone was coming for my hair again and someone said I'm not pretty enough without my black hair and I snapped.
She went on to say that she intends to collaborate with more black artists so she can "give them that spotlight".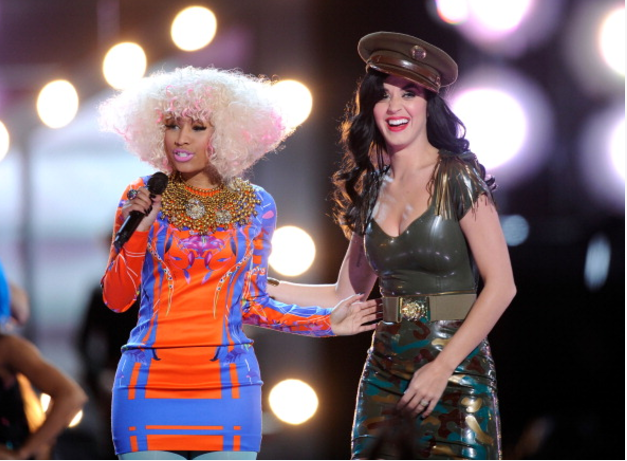 She said:
I don't want to live in a segregated world, especially in music. I've been able to collaborate with Kanye West, Nicki Minaj, Juicy J, Migos. How can I collaborate with people and lift them up and give them that spotlight? How can I lift them up in a way that's good?
Many people liked the interview and praised Katy for acknowledging her mistakes and for trying to educate herself.
However, other people were unhappy with her comments and said she hadn't been apologetic enough.
Some suggested she'd only addressed the subject for publicity.
While others said she should've educated herself on cultural appropriation earlier.
And some said her comments didn't ring true because she's recently been accused of cultural appropriation thanks to her new hairstyle.
The criticism even extended to the interviewer, DeRay McKesson, with many people saying he "shouldn't have allowed Katy the platform" to address cultural appropriation.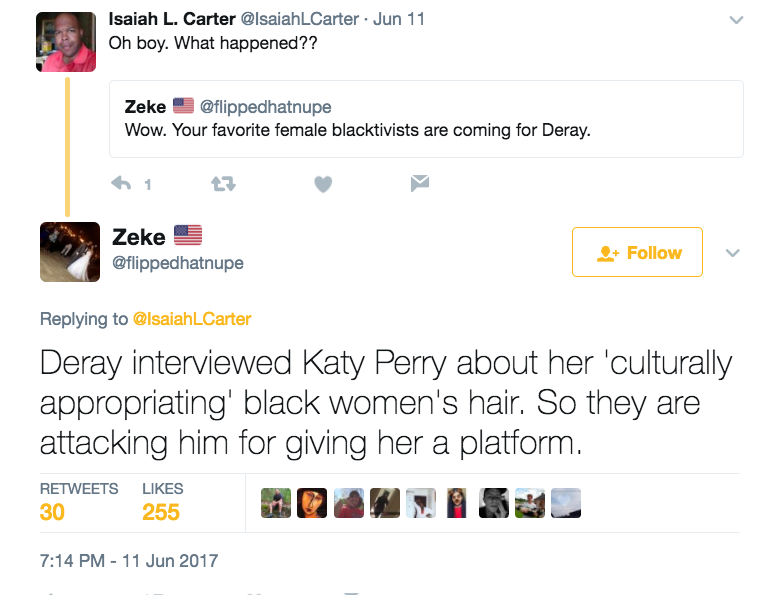 He stepped in to defend himself, urging people to listen to the full interview.