Chrissy Teigen Opened Up About Fearing Having Her Breast Implants Replaced Now She's A Parent
"This is not the way I want to die — in boob surgery."
Chrissy Teigen has opened up about her fears of undergoing surgery to have her breast implants replaced now that she's a parent.
Speaking to Glamour, Chrissy revealed for the first time that she had breast enhancement surgery at the age of 20 to further her swimsuit modelling career.
"I did my boobs when I was about 20 years old," she explained. "It was more a swimsuit thing. I thought, If I'm going to be posing, laid on my back, I want them to be perky!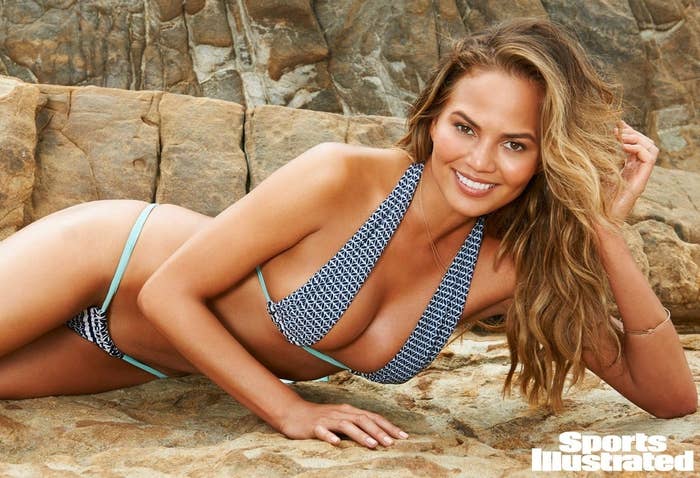 "Honestly, I kept them the same cup size," she went on. "I just filled them out so they are rounder and firmer. I had a quarter 'teardrop' cup in the bottom and filled out the breast line."
She went on to say, though, that after having her two children, Luna, 3, and Miles, 1, her breasts "filled up with milk and deflated" and have now changed shape, leaving her "screwed".
However, becoming a mother has also made her fearful of undergoing surgery to have the implants replaced — something that many people end up doing after 10 years.
"I want them out now," she said. "If I could do one thing, it would be to have a lift. I think you're supposed to replace [implants] every 10 years. But when you have kids, you think about the risks of surgery and think, This is not the way I want to die — in boob surgery."
Later in the interview, Chrissy went on to reveal how having children has changed her perception of her own body after years of being obsessed with her weight.
"I used to weigh myself every morning, afternoon, and night," she said. "I did that for eight years and had this one weight I wanted to be at. That changed with Luna and really changed with Miles ... it took me a year to be comfortable with my new normal number."
Her "new normal" weight is something Chrissy has touched on before, in response to people asking how she indulges in such good food while maintaining her ~model figure~.
"Basically, I'm 20 pounds heavier than I was before Miles," Chrissy wrote in a series of tweets in 2019. "He's 10 months old. I never lost the last bit because I just love food too much. Just coming to terms with my new normal, when I had this certain number for so long."
And she went on to say that she much prefers how she looks now as opposed to her body at its "thinnest" after she gave birth to Luna and experienced postnatal depression.
Glamour UK's spring/summer 2020 issue goes on sale March 5.