Heidi Klum was preened to perfection.
And Katie Holmes' glam squad began work too.
She of course kept us up-to-date with proceedings with this selfie.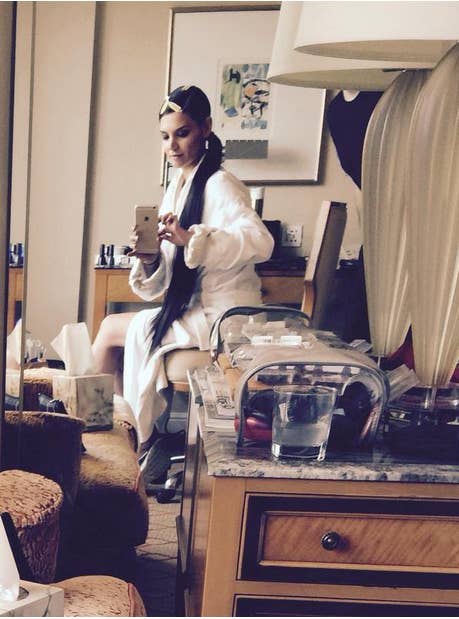 Jennifer Lopez shared this photo as she made her way to the red carpet.
Before posing up a storm.
And took selfies all night.
Giuliana Rancic made sure her lipstick game was on point before hitting the red carpet.
Keira Knightley looked GLOWING.
Matthew McConaughey's beard was everything.
Jake and Maggie Gyllenhaal were the cutest siblings on the red carpet.
Channing Tatum and Jenna Dewan-Tatum made us wonder how it's humanly possible for a couple to be this attractive.
Kelly Osbourne papped the paparazzi.
Eddie Redmayne had a catch-up with James Corden. 🇬🇧
Anna Faris and Chris Pratt restored our faith in romance.
Emma Stone was just perfect.
Selena Gomez found herself in the middle of Justin Theroux and Paul Rudd and we were painfully jealous.
Lena Dunham shared this snap from her table inside the ceremony.
Kate Hudson touched up her makeup...
Chrissy Teigen gave husband John Legend a kiss for good luck.
Then revealed that he was watching football on his phone before the awards began.
Before mocking her "crying face," which quickly became a meme after the ceremony.
And then settling down with burgers after it was all over.
Khloe Kardashian got glammed up for the after-party.
In fact, she had an entire team perfecting her look.
...but was worth it in the end.
Gwyneth Paltrow missed the red carpet due to her hair schedule running over...
But she looked flawless for the after-party.
Well, she wore a tiny bit of makeup. Nothing major.
Then the after-parties began...
Rita Ora casually hung out with Jennifer Lopez.
Colin Firth was very happy to be there. ❤️
Jared Leto was the image of perfection.
Jack Black tried out a new pose.
Kate Beckinsale looked like an absolute goddess.
George Clooney was as beautiful as ever.
Eddie Redmayne brought his cheekbones along for proceedings.
And finally, this photo happened and it was everything.