1.
A set of sunscreen reminder stickers to pair with your body sunscreen so there's someone besides you and your pal who're wading in the waves to remind you that, uh, yes, you do need to reapply! Oh and they last for 12 hours. Once a sticker turns colors, it's time to reapply. 

Check out a TikTok of the sunscreen stickers in action. 
Promising review: "Just used this product on a recent trip to Florida. I made sure to wash my skin before application and it lasted about two days on my skin without coming off. When out of the sun or behind UV glass, like in a car, the spot turns clear. As soon as you step into the sun it turns purple. If you use a sunblock it starts to become clear or semi clear. After being on the beach and having gone into the water a few times the spot started seeing purple and I applied sunblock again. In a minute the spot was clear again. So this is very effective In alerting me when to reapply." —RGTorque
Get two 16-counts from Amazon for $25.99+ (also available as a 48-count). 

2.
A set of towel clips you'll be grateful you packed once the wind kicks up as you're 20 feet away tossing a football with your pals. (And you can use it to hang up your wet swimsuit after.) 
Check out a TikTok of the towel clips in action. 

Promising review: "I purchased these for a family of eight going on a cruise and they loved them! So easy to use, just put your towel on the beach chair and clip down with these. They said they were especially awesome on windy days when others towels were blowing away if they were not sitting on the chair. The family was able to go to lunch or take a walk and not worry that their towels had been blown away and someone had then snagged their seats. Very inexpensive and functional clips." —TypeA
Get a set of 16 from Amazon for $9.99. 
3.
A Burt's Bees sunburn soother because sometimes the family WILL get burnt from some fun in the sun — even if you've been on VERY strict sunscreen patrol. Its aloe vera and coconut oil formula is super gentle on skin while helping relieve pain, redness, and swelling.
4.
A *solid* Neutrogena SPF 50 sunscreen that really sticks to your skin on your tropical (or just plain sweaty) vacation. Oh, and because it's a solid, it's carry-on–friendly!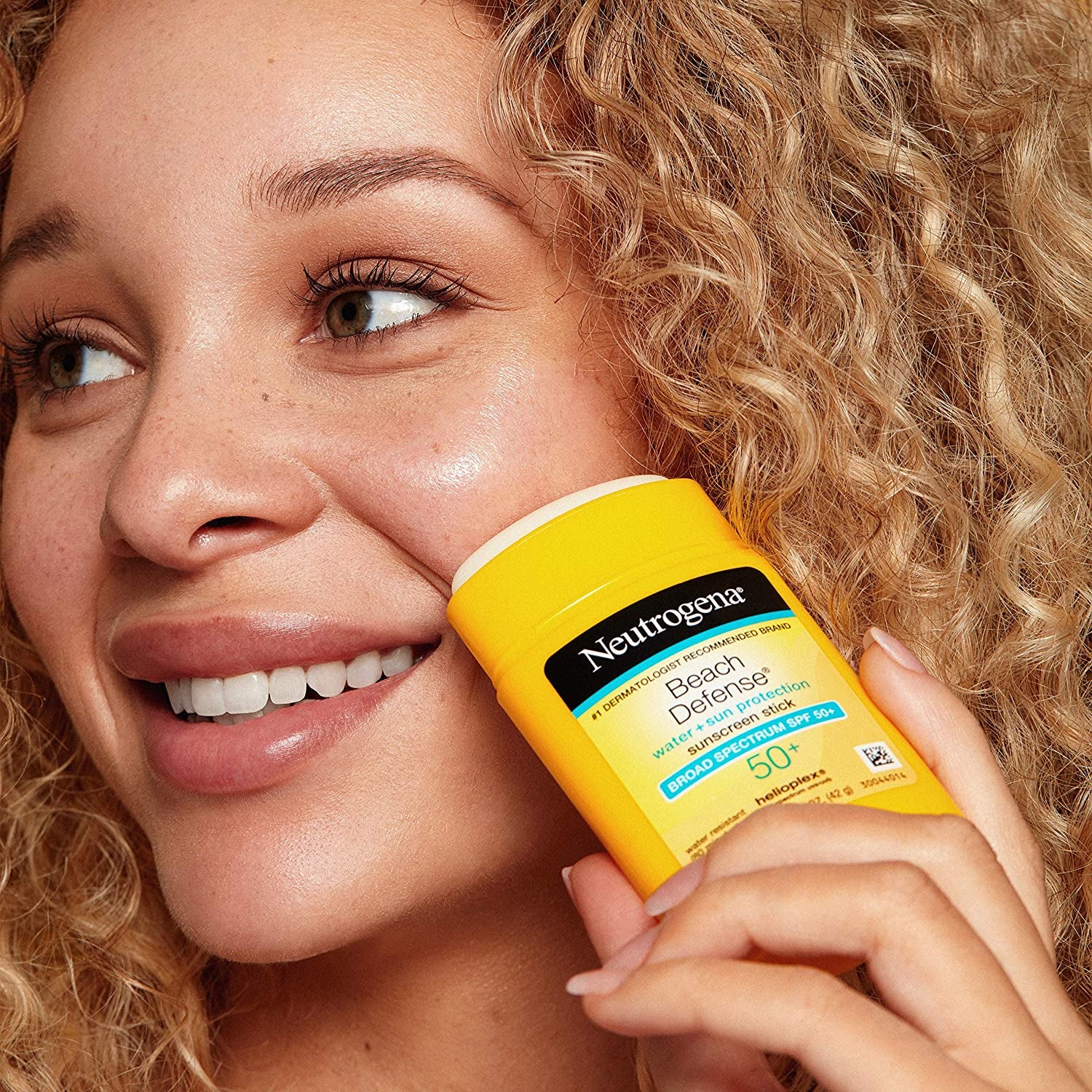 I first bought this for a weeklong Croatian vacation two years ago when I did carry-on, and as long as you are *thoroughly* reapplying, this stuff stays on pretty well. On a beach club afternoon, I did haphazardly reapply and missed a strip on one arm, but I tend to do that with spray-on or lotion sunscreen, too. Since then, I've packed this for any trip I've been on, including a two-day Disneyland trip where I toted this around in my bag and shared with friends. I sometimes carry it with me in my purse on my everyday adventures because I know it's so easy to apply. Also worth mentioning...I am about the palest lady you've ever seen and swear by daily application of sunscreen. But when on a beach trip, I'm constantly swimming in the water and sweating. So yeah, this stuff works. 
And if you're a bit hesitant about jumping on the solid sunscreen bandwagon, you can pack a stick of this, knowing you have enough sun protection to get you through to finding some spray-on or lotion SPF at your destination. 
Get it from Amazon for $10.17.
5.
A set of Sea Bands with a little nub that targets the acupuncture point on your wrists meant to help reduce nausea. This'll be great in case you get motion sick on boats. 
Promising review: "My car sickness has been getting worse for years. I drive often with my family back to my hometown about five hours away. I put these on and was finally able to ride without constantly fighting nausea. They fit comfortably and I quickly forgot they were on. This feels like a simple, cost efficient fix." —Breya Porter
Get a set of two from Amazon for $8.53 (available in adult and children's sizes).
6.
A stick of Gold Bond Friction Defense can stop chafing caused by sweat before it even starts. It's sooo good and better than any other competitor in the thigh-saving category. Toss this in your bag and apply before you go on that long, lovely beach stroll.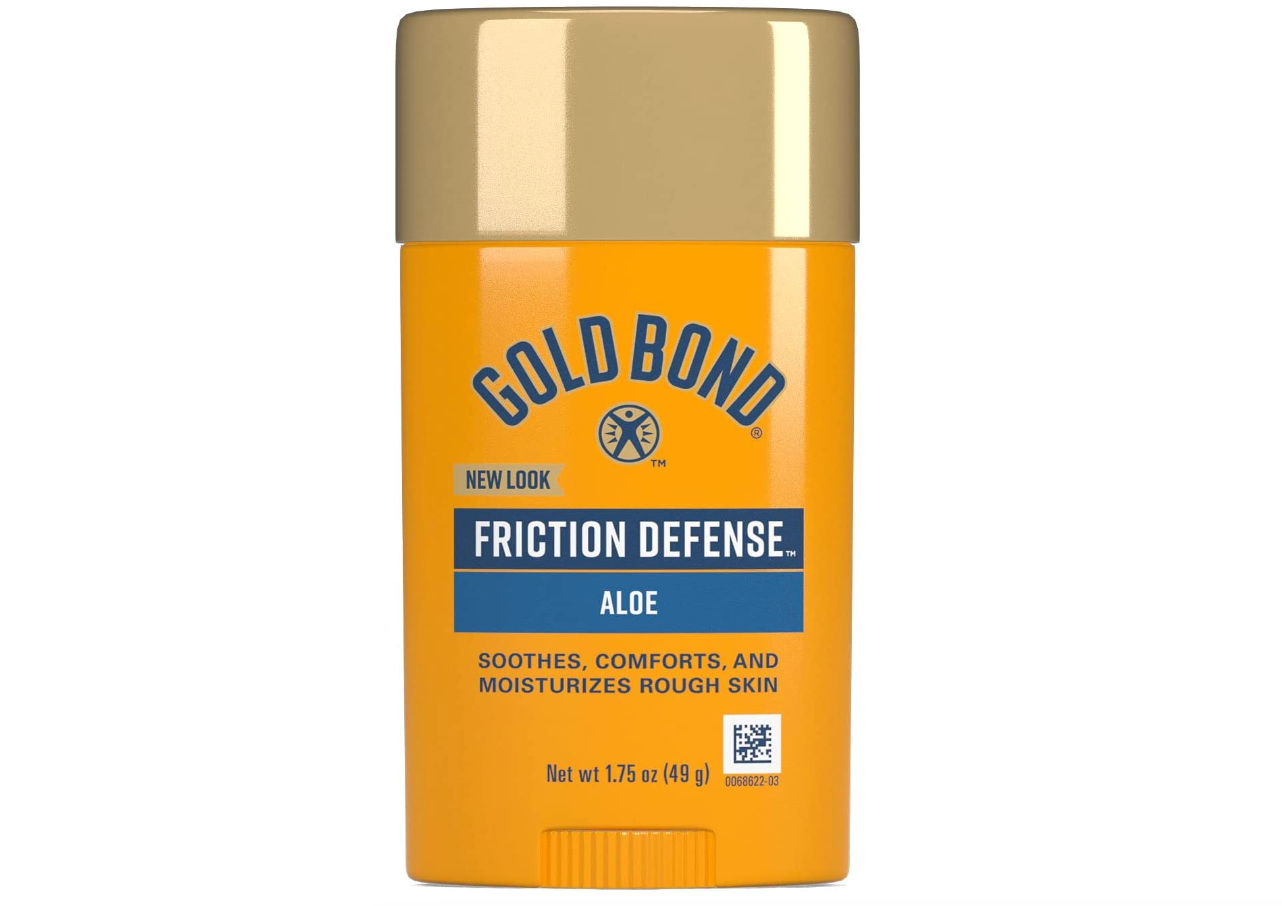 Promising review: "Whoooo sometimes I feel as if a fire is going to start between my fat thighs, but with this stuff they just glide right on by each other, it has been a summer life saver. Only thing is you have to pack it on and reapply maybe 4 hours in, so bring it along for the ride. I will be buying again." —Ash

Get it from Amazon for $6.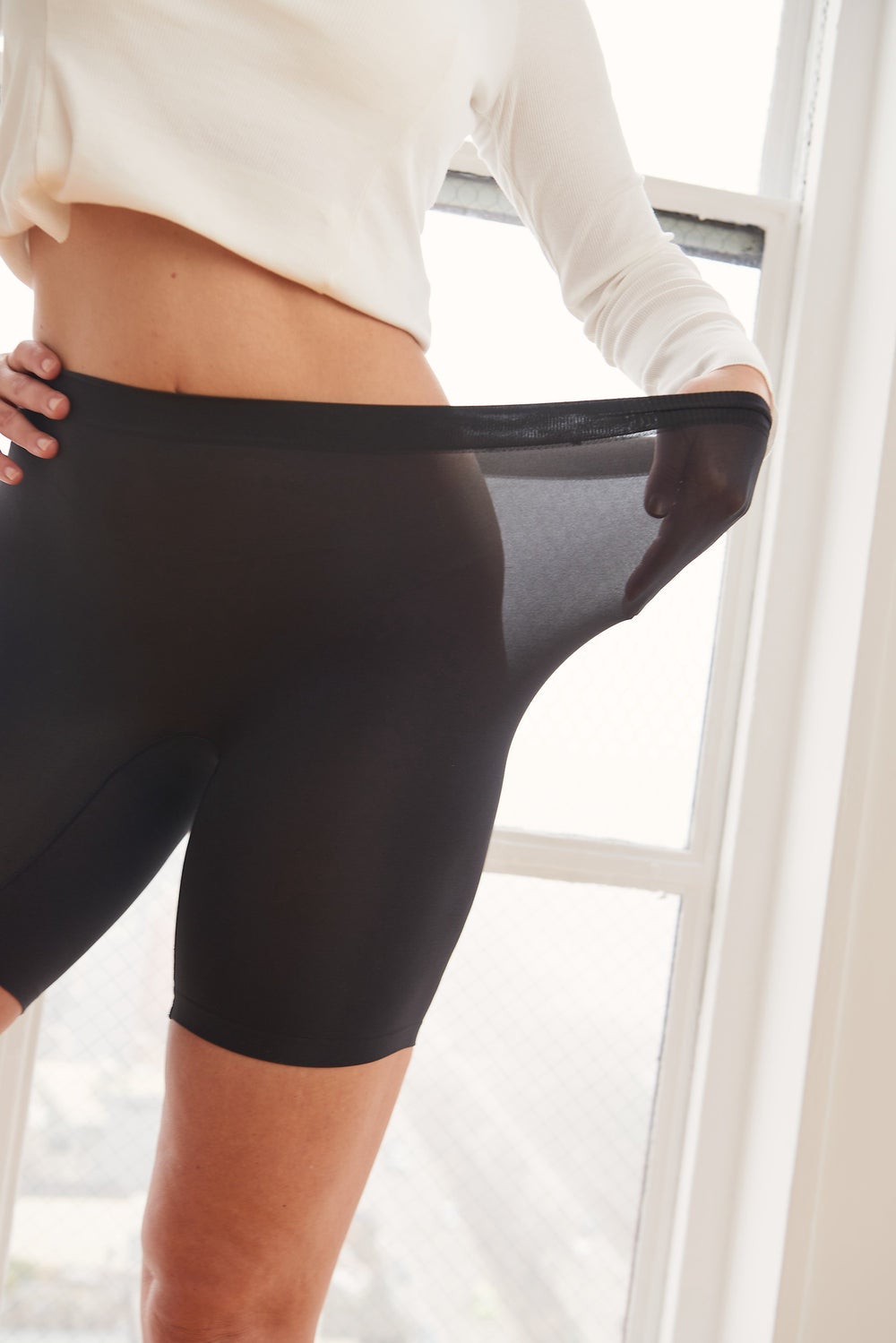 Promising review: "I bought these to wear under dresses for a trip to Europe because it was supposed to be really hot, and they worked great. They were light, stretchy, and there was no chafing. Maybe not the most moisture wicking, but they were very comfortable, and I wore them several times." —Meghan O'Leary
Get it from Thigh Society for $39+ (available in women's sizes XS–2XL, four lengths, and in nine colors). 
8.
A set of Liquid I.V. Hydration Multiplier packets, an electrolyte drink mix infused with potassium and vitamin C you can stir into a bottle of water to help speed up your hydration. After all, on beach days you aren't so good at drinking water. So this is a great preventative measure. (I also personally love these for travel and hangovers, and hangovers while you're traveling.)
Psst — it's  also gluten-free, soy-free, and dairy-free! 

Promising review: "I love this stuff!!! In Florida, where the sun can take the moisture out of you between the heat and the humidity, you can tend to get a little dehydrated, no matter how much water you drink. I put one of these packets ion my large water bottle and drink. I start to feel better soon after I drink one. I don't do more than one a day, unless I am working extra hard outside in the summer heat. It reminds me of lemon/lime sports drinks without that awful sugary after taste." —N. Abdallah
Get a pack of 16 from Amazon for $23.45. 
9.
A portable safe for securing to a beach chair to keep your valuables safe or to keep your passport in your hotel room in case there's no safe or the safe isn't working. (Raise your hand if you've stayed in a small hotel without a safe. ::raises hand::)
After putting this in MANY travel stories, I bought one for myself for a summer European vacation where I found myself at several beach clubs. It was perfect for keeping mine and my friend's belongings safe while we dozed in our beach chairs or swam in the sea. Plus, it's the perfect size to hold phones or wallets, and easily carry in your beach or tote bag. 
Promising review: "This safe has become a MUST-HAVE on all our vacations. We no longer travel without it. We put two iPhones, cash, and car keys in this little safe, locked it to a beach cabana, threw a towel over it and took off for a hour of snorkeling. Never once worried about our belongings. We now use several of these as room safes AND as 'hide a key' lockboxes outside our vacation condo for teens who come and go throughout the day. They are invaluable!" —KeepIT Reel
Get it from Amazon for $26.99+ (available in three colors).
10.
Tide sink packets with the perfect amount of detergent for a sink wash to help lighten your clothing load and help you rewear swimsuits. Plus! These'll easily slide into the toiletries bag that you thought had no. more. room. Seriously, it's time to get over packing an outfit for every freaking day of your trip. No one cares.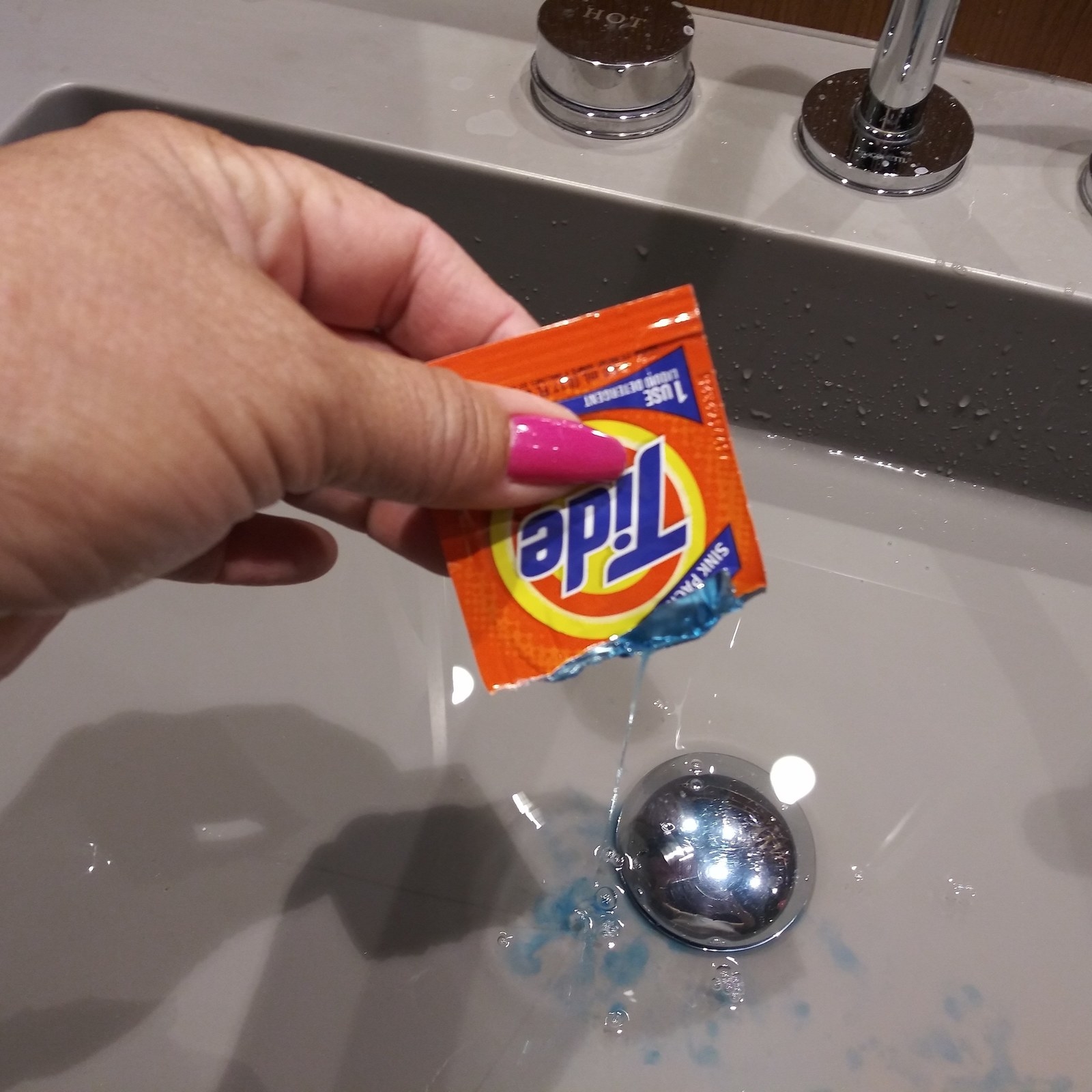 Each pack comes with three packets. And, because they *are* liquid, they'll easily slide into the side of your toiletries bag. I've packed these on international trips to much success!
Promising review: "I have taken these packets on travels throughout the world. They are small and fit in my bag. They are good for a wash in a sink or wash bag. I use tide at home donut is my wash if choose. Glad to have them. They don't leak either." —Barbara Jefferson
Get nine packs from Amazon for $6.75.
11.
Or a pack of laundry soap sheets you won't have to slip into your toiletries bag if you're flying. This way you can save more room for souvenirs than three changes of underwear for every day of your trip. 

I travel just about any chance that I get and found a WHOLE lot of success with these little laundry sheets on an almost–three weeks European vacation this summer where I carried on–only and rewore outfits several times. 
Promising review: "This came SO in handy during my vacation to Europe! I was making lots of different stops to places with different types of weather. With these laundry soap sheets I was able to wash my clothes in the sink — letting me pack just the right amount of clothes for all the different places I went." —Katie Fujarski
Get it from Amazon for $5.39 (available in four other styles, including hand soap and shampoo).
12.
A pack of collapsible pails that'll take up a little way less space in your beach bag for the very important task of building sand castles. Have you ever bought a sand bucket at a tourist shop? Yikes. 
13.
A sand removal bag filled with talc-free, reef-friendly powder to help you brush off the scratchy stuff that you don't mind on the beach but would *like* to leave on the beach where you found it. 
See it in action on TikTok here. 
Shakalo is a  San Diego-based small business started to figure out a way to help people, especially parents remove sand before leaving the beach. The soft fabric pouch allows the powder to remove the sand without scattering everywhere.
Promising review: "As someone who loves the beach but hates the sand, this product is a lifesaver! It was very easy to travel with and came in handy many times. Some would say it's a non-essential, but I will never visit the beach without this product!" —Mackenzie Lindenberger
Get it from Amazon for $24.99 (available in two sizes).
14.
A packing list pad so you can rest assure that you DID bring everything you intended, including which things you wanna include in your carry-on and which things you wanna check.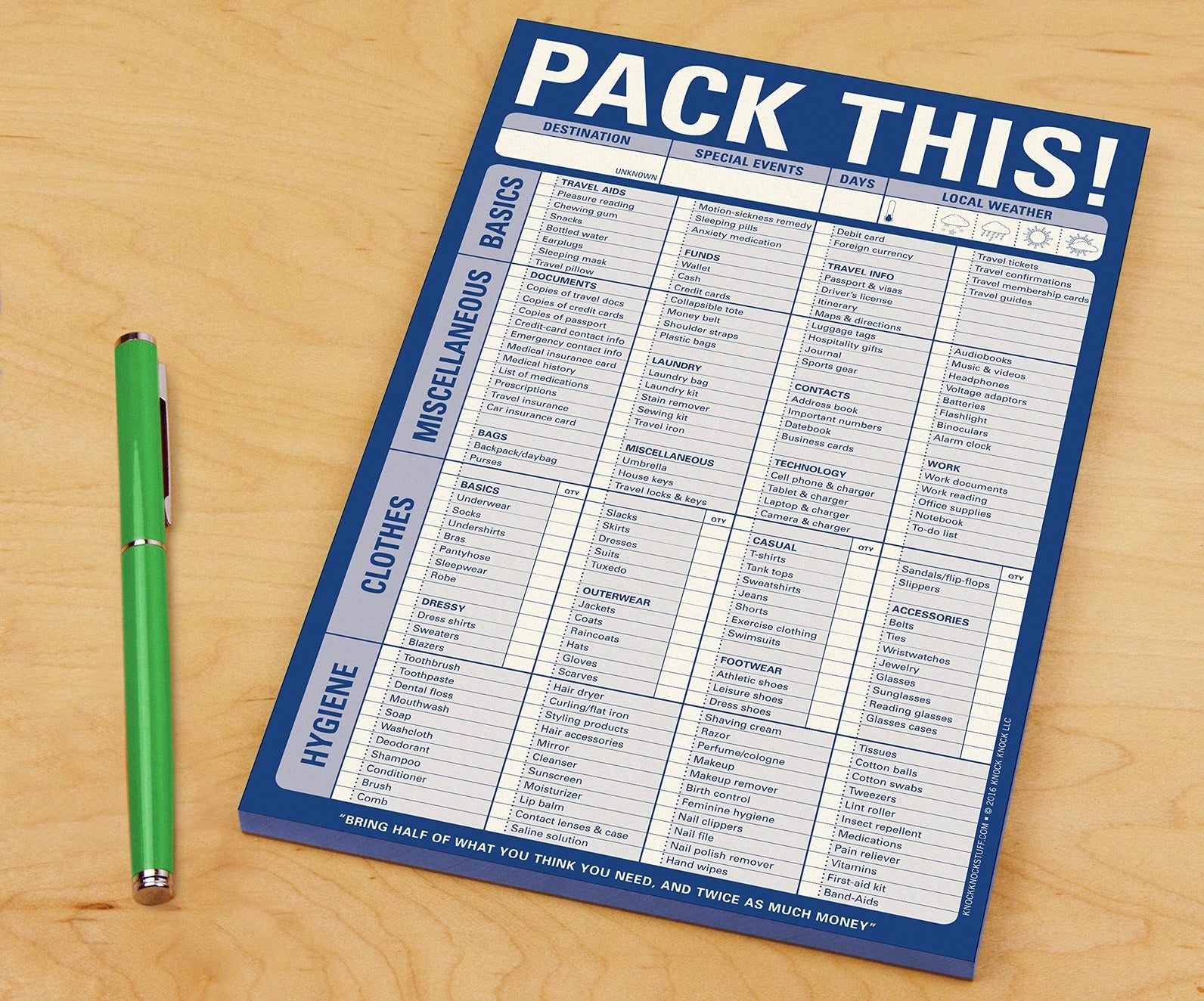 Promising review: "If you travel often for business or pleasure this is the list for you! It helps me to plan ahead for my trips and even has a cute little section to write in the number of days and weather for my destination! This list has become essential for every trip I take!" —Kpille1
Get it from Amazon for $7 (available in 15 colors)
15.
A water bottle with a Brita filter so you'll feel confident in drinking the water from a water fountain in a place you're a little iffy about. Or course, check up on the water quality in your locale!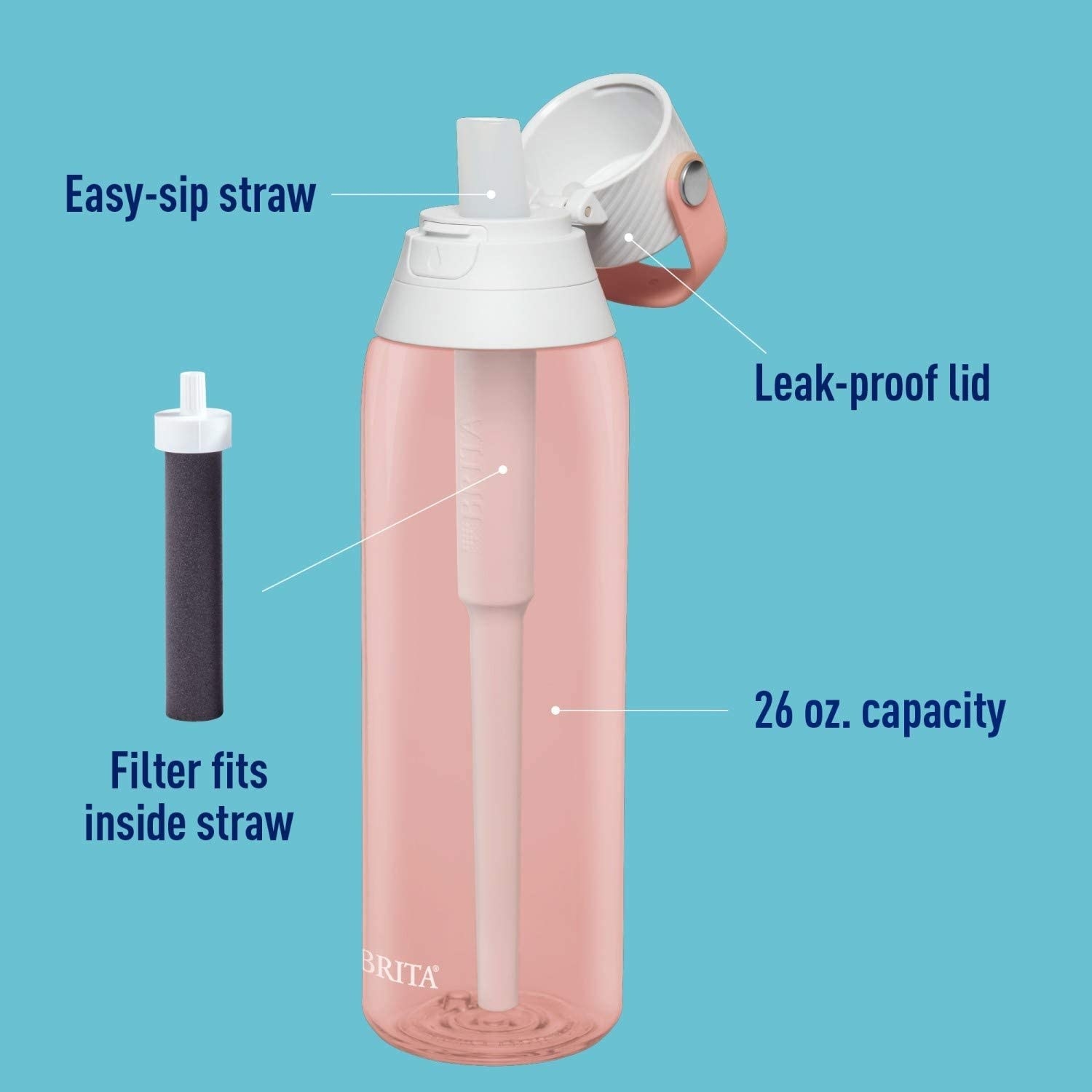 Promising review: "Holy moly. How did I live my life without this. I have always had a Brita container in my fridge, but I'm not home a lot. I travel and work, and am at school but no matter where I am, I have clean, fresh tasting water. My only regret is that I did not buy it sooner. Awesome product." —Alexa Lyles
They do require replacement filters every two months; you can find a pack of five of those for $14.65.

Get it from Amazon for $22.99+ (available in two sizes and five colors, and in insulated stainless steel in six colors for $36.90).