1.
Washing machine–cleaning tablets — you can lazily run them through a cycle and keep the machine that cleans your clothes in tip-top shape.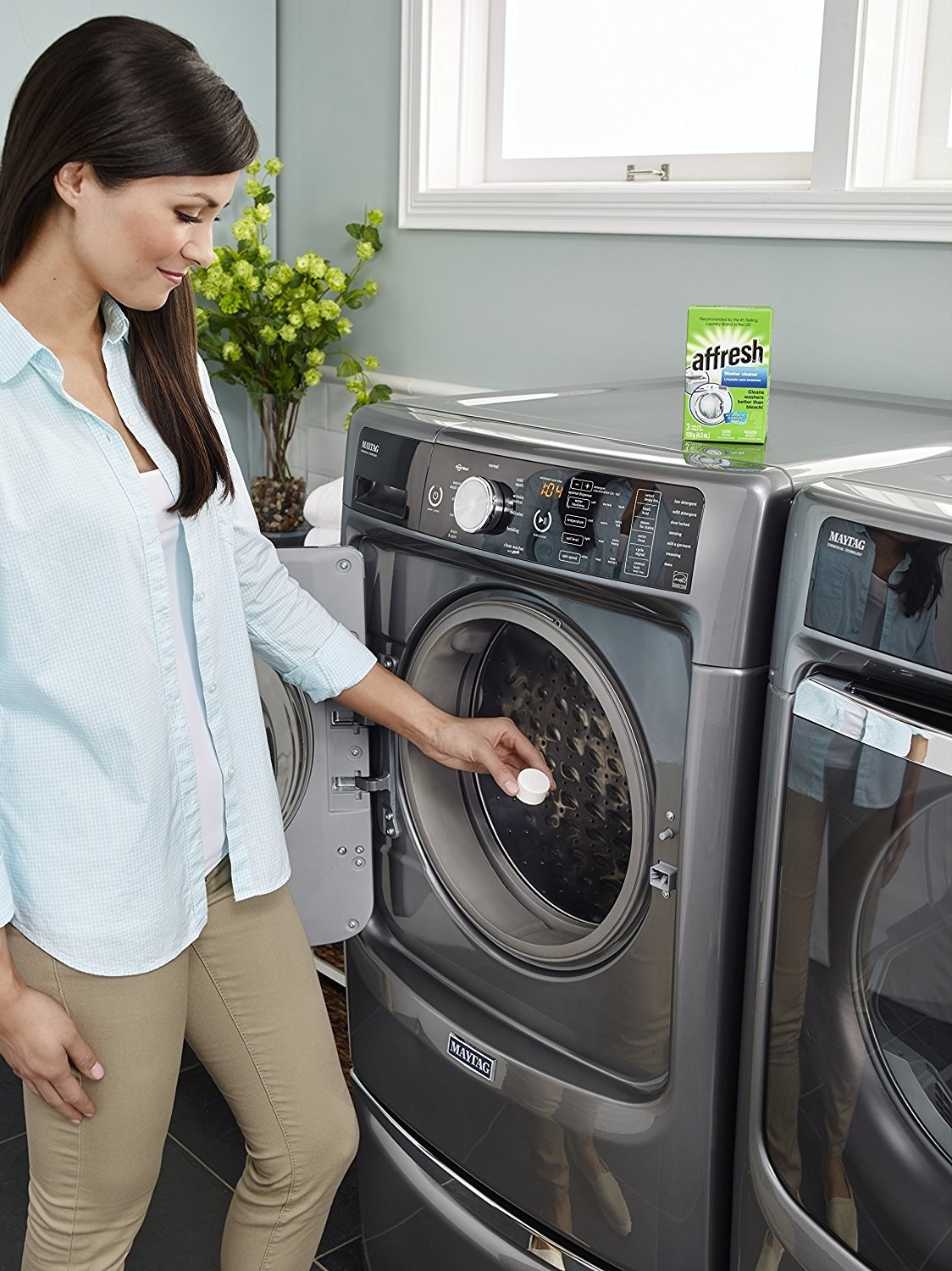 Promising review: "I have been using bleach to clean my machine for some time, but decided to give this a try a few months ago. My very first clean with Affresh left me surprised and delighted, for not only did it clean my machine, it eliminated the nasty smell that always transferred to my clothes thanks to a buildup of mold I didn't even know about. Every month now, I toss a tablet into the drum and let it work its magic. Now, my machine is cleaner than ever, and my clothes always smell wonderfully fresh." —Kelli Crawford
Get a box of six tablets from Amazon for $11.99.
2.
And dishwasher-cleaning tablets so you won't have to put forks back in for repeat washes because last night's dinner is still stuck to the tines.
Promising review: "After using this product, I am happy to report that my $5 investment saved me over $500. I was ready to replace my dishwasher due to super cloudy glasses, residue, and dishes just not getting clean. Then, I became aware that the water softener was no longer doing its job so I had the rental company replace it. Dishwasher performance improved somewhat. I decided to do two more loads before deciding to purchase a new one. Then I saw a product test review for Affresh. I was ordering some stuff from Amazon anyway so I added that to my order. When it came, I tossed one of the tablets into the bottom of the full machine per the instructions and ran the regular cycle. I did not expect the results I got! The glassware that I thought was permanently etched and ruined came out like new. Same with cutlery. The difference is unbelievable. I will use this faithfully every month, as recommended. I can even put it on my subscribe and save order so I will get a new pack every six months. I am amazed!" —Sheila
Get them from Amazon for $5.99.
3.
A dishwashing spray (while we're on the subject) for anyone without a dishwasher (or even with one!) who wishes they could just close their eyes and have someone scrub at baked-on gunk. Ok, this won't scrub for you but'll make it to where you just have to SWIPE off the gunk and rinse instead!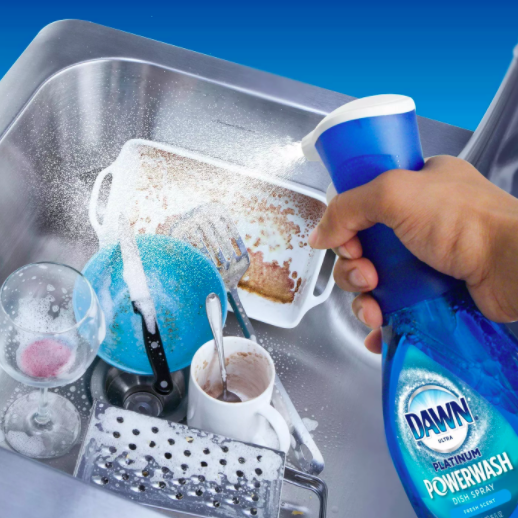 I live in an apartment without a dishwasher, and I honestly use that as an excuse to order takeout food instead of cooking. But, as soon as I got my hands on a bottle of this stuff (regular Dawn is my go-to dish soap, BTW), I put it to use on both a saucepan I used to make homemade enchilada sauce *and* the casserole dish I baked those enchiladas, which had a ton of caked-on food. It really does work like I say it does! Like, scary well.
Get it from Target for $6.09 (and get a refill bottle for $3.99).
4.
A weird squeegee for getting alllll the pet hair out of your carpet (for once in your life!) so you can go longer in between cleanings.
Promising review: "Omg it works so well. And it's extremely easy to use. I read previous reviews and used the squeegy side rather than the bristle side and I'm obsessed. This photo is just from doing my bedroom. (My dog is extremely proud of all of his fur.)" —Jessica Glackin
Get it from Amazon for $12.44.
And for detailed fur removal on furniture, check out the Fur-Zoff Pet Hair Remover and Gonzo Pet Hair Lifter sponge.
5.
Water bottle-cleaning tablets to make sure your go-to container that, like, you rinse but don't SCRUB so often actually gets cleaned.
Promising review: "I wasn't sure if this was a gimmick or not. Turns out it works really well. I have four metal thermos-like containers that are used to keep tea warm every day. Over time, the tea stained the insides and was very difficult to remove. I added one of these tablets to the container, filled it with hot water, and let it sit for a few hours. When I came back to rinse it out, I was literally amazed at how clean it was. I think it looked cleaner than when they were new. I called my wife over to show her, and she was equally impressed. Awesome product!" —Robert A Moreno II
Get 12 tablets from Amazon for $8.
6.
Phonesoap, a gadget you've seen on Shark Tank that'll charge your phone *and* sanitize it at the same time. It also works for any item you can fit inside, like reading glasses!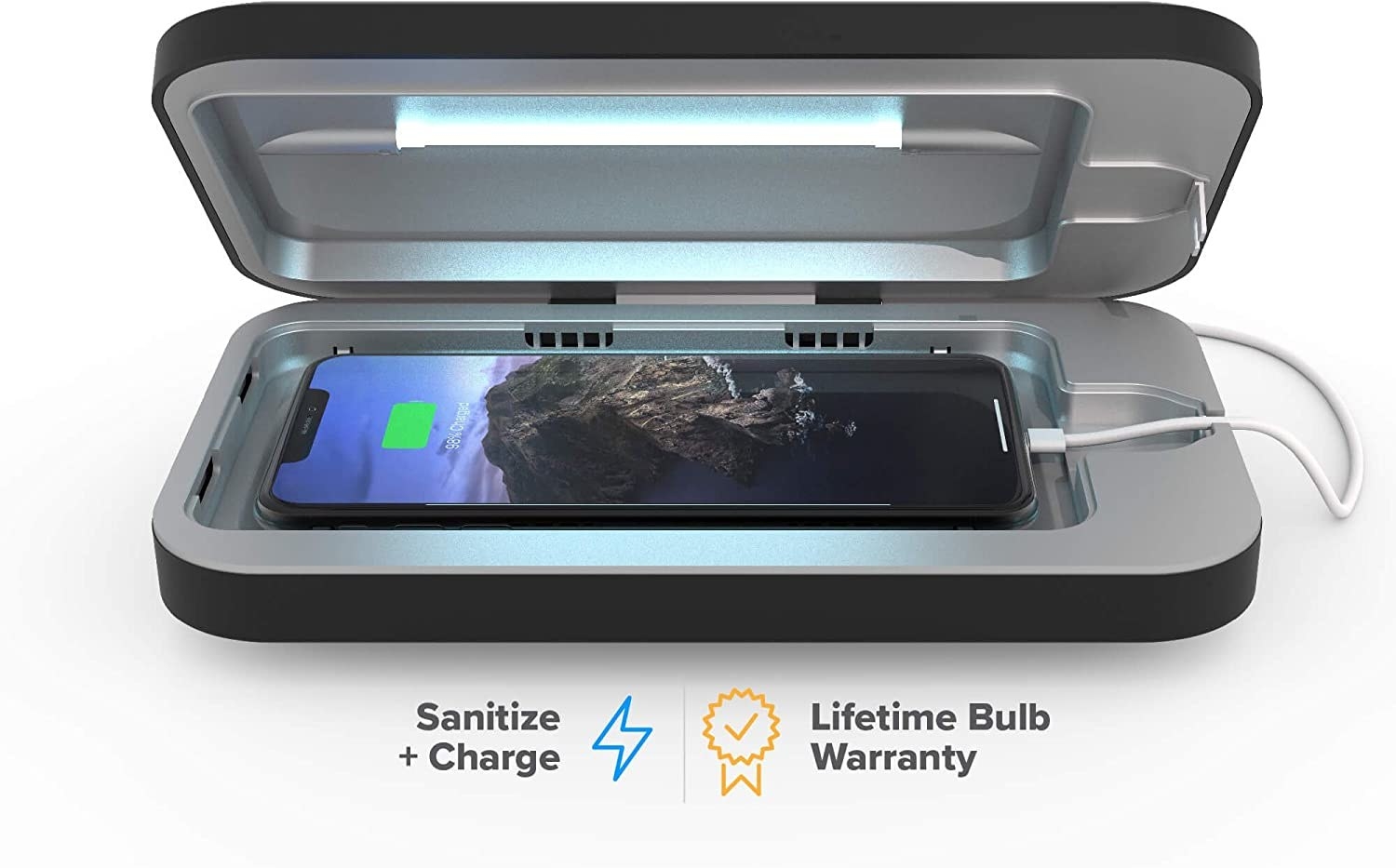 Promising review: "We carry our phones everywhere and touch them constantly. They rest on the table, the counter in the toilet, the compartment in your car. The recent COVID19 pandemic has educated everyone about the need to sanitize every surface (especially your phone). When all of the disinfectant wipes were sold out, I still cleaned my phone every day using PhoneSoap. No liquid to damage the electronics. Just UV light to kill bacteria and viruses. Just place the phone (or keys, or any other object) inside the box and close the lid to start the 10 min. cycle. When the light goes off, simply open and remove your phone. I wish my office had one to clean all of the dirty phones of my coworkers!" —Adam Cohen
Get it from Amazon for $79.95.
7.
A stainless steel cleaner that'll leave a streak-less shine on appliances instead of a trail of greasy fingerprints.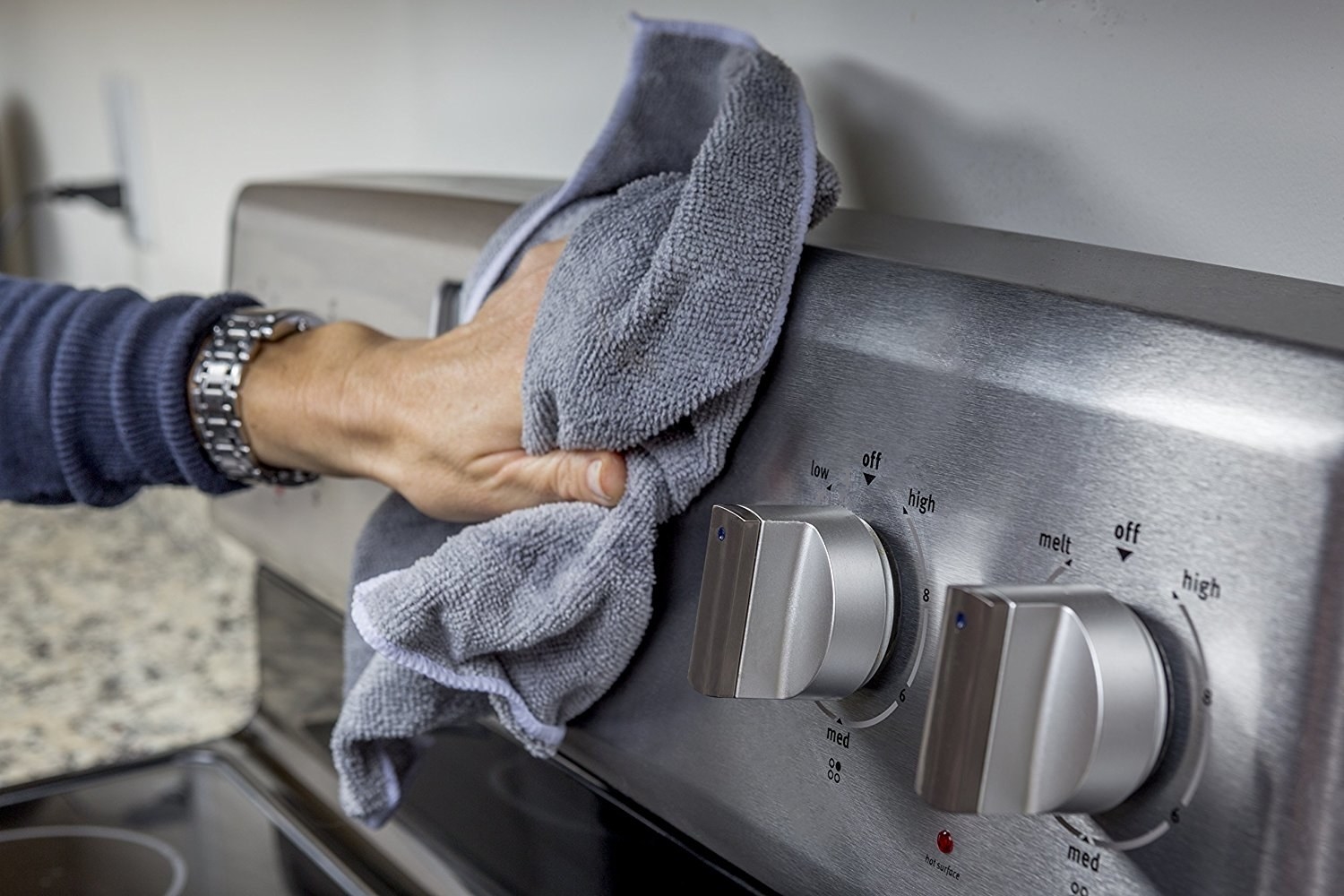 Promising review: "I had high hopes for this product and they have been met if not exceeded. With only a small amount of product it cleans and polishes without leaving streaks. There is not a lot of rubbing involved, just wipe on and a few strokes to polish off. I am very pleased with the product and have purchased it again for my daughter." —J amz online
Get it from Amazon for $14.97.
8.
A Tubshroom to catch an ALARMING amount of hair that'd otherwise go down your drain and eventually lead to a messy clog. (FYI: once you see a drain snaked, you can't unsee it.)
It's scary how well this works.
Promising review: "I have long hair and always lose a lot of hair in the shower. I moved into a new house and the drain cover they had clogged every single time I showered. It was annoying and gross. I use a thick conditioner and that mixed with hair left a nasty hair ball that was visible the entire time. Since I got the shroom I haven't clogged the shower yet. It catches my hair but I don't have to look at it until I clean it off. Also I think the design allows the conditioner to pass or at least dissolve so it's not assisting in clogging my drain. Overall very happy. Wish it came in pink, but that's my own problem. I got the gray color." —Cassidy rill
Get it from Amazon for $12.99+ (available in six colors).
9.
A concentrated cat litter deodorizer that won't make it apparent when you've been a little lax on cleaning up your cat's bathroom. Unless your cat looks super judgy like this cat model....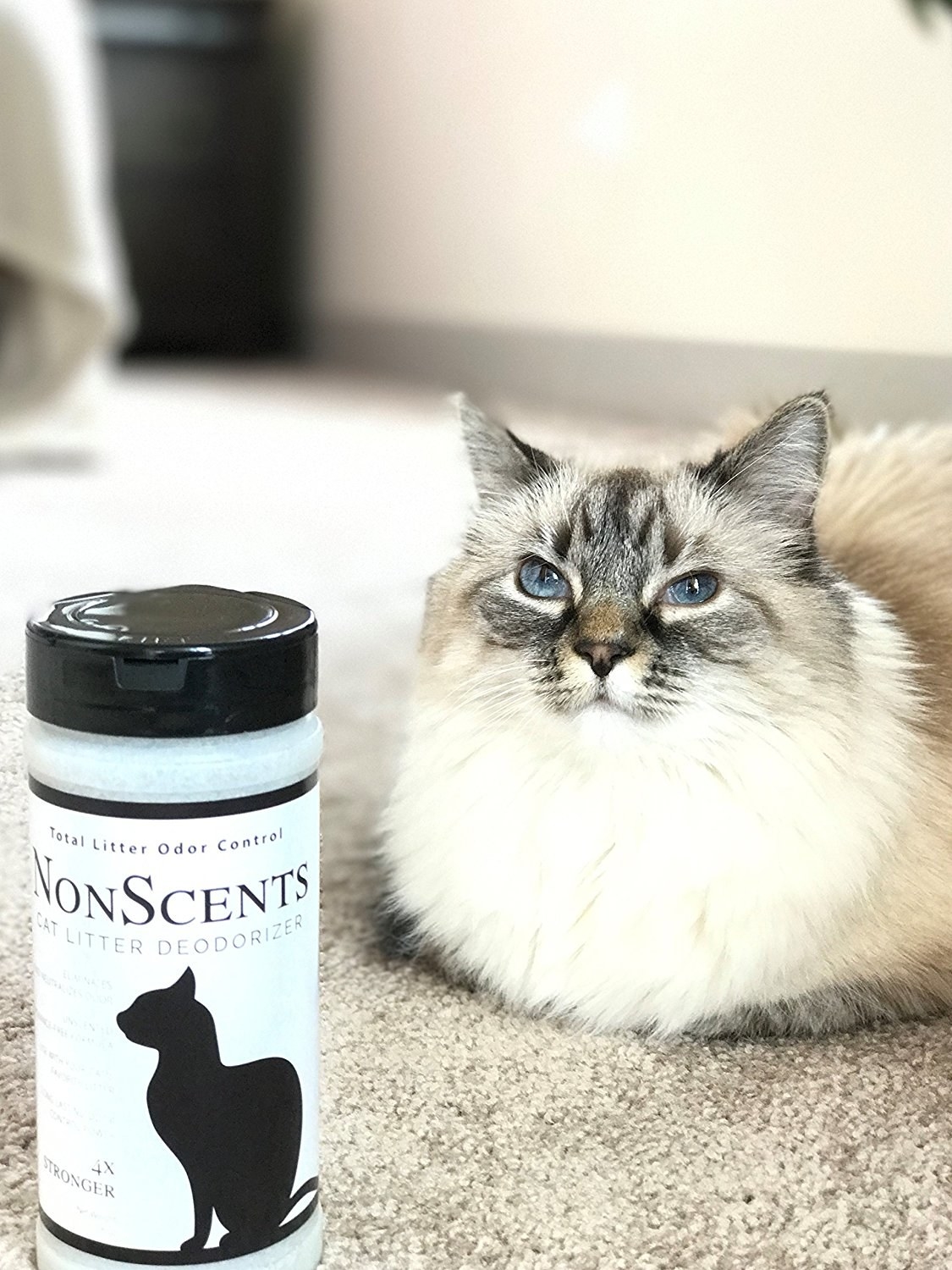 Promising review: "This stuff is seriously amazing! I have three high-yield poop machines masquerading as cats, and it's a never-ending mission to make sure the house doesn't smell like a litter box. I try really hard to ensure the house is clean and smells good without using harsh chemicals or aerosol sprays. Within the first day of using this I noticed that the slight lingering ammonia/poop smell wasn't noticeable when walking into the house anymore. After a few days I realized that I couldn't smell anything even as I was scooping the three liter boxes. There wasn't a fake perfume smell covering up a smell, there literally wasn't a smell at all! The product smells very fresh and clean in the container but there's no odor when applied into the liter. I'm very happy with this amazing stuff and I recommend it to anybody with cats who doesn't want to use potentially harmful sprays or perfumes. So thank you NonScents. I'm a very satisfied customer!" —Tori
Get it from Amazon for $11.97.
And check out more product recs that'll keep your place smelling clean.
10.
A set of K-Cup cleaning pods in case your Keurig is starting to have problems. Give these for a go for less than $10 before shelling out cash for a new machine!
Promising review (for the pic on the left): "Ran it through three times. It truly works!" —Shawna20
Promising review: "I bought this product because the needle in my Keurig 2.0 keeps clogging causing inconsistent brew and taste. These cleaning cups fixed both of my issues and especially liked that it was really quick and easy to use… I put the cleaning pod in and ran one cycle, then took the pod out and ran a rinse cycle to clean out any leftover grinds. FAST, EASY, and GREAT results…VERY HAPPY!!" —Corey West
Get a six-pack from Amazon for $9.95.
11.
A flexible mop to get at tiny dust lines that work their way into the nooks and crannies of your baseboard.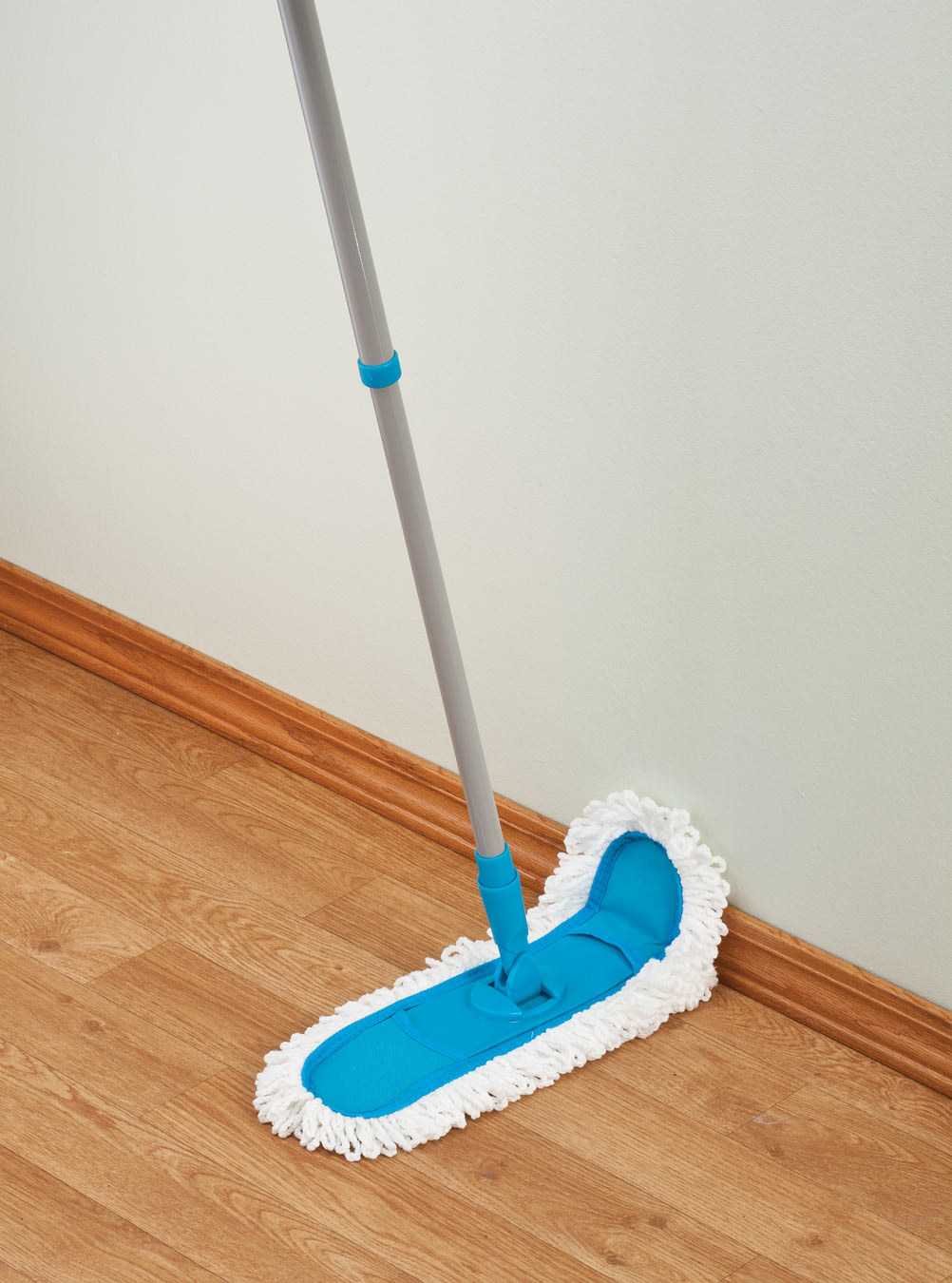 And the microfiber mop bends on both sides!
Promising review: "Love this thing — it's so much better than other similar products. I can dust the walls, corners, behind the refrigerator, etc. At 68, my days of crawling around on the floor to do baseboards is over. This is a great item." —KATHY L.
Get it from Walmart for $25.68.
12.
Detail cleaning brushes that'll get at the scummy parts around sink faucets, drains, and other fixtures that tend to build up over time if you ignore them.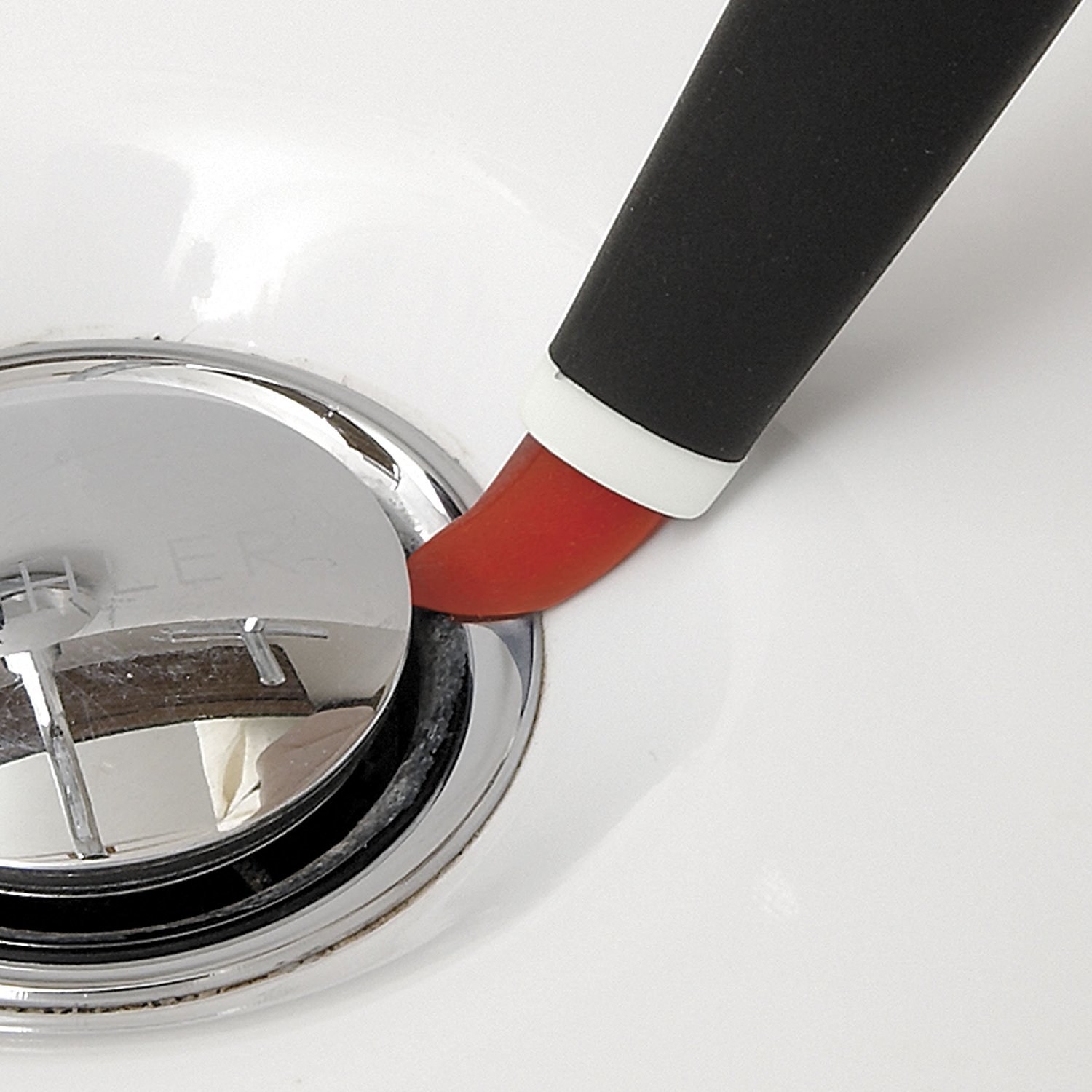 Promising review: "A universal problem is being able to clean in those tight spaces and corners where dirt, dust, and grunge just seems to be drawn like a magnate. I really didn't know what to expect size-wise, but these have been just great at getting into those tight spaces. The larger brush is probably just a bit larger than a regular adult toothbrush. It has a good, comfortable grip and there is a comfortable spot to place a thumb or finger where the brush tilts back. The smaller brush is small — smaller than a toothbrush, more like the size of a child's toothbrush. It has angled bristles and a good, comfortable grip. The opposite end has a tough rubber tip that allows for cleaning out the drain in bathroom sinks. I've found this is a great tool to clean out channeled areas, such as the rim around my toaster that seems to collect crumbs!" —M. Galindo
Get it from Amazon for $7.99 (available in two color combos).
13.
A blind duster to slip into the places where dust hides because you remember that one time you dunked your blinds in the bathtub to clean them and you swore you'd never attempt it again. Now now, that method WORKED. But it was A LOT of work.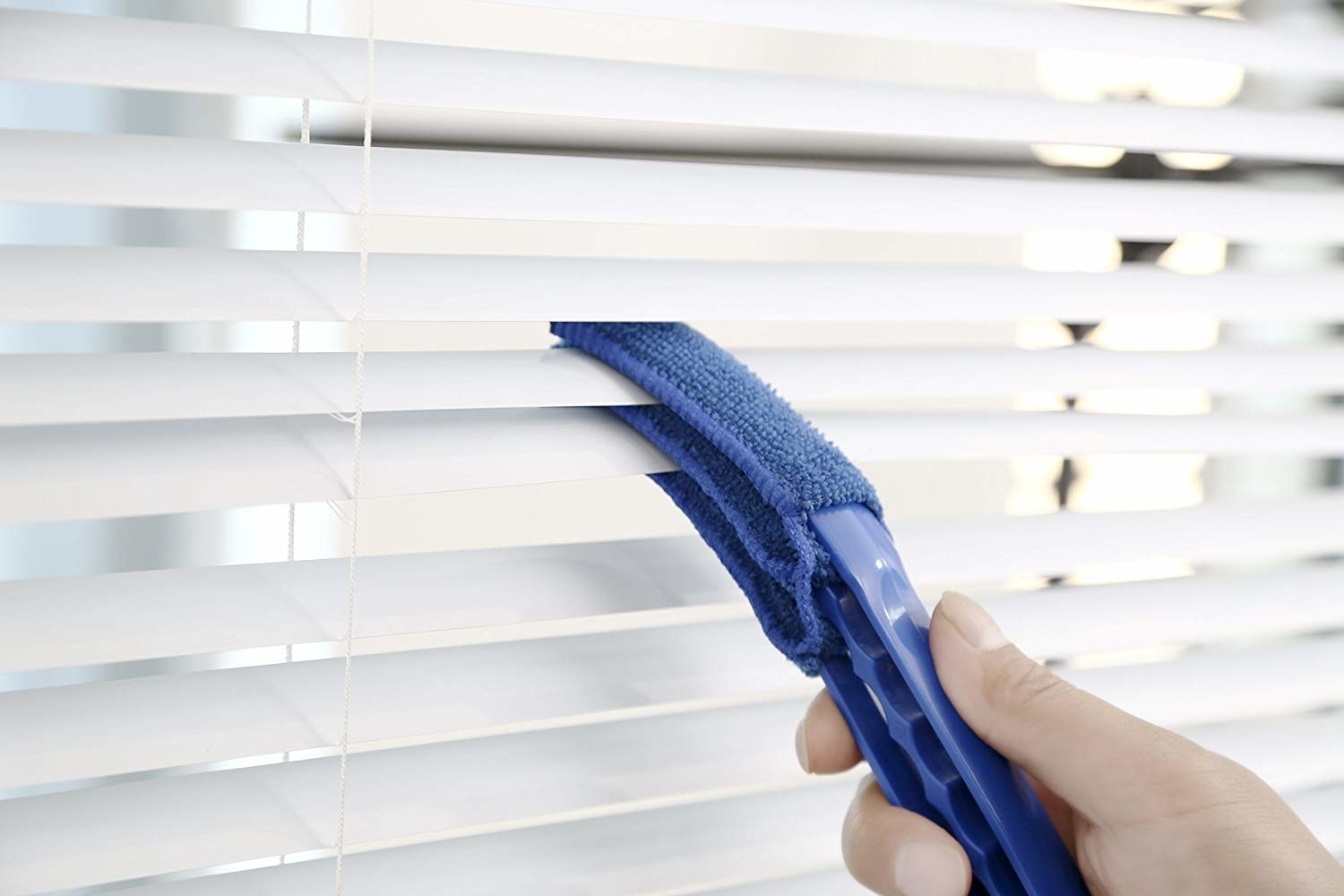 The bathtub dunk is effective but soooo much trouble. Includes five microfiber sleeves you can throw in the washing machine.
Promising review: "I got more excited about this find than is probably normal! This product is AMAZING! Everyone should own one. I've been using a Swiffer duster to clean my blinds. I have to clean one side, then the other, and there is STILL always dust left behind. This product is a game changer. You can clean both sides of two blinds at once and grip them firmly to get ALL the dust off. Plus, it comes with five covers, so no matter how dirty your blinds are you should still be able to finish the whole house! I also love that you can wash the covers, so there is no money wasted on refills. I'm buying a second one in case it gets broken and one for my mom!" —Sarah
Get it from Amazon for $7.99.
14.
Foaming cleaner that'll bring up all sorts of disgusting things lurking below in your disposer and nip drainage problems in the bud. You shouldn't be able to smell last Tuesday's dinner.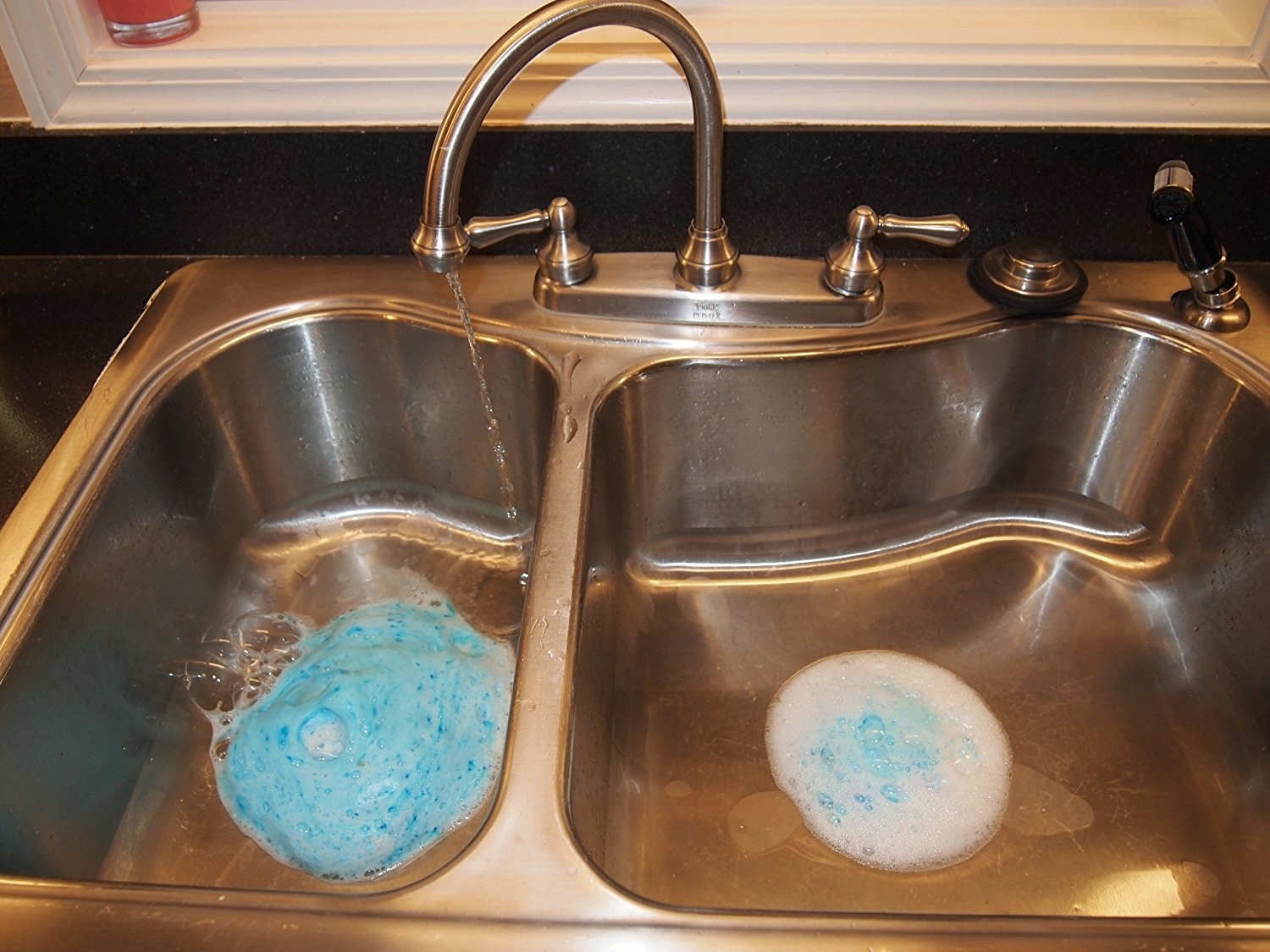 Each biodegradable packet cleans and scrubs buildup from sidewalls, blades, under the splashguard, and other hidden areas in your sink. Made with natural ingredients so it's safe for drain, disposer, and septic.
Promising review: "I had tried lemons and baking soda, and they worked OK until one day I detected a rancid smell that just wouldn't go away, so I tried this, and it made both drains in my kitchen sinks smell clean and fresh." —Catmom
Get a box (enough for four uses) from Amazon for $9.04.
Also check out more grossly satisfying cleaning products.