1.
A jar of the The Pink Stuff — a TikTok-famous cleaning paste made to handle all kinds of sticky, stuck-on situations like this nasty-looking kitchen faucet. 
Promising review: "I need this in bulk!! I have tried so many cleaning solutions to get out hard cooking stains on my stovetop and nothing worked! This stuff took it right out without a problem!!" —Micaela Gunderson
Get it from Amazon for $5.97.
2.
A foaming garbage disposal cleaner you simply throw in your sink (the whole packet!), turn on the water, and watch fizz up as it does the tough work below on all the gunk that OTHER PEOPLE have let build up in your disposal. You don't see them overzealously dumping, but you KNOW it's happening.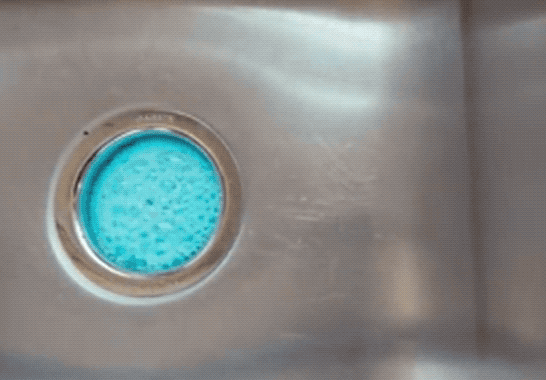 Promising review: "Saw on TikTok (don't judge) and automatically added to cart. So easy to use, takes probably a minute to fully bubble up and clean, and you're left with a clean sink! I use with other drain cleaning products, but would 100% recommend for weekly maintenance." —Jessica Hamilton
Get a four-pack from Amazon for $11.
3.
Plus a powerful dishwashing spray that, honestly, if you buy anything from this list, this should be it — especially if your old house *doesn't* include a dishwasher. You can spray down that casserole dish caked with enchilada sauce, let it sit, and you simply wipe and rinse away that saucy mess in a few minutes after you've conquered your meal. (Can you sense an enchilada theme here?)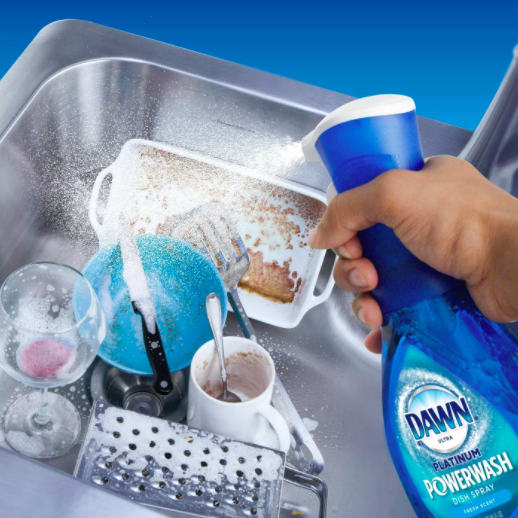 I live in an apartment without a dishwasher, and I honestly use that as an excuse to order takeout food instead of cooking. But, as soon as I got my hands on a bottle of this stuff (regular Dawn is my go-to dish soap, BTW), I put it to use on both a saucepan I used to make homemade enchilada sauce *and* the casserole dish I baked those enchiladas, which had a ton of caked-on food. It really does work like I say it does! Like, scary well.
Get the starter pack from Amazon for $12.16.
4.
Some dishwasher-cleaning tablets will get rid of residue that ends up creating odor and buildup on your dishes — all while you're mentally somewhere else. Use these first before calling in for a repair. 
Promising review: "After using this product, I am happy to report that my $5 investment saved me over $500. I was ready to replace my dishwasher due to super cloudy glasses, residue, and dishes just not getting clean. Then, I became aware that the water softener was no longer doing its job so I had the rental company replace it. Dishwasher performance improved somewhat. I decided to do two more loads before deciding to purchase a new one. Then I saw a product test review for Affresh. I was ordering some stuff from Amazon anyway so I added that to my order. When it came, I tossed one of the tablets into the bottom of the full machine per the instructions and ran the regular cycle. I did not expect the results I got! The glassware that I thought was permanently etched and ruined came out like new. Same with cutlery. The difference is unbelievable. I will use this faithfully every month, as recommended. I can even put it on my subscribe and save order so I will get a new pack every six months. I am amazed!" —Sheila
Get them from Amazon for $8.99.
5.
A pack of stain-removing, nontoxic cleaning cups can clean out your Keurig's innards once your coffee starts tasting a bit funny. 
Promising review: "Okay, so these cleaner pods are awesome! I didn't know how gross our Keurig was until today. The big mason jar on the left is when I actually ran the cleaner through plus one rinse cycle. The middle one is another rinse cycle and the last one, on the right, is the last one I did. So yes, I would suggest running two or three rinse cycles instead of the recommended one. But it's still an awesome product for the price! I have a Keurig 2.0 and I had no issues." —Mads0421
Get a pack of six from Amazon for $9.95.
6.
A bottle of non-toxic Folex Carpet Spot Remover to make all sorts of horrific stains disappear quickly. *And* there's no rinsing or vacuuming involved. 
To use, apply to the stain, gently agitate with your fingers, and blot with an absorbent cloth. This is non-toxic and should be non-irritating on the skin!
Promising review: "I had terrible rust and oil stains all over the seats of my car when I bought it. I tried other cleaners to get it out, but they actually made the stains darker. I took it to the dealership to see if they could get it out and they flat out told me no, so I gave up and lived with it for almost five years. I tried this after it was recommended by a friend. I sprayed it on and literally watched the stain run right off my seat. It was amazing! I thought I was going to have to pay hundreds of dollars to replace the seats in my car because nothing else would work. This stuff really is awesome!" —Brittany
Get it from Amazon for $6.65.
7.
A rust-removing spray will work like a magic trick in neglected showers, minus the elbow grease. Spray it on a rusted surround, leave the room, and come back to diminished stains you can easily wipe away.
Promising review: "Used it on our tubs, toilets, sinks and shower. Compared it to the It Works Bathroom you can get at The Dollar Tree. It took one bottle of this stuff to achieve the same result as three bottles of the It Works. I will buy this again, hands down. I tried the powder, which was good for scrubbing and soaking the tub, but the spray was fantastic for the shower and sink. Just sprayed, walk away for a few minutes and wipe/rinse." —Carrie D.
Get it from Amazon for $6.47.
8.
A mold and mildew removal gel to reverse the clock on your shower surround in a mere six hours. (Can't wait for Cher to drop that remix.) 

Promising review: "It's a little hard to squeeze but that totally makes up for the AMAZING results. I was embarrassed about our tubs because the people we bought our house from didn't caulk or seal them properly and this resulted in mildew buildup. I tried EVERYTHING until I saw this on TikTok, I believe — MIRACLE FREAKING WORKER. I will be buying more, the only complaint I will ever have is the shipping got mixed up but that is not a problem and was fixed very easily!" —Brooklyn Nguyen

Get it from Amazon for $14.99.
9.
Bottle Bright cleaning tablets can revive the look (and taste!) of the stainless-steel thermos you use every dang day but aren't so great at washing like you should.

Promising review: "Finished using it five minutes ago and it's the best! My husband uses a Stanley thermos daily to take coffee to work. He tries to remember to rinse it out every day, but that doesn't always happen. I got the package today, filled the thermos with water, dropped a tablet in, and let it sit. I promptly forgot about it for a few hours. Initially, I was disappointed when I dumped the water, as it was barely tinged brown. Then I put fresh water in, covered the top, shook it, and OMG. The crap that came out was disgusting, yet fascinating. I looked in the thermos and saw almost nothing but sparkly silver! There was a little crud left in the top third of the thermos, but it's a really tall one, so I wasn't surprised. Got the bottle brush, swished twice, and bam! All clean! No fumes, no smell, no nothing, just clean. I used to struggle cleaning it with baking soda, vinegar, the brush, soap, and elbow grease. Screw that. I will forever use only these tablets! Here's to better tasting (and way less gross) coffee!" —BranchingOut
Get 36 tablets from Amazon for $17.48.
10.
A pumice stone toilet bowl cleaner that'll remove all sorts of stubborn rings that've been staring at you every time you're in the washroom. Nope, you do NOT need a new toilet. Your OG just requires some zhuzhing.
Promising review: "OMG!!! It works!!! After having this toilet buildup I gave up on everything, but I saw that this product 'worked' and decided to give it a try... with a little elbow grease and some music blasting in the background I managed to remove it all!!! I can't believe it. I'm so happy, I was so embarrassed when company came over and would see that, not no more... yay!!!" —Asdrubal Orantes
Get it from Amazon for $11.
11.
And in case the situation is a bit more dire, a toilet wand cleaning system with removable heads so you'll stop regretting your decision to potty train your cats.
Includes a wand, storage caddy, and six disinfecting wand head refills.
Promising review: "So, we have a toilet that belongs to the cats. We don't use it, we don't look at it, we like to pretend it does not exist. Even with semi-regular flushing, cat waste is pretty nasty stuff and built up quickly in the bowl. One of these wands cleaned it up in a single session! Before and after pic attached." —Whitney
Get it from Amazon for $13.13.
12.
A carpet cleaning solution with results so impressive (just cast your eyes below this text!) that you may have to bleep out your own reaction. Get ready to break up with your carpet cleaner rental spot. Remember when your carpet was beige instead of greige?
It's from a family-run small business that specializes in cleaning products, especially ones for homes with pets!
Promising review: "After reading the reviews I thought I could at least try it, and holy smokes, this is a miracle cleaner!!! I think I have tried every cleaner on the market for pet stains and nothing ever really works on my carpets. Even if I get it off the top, it somehow comes back up. My crazy dogs hate the rain and they have one spot that they always go on when they decide they are not going outside. I have cleaned the spot probably 100 times. I cleaned this area one time with this cleaner and my spot steam cleaner and it is completely gone! The stain and smell are 100% gone, not just covered up like before, completely and absolutely gone. Miracle cleaner for sure!" —PLLane
Get it from Amazon for $16.97.
13.
A bottle of leather conditioner to revive your leather goods *even* as large as a leather couch! Welcome to your next project while you catch up on the latest ep of your fave true-crime podcast!

Promising review: "I bought a sorta white leather sectional for $150 stained and dirty but no major wear or tears. Well, the pictures tell it all! It took at least three cycles of gentle scrubbing and wiping off raised dirt and a little extra for bad stains! A lot of elbow grease but holy crap! Super nice couch now!" —iPoutside365
Get it from Amazon for $16.99+ (available in two sizes).
14.
Some powerful stain remover can erase the likes of spills, wine, and even Sharpie marker(!!!). As you can see, it even works on suede furniture.
Promising review: "My baby niece Sharpied my orange suede couch. Didn't think it would ever come out. This stuff is amazing." —levi schofield
Get a two-pack from Amazon for $4.99 (available in various sizes and multipacks).