Australian students are walking out of schools this week to take a stand against political inaction on climate change.
Organised by the national student-led collective School Strike 4 Climate Action, a series of strikes will take place across the country, with some students dedicating up to a week to the protests.
There will be strikes in all capital cities, including the Whitsundays, Albury, Wodonga, the Gold Coast, and Lismore, over three days, starting on Nov. 28.
The children and teenagers, aged from 5 to 18, say they are inspired by the protest of 15-year-old Greta Thunberg in Sweden, who drew attention to climate change earlier this year by sitting outside of Swedish parliament ahead of the general election.

The movement's first protests took place over two days in Bendigo at the beginning of the month, when 30 students went on strike from school and marched outside the office of local Labor MP Lisa Chesters to protest the Adani coal mine and the lack of action taken by the Australian government on climate change.
The strikes continued on the third day, with a group of 50 students, which was then granted a meeting with the MP.

In the days following the Victorian students gathered on the steps of Victorian parliament.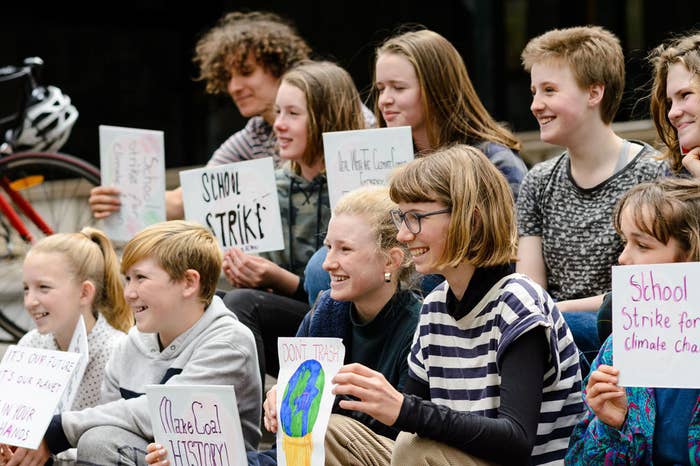 The idea of striking for climate change started with 14-year-old Milou Albrecht, who told BuzzFeed News Thunberg made her think about her own potential to impact the debate.
"I thought she was just brave to walk out and I was like, 'Oh wow, it is a big problem and she's willing to sacrifice that part of her education for the climate," she said.
"I was like, 'Why can't I do that? I care about the environment just as much as she does.'"
Albrecht told a campaigner about her idea at a local protest against the Adani coal mine, and was directed to the Australian Youth Climate Coalition, a student environmental organisation, which helped her set up the website for School Strike 4 Climate Action.
Albrecht is frustrated by the government's lack of action on climate change.
"They could do so much but they're just not. I don't understand why they're not doing anything."
Scott Morrison's government has been heavily criticised in the wake of the Intergovernmental Panel on Climate Change report, for failing to adequately acknowledge and act on impending environmental changes.
Deputy prime minister Michael McCormack said that Australia should "absolutely" continue to back its coal industry after the release of the IPCC report, prompting 22 environmental academics and health scientists to pen an open letter in the Lancet to the government last month demanding that Australia dramatically reduce coal power by 2050.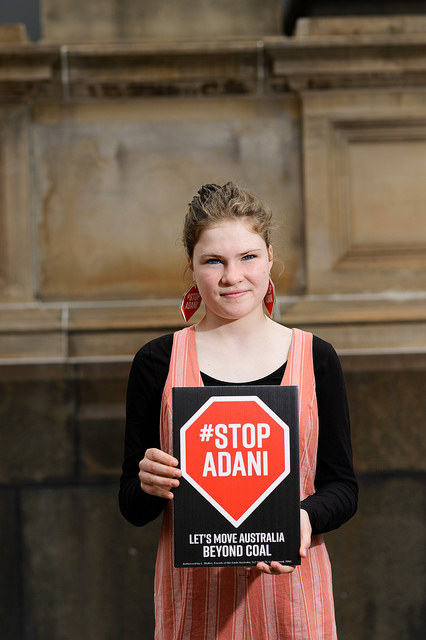 Albrecht said that her school has accepted her decision to take time off. She was joined by her class for the protest in Bendigo.

"They wouldn't usually support people skipping school, but they understand why we need to do this so, they're actually quite supportive," said Albrecht.
Callum Bridgefoot is Albrecht's 11-year-old neighbour who has helped get the strike movement off the ground.

Bridgefoot is frustrated by the lack of political action on climate change because "it is a big crisis that is happening right now".
Bridgefoot says that in the meeting with the MP Chesters: "she was listening and she was really kind and really involved in what we were saying."
Jean Hinchcliffe, a 14-year-old student from Fort Street High School in Sydney, told BuzzFeed News that many of her peers are distressed by climate change and feel as though the government isn't listening to scientists.

"Every young person I know is passionate about it," she said. "We've spent our whole lives hearing about it, we've learned about it at school, we've seen it on the news. We all know that it's true."
Hinchcliffe is the primary organiser of the Sydney protests and believes it's important for people in her age bracket to mobilise against climate change inaction.
"We're at the stage where we can't vote and by the time we're in power, it's going to be too late to start making change," she said. "So I think it's really important that we can start taking action in any way we can."
UPDATE
Prime minister Scott Morrison has stated that he opposes the idea of students striking from school, saying that climate change already has the attention of the government. Morrison said the government does not support "our schools being turned into parliaments".
School Strike 4 Climate Action responded to the Prime minister's statement with this tweet.