On this day, 18 July 2018, I ask you to cast your mind two years back to an event that I'm sure we will all remember for the rest of our lives: the day Kim Kardashian released a video of a phone call between Taylor Swift and Kanye West that caused an utter shitstorm of drama.
Meanwhile, because of this and also some entirely separate drama involving Calvin Harris and Katy Perry, people were spamming Taylor's Instagram comments with the snake emoji.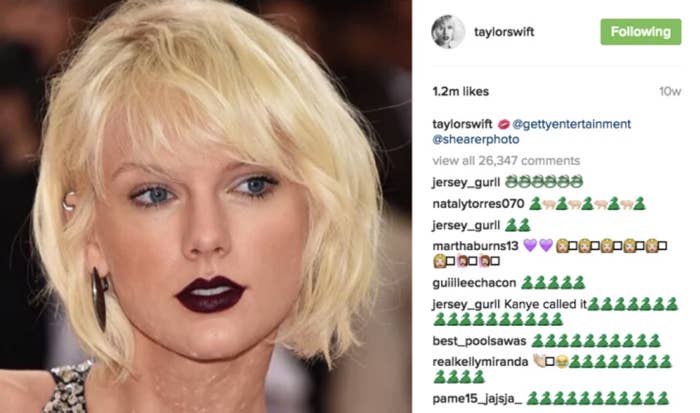 And mere hours before she released the infamous video on her Snapchat, Kim K tweeted that it was National Snake Day, which people assumed was in reference to Taylor.
After all this, people started tweeting with the hashtag #TaylorSwiftIsOverParty, Taylor basically went into hiding, and we had to wait three years for her to release a new album instead of the customary two. I'm still bitter.
But now it's two years after the fact, and I think we can all agree Taylor is doing better than she ever was. Her sixth album, reputation, broke all kinds of records, and she's currently on a stadium tour that's set to be one of the most successful ever.
And in case you didn't know, for Taylor this new era has been all about reclaiming the snake image that people forced on her. Like, she's been wearing more snake print than I even thought possible and she performs "Look What You Made Me Do" in front of giant inflatable snakes every night.
Taylor even chose the opening night of her tour to break her silence on the whole feud, telling the crowd that she'd worried about the future of her career.
A couple of years ago, someone called me a snake on social media and it caught on. And then a lot of people called me a lot of names on social media. I went through some really low times for a while because of it. I went through some times when I didn't know if I was going to get to do this anymore. I wanted to send a message to you guys that if someone uses name-calling to bully you on social media, and even if a lot of people jump on board with it, that doesn't have to beat you. It can strengthen you instead. I learned a really important lesson and that has to do with how much you value your reputation. And I think the lesson is that you shouldn't care so much if you feel misunderstood by a lot of people who don't know you, as long as you feel understood by the people who do know you.
And last night, at her show in Cleveland, she referenced the whole drama by wishing the audience a happy National Snake Day.
"My favourite day of the year!"
She also celebrated her own national day by stepping out in this capital-L Look™, featuring a snakeskin backpack and a fabric that will look familiar to anyone well versed in the many Taylors of the LWYMMD video.
And if, like me, you spend a lot of your time perusing Taylor Swift's Tumblr likes, you'll have noticed that she's pretty proud to have taken back the snakey narrative.