ICYMI, Taylor Swift just dropped the third single from her upcoming album, Reputation. It's called "Gorgeous", and I've already listened to it about 3,000 times.
Now, if you're a fan of Taylor's, you'll know that she never actually confirms who or what her songs are about when it comes to relationships.
HOWEVER, despite promising us that "there will be no explanation" this era, it seems like Taylor just explained exactly who this song is about, and it's totally adorable.
We all know that back in May rumours began swirling that Taylor had been dating British actor Joe Alwyn in secret, renting a house in London and wearing wigs and scarves to disguise herself.
And after staying totally silent on the relationship for the last few months, it looks like Taylor has confirmed that "Gorgeous" is about Joe.
Over the last week, Taylor has been inviting select fans to her homes all over the world for secret sessions, where they get the chance to spend time with Taylor and listen to the new album for the first time.
And according to those fans, Taylor straight-up told them that the song is about "her angel boyfriend of one year", and that they should spread the word.
And judging by the song's lyrics, she's seriously fallen for him.

And if that wasn't enough, she's also liked a bunch of seriously cute Tumblr posts about the references to Joe in the song.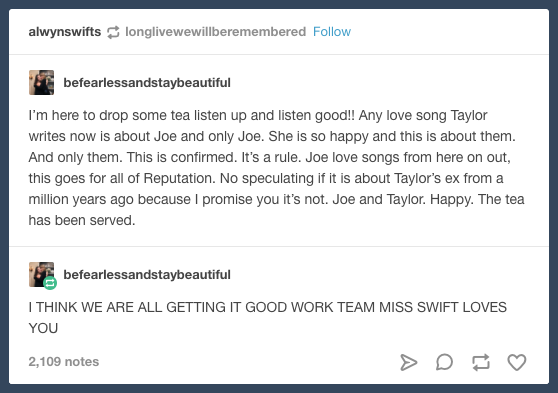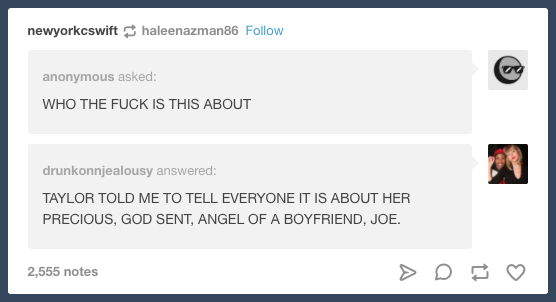 In case you're wondering, people are also freaking out because the song seems to throw some shade at Taylor's ex, Calvin Harris.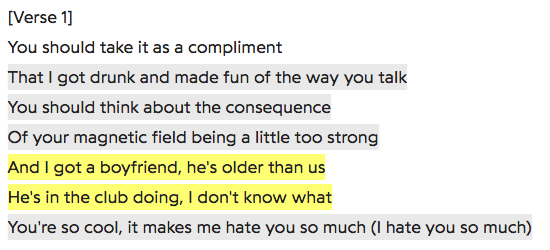 Oh, and she liked posts on Tumblr about that, too.
In conclusion: Reputation is being released in THREE WEEKS and there will be 12 brand-new songs for us to analyse, so GET YOURSELVES READY.