On Thursday, everyone's favourite celeb couple, Chrissy Teigen and John Legend, flew from Los Angeles to New York City, as celebrities often do.
And, because she's the uncontested queen of Twitter, Chrissy passed the time by keeping her 3 and a half million followers updated on the onboard snacks and movies.
But when they arrived in New York, Chrissy tweeted that she and John had been met by paparazzi, one of whom began harassing them with racist comments.
"Paparazzi at JFK just asked me 'if we evolved from monkeys, why is John Legend still around?'", Chrissy tweeted. She went on to call the comments "fucking disgusting".
People on Twitter were quick to condemn the racist comments, and praised Chrissy for how she handled the situation.
But when someone suggested she fight back, Chrissy reminded them that's exactly what the photographer wanted.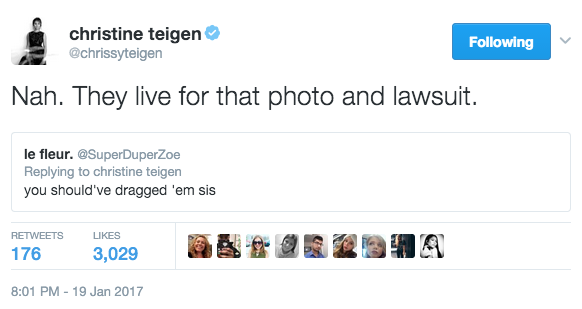 And she pointed out that, if the photographer ever wants to sell the video, it'll be pretty easy to identify him.
Well handled, Chrissy. 💖